Chanel looks to avant-garde Constructivism for its SS22 haute couture show 
In her latest collection for the house, Virginie Viard drew inspiration from the art movements of Chanel's formative decades.
Image courtesy of Chanel
Only at Chanel could a real-life princess open the show in a little black tweed jacket on horseback, in a room filled with giant spinning wheels and a French rockstar playing a giant plywood guitar. The royal in question was Charlotte Casiraghi of Monaco, granddaughter of Grace Kelly, who circled the space on her eight-year-old horse, Kuskus, before breaking into a canter and setting the tone for a collection that looked to the light, sportif spirit of the 20s and 30s. Virginie Viard was thinking a lot about those formative decades of Chanel and the avant-garde Constructivism that was so beloved by her predecessor Karl Lagerfeld. While they worked together, he would give her books with notes about what could be used for embroidery — and years later, Virginie has carried the torch with an haute couture collection that riffed on the geometric shapes and saturated colours of the century-old art movement.
Nowhere was that more clear than in the clean lines that outlined the classic Chanel silhouette. The first handful of looks reiterated the timelessness of that classic tweed jacket, which was given an hourglass proportion and edged in white silk braids — no bags, no novelty, no superfluous details. Given that the collection was inspired by artworks all about the essentialism of shape, it asserted the most important Chanel shape of all — that of a neatly-tailored jacket and high-waisted trousers to purposefully stride in. Sometimes, we take it for granted just how revolutionary that was back when Coco first introduced it — today, it's still the blueprint of how so many women get dressed.
The décor of graphic spinning wheels, cubist plywood blocks, giant cylinders and pill-shaped structures floating from the ceiling was conceived by French artist Xavier Veilhan. It was a nod to the aesthetics of the Universal Exhibitions, the international spectacles designed to showcase the achievements of nations back in the late 19th and early 20th centuries — sort of like a precursor to the Venice Biennale, for which Xavier was chosen to represent France for in 2017. Back in the Lagerfeldian days of Chanel, the sets were an extension of the collections, just as memorable as the clothes, and this time Xavier's set was echoed by the sense of geometry in Virginie's offering. "These geometric shapes made me want contrasts, a great lightness and a lot of freshness," she said. "Ethereal dresses that float as if suspended. Lots of flounces, fringes, macramé, bright lace, iridescent tweeds, colourful jewelled buttons."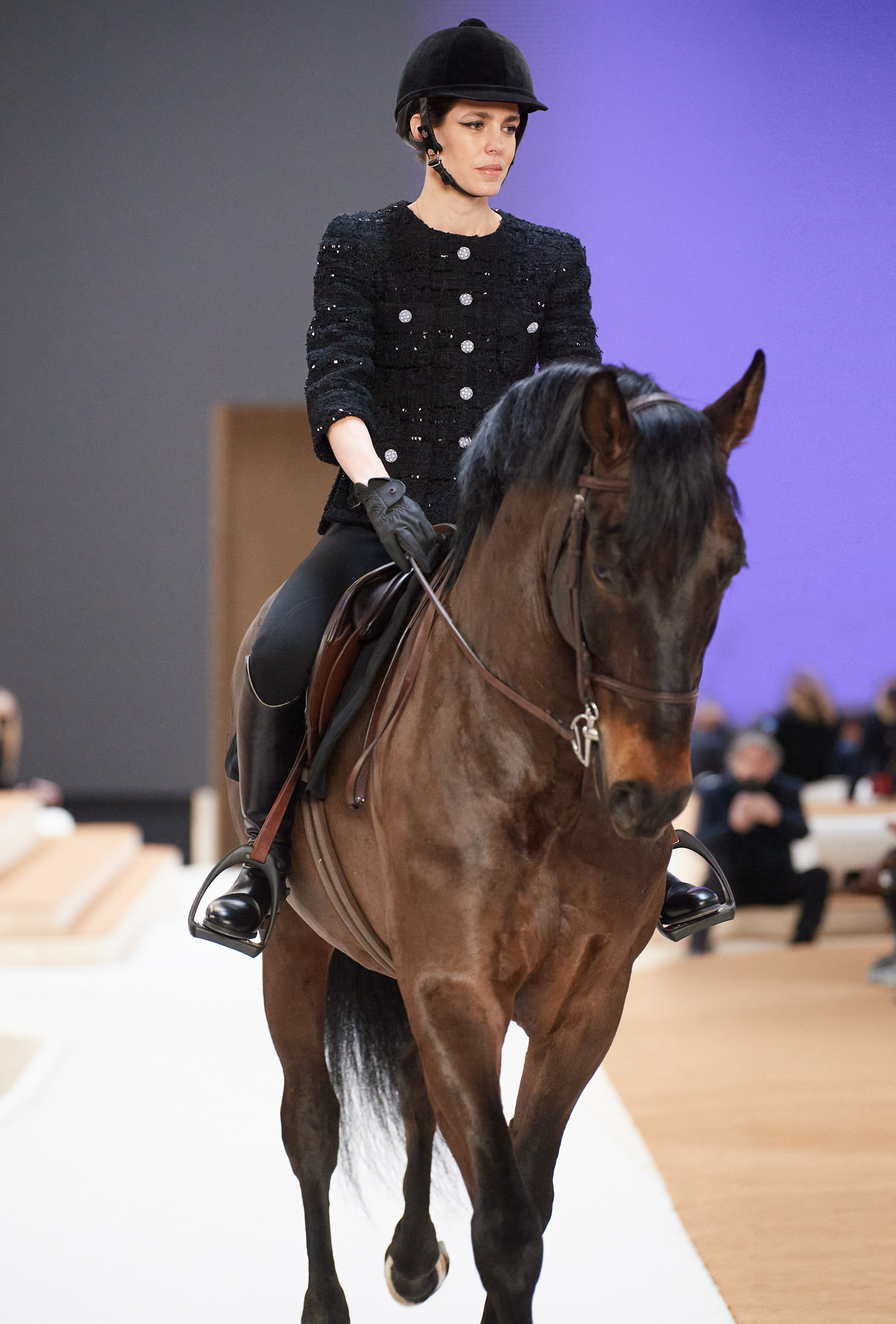 Circles and squares, and the juxtaposition of both, were the most tangible theme, first hinted at by a moody video of Charlotte riding in a circular formation, drawn into the sand by French musician Sébastien Tellier, who performed during the show from a plywood plinth. Sonia Delaunay-inspired circles appeared throughout, sometimes as beaded bubbles floating across tiered organza dresses, or as a cubist intarsia of black chiffon in varying translucencies on a wispy gown suspended by ribboned straps. Some of the models even had big black smokey circles on one eye. Ostrich fringes embellished in straight lines created a sense of movement, quivering from trousers and dresses alongside blinding Lesage embroideries of perpendicular plaids. A very round, hooped ballerina-style came with chevron-shaped patterns of silk tassels, outlined by smatterings of sequins, while a backless Mae West-style white silk evening gown, slit at the front and tied at the lower back, had a perfectly circular choker neckline of square-shaped paillettes. Even the organic curves of the house-signature camellia was given a Constructivist makeover, sprinkled with sequins, pearls and coral beads.
"The idea for the show came from a longstanding desire to work with Xavier Veilhan, and his references to constructivism remind me of those of Karl Lagerfeld," added Virginie. "I like this similarity of spirit between us, now and across time. In addition to creating the show décor with its references to the avant-gardes of the 1920s and 1930s, Xavier wanted to work with Charlotte Casiraghi. His artistic universe is full of horses and Charlotte is a skilled rider."
If the concept was simple, the surfaces were anything but. Chanel has an army of craftspeople and specialist ateliers that bring to life even the most familiar shapes — whether they are circles, squares or those classic Coco jackets.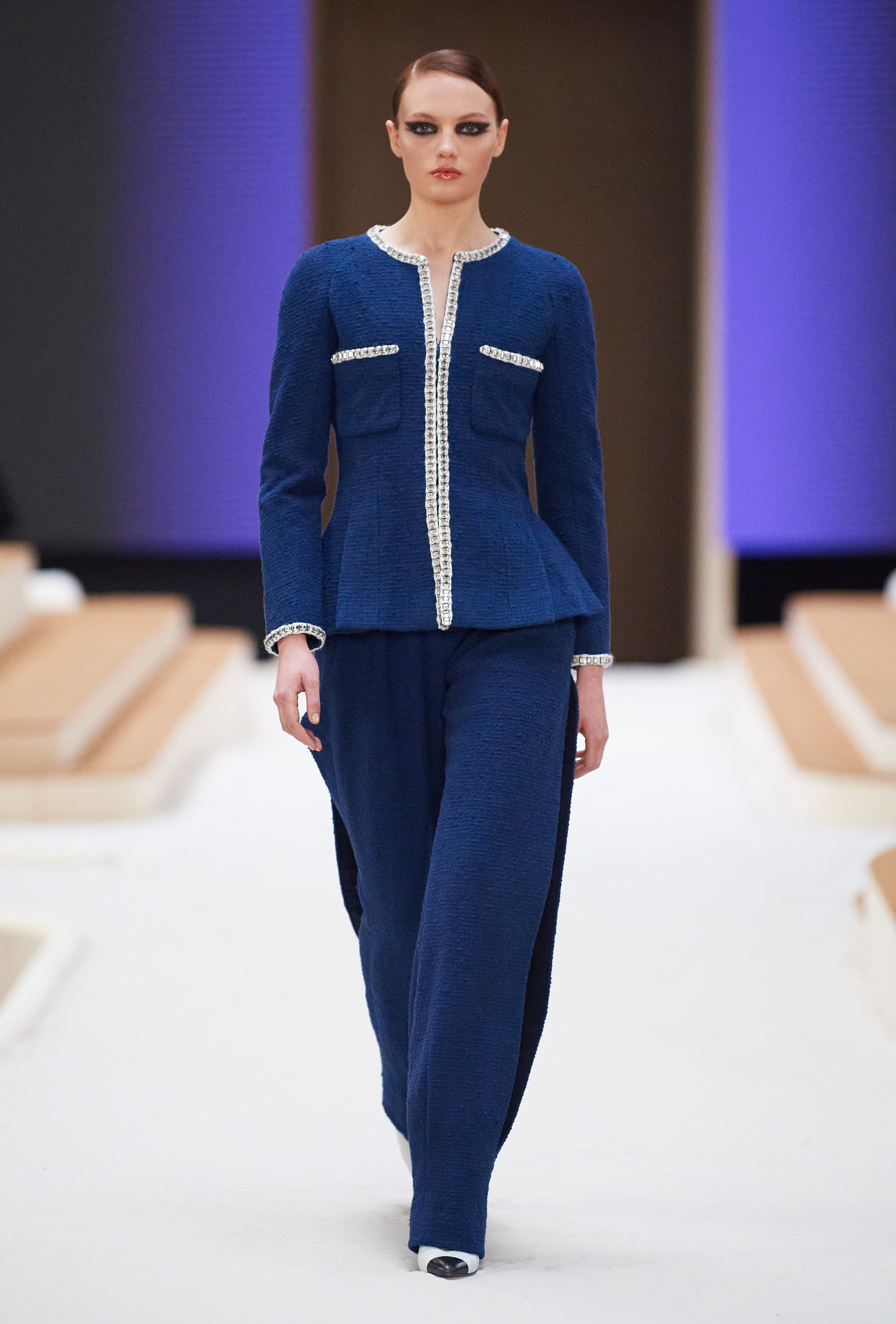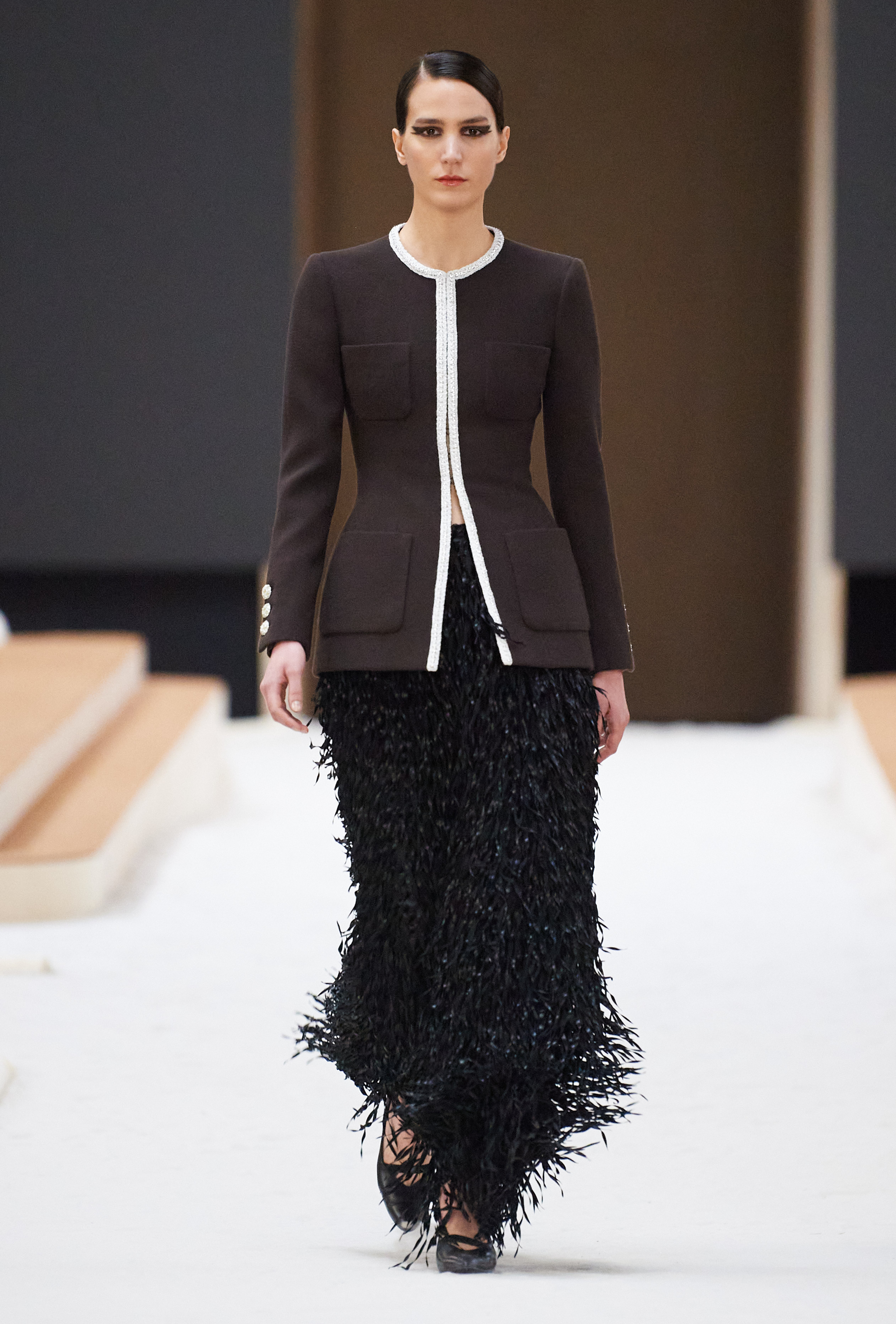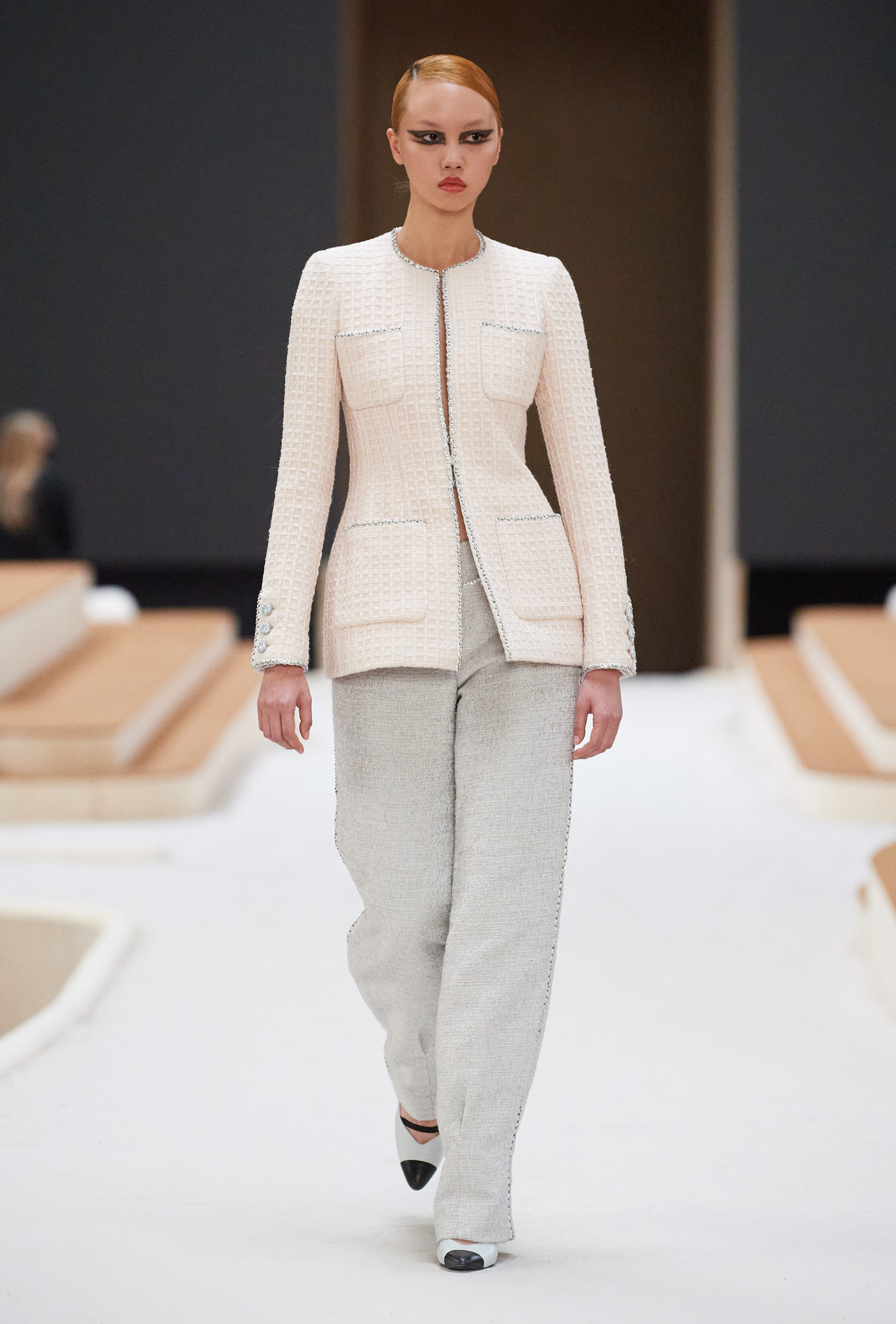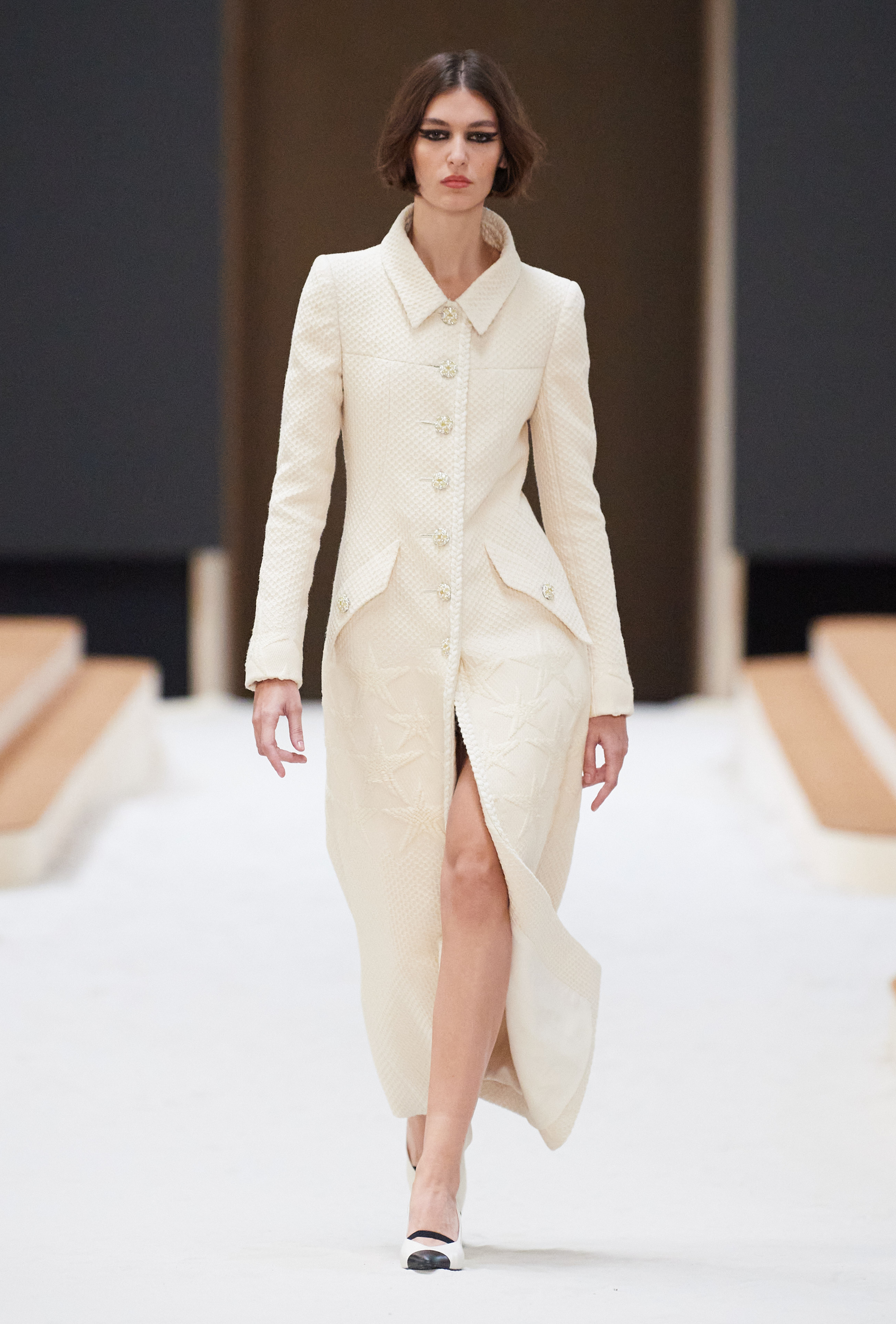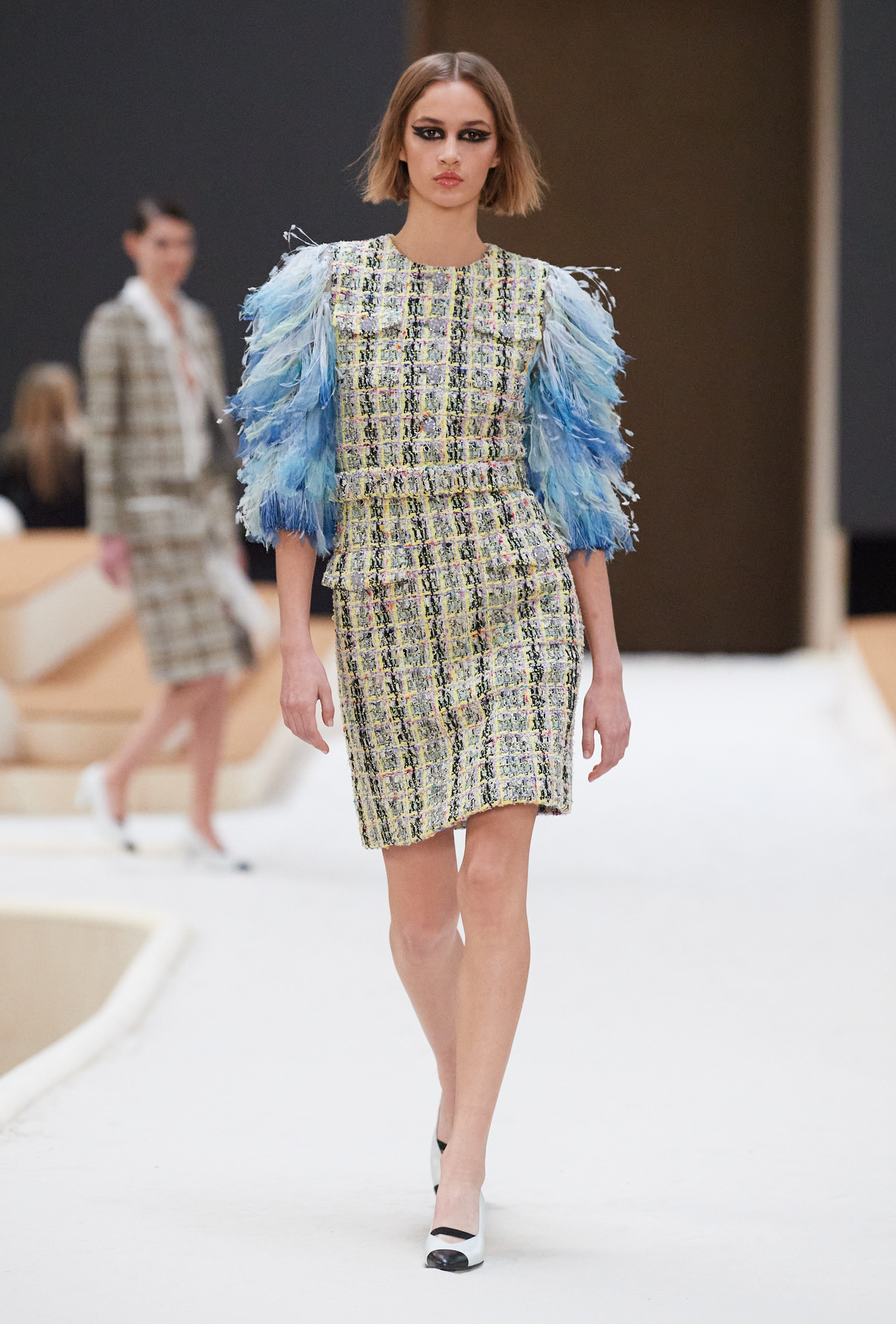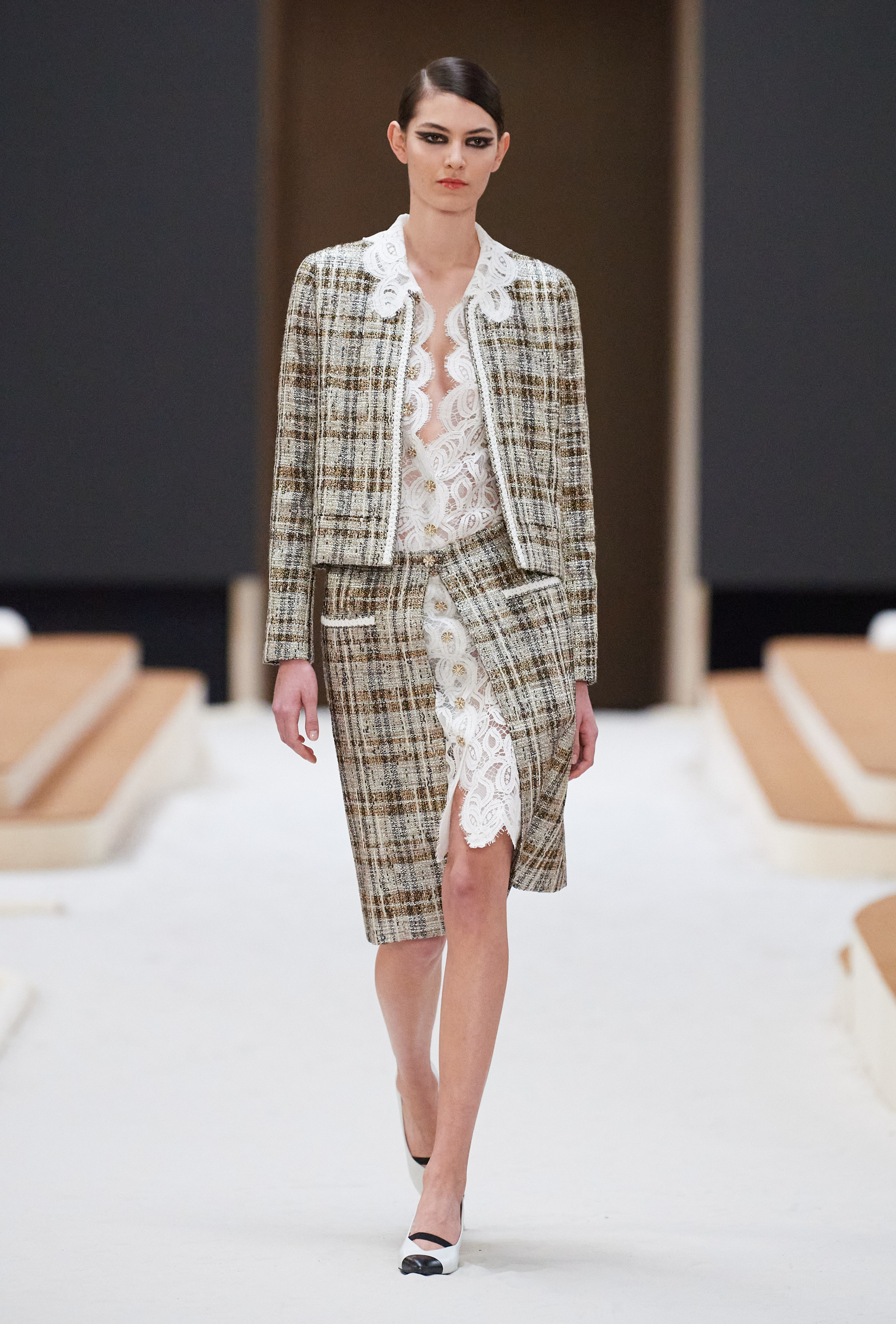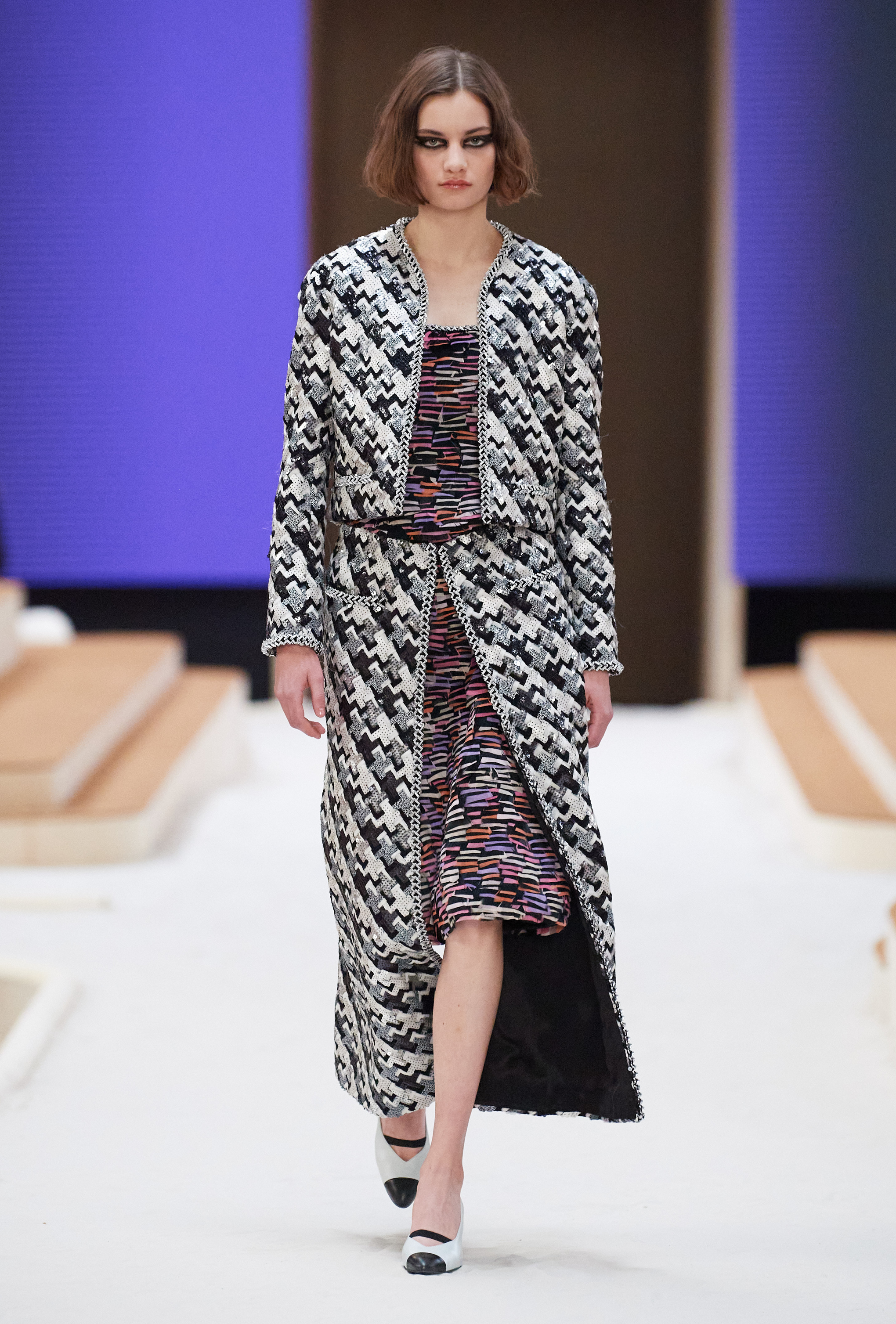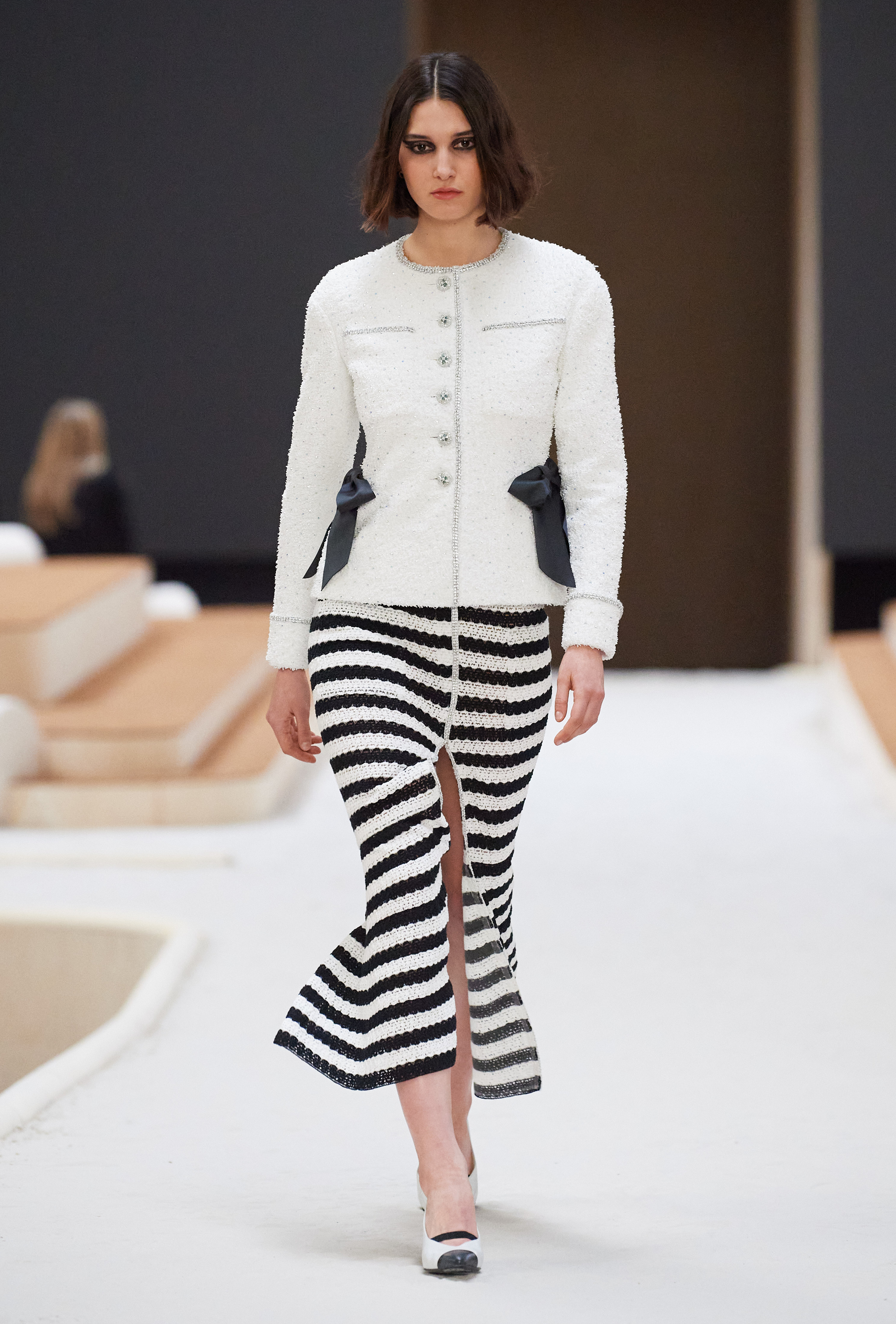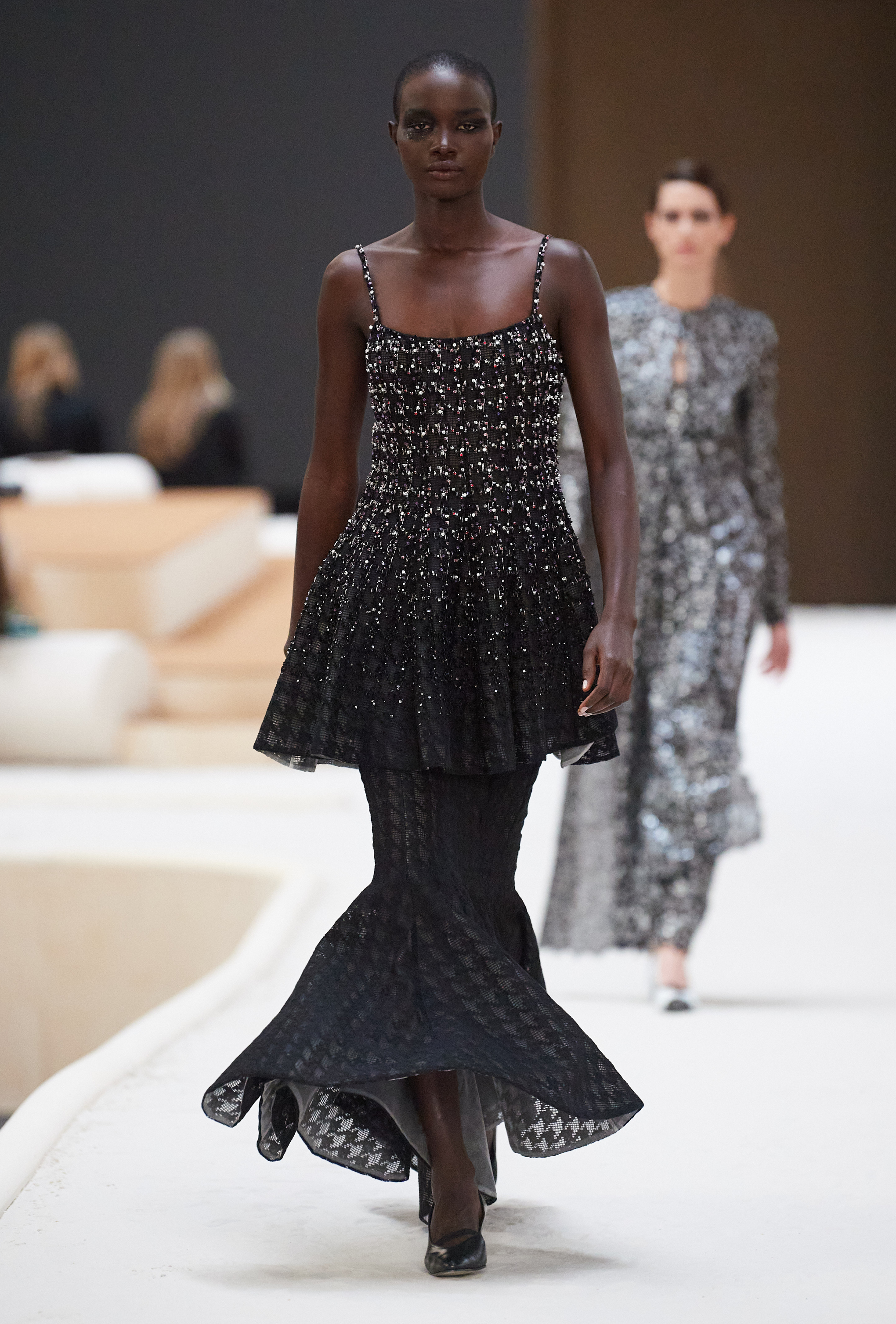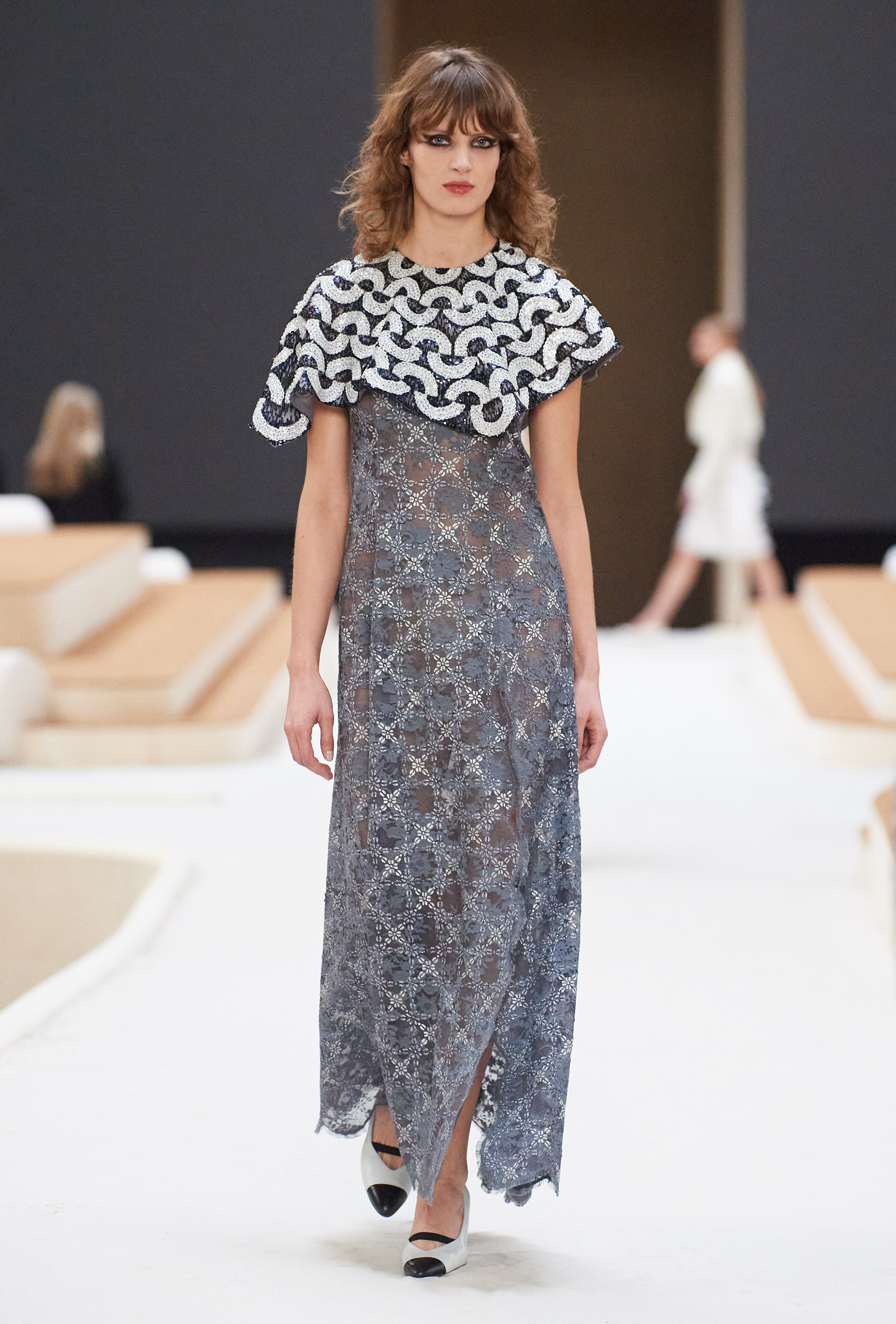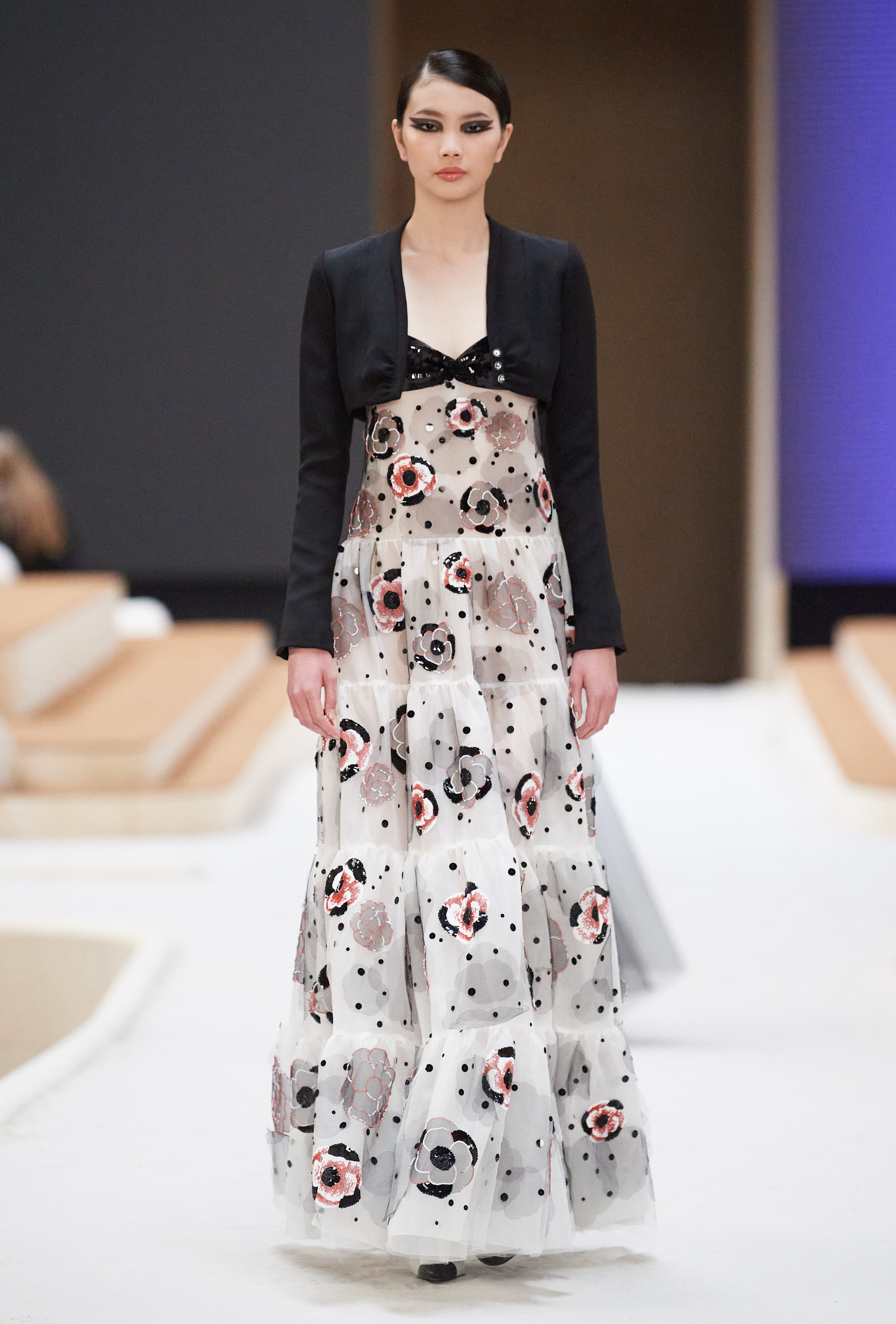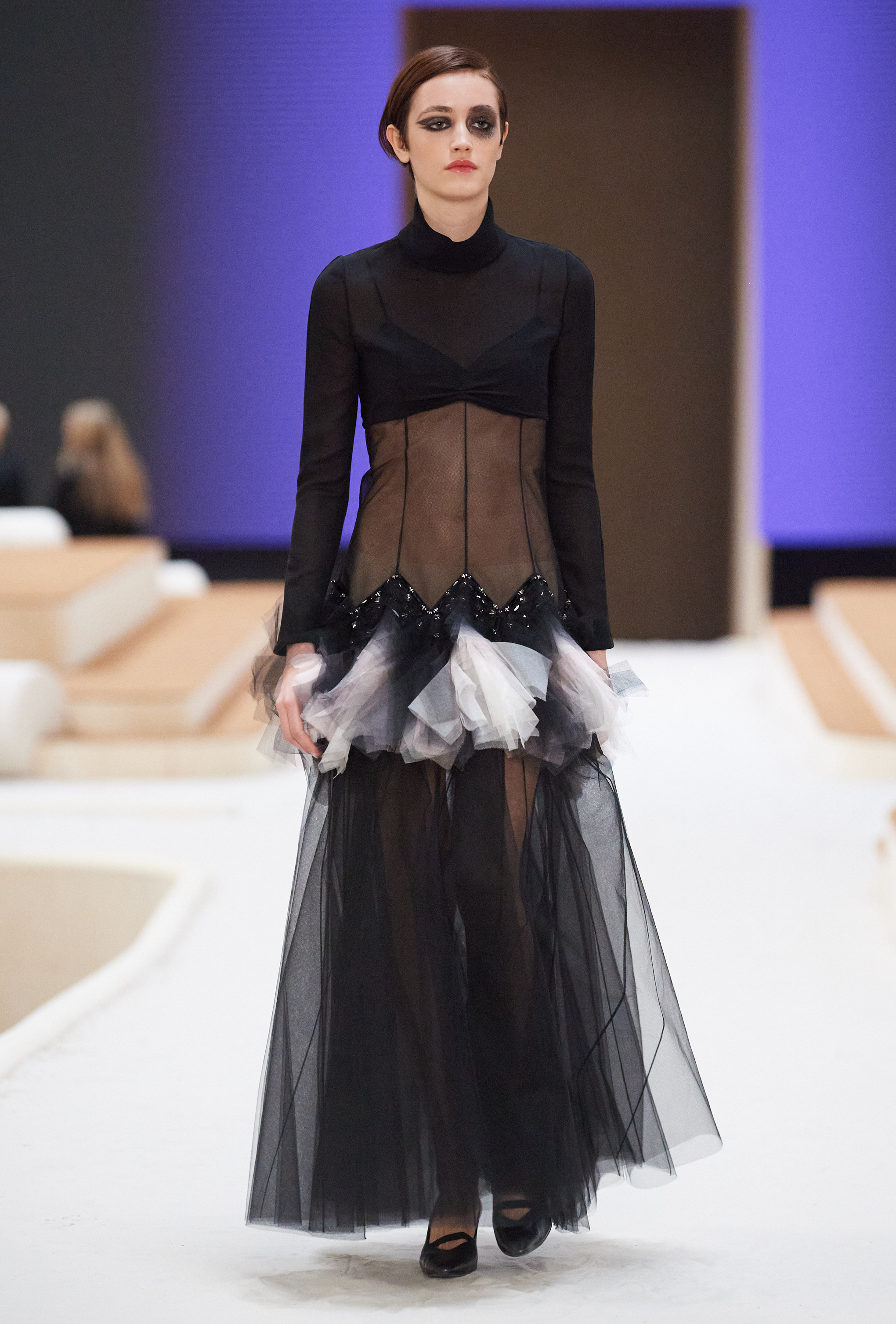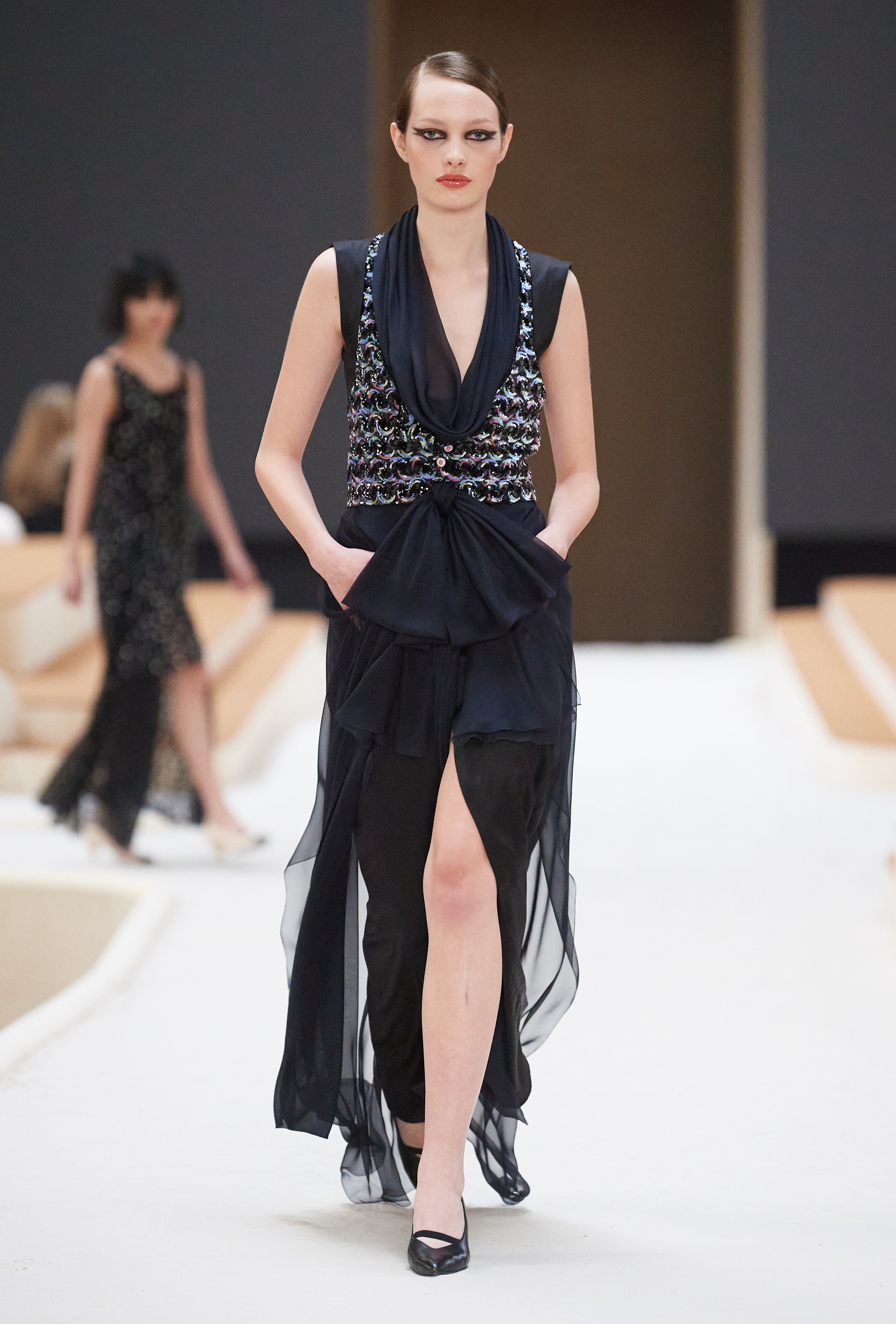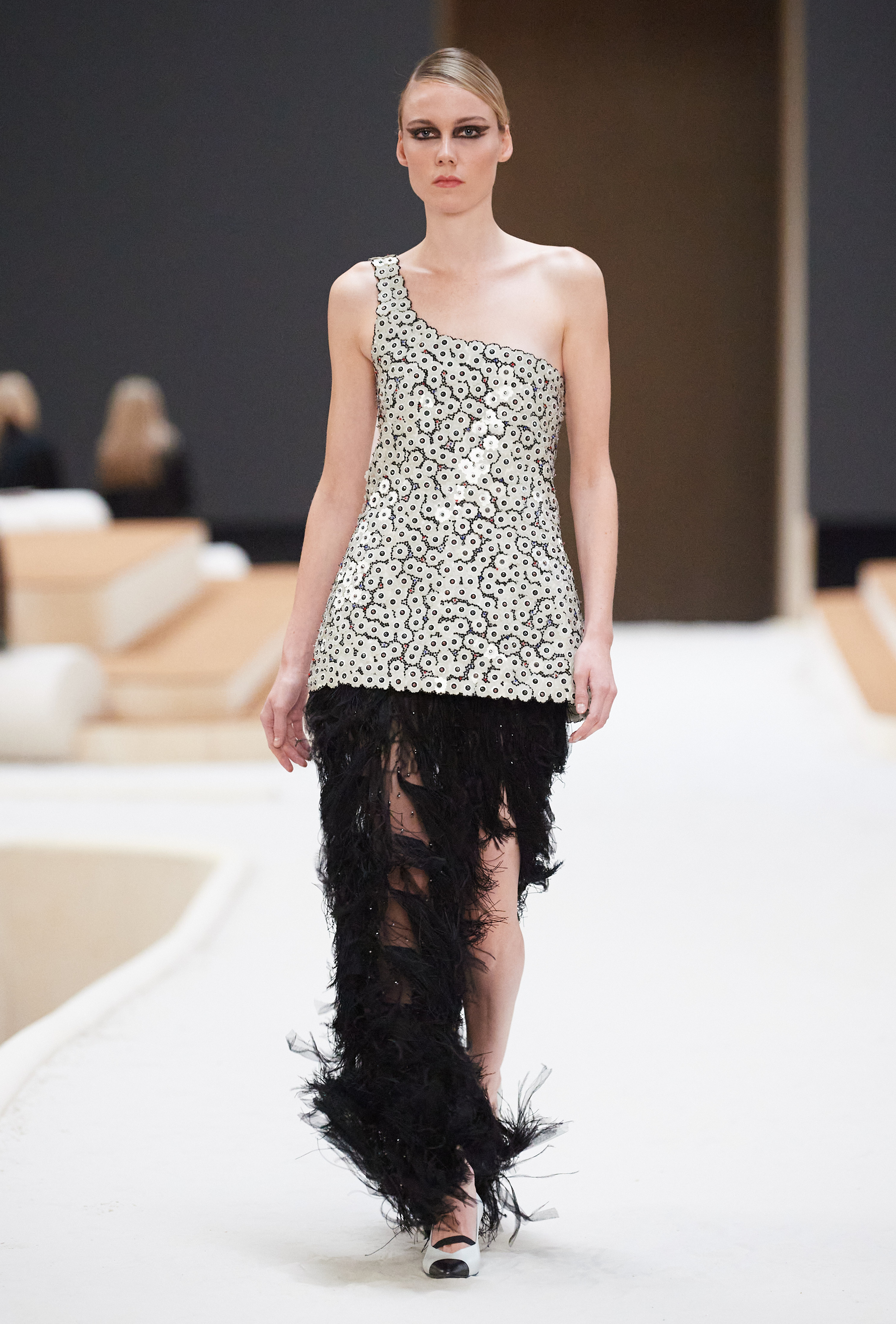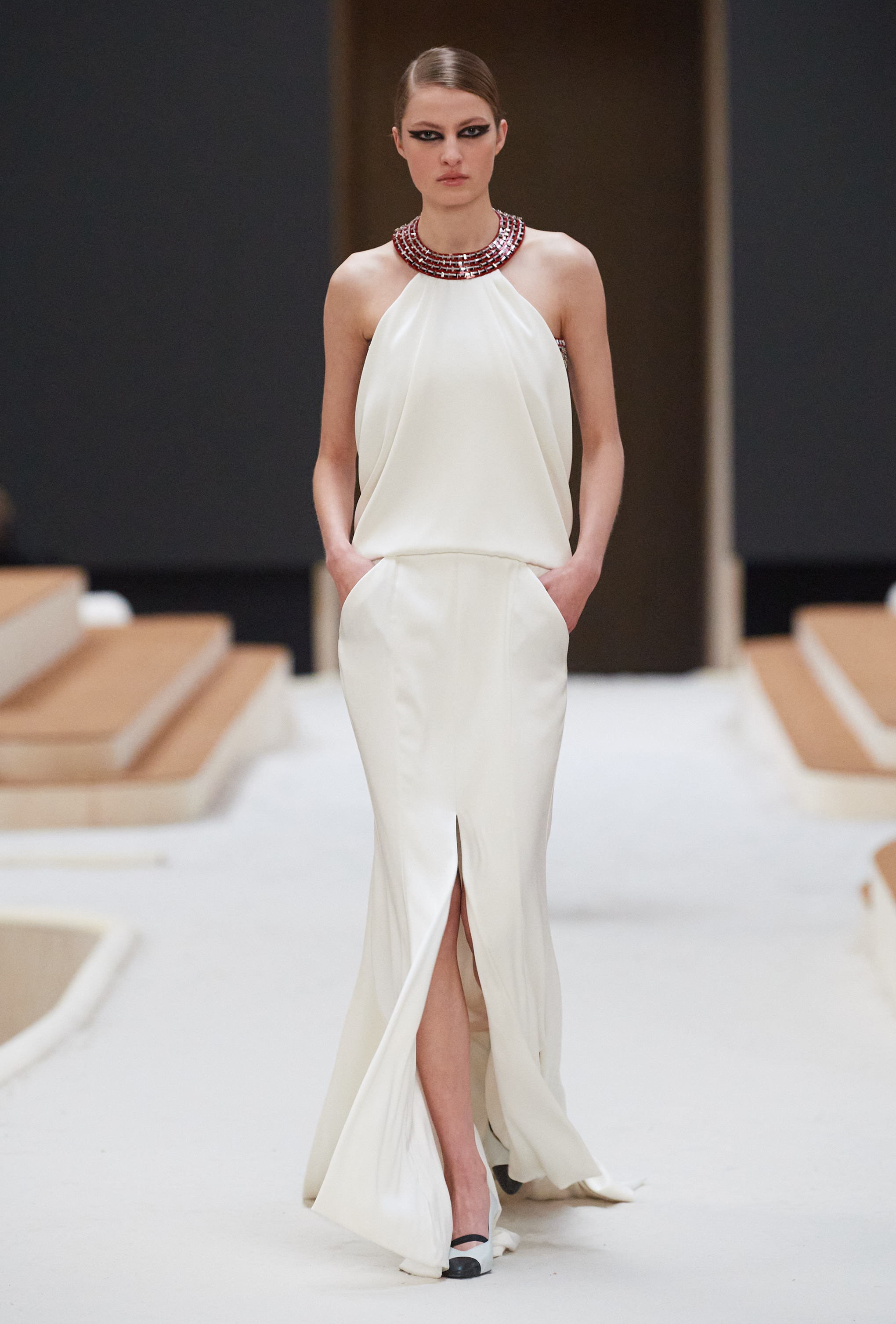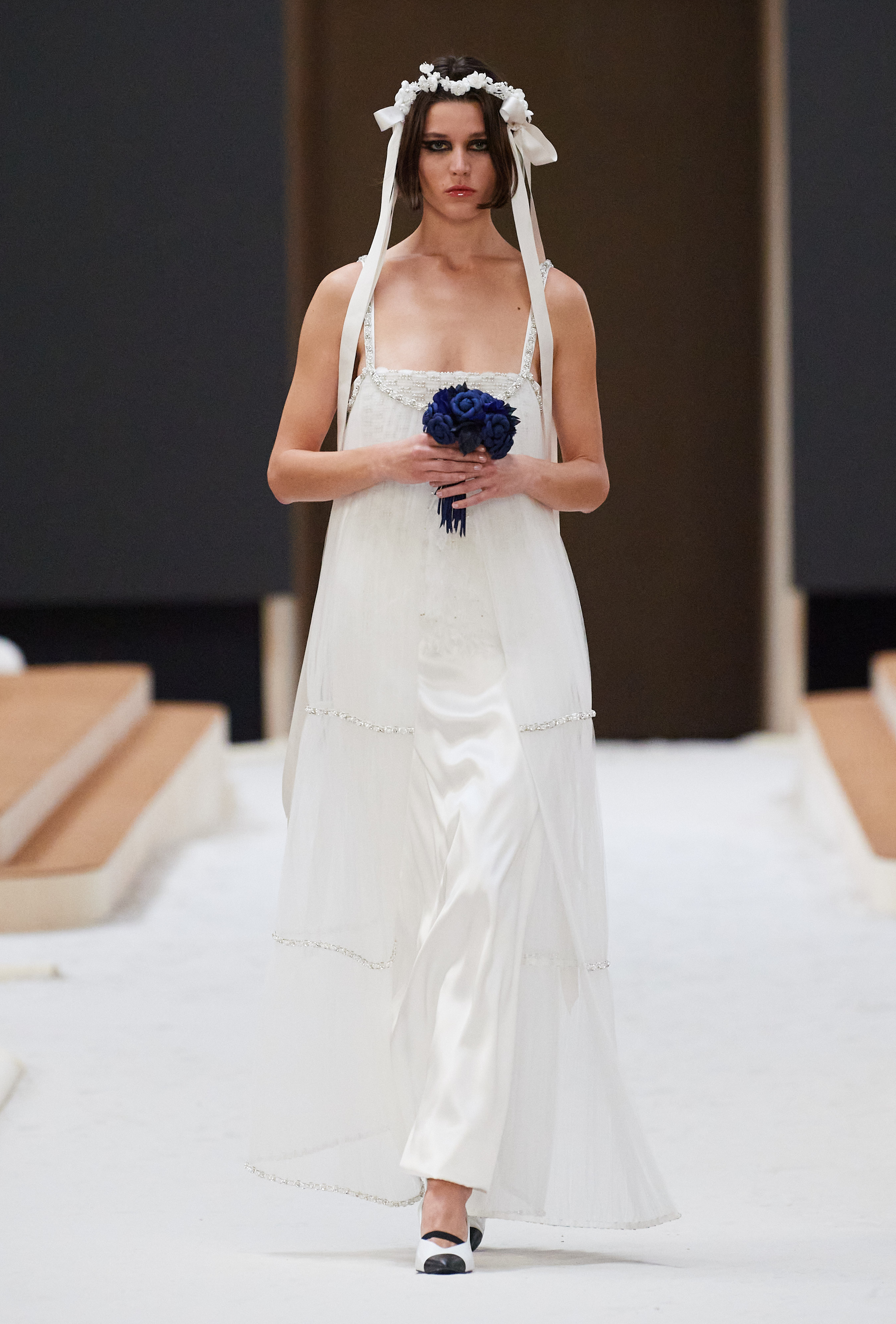 Follow i-D on Instagram and TikTok for more fashion reviews.
---
Credits
Images courtesy of Chanel