The best of Manfred Thierry Mugler's theatrical, otherworldly fashion
In the wake of the passing of one of fashion's true Greats, we revisit some of the legendary designer's defining moments.
Yesterday, we learned the sad news that legendary designer Manfred Thierry Mugler had passed away at the age of 73. The king of otherworldly fashion, his eponymous label pushed the boundaries of what a fashion show could be, turning them into over-the-top moments of theatre.
However, it was dance, not fashion that was the designer's first passion. Born in Strasbourg, France, in 1948, he performed as a dancer with the Rhine Opera Ballet from 1965 to 1966 before moving to Paris, where he became a window dresser at fashion boutique Gudule.
From there, he began freelancing as an assistant designer for a number of fashion houses, before starting his own ready-to-wear line, Café de Paris, in 1973. "I never dreamed of being a fashion designer. I wanted to be a director," the designer told T Magazine in 2019. "But fashion happened to be a good tool. It was a means of communicating." His debut, which featured precise, streamlined silhouettes inspired by his dance background, became the foundations of his namesake line, which was launched a year later in 1974.
At Thierry Mugler, the designer became known for his strong silhouettes – power shoulders with snatched waists – use of unconventional materials and unexpected inspirations like science fiction, insects, and fantastical creatures. After building an empire that included a successful series of fragrances, financial difficulties led to the designer retiring from the brand in 2003.
While his label has continued without him at the helm – Casey Cadwallader is the current creative director, preceded by the likes of Nicola Formichetti and David Koma – he continued to create, working on short films with Isabelle Huppert, as well as designing costumes for operas, theatre, the Cirque du Soleil, and even a Beyoncé tour.
More recently, the designer's recent projects included dressing Cardi B in three looks from his archive – most notably the 'Venus' sheath dress from his AW95 couture show — for the 2019 Grammys, and coming out of retirement to create Kim Kardashian West's outfit for the 2019 Met Gala. After previously declining offers from The Met and V&A, the designer collaborated with Montreal's Museum of Fine Arts on a retrospective of his work, with Thierry Mugler: Couturissime later travelling to the Musée des Arts Décoratifs in Paris (where it's currently showing until the end of April).
Mugler's death is another huge loss for fashion — following in the wake of recent losses in the form of André Leon Talley and Virgil Abloh — and his undeniable impact, years after he stopped designing on-schedule, will undoubtedly continue long after his death.
"My work is timeless because it's based on the beauty of the human body and the fascinating world we live in," he once reflected on his impact. "My work pays tribute to the woman and gives her personality… I give them armour."
He was the pioneer of fashion as entertainment…
From the beginning of his career, Mugler's shows toed the line of fashion, theatre, and performance – inspired by his background in dance. For the designer's 10th anniversary AW84 show, Mugler took the fashion show experience to dizzying new heights. Taking over the Zénith arena in Paris, the show was presented to 6000 people, marking the first time that the public had access to a show at Paris Fashion Week. The show-stopping event featured 350 models acting in short vignettes inspired by Olympian and religious motifs, before the grand finale in which a pregnant Pat Cleveland — cosplaying as the Madonna in an angelic bedazzled gown and headdress — was lowered from the heavens in a puff of smoke before walking the catwalk, triggering the release of thousands of rose petals. This stadium-scale style of show was later adopted by the likes of Yves Saint Laurent and Jean Paul Gaultier, and inspired a new generation of showmen like John Galliano and Alexander McQueen.
… and celebrity collaborations
Throughout his career, Mugler teamed up with celebrities who shared his button-pushing creativity, working with names including (but not limited to) David Bowie, Grace Jones, Diana Ross, and George Michael. After coming across one of his iconic motorcycle corsets in the Metropolitan Museum Costume Institute, Beyoncé tapped the designer as creative director for her 2009 I Am… tour in which he designed 58 costumes for the singer alone, as well as directing segments of the show, and providing input on choreography and lighting.
He was an early champion for runway diversity
Long before runway diversity was a talking point, Mugler would often feature models who didn't meet the prevailing industry standard (read: tall, white, and thin). As well as casting plus-size models like Stella Ellis and drag queens like Lipsynka, the designer's shows prominently featured trans models like Connie Fleming, Teri Toye, and Roberta Close leading to them walking for the likes of Chanel and Vivienne Westwood. For the designer's SS92 show, the cast of models included a mind-bending combination of the porn star Jeffrey Stryker, Deee-Lite's Lady Miss Kier and Dmitry, and recently divorced Ivana Trump. It prompted acerbic critic Cathy Horyn to pen in the Washington Times: "Mugler's shows have pretty much ceased to be about fashion per se. They are about the people who are in his shows – socialites, peroxided Lido stars, pop singers, bouffant transvestites – and in that sense they are for the people who live for fashion."
He had a lesser-known career in photography
While Mugler is synonymous with iconic fashion design, he was a multi-hyphenate creative, pursuing photography after prompting from Helmut Newton. While working with the legendary photographer on the set of one of his campaigns, his uncompromising vision led Newton to tell Mugler to shoot the images himself, and he did. His photographic oeuvre is as grand as the catwalk shows he produced, filled with images shot in far-flung locales, from the salt flats of the Atacama Desert in Chile to the middle of the Sahara, or 20km into the ocean on an iceberg. In perhaps one of his most iconic images, he lensed model Claude Heidemeyer at feet-tingling heights perched atop the gargoyles of the Chrysler building. Risking his life for the shot, Mugler was balanced out of a window two floors above on a ladder, while two assistants inside held it so he wouldn't fall. See: uncompromising vision.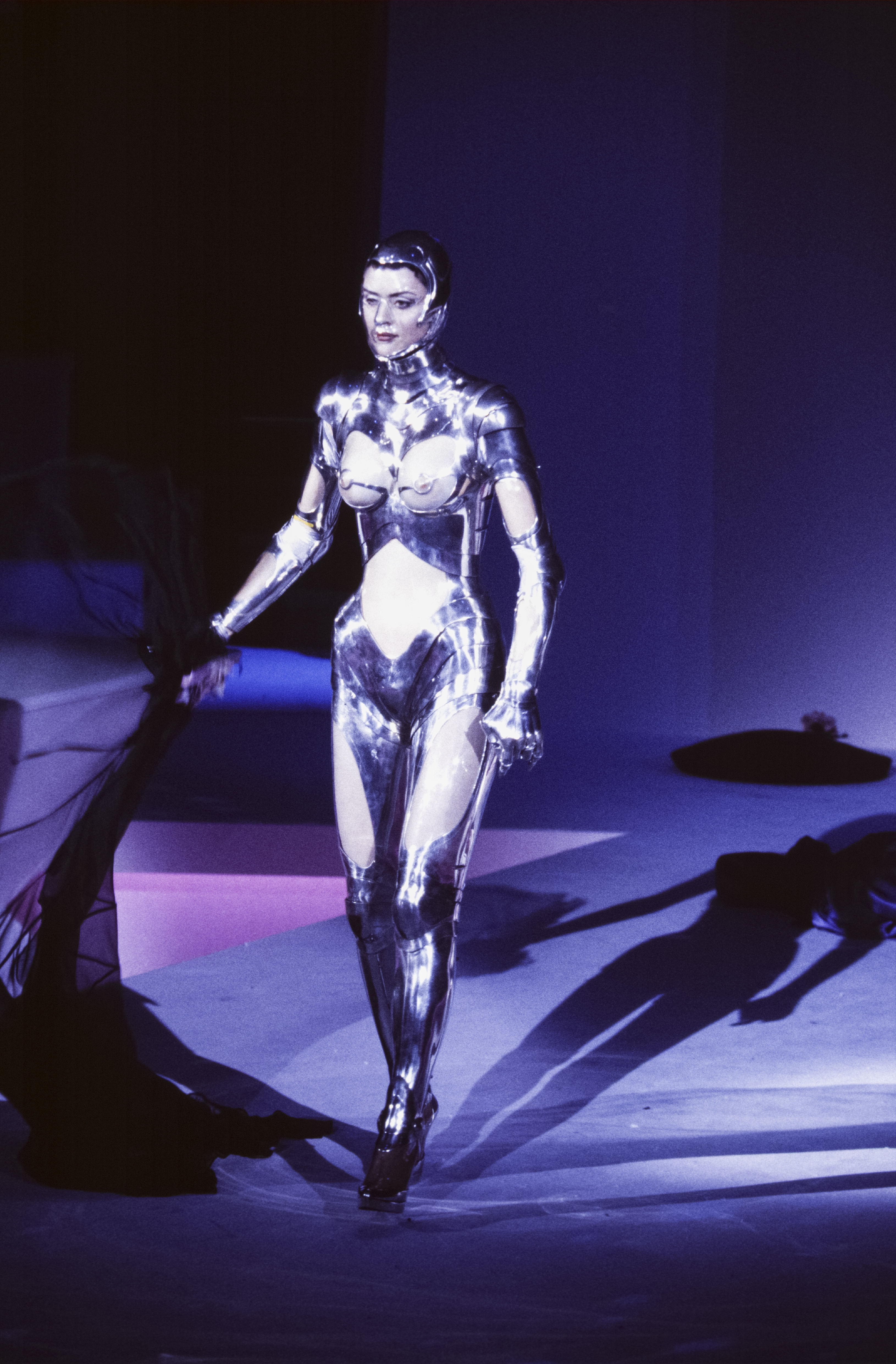 He reinvented what couture could be
In 1996, the notoriously rigid Chambre Syndicale de la Couture invited Mugler to officially show on the couture schedule, and his foray into it motivated him to explore and innovate what fashion on this level could look like. Already famous for using unconventional materials like latex, rubber tyres, and car parts for his AW89 motorcycle corsets, he collaborated once again with Jean-Jacques Urcun to create a look that was six months in the making. Swaddled underneath a grand purple overcoat, the model disrobed to reveal a shining chrome suit of armour, a futuristic look that leaned into the designer's transhuman interests while remaining femininely beautiful and undeniably chic.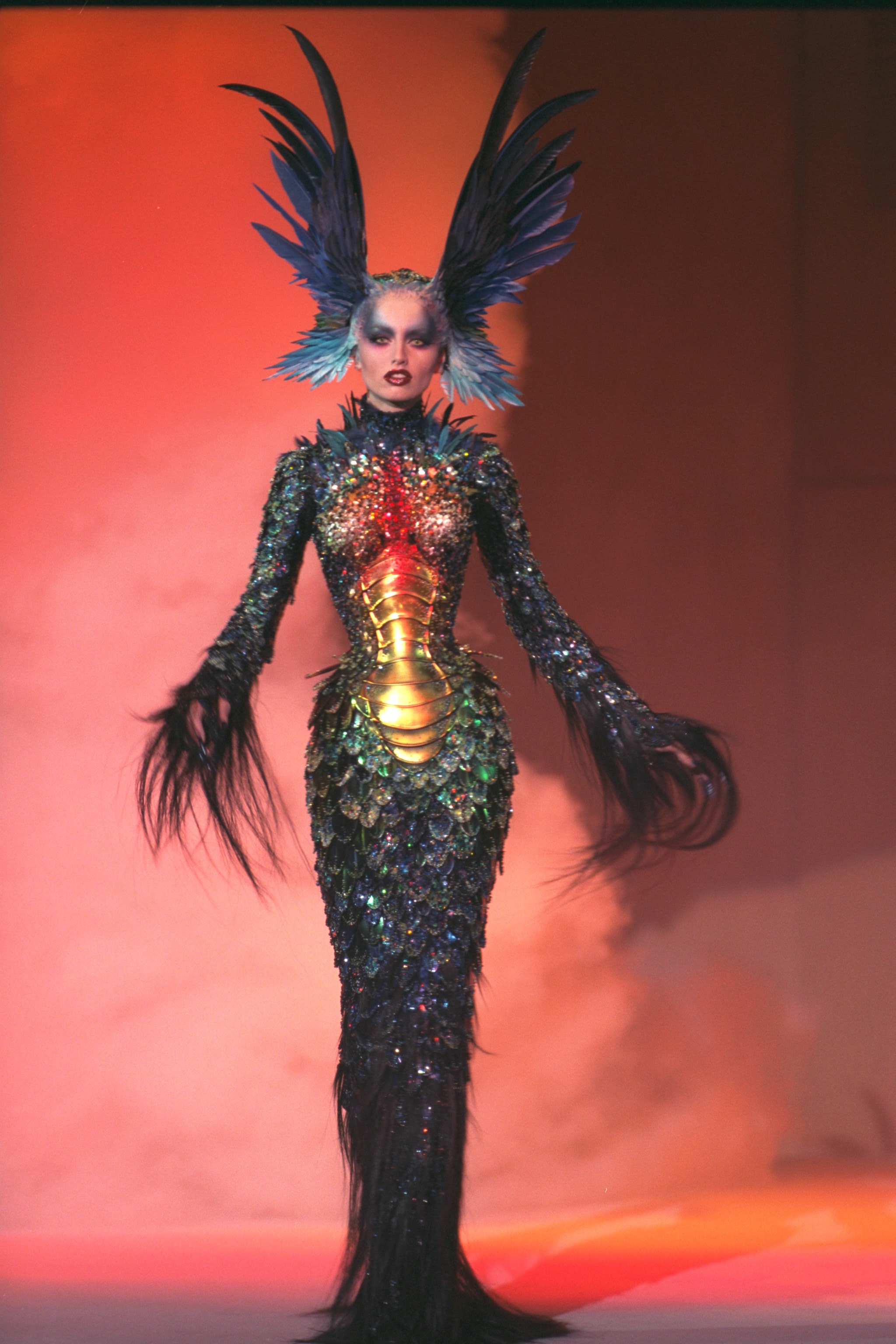 He designed La Chimère…
The instantly recognisable Chimère gown from the designer's AW97 haute couture collection is arguably the crown jewel of Mugler's design legacy. Transforming model Adriana Karembeu into an otherworldly fish-bird creature – complete with piercing eyes, reptilian and yellow – the dress was a labour of love, created in collaboration with artist Jean-Jacques Urcun and renowned corset-maker Mr Pearl. Unlike anything seen before it (or since), the gold armour-like corset explodes into a kaleidoscope of sparkling crystals, hand-painted scales, feathers and horsehair. It unsurprisingly required countless hours of work in the atelier to be constructed, with a team of 20 people working around the clock for six weeks to bring the vision to life.
…AW95 Haute Couture…
One of Mugler's biggest bonanzas, the AW95 couture show, was an hour-long spectacle in celebration of the 20th anniversary of the house and featured supers including Naomi Campbell, Linda Evangelista, Claudia Schiffer and Kate Moss, as well as Jerry Hall, actress Tippi Hedren, and James Brown, who performed. The collection featured some of Mugler's most celebrated designs such as 'Venus', the silver fembot, the gaggle of latex ladies, and Nadja Auermann in the iconic gold, crystallised corset – later given a new lease of life in Beyoncé's "Sweet Dreams" music video.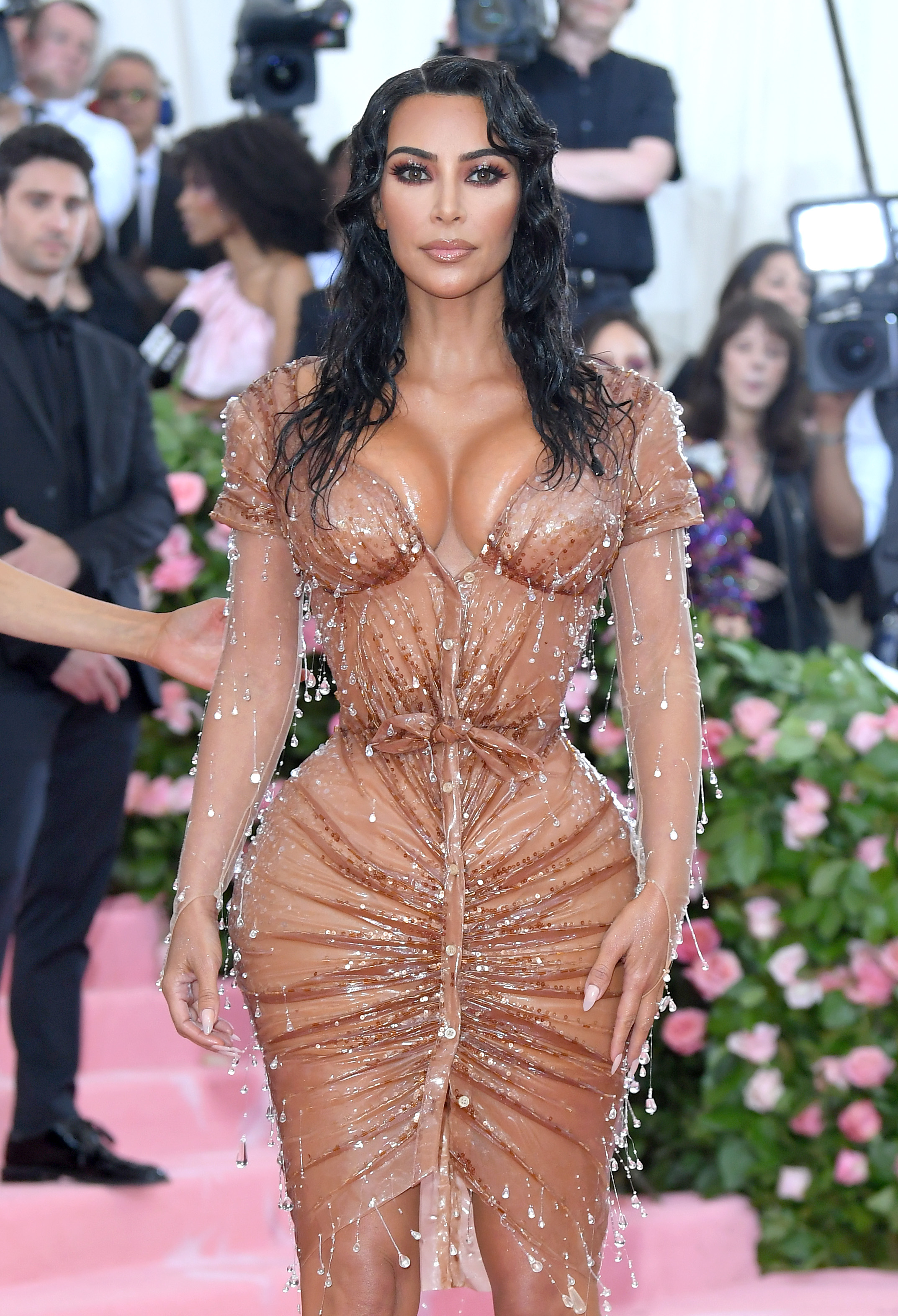 … and Kim Kardashian's Met Gala Look
After retiring from fashion in 2003, in 2019 Mugler made his red-carpet return, designing a look for Kim Kardashian's appearance at the Met Gala – Camp: Notes on Fashion, the theme that year – working with longtime collaborator Mr Pearl over a period of eight months. Inspired by Sophia Loren's sponge-diving character Phaedra in the 1957 film Boy on a Dolphin, the nude latex dress glistened with sequins and dripping crystals. "He envisioned me as this California girl stepping out of the ocean, wet, dripping," Kim said on the Met red carpet, about her look before adding: "Manfred Thierry Mugler is the definition of camp."
Tagged: