Paul Thomas Anderson has made a 70s coming-of-age movie
Watch Alana Haim make her acting debut in the trailer for 'Licorice Pizza', alongside an eclectic mix of actors.
|
27 September 2021, 4:37pm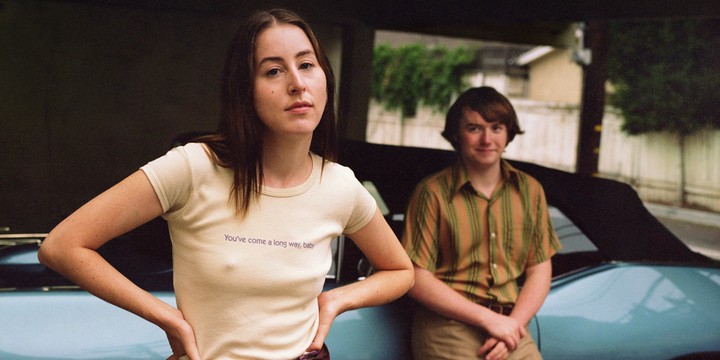 Photo courtesy of MGM
Ask any movie buff what their most anticipated movie of the year is and chances are they'll say Licorice Pizza. Long shrouded in a mystery typical of its director — Boogie Nights' Paul Thomas Anderson — it has been a source of fascination for film fans ever since the cast list was announced: Alana Haim, Bradley Cooper, Ben Stiller, Christopher Walken, Benny Safdie (who directed Uncut Gems) and Cooper Hoffman, son of the late, great PTA collaborator Philip Seymour Hoffman. Now, we've got our first look at the trailer.
Originally produced under the title Soggy Bottom, Licorice Pizza is set in the 70s in California's San Fernando Valley, where PTA himself was raised. A coming-of-age movie, it appears to tell the story of a teenage actor in his final years of high school, balancing the two lifestyles with two vastly different friend groups: one a rag-tag gang of school friends; the other a solitary kinship with Jon Peters, played by Bradley Cooper, a real-life movie producer responsible for the Barbra Streisand version of A Star Is Born.
The trailer feels like a warmly coloured and pacey throwback to PTA's more accessible early work, after the refined high drama of Phantom Thread, the weirdo twists of Inherent Vice and the dense genius of The Master. Of course, until we see the whole thing, nothing can be certain.
The movie is set for a limited release on 24 November before hitting US theatres nationwide on Christmas Day, a slot and technique that might suggest that the studio have high Oscar hopes for it. That's unsurprising considering Phantom Thread's awards success, racking up six Academy Award nominations and one win. We are personally looking forward to the idea of seeing Bradley and Gaga going head-to-head in an Oscar-off after A Star Is Born. What will reign supreme? Gaga's "Father, son and house of Gucci" line delivery, or the movie that sees Bradley don a 70s porn director get-up? Either way, the movies are back, baby!