So there *is* going to be an Eternals sequel with Harry Styles?
It looks like his co-star might have leaked some sensitive information.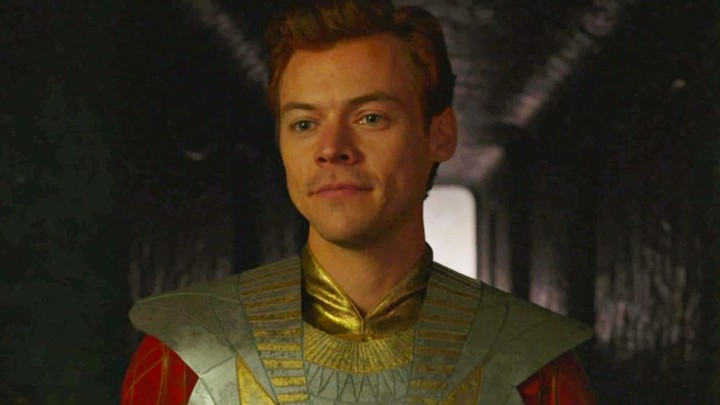 Marvel
Anything can happen in the fantastical world of movies. Timothée Chalamet can play Willy Wonka; Greta Gerwig can direct a deranged Barbie movie; and now (after many months of rumours) we know ex-One Direction star Harry Styles has landed the role of Starfox (also known as Eros of Titan) in the Marvel Cinematic Universe. What's more, having first appeared in 2021's Eternals, directed by Nomadland filmmaker Chloé Zhao, he's set to make his return in the MCU shortly. And though a straight-up Eternals sequel is yet to be formally announced, it seems one of his co-stars might have let the news slip.
Along with his Grammy-award winning musical career, the "Watermelon Sugar" singer has been racking up acting credits like no one's business, with roles in Christopher Nolan's WWII epic Dunkirk, Olivia Wilde's Don't Worry, Darling and, of course, the "bi cop movie starring Emma Corrin as the third wheel" that we've all been waiting for -- My Policeman.
But here's everything we know about Harry's involvement in the MCU specifically, and his future within it.
How did fans know Harry would join the MCU?
In September 2020, Kris Tapley -- a reporter and writer for Netflix -- tweeted and quickly deleted a post about a secret Marvel project Harry was acting in. Quoting another journalist's tweet about Harry joining the cast of Don't Worry, Darling in his first acting job since Dunkirk, Kris wrote: "Second if we're counting the Marvel movie no one knows he's in." Highly suspicious, highly suspicious.
Dedicated fans set about sleuthing after the appearance (and subsequent disappearance) of Kris' statement, and discovered that Harry had followed Eternals stars Gemma Chan and Richard Madden in late 2019. However, the news of Harry's casting was only confirmed at the movie premiere on 19 October 2021 in a tweet by Variety reporter Matt Donnelly.
Who is Starfox/Eros?
Harry's character is the superhero Starfox, inspired by the myth of Eros, the god of love. So that definitely tracks. Banished by his family for his womanising ways, Eros is the brother of Thanos, the MCU's primary big bad with the two rarely seeing eye-to-eye. Starfox is an Eternal with super strength, flying and healing abilities, as well as the power to control people's emotions and suggestibility.
He appears briefly in a post-credit scene at the end of Eternals.
And where will he appear in future Marvel movies?
As it stands, following a lukewarm box office pull, no Eternals movie has been greenlit, according to the massive slate of Marvel movies scheduled to be released over the next several years. But fans of the film — and of Harry — need not fear. When asked by MTV News if we'd see more of him soon, Marvel president Kevin Feige confirmed: "Yes."
In fact, despite Kevin Feige playing it coy with regard to a direct Eternals sequel, it may already be in the works behind the scenes. Patton Oswalt, who plays Pip the Troll, the plucky creature that's spotted with Harry in the first film's post-credit sequence, did a television interview with the Today Show yesterday, in which he said, perhaps by mistake: "They've announced there's going to be an Eternals sequel. Chloé Zhao is going to direct it."
The clip, which was uploaded to TikTok, was quickly jumped on by fans of Harry and the MCU. "THAT HAS NOT BEEN ANNOUNCED," one comment puts it bluntly. It may be that Patton has misunderstood Kevin Feige's earlier statement. Or, he might know something the rest of us don't.
Regardless, it's still likely we'll see Harry as Starfox again. The MCU currently places its characters in different realms, like the supernatural (Doctor Strange) and on street level (like Daredevil and Spider-Man). "Cosmic," Kevin said, "that's where Eros and [his sidekick] Pip live."
Rumours circulated last year that Harry had, in fact, signed a five movie deal with Marvel, so where else might be appear?
The most significant movie in the cosmic universe of the MCU is, of course, Guardians of the Galaxy, the third instalment of which is due on 5 May 2023. The movie was shot between November 2021 and May 2022 in Atlanta, Georgia. Harry's US tour wrapped at the end of November last year, and his new era kicked off in April with "As It Was". Can he be accounted for in the in-between time? Could he have been shooting a small part in the next Guardians movie on the DL? This is all hypothesis, but let's just say we're keen to see Eros back in the MCU soon.
Tagged: