Courtesy of Warren Mendes
From nature with love: a Jah Jah x Salomon Sportstyle project
The Parisian Afro-vegan spot and the outdoor brand Salomon Sportstyle have joined forces for a charity project feeding those in need.
Courtesy of Warren Mendes
Jah Jah is the story of a committed vegan restaurant in Paris' vibrant east end, in the heart of Strasbourg Saint Denis – a place, a culture, a cuisine coming from the joint vision of the founders Coralie Kory and Daquisiline Gomis, with the aim of spreading their philosophy of sharing and caring with the world around them.
This year, their altruistic vision will extend to a partnership with Salomon around the initiative "Feed the street". The goal is simple: to get closer to people in need on the streets of Paris, and to distribute nutritious vegan meals from the restaurant. The operation will partly be handled by local youth, with whom the importance of social involvement will be emphasized. As for Salomon, the brand will support this community work by financing 500 meals and will manage the distribution with the teams to ensure the proper reception of the dishes. And for Daquisiline, he will surround himself with friends two days a month from April to August to meet with homeless people, to discuss their journey and develop friendships.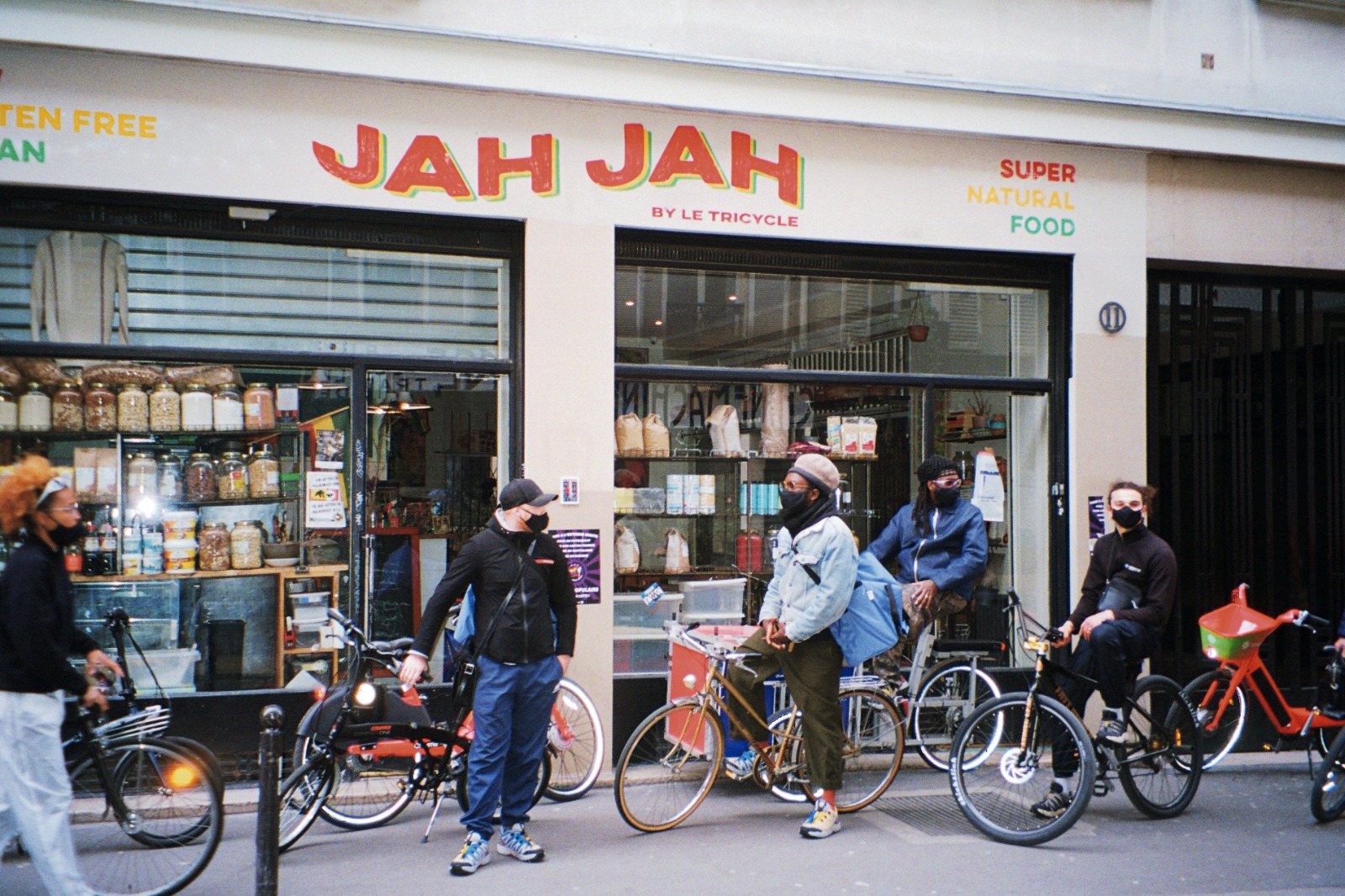 This is only the first part of the project, which is multi-faceted: the Jah Jah and Salomon teams are launching the "Jahiking" chapter, which offers inclusive and accessible hikes for all, in order to encourage awareness around the importance of immersing oneself in nature.
Meet Jah Jah founder Daquisiline Gomis, Alexander Van Oostrum of Salomon Sportstyle and Danesh Domingo of the label's media relations firm, Radical PR.
For all three, one message prevails: a relationship between humans and nature of the most respectful, from the plate to the walk: "Nature provides everything to mankind. We can't live without it! " summed up Daquisiline.
How did Jah Jah's culture, both multicultural and respectful of the environment, nourish this project and its social awareness?
Daquisiline: Jah Jah means God in the Rasta culture. Rasta is a community that shares and cares for its people and nature. For us it is normal to help people in need. It is even a duty to give back what we have been given.
Alexander : In the short term, we want to support the Jah Jah community, while helping Daqui achieve his vision for the future. That's what's exciting and interesting about this project, is to be able to support a cultural project and see it grow and flourish.
Danesh: Indeed, the JahJah and Salomon initiative was twofold: to support people in need and to educate young people about the value of helping.
What connection between the ethos of Jah Jah and Salomon led to this conscious partnership between the two entities?
Daquisiline: For us, Salomon Sportstyle was the brand that made the most sense, as they sponsor and promote outdoor sports, so they are naturally environmentally conscious. It's important to work with brands with whom we move in the same direction. We originally approached Salomon Sportstyle about my "Jahiking" project and after talking at lengths with the Salomon and Radical PR teams, they agreed with the philosophy and vision, and the idea of distributing food to people in need came naturally. It allows us to educate young people and make them aware of the importance of sharing and helping each other. We live in a society where these values are scorned or rarely put forward. The goal is also to encourage others to do more.
Alexander : Salomon Sportstyle represents the fusion of culture and outdoor. Like Jah Jah, Salomon is trying to create change and optimism, so that everyone, regardless of their background, can enjoy what we represent. More generally, we want to spread a positive message and be creative.
Danesh: There is a direct correlation between humans and nature. Nature is an inherent value in the universe of Salomon as well as Jah Jah's, both by default linked to nature. The objective remains the same: to live in symbiosis with it, to make it discoverable and respected by new generations.
What sense of community are you trying to share, to encourage, what sense of responsibility? And how do you communicate and transmit these values?
Daquisiline: It is in through concrete action that we lead the way, that's what we do. It is a community for which it is important set an example through simple things and we push the community through work, respect and mutual aid. You don't get something for nothing. We communicate our values by trying to create programs around these principles: awareness of nature and the environment around us, the people around us, our place and role as individuals on this earth.
Alexander: Salomon Sportstyle wants to offer something new. Not just in terms of sneakers but as a gateway to the outdoors. We do this through the product but also by helping to create experiences that bring together a mix of culture with a vision of what the outdoors can represent both in terms of the physical environment and also symbolically.
Could you tell me about the Jahiking project? What is the link between the environment and social action? What inclusive measures have you put in place?
Daquisiline: The Jahiking project is a project that aims to introduce minorities to new outdoor sports practices. Making them aware of the beauty of nature is a way to show them the need to preserve and take care of it. The best way to look after it is to know it, yet few people, notably young people, have the opportunity to reach it. The hikes that we will set up are open and accessible to everyone; again, the idea is to share a moment together, to learn from each other and especially about the benefits of nature.
Alexander: Salomon Sportstyle aims to support Jahiking by providing its expertise in terms of outdoor environment - both through clothing and through its knowledge of how to access and protect nature. We hope that this initiative will enrich everyone involved in the project no matter who they are or where they come from.
Danesh: The Jahiking project will be the logical continuation of the Feed The Street project. With the support of Salomon, we want to help young people, accompanied by more experienced people, to get out of the city environment, to think about other things, to communicate, to learn… but above all to recharge their batteries.