Finding joy in fatness as a Black woman
This extract from Black Joy, a first of its kind anthology, featuring trailblazing Black British voices, celebrates happiness as an act of resistance.
|
02 September 2021, 11:15am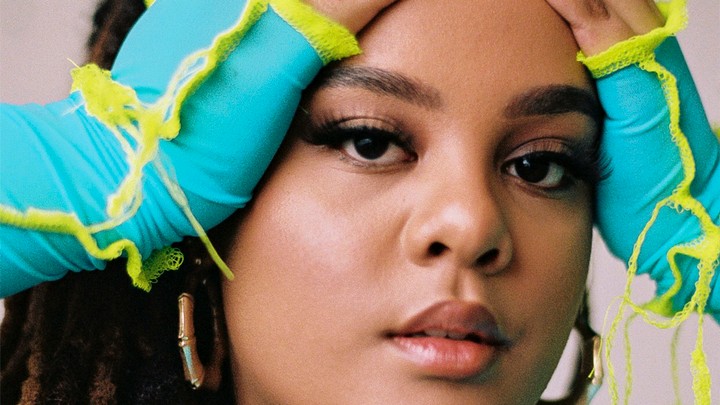 Photography by Vicky Grout
It's easy to forget, in a world where news is often overwhelmingly negative, how important and necessary it is to remember to prioritise happiness and celebrate joy, particularly for young Black people. A new book of essays from trailblazing Black British voices, Black Joy, offers an empowering exploration of how that same happiness can be an act of resistance.
A first of its kind anthology, Black Joy is a candid, contemporary and fresh perspective on race, identity, and belonging for the Black British community, featuring 28 voices including New York Times best-selling author Faridah Àbíké-Íyímídé, BBC Radio 1xtra presenter Richie Brave, host of Channel 4's "How Not To Be Racist" Chanté Joseph, Little Mix star Leigh-Anne Pinnock, KISS presenter and Spotify Who We Be podcaster Henrie Kwushue, Forbes under 30 theatre-maker and artist Travis Alabanza, online comedy star Munya Chawawa, Britain's first Black woman MP Diane Abbott, CEO of The Black Curriculum Lavinya Stennett and content creator Mikai McDermott, alongside a host of up and coming talent at the forefront of Black British culture.
Exploring themes such as love, friendship, music, carnival, travel, diaspora, barber shops and food, this anthology celebrates and pays homage to the unique cultural makeup of Black Britishness. Here, in an extract for i-D ahead of the book's release, Sophia Tassew explores fatness as happiness in her essay, A Stomach Like Mine: Fatness as Happiness.
*
Fat joy. Two words I would have never imagined could be linked together. It's taken time, though – years and years for me to get to a space where I truly experience pockets of joy in my body.
As well as being the backbone of body positivity – a social movement dedicated to fat acceptance and the equal treatment of fat bodies in all areas of life – Black fat women online are probably the main reason why I'm able to function in many things that I do. I actually remember the first time I saw a Black plus-size model on Instagram. I was around nineteen years old and lying in bed, submerged in my duvet; the lights were off and I was endlessly scrolling. I was stopped in my tracks by a black-and-white photo of a Black woman who had a stomach like mine wearing a black gown. She seemed so comfortable in front of the camera, as if it were no big deal. To me, she had done the most groundbreaking thing
I had seen online: she was simply being herself. That was one of my earliest memories of seeing a fat Black body presented in such a beautiful way – unlike seeing someone in a fat suit in a comedy – and linking my own body with beauty. My view of the world changed from that night onwards. I'm not sure if what I experienced in that moment was joy, but somehow I think I knew that there would be joy in my future.
On social media, I often spoke about the things I was passionate about. I loved documenting my work, other people's work I loved, my thought processes and the changes within myself as a young woman trying to navigate life. I treated my Instagram as if it were my diary, religiously logging pivotal moments in my life, right down to my first time wearing a crop top. Crop tops were something you couldn't have paid me to wear at one point in my life. The idea of a strip of my stomach showing made me feel sick. But, finally, I wore my first cropped hoodie to the Tate Modern. It was a solo date and the sun was out. I felt really proud of myself and posted it up. And since then, my wardrobe has been full of crop tops, bikinis, short dresses and everything else I scroll past online. Sacrificing my comfort in the name of other people's opinions is something I no longer wish to do.

Over time I built a following from my transparent captions highlighting the ups and downs of working in the creative industries and my identity as a plus-size Black girl. This core group of people who appreciated my work and values would in the future become my safe space and one of the reasons why I've been able to stay so grounded in what I do. I often spoke about my love for Peckham and my journey to finding myself and loving my body. I posted about the lack of diversity in the creative industries, which led to me taking part in speaking engagements about my experiences and work. While doing that, I was finding my place in the industry as well as finding myself as Sophia. I often posted about my thoughts and feelings towards my own body. That quickly turned into my day-to-day and I soon started following other influencers. Unfortunately, I became pretty much lost in the sauce while discovering that world.
Instagram is a cesspit of comparison and unrealistic expectations. At one point, I questioned why I was unable to afford a luxury apartment, a car and all the latest Apple products by the age of twenty-three. It sounds crazy when you say it out loud, right? But I don't blame myself for being so easily influenced when it was all I saw day in and out. The lines became blurred for me, and imposter syndrome (that feeling that tells you you're a fraud and not good enough for whatever it is you're doing) sucked the fun out of everything I did online. I wasn't sure if what I was doing or saying was right. It was a big cycle of getting to know myself, becoming lost and starting all over again.

I started to think back to that first moment when I saw somebody who looked like me and the joy I felt in that. It was all really simple and I suddenly remembered that's all it should be. I promised myself to always stay true to who I am and be proud of my background and upbringing. Over time, I've learned to ignore a lot of immediate emotions I have towards certain images. I take the time to curate my feed to make sure that I only see things and people who make me feel joy. The fat-acceptance space online has given more people the power to take ownership of their bodies – something I don't think I would have had the courage to do alone. Fat activists online have taken back the word 'fat' and simply use it as a descriptor, which is exactly what it is.

When I think of fat Black joy now, I think of my friends, some of whom I've found in the fat-acceptance space. They've each contributed to different parts of me. Some have built my confidence, some have helped me to become more emotionally intelligent, some make me laugh unprovoked, and some of them fill a void that not even family could fill. More importantly, my friends have helped me see a meaning to my existence, particularly while living in a fat body. Growing up as the fat friend, you don't really have anyone to turn to when you're feeling down. You're met with 'No, you're not fat, you're beautiful!' – as if you can't be both.

We are each other's security blankets, when we grew up thinking we would never have one. We laugh and joke and forget there are a few things wrong with the world. They have made me feel like everything is going to be OK and my confidence is always welcome and should never be held back.

Thanks to these women and so many others, I am truly at a place where I feel joy in being myself, existing online and in the real world as a plus-size Black girl doing bits.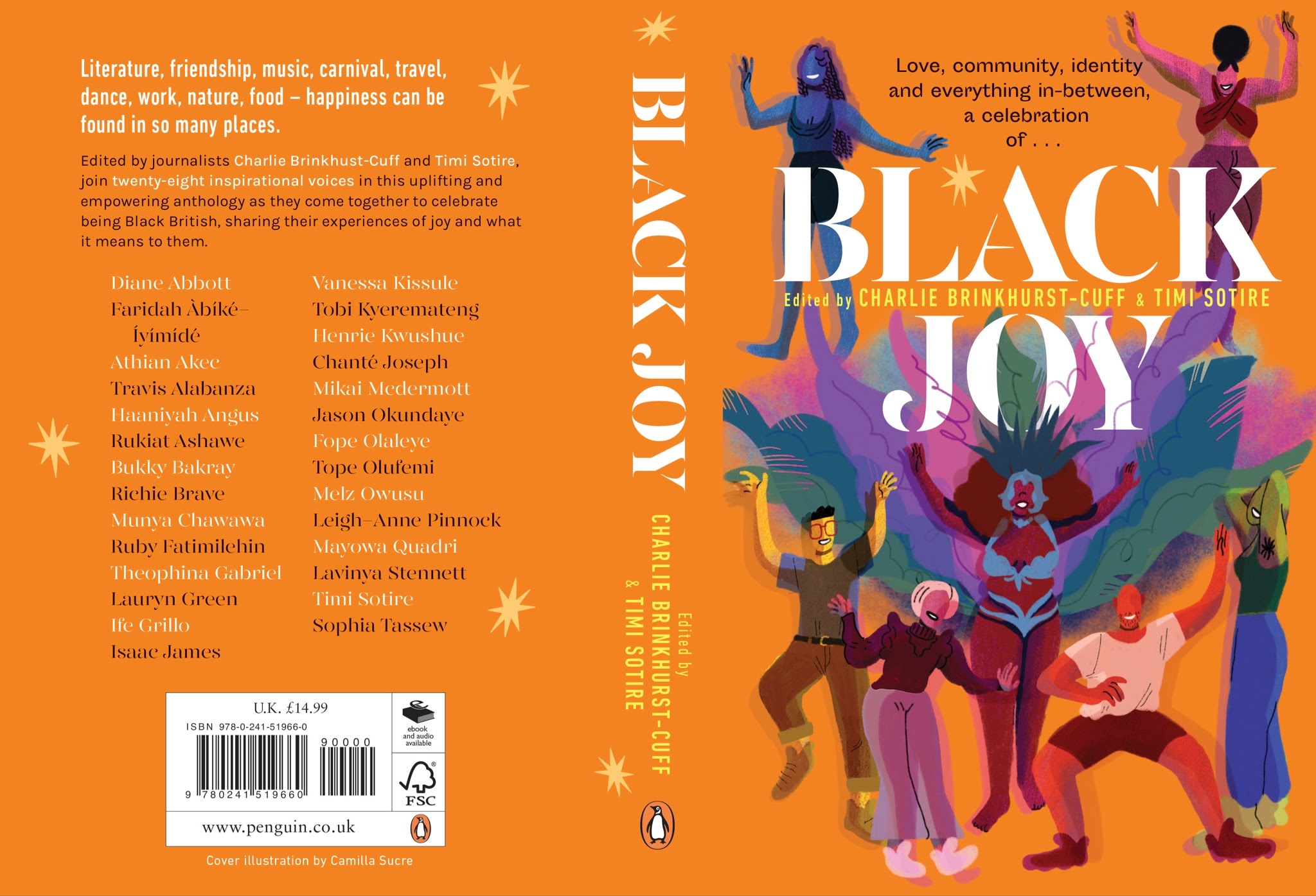 Black Joy, curated and edited by Charlie Brinkhurst-Cuff and Timi Sotire, is published by Penguin on 2nd September.
Tagged: