The Y2K looks inspiring Devon Lee Carlson's fall wardrobe
From Devon Aoki to Dennis Rodman, the LA-based model and internet sensation talks us through the iconic 90s and 00s outfits that inform her style.
|
02 September 2021, 9:28am
Photo by Robin Platzer/Online USA, via Instagram and courtesy of Devon Lee Carlson
"I'm really trying to make middle school Dev proud," says model Devon Lee Carlson, over Zoom from her Los Angeles home. "Don't you feel the same way? Like you're dressing for your younger self?" Among many, many other things Y2K, Devon's reminiscing about her Olsen twins-induced obsession with Balenciaga's City bag — and how she brought that formative obsession full circle a decade-and-a-half later, at the Parisian house's Rodeo Drive flagship.
Born in 1994, Devon's a true blue millennial. That's to say, the model grew up during the zenith of aughties culture. Think The Simple Life, Britney's "Toxic" and the peak of Disney Channel programming. Also think Juicy Couture tracksuits, trucker hats and Marc by Marc Jacobs. As with most of Devon's millennial cohort, the era's fashion trends hold a very foundational type of nostalgia for the model. These styles serve as points of reference and temporal anchors. Louis Vuitton's iconic and kaleidoscopic Murakami collaboration provided Devon with her first designer handbag, an era-specific rite of passage, in a way. A pair of new Versace shoes call Devon's mind back to the purple glam of Scooby Doo's Daphne — the 2002 remake, of course! From a very 70s jacket, Devon conjures Kate Hudson in Almost Famous.
Today, nearly 20 years since the newsboy cap had its hold on pop culture, Y2K's formative garments are back — now, on our Instagram feeds rather than the pages of J-14.
"Y2K is inspired by nostalgia," Devon says. "I think that's why all trends cycle back once a generation comes to a certain age where they're making their own money. Right now, I'm so inspired by the things that inspired me when I was younger." This past summer has seen Devon's Insta grid fitted out with the era's garments new and old: vintage graphic T-shirts, camo "going out" dresses, teensy vests, floral accessories of the Carrie Bradshaw variety and, of course, a re-edition of the aughts' beloved Balenciaga City bag.
Here, we sit down with Devon Lee Carlson to discuss newsboy caps, naked dresses and how 00s style is inspiring her fall wardrobe, all through a selection of her most iconic Y2K outfits.
Gisele Bündchen, circa 2001
I'm such a fan of Gisele; I'm obsessed with everything about her, like the fact that she brings her dog on set with her every day. For this outfit in particular, it's a bodysuit and a cashmere sweater -- the perfect running errands, on-the-go look. I go to pilates twice a week so I'm constantly starting my day in workout clothes, trying to find a way to not feel gross. I feel like she's nailing it here.
For my version, I'm wearing this cashmere hoodie that reminds me of something my mom used to have growing up. She used to wear it when she'd drop me off at school.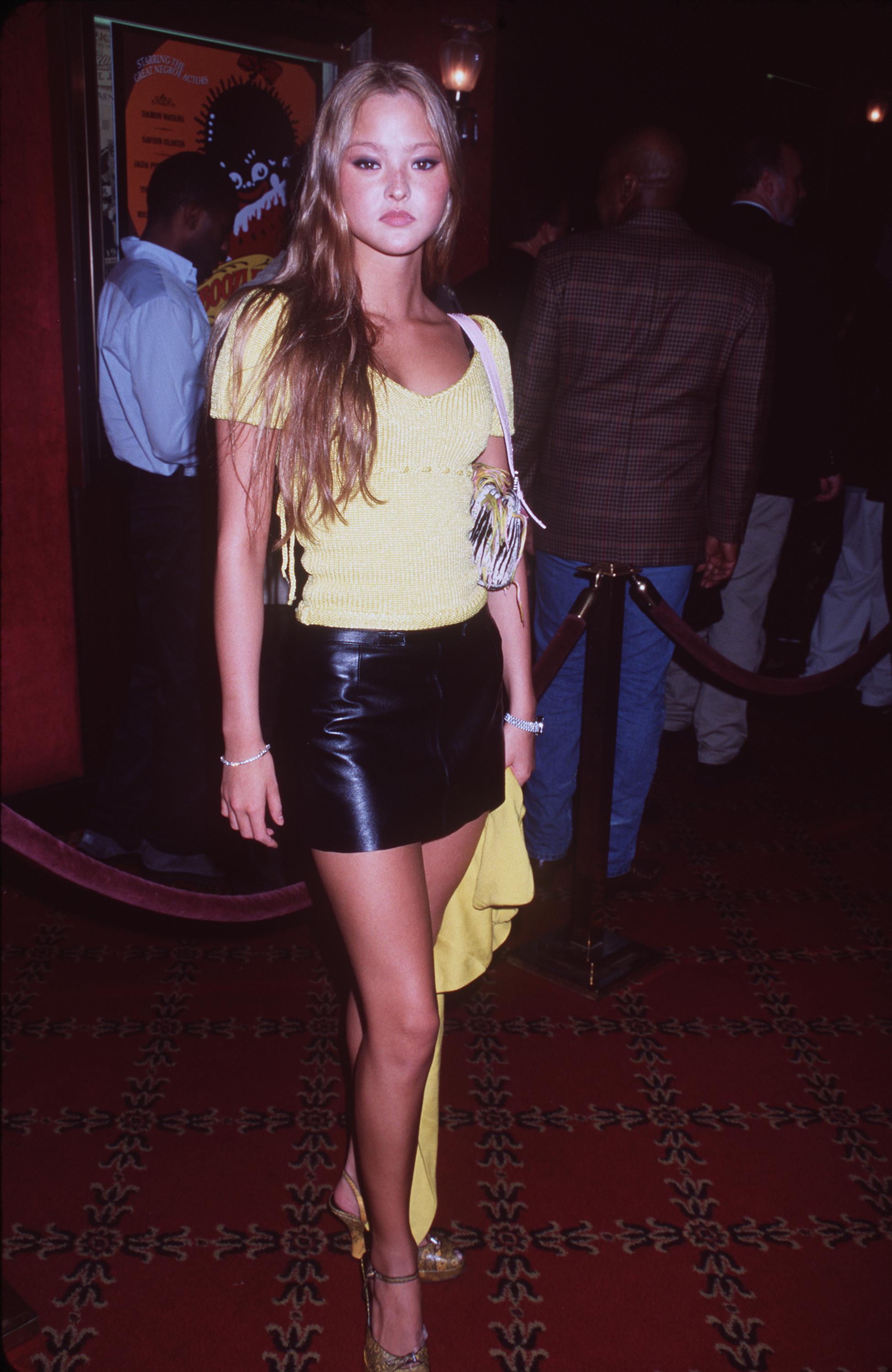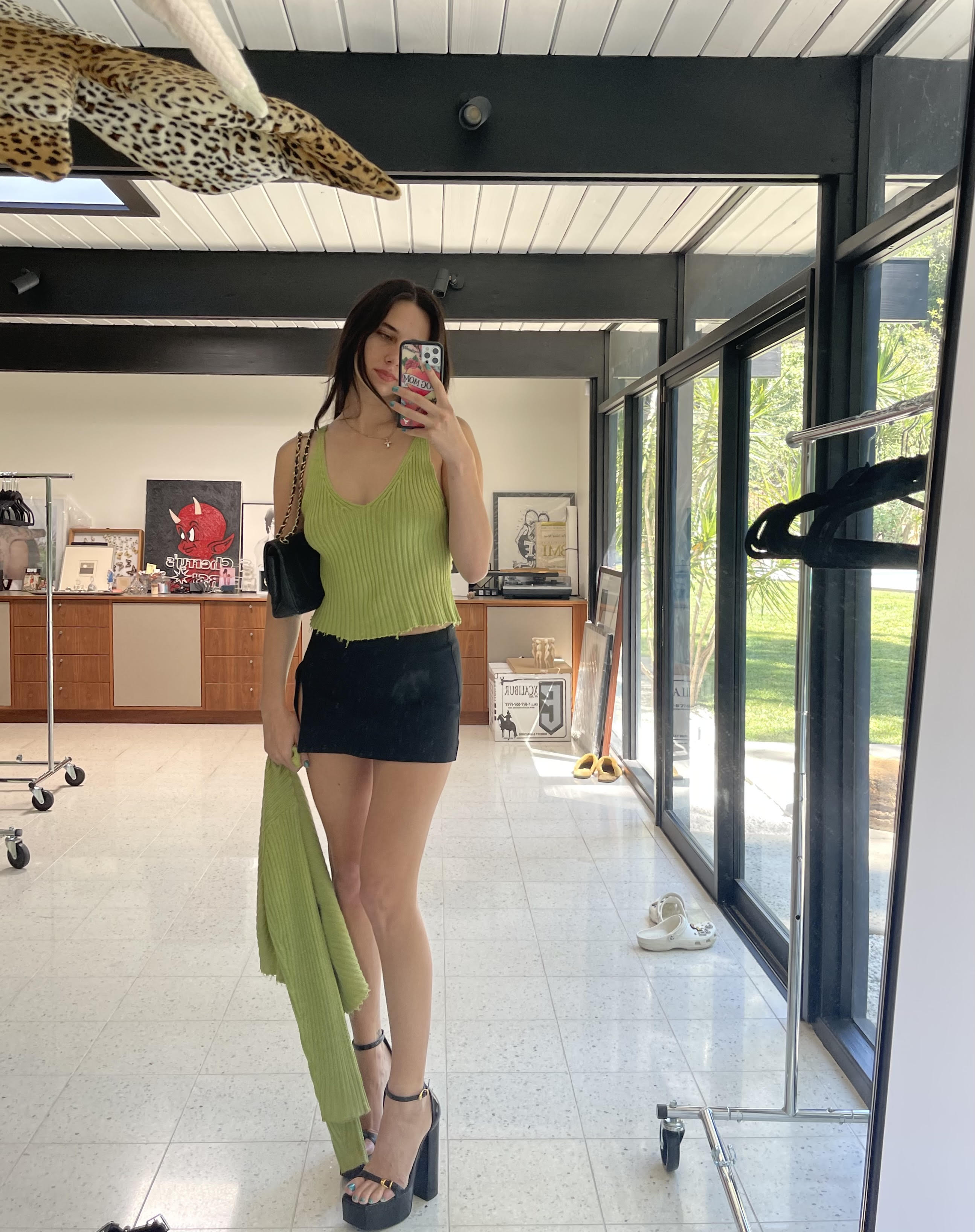 Devon Aoki, 2000
I love Devon Aoki. She's wearing a matching cardigan set here — at least, that's what I imagine it is because she has the sweater on her arm. I love the choices she made when she was putting this look together. Like wearing a yellow cardigan for a night out because typically you wouldn't wear a cardigan "out." She's also wearing a Fendi baguette, a good pump and she always does a smokey eye. It seems so simple, but it's really fun pieces that are all thrown together.
I'm wearing Versace heels here [because] when I'm wearing a miniskirt, I like to be as tall as possible. Being tall was something I was so shy about in high school and middle school. Now I'm so much more confident about my height. I also wanted to wear my vintage Chanel bag. It's so beat-up because I've worn it to death, but I love that it has so many memories.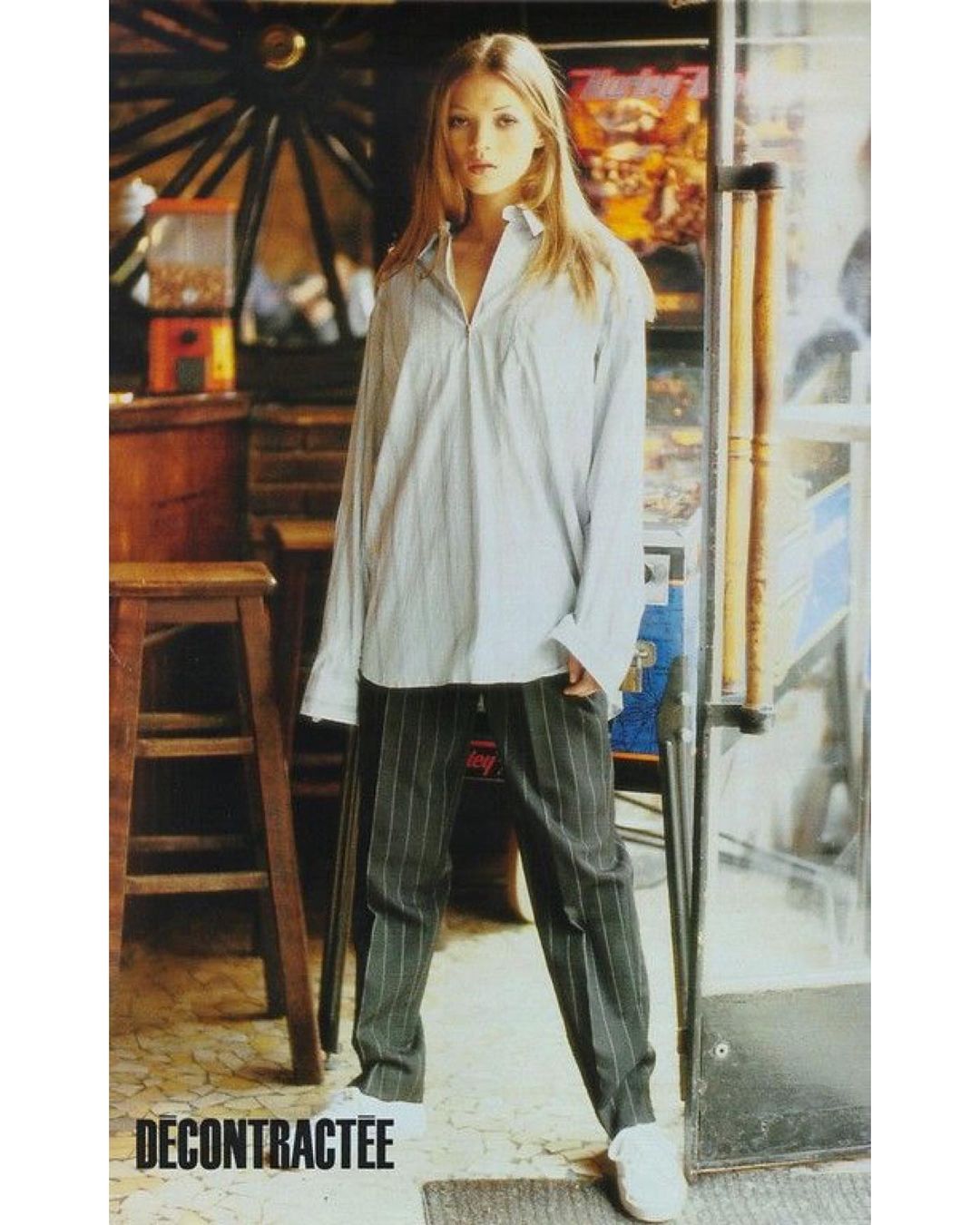 Kate Moss, early 90s
I love Kate Moss's energy. It seems like she just wears everything so casually, whether it's a pair of jeans and a tank top or it's a full gown. And it's very much her wearing the clothes and not the clothes wearing her; her personality and attitude shines through the outfit and she brings it to life. The slip dress she wore that she didn't know was sheer until the photo was taken. That was also such an iconic look that inspired me and that made me feel comfortable with showing my body. Kate Moss is up there with my top fashion inspirations of all time.
I love 90s style so much because it was so truly effortless and it felt so comfortable. I'm someone who likes to dress my mood, but there are times when I need to be in something really baggy and I can't be forced to put on a tight skirt or dress. This silhouette is something I always go for, whether it's with baggy adidas track pants, flip flops or a pair of heels.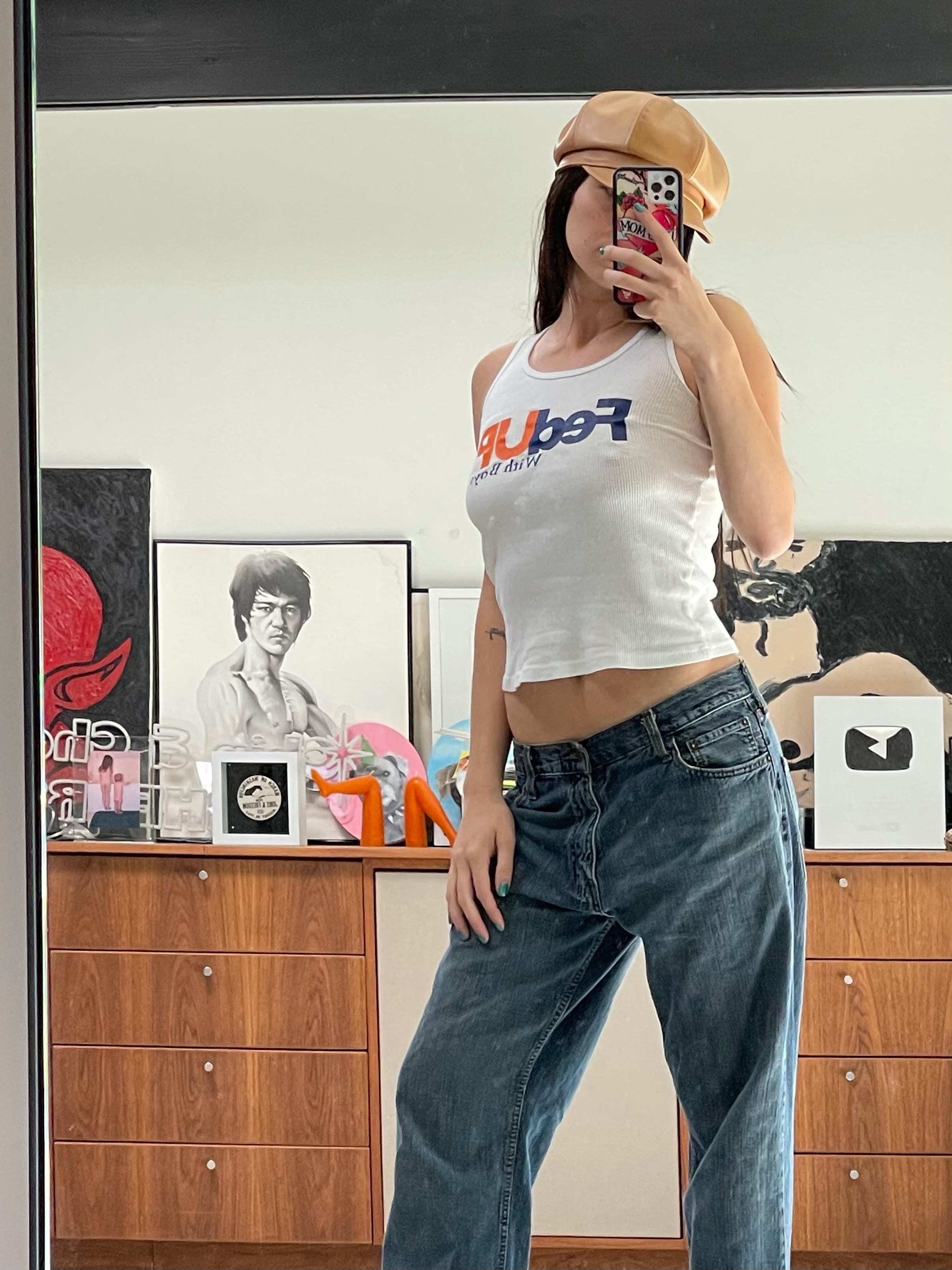 Britney Spears, 2002
This is Britney's version of effortless. I feel like she literally grabbed three things that were on her floor, put her hat on and did her hair in ponytails. She's wearing [this outfit] with confidence and it's the confidence that sells me on the look. I think the best part of the 00s were the graphic tees and obviously she's got a good one on. And the Starbucks cup is also definitely part of the look.
The hat I'm wearing is called the 'Britney' from my Lack of Colour collab. With this hat I wanted to make something a little more daring that some people would be afraid of but some would be like, "Finally, this moment has arrived!" I remember it was the end of the 90s when people started wearing newsboy hats just as casually as baseball hats, where they would just throw one on like I did, in a tank top and jeans.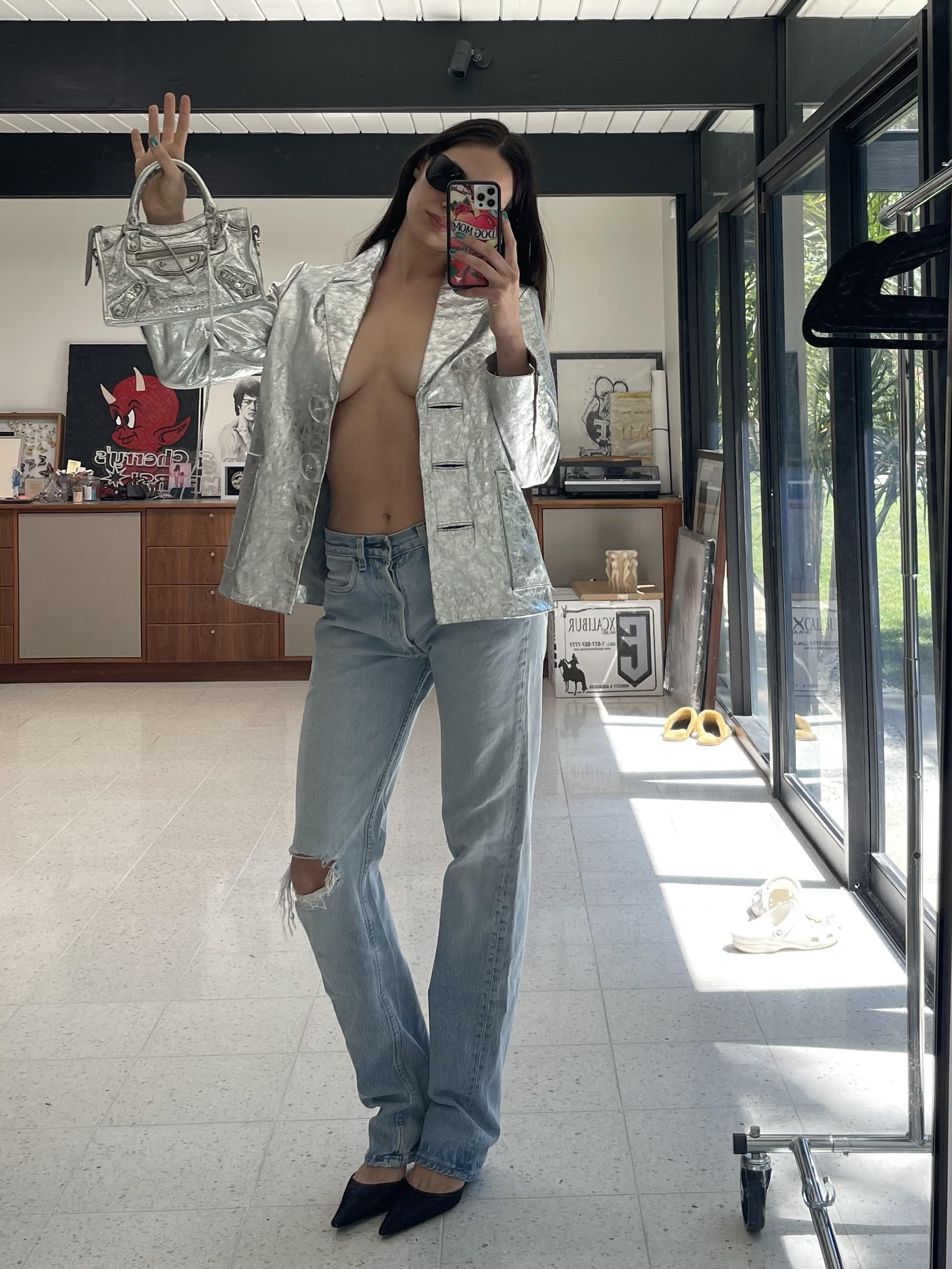 Dennis Rodman, late 90s
I love a man who likes to experiment with his style. I don't know if you can tell, but Dennis Rodman's wearing fishnets here — so, so, so, so good. Lately, I've been gathering a lot of chrome-inspired looks because my boyfriend's band's latest album is called Chip Chrome & The Mono-Tones, so he dresses up in full chrome. I've been collecting chrome pieces, like this Simon Miller coat, to show my support and wear to their concerts.
I'm also wearing vintage 501s. I get the longest ones I can find. My boyfriend steals all my jeans and it drives me insane because I hunt for these jeans. But he puts them on and, of course, they fit him better than me. But c'est la vie.