Can't get to the beach this summer? Paco Rabanne brings the beach to you
For its first-ever summer holiday capsule, Ciao Paco, the perennially optimistic Parisian house celebrates the spirit of the season.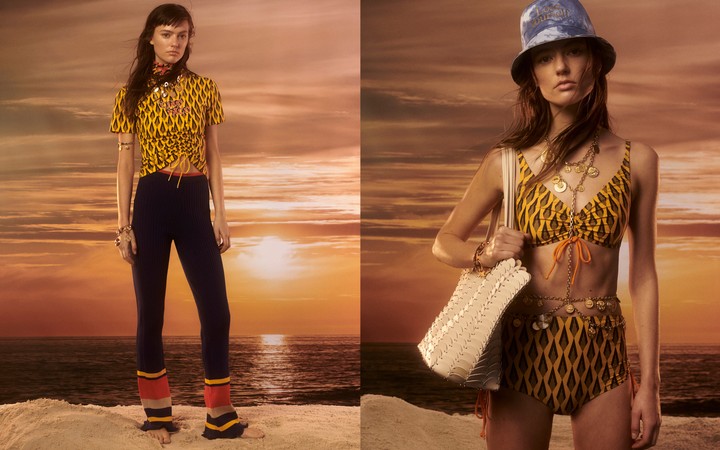 Images courtesy of Paco Rabanne
If you're anything like us, there was one thing you craved over the drawn-out months of last winter more than any other: the return of the sun. And now, here it is! The mercury's sat comfortably in the mid-20s, the parks are packed, and deliciously warm days give way to balmy nights. Readers, it's happened: summer is well and truly here. It's only appropriate, then, for us to update our looks in turn, right? After all, with the ride we've all had over the past year and a half, we've all earned ourselves a wardrobe refresh — a chance to cast out our WFH-friendly cozy go-tos and embrace unabashed hotness back into our lives. Who better to turn to, then, than Paris' supremo purveyor of optimistic dressing, Paco Rabanne!
Just in time for the arrival of these balmier climes, creative director Julien Dossena and his team have released Ciao Paco, a bright, cheery capsule of ready-to-wear and accessories designed to put you straight into that summer state of mind. We're talking bohemian pareo skirts in tie-dye satin, Liberty print floral shirts, sleeveless chainstrap tops… clothes that are purpose-built for long days spent lounging on a sandy beach, watching the sun slowly dip into the sea, basically. Fancy taking a dip yourself? Well, bikini twin sets and swim shorts in retro graphic prints have got you covered there.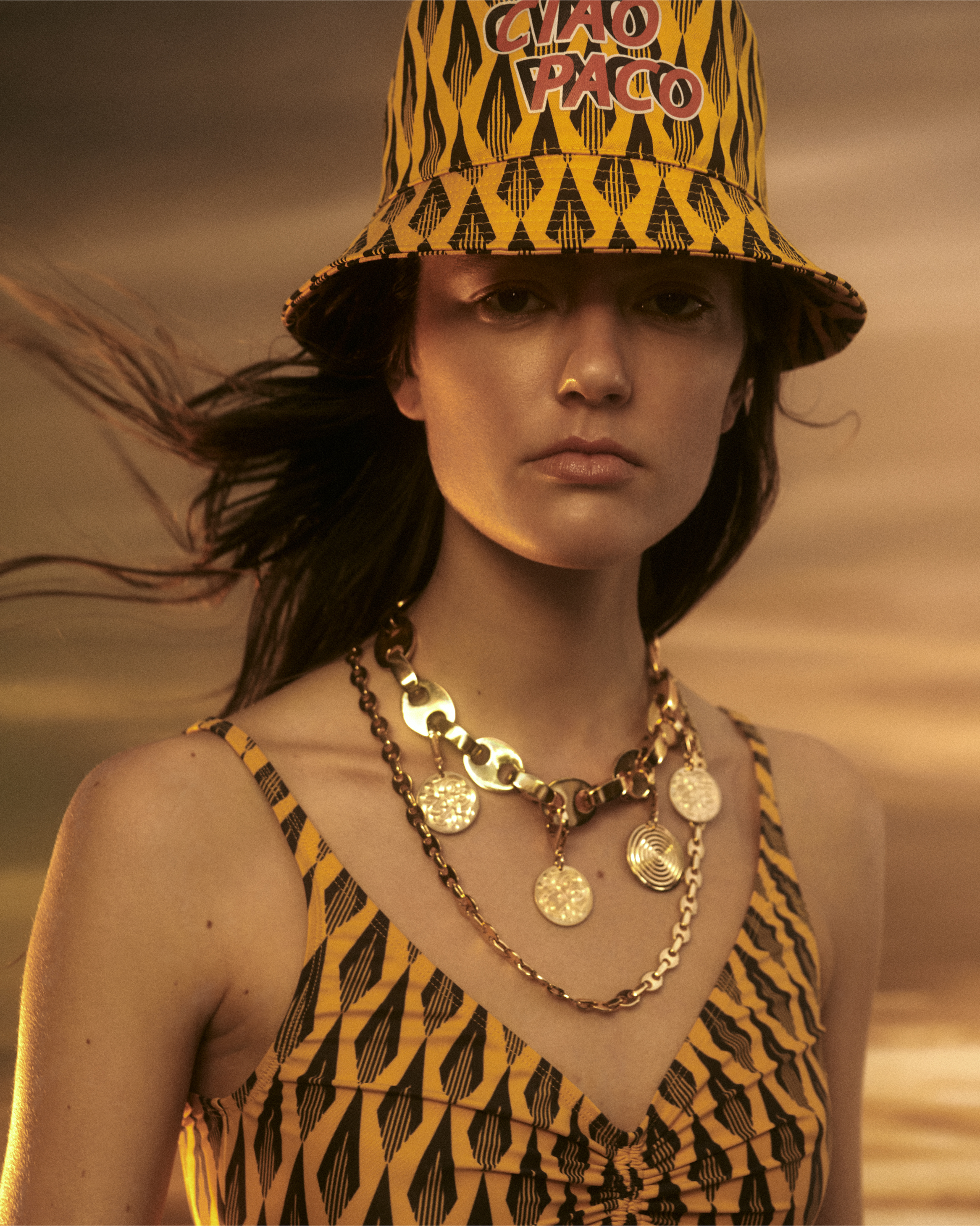 Let's put the beach fantasy to the side for a second, though — after all, this summer is still looking more staycation than jet set vacation for a fair few of us. More than a simple summer holiday capsule, it's a collection of pieces that conjure the sense of the freedom we've all been craving. It's there in the breezy allure of a fishnet knit dress, and it's directly communicated on mottled tie-dye tees and sweats bearing the logan "Lose Yourself", a new iteration of the House's ongoing collaboration with iconic graphic designer Peter Saville, which first began in 2016.
This feeling of liberty also makes itself felt in a series of sunset yellow garments and accessories bedecked with an allover black diamond print and the Ciao Paco slogan — a hooded sweatshirt and a roomy tote bag big enough to carry a couple of towels, a look change, and sunscreen among! They're pieces that give off a sense of irreverent cool, but none quite as much as a wide-brimmed bucket hat and a cropped tee with a ruched hem cut from the same cloth. Suggesting a faintly rave-y energy, they beg to be seen beneath pulsing lights when the appropriate time comes. In the meantime, though, they'll grab just as much attention in any daytime summer setting — whether at the beach, down the pub, or catching some rays in your local park.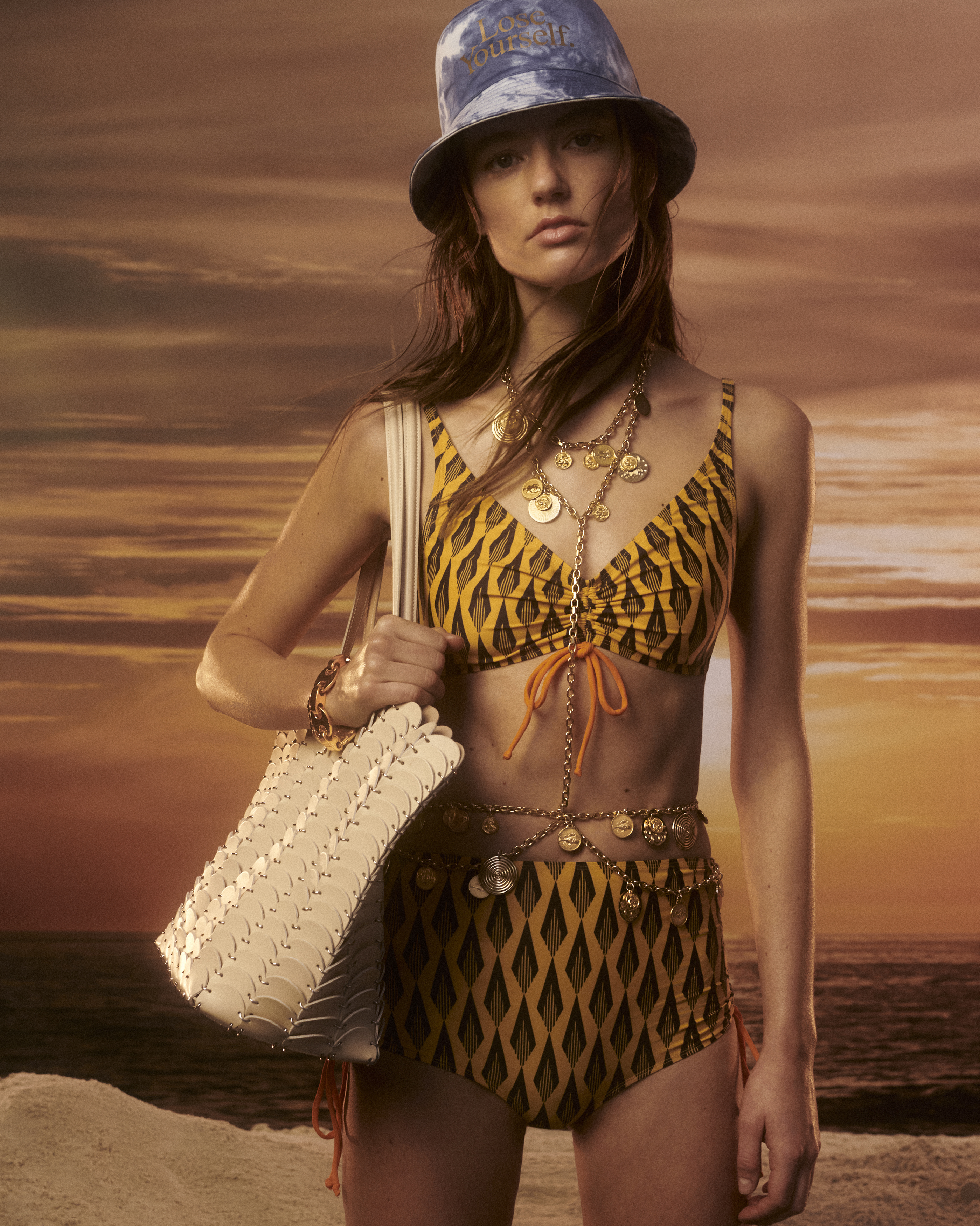 That Ciao Paco is a collection that oozes dynamism is something we're sure you've gathered by now, but should you need any further convincing, look no further than its ribbed knit tops, trousers and cut-off shorts. Decorated with sunset-hued tennis stripes, each piece subtly taps into the nostalgic appeal of 70s sportswear.
Of course, exactly how the summer ahead will pan out is still an enigma for many of us. In the current climate, though, it's important to remember that summer, and the sense of freedom we associate it with, isn't so much about where you spend it — it's about an attitude, a liberated state of mind. Consider Ciao Paco a physical token of that — a collection of looks that bring the spirit of the season to you wherever you are.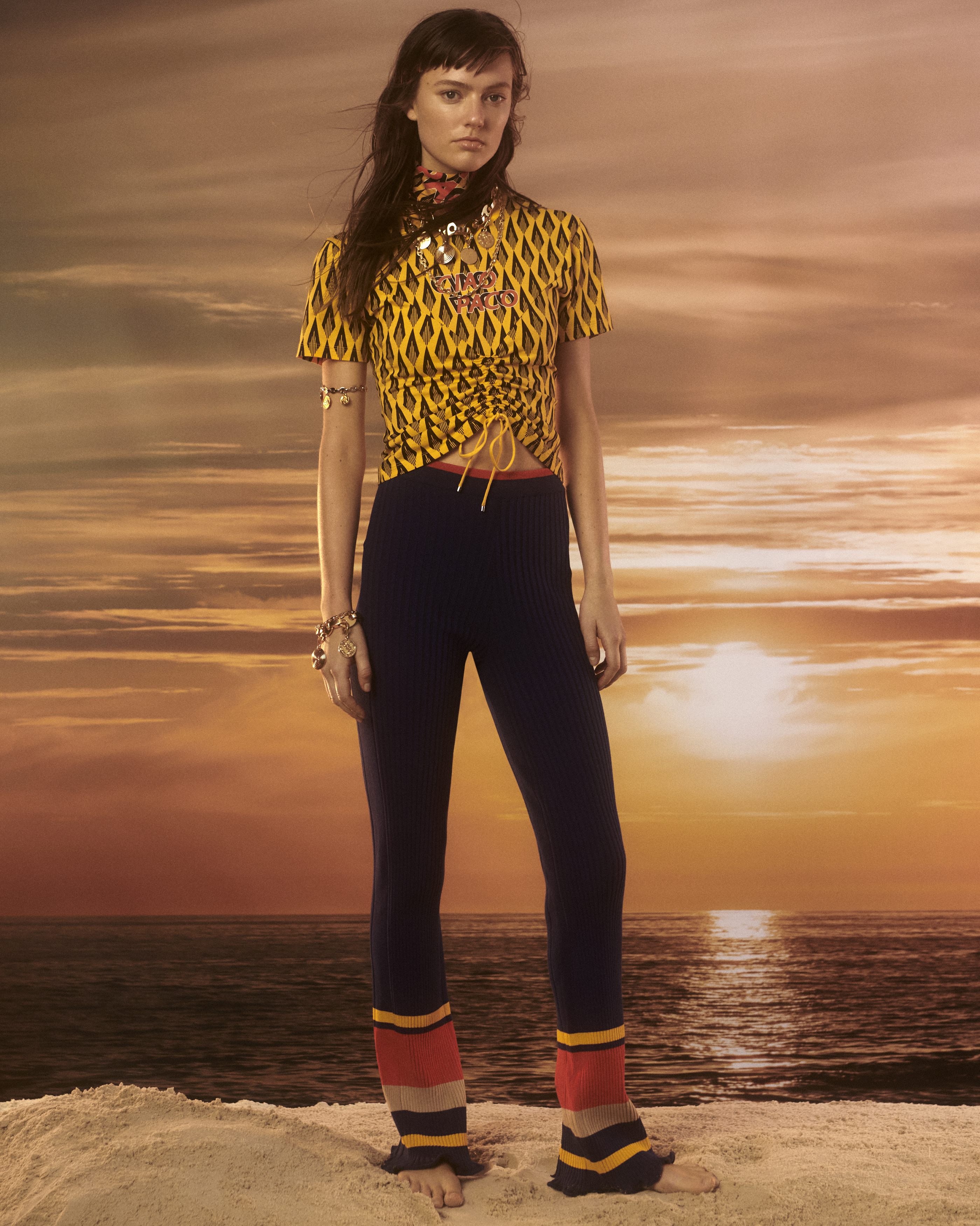 Discover Paco Rabanne's Ciao Paco collection here.
Tagged: