Pornhub launch an online exhibition of the world's best erotic art
The platform's Classic Nudes tours feature sensual paintings from the Met in New York, the Musée D'Orsay in Paris, and more.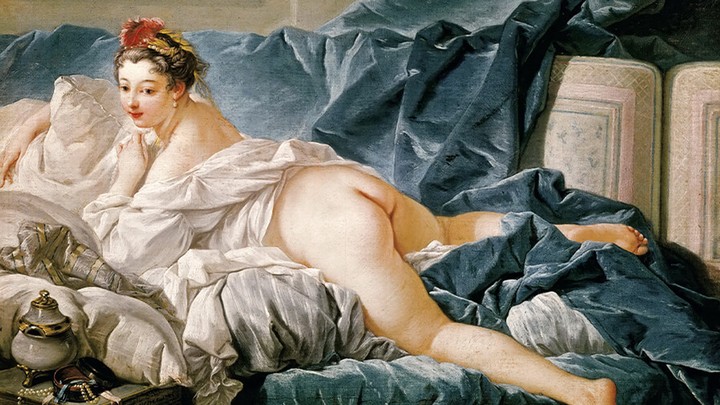 Courtesy of Pornhub
A new interactive exhibition asks: how can we give museums a sexy rebrand for our newly chaotically horny times? Adult video streamer Pornhub is leading the charge with "Classic Nudes", a NSFW tour through six globally renowned museums — the Louvre, the Met, the National Gallery, the Prado, the Uffizi Gallery, and the Musee d'Orsay — and the sauciest paintings they have to offer.
According to a press release, the goal of the project is "stimulating the public to visit, explore and fall back in love (or lust) with these cultural institutions." A worthy cause to take in some nudes if there ever was one.
"There's a treasure trove of erotic art around the world — depicting nudes, orgies, and more — that's not available on Pornhub. These pre-Internet art pieces are currently sitting in museums, which we are now finally able to start visiting again as COVID restrictions are starting to lift," explains Asa Akira, an adult actor who provides audio commentary for 30 featured erotic artworks.
Each piece comes with a more, uh, informal description than you might be used to seeing in regular showcases of classic art. To give you a flavour of the content, here is the description for Crespi's Cupid and Psyche, positioned as "a classic myth that creeps ever-so-slightly into glory hole territory":
"These two bang-buddies are Cupid (we know him) and Psyche. Now, Psyche is the super hot newcomer on the scene, and that makes Cupid's mom, Venus, really mad, since she's supposed to be the hottest goddess. So Venus tells her son to fire a love arrow into Psyche to make her fall in love with the most hideous creature on earth."
"Except… when Cupid sees Psyche, he falls in love with her instead. Obviously, he doesn't want Psyche to know who he is (because of that whole jealous mom thing) so they only meet up at night when it's too dark for her to see whose love arrow is poking into her." Okay, you get the picture.
On top of all this, Pornhub have enlisted amateur performers MySweetApple to recreate (or, really, procreate) a few of the erotic scenes depicted in classic paintings by Degas, Coubert, Goya, Titian, and more. So there's something for everyone.
Featuring the dulcet tones of Cicciolina (an artist and former adult star), you can watch the promotional video for "Classic Nudes" via the link below. And if you find yourself suddenly compelled to educate yourself in art history through erotic paintings? The full project is waiting for you right here.