Still from Pierrot le Fou, © AGIP/RDA/Everett Collection and photo by Sunset Boulevard/Corbis via Getty Images
7 of Anna Karina's most iconic outfits
The French New Wave film star is the blueprint for today's French chic.
Still from Pierrot le Fou, © AGIP/RDA/Everett Collection and photo by Sunset Boulevard/Corbis via Getty Images
More than just a French film star, Anna Karina is the unquestionable face of the French New Wave movement. After meeting director and husband-to-be Jean-Luc Godard in 1960, the Danish-French actress went on to star in seven of the director's most iconic movies. Whether she's playing a schoolgirl-turned-burglar (Bande à part), a woman-on-the-lam (Pierrot le fou) or an aspiring actress (Vivre sa vie), Anna and her inimitable presence — both vulnerable and free-spirited — is the beating heart of each Godard collaboration. The duo's films shaped both French New Wave and French culture, as a whole — and the same could be said about Anna's fashion choices. Taking in plaid skirts, trench coats, headbands and hair ribbons, ballet flats, catty eyeliner, and perfect sweaters, Anna's 60s style (in all its gamine glory) set the standard for Nouvelle Vague dressing and continues to be the blueprint for today's French girl chic. Here, we look back on the French film star's career through a selection of her most iconic outfits.
An early photo session, circa 1960
At age 17, Anna Karina (née Hanne Karin Bayer) hitchhiked from her native Denmark to Paris with only 10,000 francs in her pocket. Soon after moving, Anna was scouted by an ad agency and began modelling. During her early-career stint as a model, Anna covered Elle Magazine, met Coco Chanel (who, Anna recounts, came up with the actresses' iconic stage name), and appeared in commercials for Coca Cola and Palmolive. Here, during one of her first photo sessions as an actress, Anna poses at a Paris monument wearing a pencil skirt, t-bar flats, and a cardigan in one of her favourite colours: red. One year later, Anna wore this cardigan on-screen, while filming Jean-Luc Godard's comedy Une femme est une femme.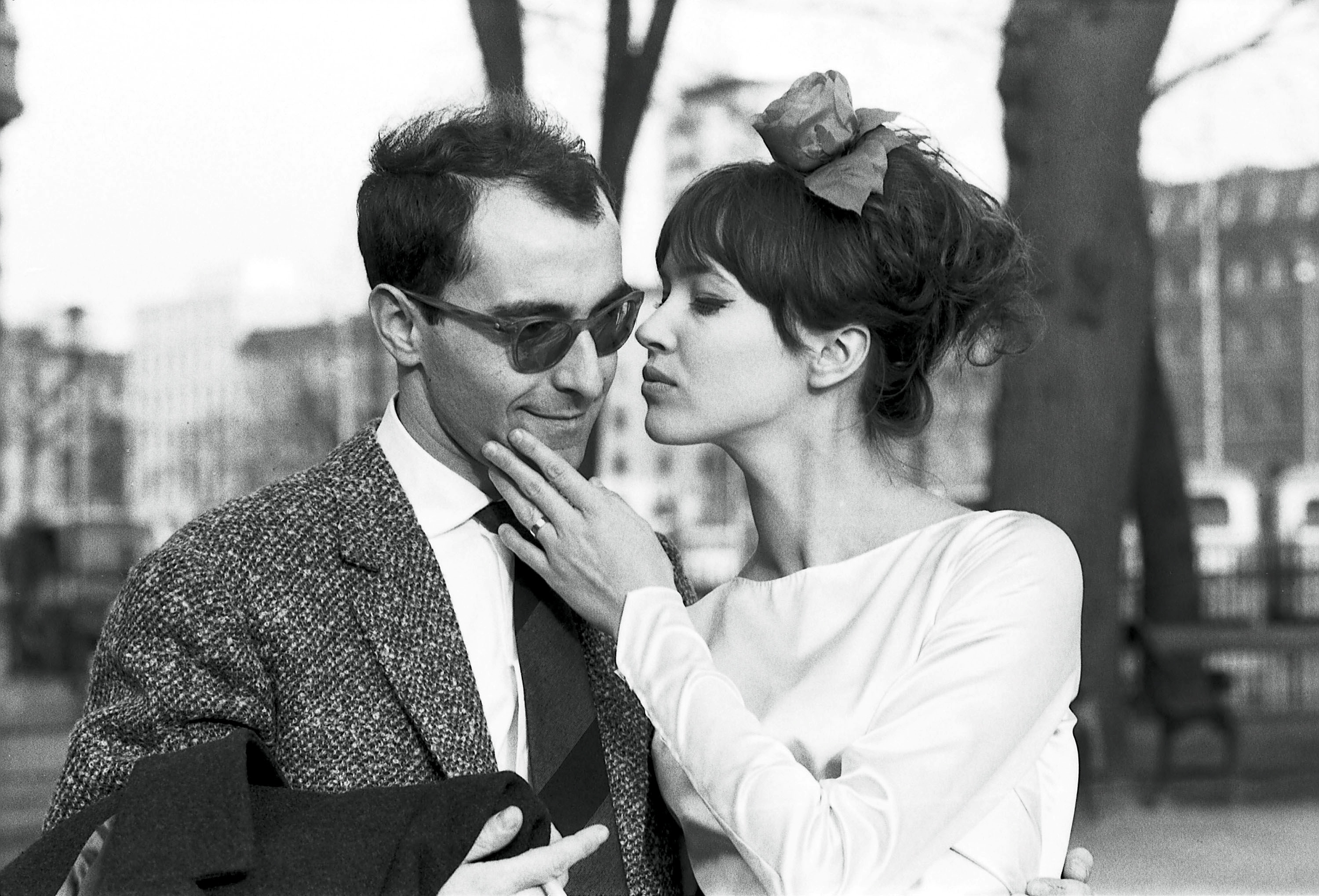 At her wedding to director Jean-Luc Godard, 1961
Both artist-and-muse and husband-and-wife, Anna and Godard were the couple that defined French New Wave cinema. After seeing Anna in an advertisement for Palmolive soap in 1960, the director cast the actress as the lead in his second film, Le petit soldat. The couple fell in love during the film's production: in 2016, Anna recounted to W Magazine that the director slipped her a love note during a dinner party, asking her to leave her then-boyfriend and meet him at a Genevan café. She did. The couple got married in Paris a year later. To the ceremony, Anna wore a long sleeved, tea-length dress, complete with a short veil and a massive flower on the crown of her head. Very 60s and very Anna.
With Jean-Luc Godard, circa 1960
After taking the lead role in Godard's Le petit soldat in 1960, Anna went on to star in six of the director's most iconic films over the course of six years. From avant-garde heist movie Bande à part to the surreal and colourful Pierrot le fou, Anna and Godard's films have left a lasting impact on French cinema as a whole. Here, spending time with her husband on set, Anna wears her signature ensemble: crewneck sweater, plaid skirt, tights and kitten heels. Anna's also worn this exact outfit across a number of Godard's movies, including Bande à part (remember the iconic dance number?) and their first film, Le petit soldat.
In Vivre Sa Vie, 1962
From a corseted sailor's costume to a nun's habit, Anna pulled some unforgettable on-screen looks throughout her career. Her most iconic cinematic look, however, belongs to 1962 Godard classic Vivre sa vie. In this tragic character study, Anna plays Nana, an aspiring actress whose hopes are slowly crushed over a series of 12 tableaux. The film is widely considered one of the masterpieces of the French New Wave movement. And Nana's look is equally significant. The character's unmistakable black bob, white shirt and black cardigan, worn here during the film's dance number, have become emblematic not only of Godard's oeuvre but of the cinematic movement as a whole.
At Cannes Film Festival, 1962
When in Cannes! After breaking into the French film industry in 1960, Anna — alongside Godard — became a staple at the country's illustrious Cannes Film Festival. To the event's 1962 edition, the actress wore a breezy broderie anglaise blouse with her signature plaid skirt. Here, she tops the look with a straw boater hat to beat the Riviera heat, naturally. Elsewhere at Cannes, Anna's donned pigtails (similar to those she wore in Bande a Part and Une femme est une femme) crochet and even more straw hats.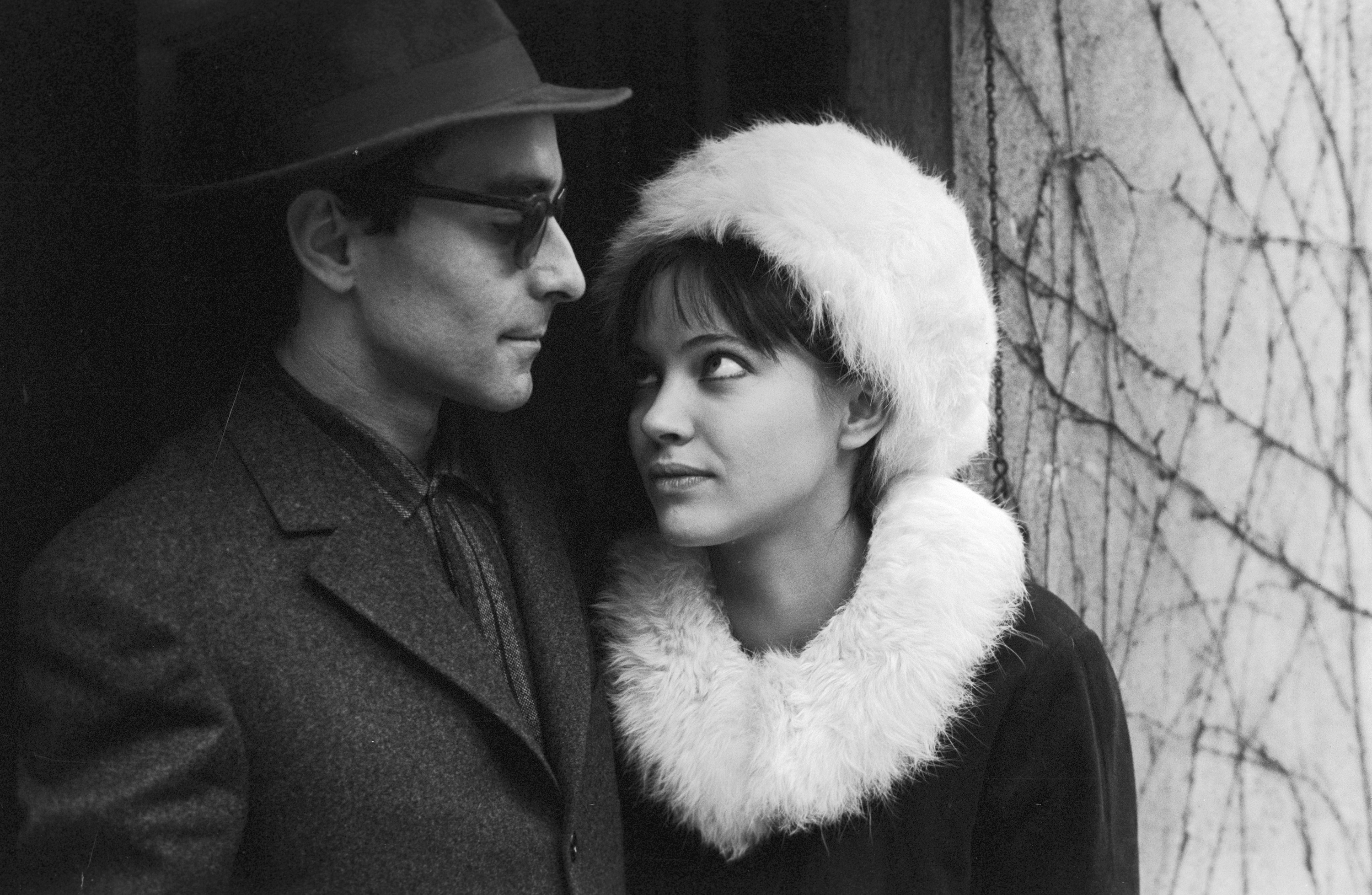 At home in Paris, 1963
Alongside her love for plaid skirts and boater hats, Anna also had a predilection for adorable fur-trimmed coats, worn here, at home in Paris. In fact, Anna's preference for furry outerwear influenced her on-screen costumes throughout the 60s. Both her characters from Godard's Vivre sa vie and Une femme est une femme donned similar fur-collared coats. And, even beyond her collaborations with Godard, the actress wore a furry wrap jacket on-set of Claude de Givray's Un mari à prix fixe.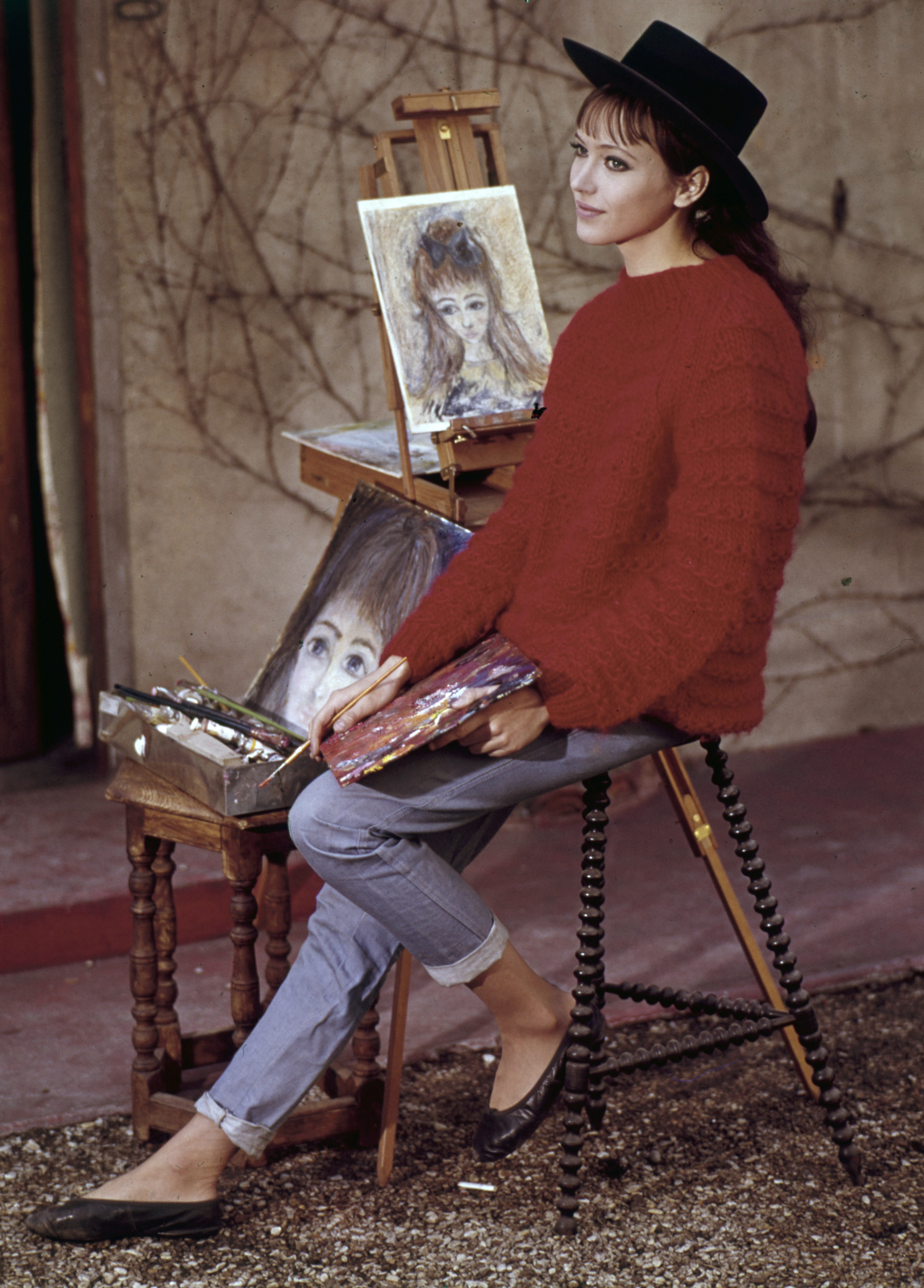 Painting at home, 1964
Beyond the silver screen, Anna also pursued a career in music. In 1967, the actress recorded a series of songs to accompany musical-comedy film Anna with French music industry heavyweight Serge Gainsbourg. The film's single "Sous le soleil exactement", written by Serge, became a huge hit in France. Here, at her home in Paris, Anna dabbles in painting, as well, wearing an oversized red sweater, jeans, black ballet flats and a felted boater hat. A quintessentially française outfit for one of the most iconic French stars.