Photos courtesy of Hunza G, Chromat and ISA BOULDER
Screwing with swimwear: the designers making empowering swimsuits for 2021
Through avant-garde, inclusive and sustainable design, ISA BOULDER, Chromat, KNWLS and Hunza G are making swimsuits for all bodies.
Photos courtesy of Hunza G, Chromat and ISA BOULDER
Post-vax summer is heating up. Bars are swinging and clubs are thronging. Gigs have been booked and plane tickets purchased. We've secured our revenge outfits — in all their various forms — with a mask in our back pockets, just in case! In some ways this summer is unlike any other we've seen. And in others, it's the same as always: we just want some fun and some sun, hopefully some beach time. Thankfully, this summer a group of emerging swimwear brands are revolutionizing the way we see and wear the most important garment of the season.
So what does swimwear look like in summer 2021? Like the rest of our post-pandemic wardrobes: expansive, exuberant and eco-conscious. Historically entangled with outdated beauty standards (aka "beach body"), and crafted from environmentally-damaging plastic fibres, this season swimwear is finally moving away from stale conventions. So, before hitting the beaches, pools and parks this season, read on to learn how new gen labels Chromat, Hunza G, ISA BOULDER and KNWLS are redefining swimwear's body ideals and placing a sustainable focus on the sun-kissed fashion category.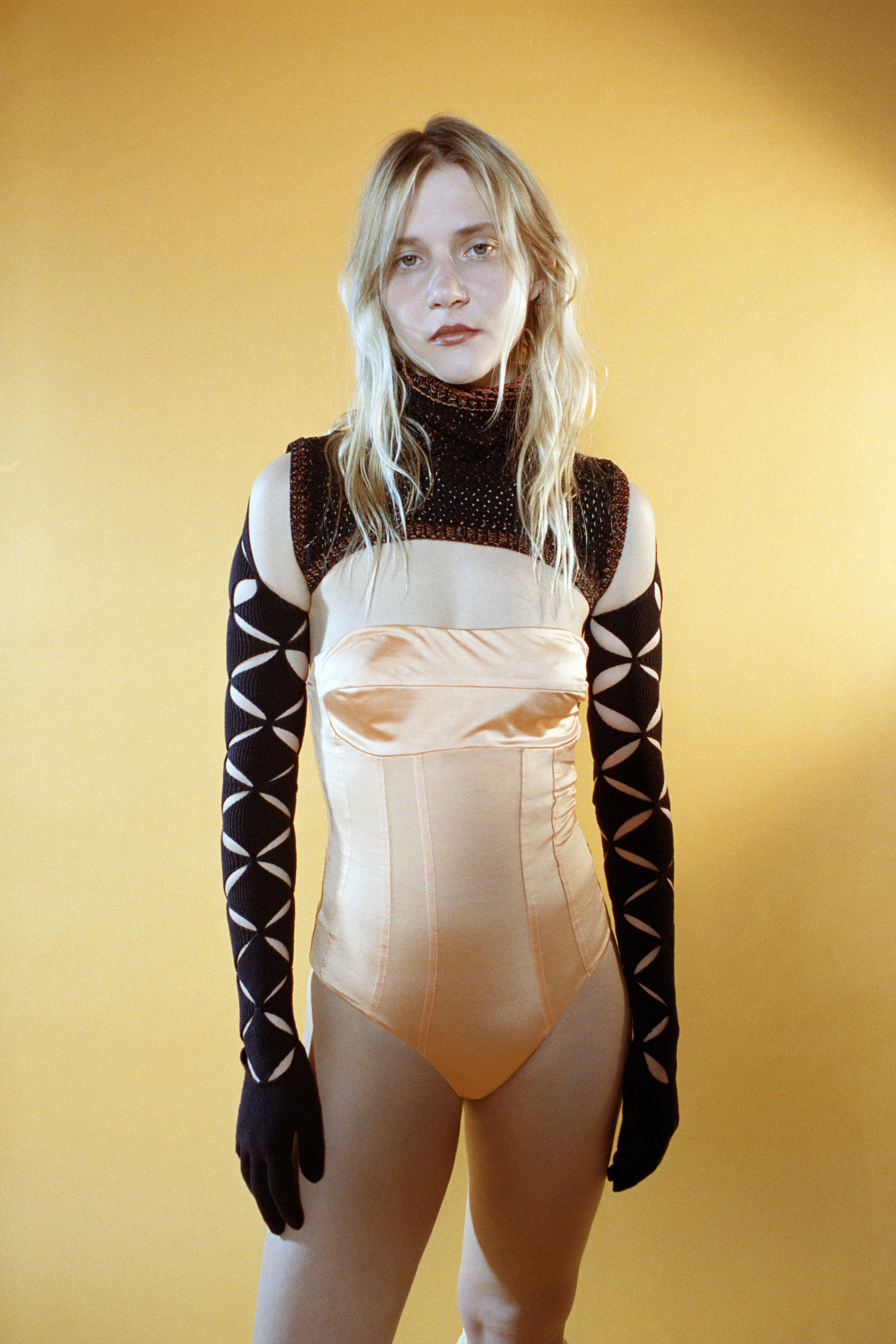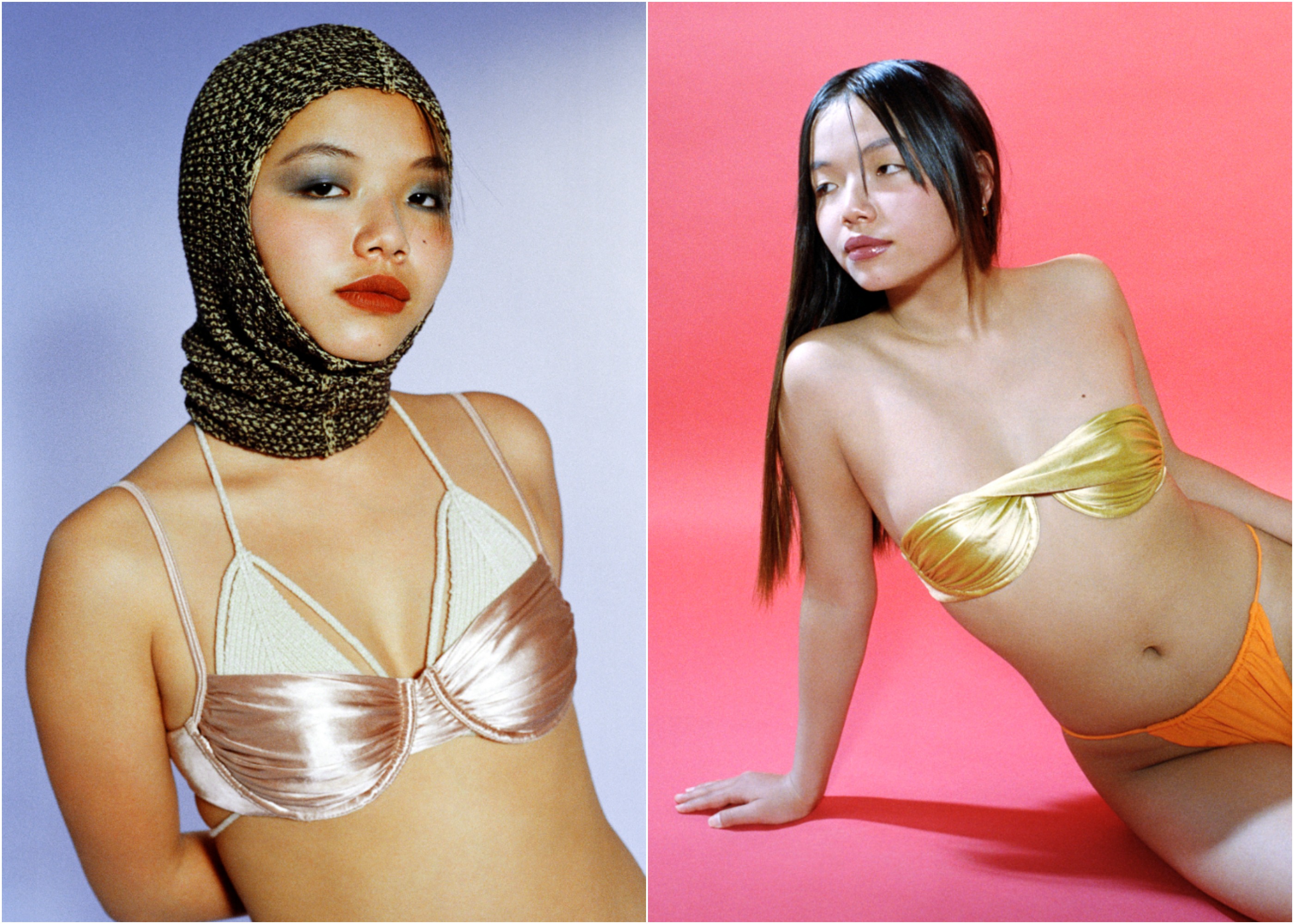 ISA BOULDER
Founded by friends Cecilia 'Lia' Basari and Yuli Suri, Bali-based label ISA BOULDER propose "awkwardly sexy" swimwear. Through their avant-garde (read: ruched, bulbous and asymmetric) designs, the duo not only push back against the category's beauty stereotypes but highlight Balinese craftsmanship.
**What does swimwear mean to you?
**Interestingly, you can almost never go to the beach or swim and still be in a bad mood. And that's a very positive association I think swimwear has with our state of mind. You seldom see a depressed person wearing swimwear. Or maybe it's the fact that we're at a very exposed and natural state of ourselves when wearing swimwear, and it's a very liberating act to be able to roam about with very little clothing in public in the sun, just like how nature intended it.
**How are you challenging the convention of swimwear as a fashion category?
**As we mature into womanhood and become more comfortable with our bodies and know what makes us look good and feel sexy, I want to help bring out a different kind of self-confidence through swimwear — not simply just tiny pieces of fabric covering up the body. I also want to explore swimwear as being the centrepiece that would hopefully mirror its wearer's beauty by being a talking point and work of art in itself. It might seem pompous to think a garment could have such an ability or a deeper meaning, but swimwear, being worn so close to the body and also being something we want to flaunt, is the closest thing to putting on a Wonder Woman suit.
**How does the body inform your work?
**Women's curvature, the softness of the body, and the lines and bumps we all have are so intriguing and beautiful. I think playing with swim fabrics and draping is interesting because we can accentuate and hide certain areas that we feel will make us more confident or insecure about our bodies. We also try to design against the stereotype of beauty: that having cleavage or a flat tummy means we're "bikini ready." In a way, we try to offset the typically beautiful with something awkward or perhaps even traditionally ugly to emphasize that there are different kinds of beauty or ugliness that we can embrace.
**What are your favourite new pieces for SS21?
**The Bowes and Fona bottoms, along with the Tornado top are some of our favourite pieces from the new collection as they're not typically flattering and yet make for very bold statement pieces. From a technical standpoint, they're the pieces we're most proud of. But, geek talk aside, hopefully they're also styles that can serve to empower their wearers most.
Chromat
Trained architect Becca McCharen-Tran founded future-forward swim and bodywear label Chromat with the goal of empowering people of all shapes and sizes through innovative and inclusive design.
**Why did you start Chromat?
**I was trained as an architect, and Chromat began as a way to experiment with scaffolding for the body. I'm plus size and queer, so I've always designed for myself and my friends of all genders who are all shapes and sizes.
**What drew you to swimwear as a fashion category?
**Swimwear has been a huge focus for Chromat because of the power that this single garment can have over how people feel about themselves. I wanted to transpose our focus on celebrating all body types onto a garment that's fraught with insecurity.
**How do you define swimwear?
**Whatever you wear to swim! In 2018, we created a Pool Rules campaign in response to the vulnerability many people feel when going to the pool and wearing swimwear in public. Instead of focusing on rules for safety like "no diving" and "no running", we cast babeguards to enforce important guidelines for acceptance and inclusion.
How does the body inform your work?On Chromat runways you see curves, cellulite and scars worn proudly. We're a runway show, but we're also a celebration. As a fashion designer, I recognize that I have the responsibility to use Chromat's platforms to celebrate diversity and explode the historically narrow view of what bodies are considered fashionable. My goal is that one day teens growing up don't feel that same pressure that I did to conform. I hope that our work at Chromat contributes to the fashion industry's opening up to celebrate many different identities. One day, having diverse models on the runway or designing for all sizes won't be press-worthy, it will just be the norm.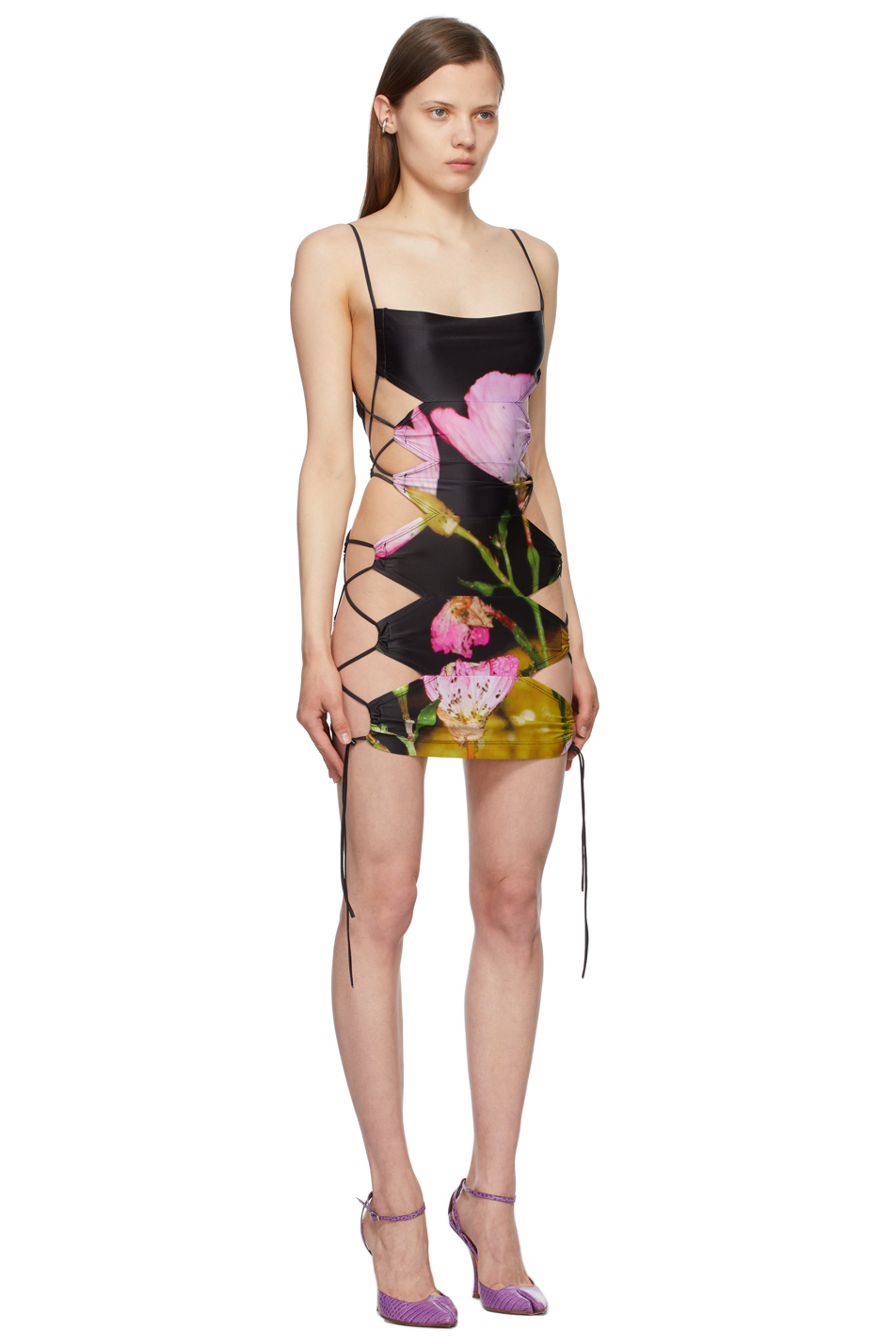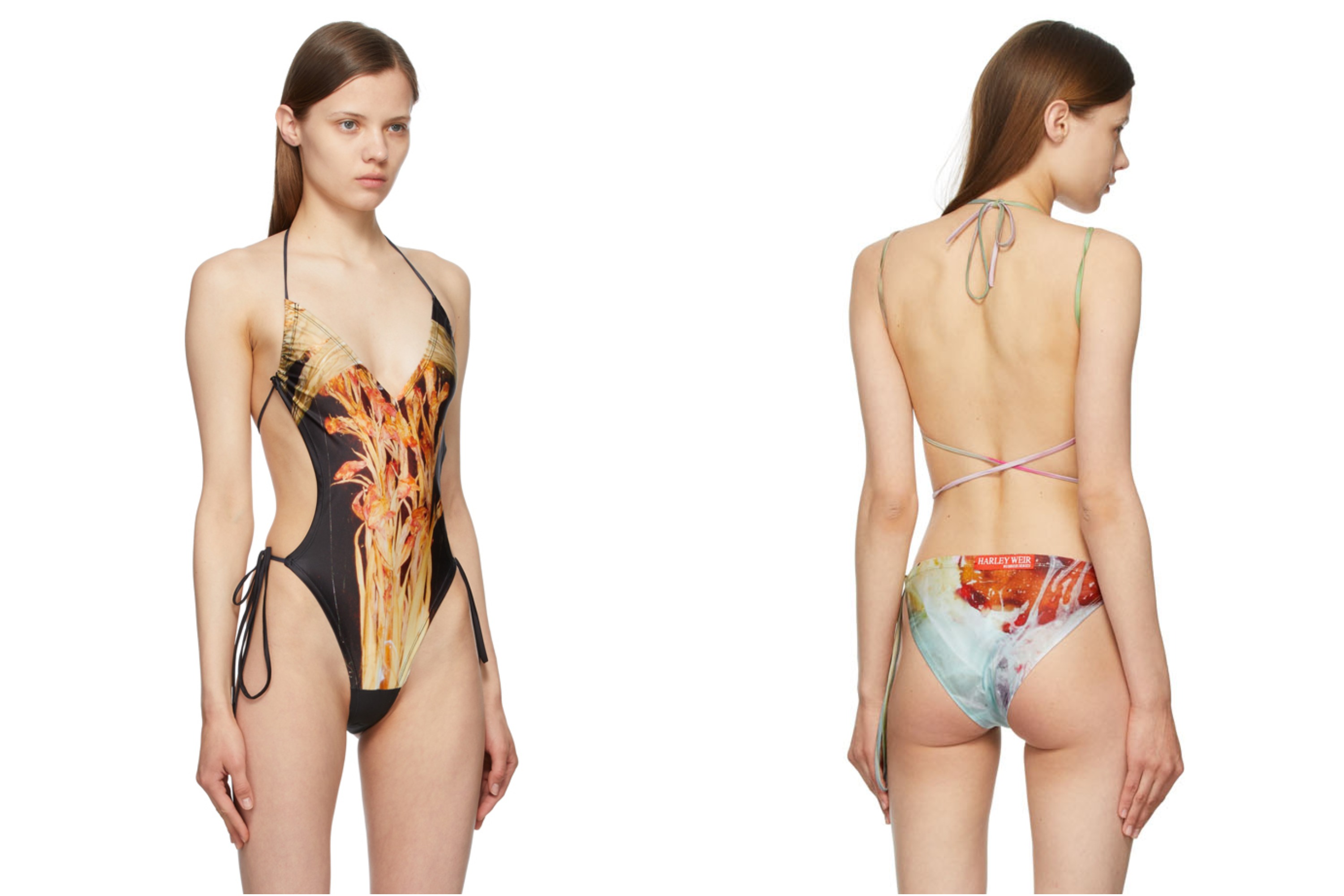 KNWLS
Designers Charlotte Knowles and Alexandre Arsenault of London-based label KNWLS dip their toe in the swimwear pond once again, this time in collaboration with photographer Harley Weir.
**How did this collaborative capsule collection with Harley Weir come about?
**We'd done some recycled poly-Lycra pieces for SS20. So when Harley told Georgia (Pendlebury, our stylist) that she wanted to print her pictures of trash on swimsuits made of ocean plastic she just said, "Why not do it with Charlotte and Alex?" And so we did! For this capsule, we made everything from recycled Lycra yarn and a percentage of the proceeds went to ocean clean up.
**What does swimwear mean to you both?
**Swimwear has a lighthearted, playful, sexy connotation to us, which is always fun to design. And we play on that with our designs while trying to create pieces that are still supportive and comfortable.
Does the process of designing swimwear differ from the process behind your lingerie, or signature lingerie-leaning garments?The pieces were a little simpler in terms of detail, as we really wanted the prints to be the predominant feature of the capsule. But, other than that, it was a very similar process.
How are you challenging the conventions of swimwear as a fashion category?We think Harley's images alone are quite arresting and challenging. Initially, when you look at them, you're taken in by the beautiful compositions, colours and textures. Then you quickly realize you're looking at some broken polystyrene on some tarmac or an old-popped balloon or plastic bags. Paired with the designs, we think we created something unique and refreshing for swimwear that hasn't been done before.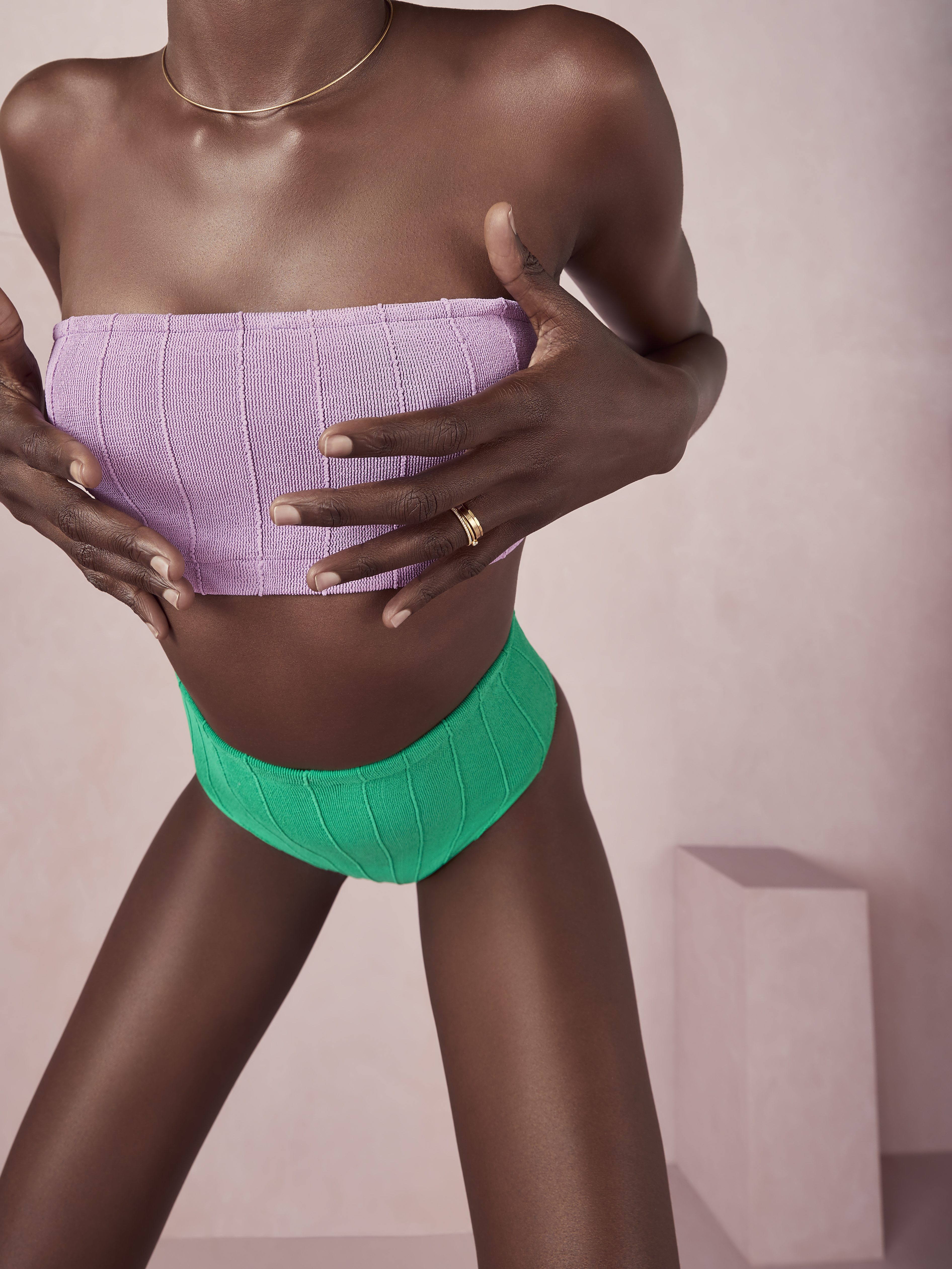 HUNZA G
In 2015, British designer Georgiana Huddart revived 80s swim label Hunza G — known for its iconic crinkle fabric and Pretty Woman cut-out dresses — in collaboration with its founder Peter Meadows. In addition to advancing its OG one-size-fits-all ethos, the brand's modern iteration places sustainability front-and-centre with made-to-order UK-based production.
Hunza G is a brand with a rich heritage. Could you speak to its history and why you decided to revive the brand?Peter: In 1983, I saw a friend of mine wearing a really tight dress made of this very unusual fabric, which turned out to be Alaïa. I hadn't seen this kind of look before. I went to a friend's fabric showroom inspired by what Alaïa was doing and, there, I found the crinkle. A few days later, we made some samples and I knew I had a winner.
Georgiana: The fabric was so nostalgic and unusual. The idea of one-size-fits-all was amazing, and the fact that it was so flattering. There wasn't really anyone doing that back in 2015. The idea that a bunch of women of all different shapes and sizes could purchase the same item and feel really confident and comfortable in it is such a joyful concept.
**What does swimwear mean to you?
**G: Swimwear should be functional but that doesn't mean it shouldn't make you feel great. It should also be comfortable. Swimming, sunbathing, walking down a beach, none of that is enjoyable if you're wearing something that feels unsupportive and uncomfortable.
**How are you challenging the conventions of swimwear as a fashion category?
**G: I remember thinking there were only two categories of accessible swimwear when I was growing up. It was either super glitzy and skimpy or really surfy and beachy. I wanted Hunza G to be something you could wear under jeans or as a crop top with shorts, but also jump into a pool or run along the beach and feel really supported and confident.
How does the body inform your work?G: I always try to think about different bodies when designing and try to make sure there is a piece for everyone. Nothing gives me more joy than seeing two totally different shapes or sized women wearing Hunza G's on the same beach and both looking equally incredible. It's really important to us as a brand to appeal to a wide range of women. I often get asked who our customer is and I really like to think the answer is everyone.
How is Hunza G contributing to sustainability in the fashion industry?We've just gone carbon neutral for 2020, which was hugely exciting. When we began, Peter was very keen on the sustainable aspect of the business: to make everything in the UK and support British production. We have been to all our factories and met all the people who make the garments so we know they are being paid correctly and working in good conditions.
We also have a thing called 'conscious club' in the office which happens once a month and it is basically everyone inputting in ideas/ways we can improve on sustainability on a small scale — like no plastic allowed in the office or multiple orders from Amazon, meat free Mondays — it's small things but its about changing the mindset and involving everyone.