Images courtesy of Y/Project
Y/Project SS22 was all about Fila, weirdness and wit 
For his sophomore co-ed collection for the Paris-based label, Glenn Martens brought a sense of fresh maturity to his playful, conceptual approach. 
Images courtesy of Y/Project
As yet another digital fashion month comes to a close, we've all earned ourselves a break. None of us are as quite deserving of one, though, as Glenn Martens. Just over a week ago, he made his hotly-anticipated debut for Diesel, fielding an 80-plus-look collection that effortlessly married his knack for experimentation with the Italian denim behemoth's broad appeal. On Sunday, the Flemish designer pulled off another titanic feat, presenting an equally ample SS22 collection for Y/Project, the Parisian house he's cemented his reputation at.
Known as a Frankensteinian lab where garments are spliced, twisted and contorted into some of the weirdest, most wonderful fashion around, most people in fashion circles have a relatively fixed understanding of what Y/Project looks like and stands for. This season, though, Glenn has wandered into unexpected territory. "We actually did something more commercial this season -- we did branding, which we've never done before!" he exclaims over Zoom, scrolling past an image of what looks like a perfectly ordinary crisp white cotton poplin shirt, the house insignia embroidered down the front left panel. Of course, this being Y/Project, there were tricks to note here. "Well, we'll never do a classic branded shirt," Glenn quickly assures. "Here, the fabric is clipped together with the embroidery so it has a kind of fixed fall to it. This was a big moment for the brand, doing something a bit more basic."
That should not, however, be taken to imply that Glenn's trademark creativity, playfulness and wit has at all dulled. Rather, it's a sign of a maturity that we've seen the brand rapidly cultivate over the past three seasons -- Y/Project's helter-skelter AW21 collection as a case in point. "We've gotten really great feedback for the collections we've done since confinement began, and things are going really well. What's quite nice now is that a lot of people really recognise Y/Project from afar, we've really stabilised the language," he says. "Y/Project has always been such an explosive mindfuck, and I'm still gonna be super creative and over-experimental at times, but I don't think I need to scream too loudly anymore."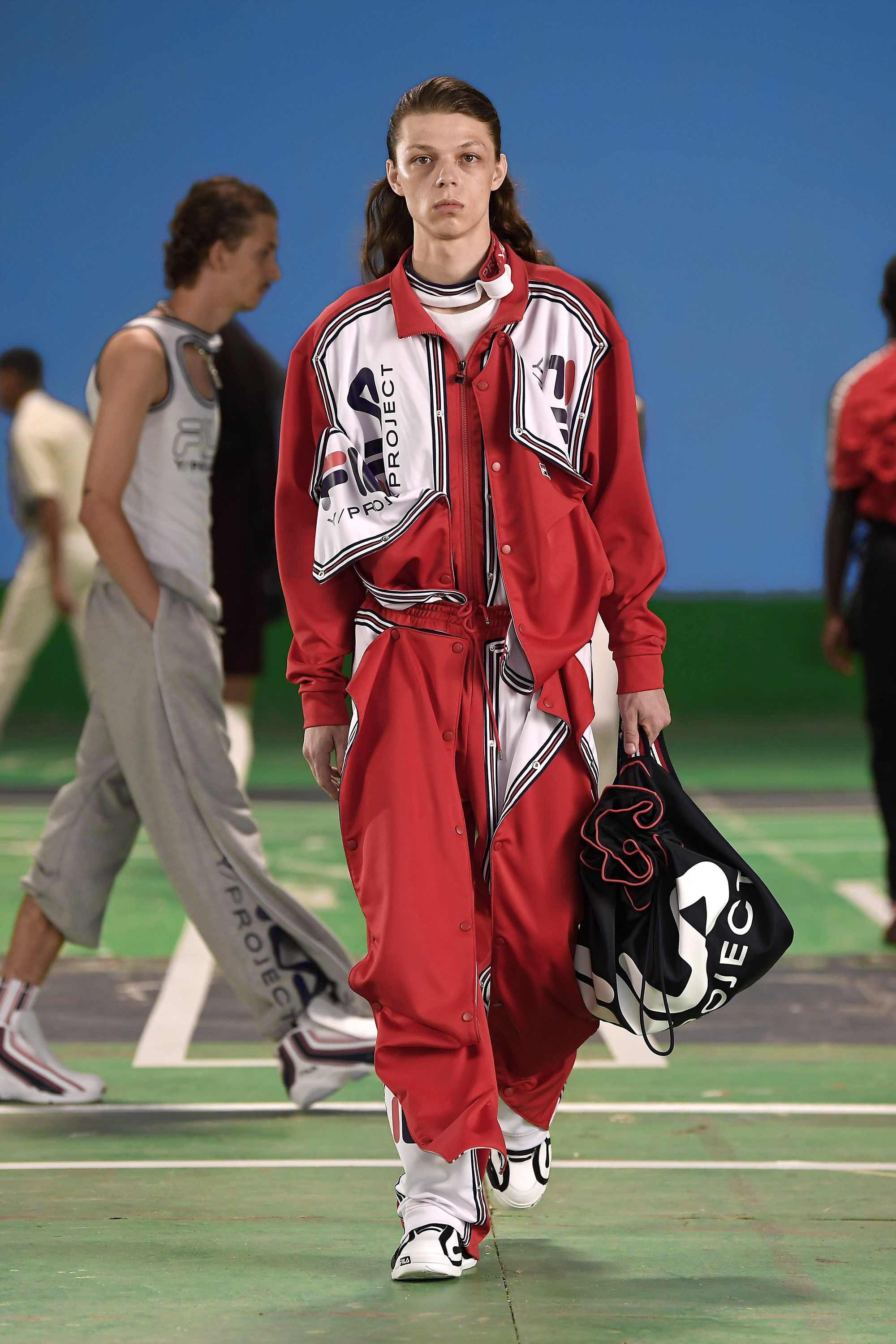 Rest assured, there are a good number of explosive mindfucks on show here, though their expression feels a little softer. Braided necklines with multiple possible holes to pop your head through form one of the collection's keystone visual motifs, appearing on everything from jerseys and cable-knit sweaters to halterneck satin shift dresses and sumptuous lilac velvet gowns. This modularity, a core Y/Project design value, also carries over into shirts with switcharound plackets, drawstring-adjustable slip dresses with button-on organza overlays, and layered collar coats and jackets with triple sleeve heads that funnel into a single armhole, allowing you to create a variety of jaunty silhouettes. They're clothes that affirm that "Y/Project will never give you an answer. You always have to question it and ask yourself how you want to wear it? How can I wear this? How do I personalize it so it can become mine?" Glenn says.
The rigour of these narratives -- which even extend to an expanded range of warped leather accessories, giant pliable jewellery pieces in enamel and gold, and a development range of translucent Cinderella slippers produced in collaboration with Brazilian rubber shoe label Melissa -- is owed to the time that Glenn has managed to free up since deciding to merge Y/Project's menswear and womenswear presentation last season. While he's making no fewer pieces across the board, it's allowed him to explore a greater range of variations on a theme, "to really could go deeper into the stories and maybe build up a more coherent and a more constructive collection plan. That's some we never really had the time to do before," he says.
Where that shines though most strongly is in this season's 15-look capsule created in collaboration with Fila. Informed by Glenn's own memories of the Italian sportswear brand's appeal in the Belgian gabba and techno scenes across the 90s and 00s, it sees Fila's grey jerseys, technical nylons and cotton pique knits filtered through a Y/Project prism -- necklines are slashed or gape wide open, and the house's double panelled denim jeans are translated to jogging trousers, with flags of fabric flapping about the chest and thighs to reveal to the capsule's co-branding beneath.
"We just wanted to making it all a bit more fantastic and crazy, to the point that it isn't really sportswear anymore, it becomes quite elevated," says Glenn, noting the concerted effort he made to expand Fila's appeal to fashion-astute audiences who otherwise may not pay it much mind. Elevation here, though, shouldn't be read as a synonym for elegant plainness or sobriety, as it so often does. Rather, it translates to a confident levelling-up in Glenn's ability to create clothes that exude intellectual sophistication in their design, but that are equally steeped in humour and wit. "I think was one of the main reflections post-COVID -- that it needs to stay funny," Glenn says. "Of course, we need to keep pushing the clothes, but you also have to say "Enough, let's go back to doing what we want to do and have fun!" Hear hear, Glenn, and long live Y/Project!