Rick Owens looks to the light side in Venice for SS22
For his final show on the Venice Lido, Fashion's dark prince gave us clothes that conveyed optimism, thoughtfulness and hedonism in equal measure.
Images courtesy of Owenscorp
Since the pandemic put paid to IRL fashion shows, Rick Owens' livestreamed spectacles on the Venice Lido have offered raw, cinematic reprieve from the doldrums of digital fashion weeks. In a sign of the changing times, though, his SS22 collection is set to be the last that he presents on the Italian island he calls home for half the year, before returning to the French capital for his womenswear show in September.
After broody collections named after boiling rivers of blood and the Garden of Gethsamane — where Jesus spent his last night before his crucifixion — he bid adieu to the Floating City on a lighter, brighter note. Set on the beach just in front of the Excelsior Hotel, Rick gave us Fogachine, a body of work that suggested the lightness, enigma, and quiet hopefulness of a rising mist.
Don't get us wrong, the cocksure glam-rock sex that Rick has long since made the currency he trades in was there in abundance, too. Webbed white vests clung to the torso, skirting the nipples and swooping below the navel; the linebacker-shouldered tailoring that's recurred across the past few seasons returned as sleeveless blazers with yawning armholes; and this season's cropped leather jackets were crafted in a pirarucu dragon scale leather, a food byproduct produced by Indigenous communities in Brazil.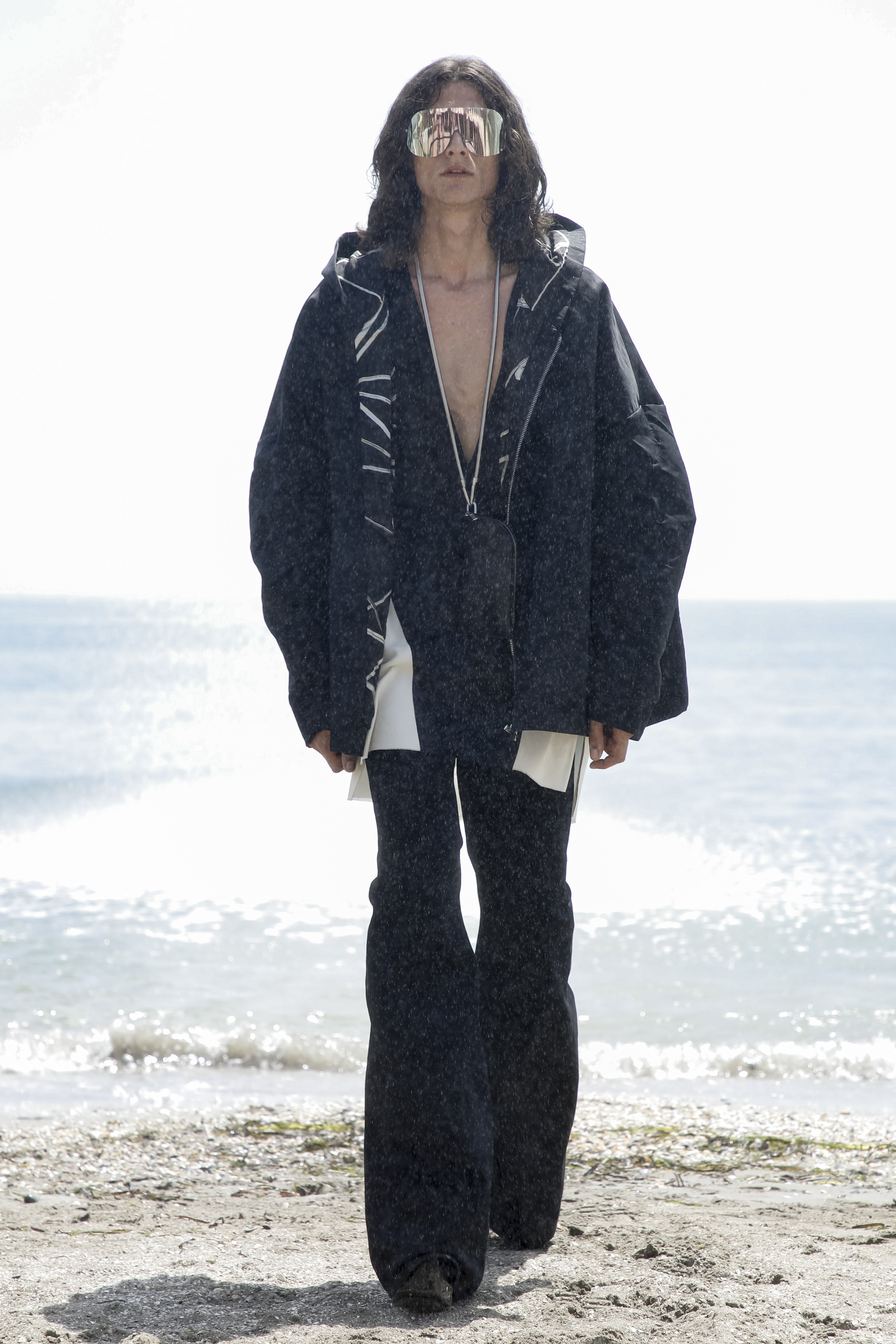 This expectedly hedonistic spirit, though, was tempered by an almost floral sensibility. "White-magic-houses-of-the-holy-stairway-to-heaven hippies wear baggy, dragging flares over platforms," as Rick himself wrote in the show notes, their hems soaking saltwater and sand as the models strode along the shore. This insouciance was mirrored in shirting and jackets in wispy chiffons and organdies, and even a hand-knotted coq feather jacket, created in collaboration with Maison Février, Josephine Baker's former plumassier.
Pieces like these floated like fog rising on a breeze -- which appeared quite literally, courtesy of the portable non-toxic fog machines that slotted into the side pockets of this season's mid-calf platform boots. Rather than a concerted attempt to carry the banner for post-pandemic optimism, though, what we saw here was more about reminding us of the need for humility as life starts to look more like what it once was.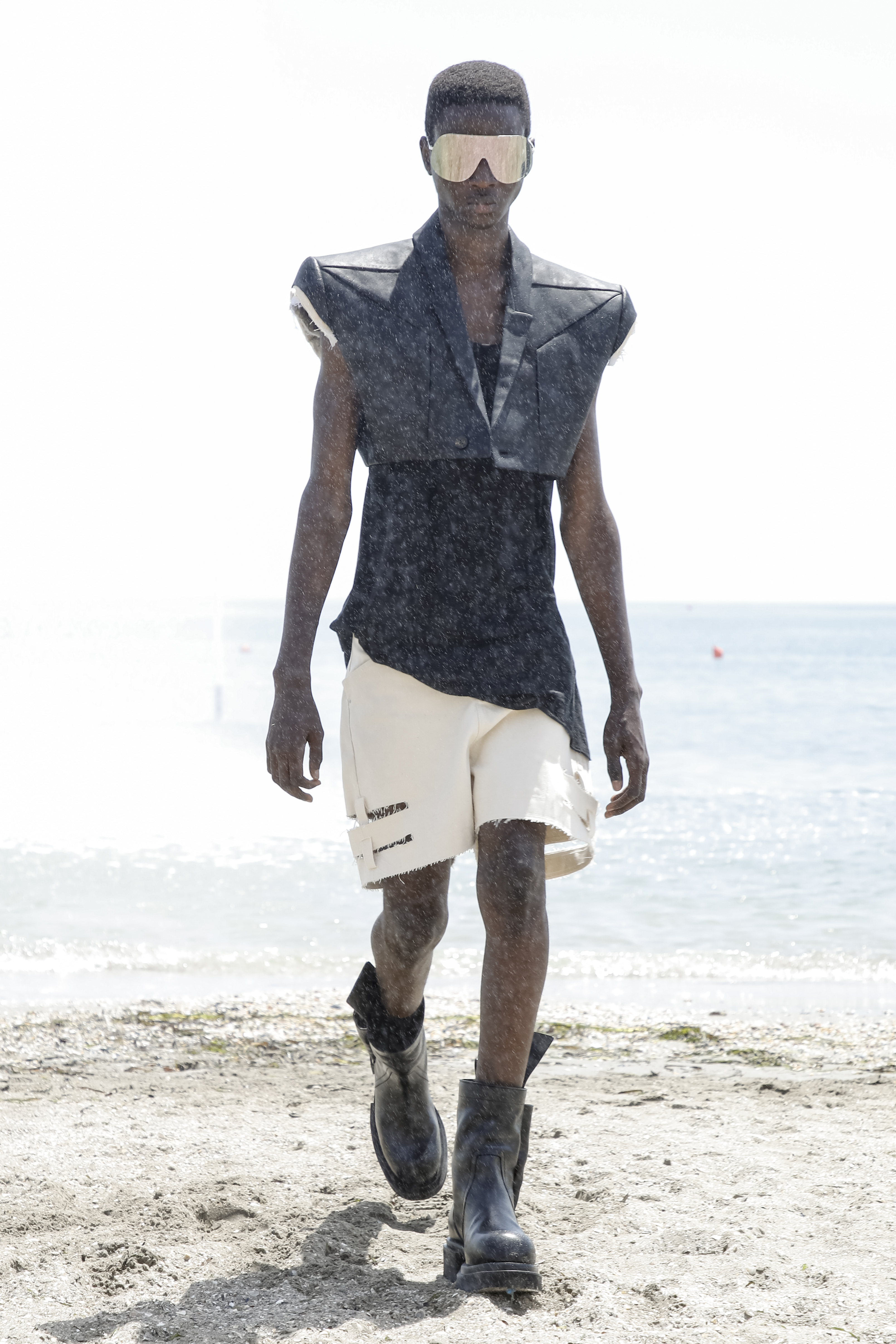 "With a post-COVID [life] in view there might be a sense of frustrated appetites demanding to be doubly satisfied this summer that might make for a voraciousness forgetting the humbling experience we all just went through together," the designer writes. "This collection embraces hedonism but in a soft, grateful way," a way that celebrates life's return, while also acknowledging the lessons we all claim to have learned.
In Rick's case, this means scrutinising the ecological responsibility of his practice. This season, selvedge denims are custom woven by Yamaashi Orimono in Japan, jerseys are woven from GOTS certified cottons, shirts and pants are in a biodegradable cupro, and then there's the food waste-derived leathers mentioned earlier. Of course, a crucial part in any conversation around sustainability in fashion is recognising it a continuous journey of self and collective improvement, rather than as a tick-box exercise for one's own sake -- a fact that Rick readily concedes -- "We/I still have a way to go towards our sustainability efforts, but we all can aim higher and start somewhere," he notes. Still, for all the work that remains to be done, his ethos is an admirable one -- it's cause for hope that when the fog does lift, it will give way to clear blue skies.