Lido Pimienta's Miss Colombia is a cynical love letter to her homeland
The Toronto-based artist tells i-D about her third album, loaded with spicy, contemporary Latin pop tunes.
When there's a five year gap between your album's inception and its eventual release date, fans naturally begin to wonder why it took so long. Sometimes, like in the case of SZA's debut album CTRL, it's because major label execs exert untoward influence over their artists. Other times, as Frank Ocean explained last year, it's because the person is exploring a different creative tangent and hasn't quite found the right formula yet. For the Toronto-based Colombian musician Lido Pimienta, it was winning Canada's infamous Polaris Music Prize in 2017 that delayed her third album, Miss Colombia.
Pimienta started writing Miss Colombia in 2015 after Steve Harvey misread his cue card during the Miss World pageant and incorrectly awarded the top prize to Miss Colombia, instead of Miss Philippines. "I was not expecting the Colombian diaspora to be so upset," Pimienta says of the backlash that followed Harvey's mistake. "It was too much, they were really taking it out on Miss Philippines and calling her all kinds of racial slurs. It was just shameful." Her own experiences with inequality and racism from her time attending the predominantly white, bilingual Lyndon B. Johnson School in Barranquilla and later returning home as a member of the Colombian diaspora, came flooding back. She remembers asking herself, "is this what Colombians are going to come together for? To scream the n-word at Miss Philippines and Steve Harvey in unison?"
"That's when I started writing the record," she says. "It started as this angry letter to Colombia, but then became a love letter that has a big dose of cynicism."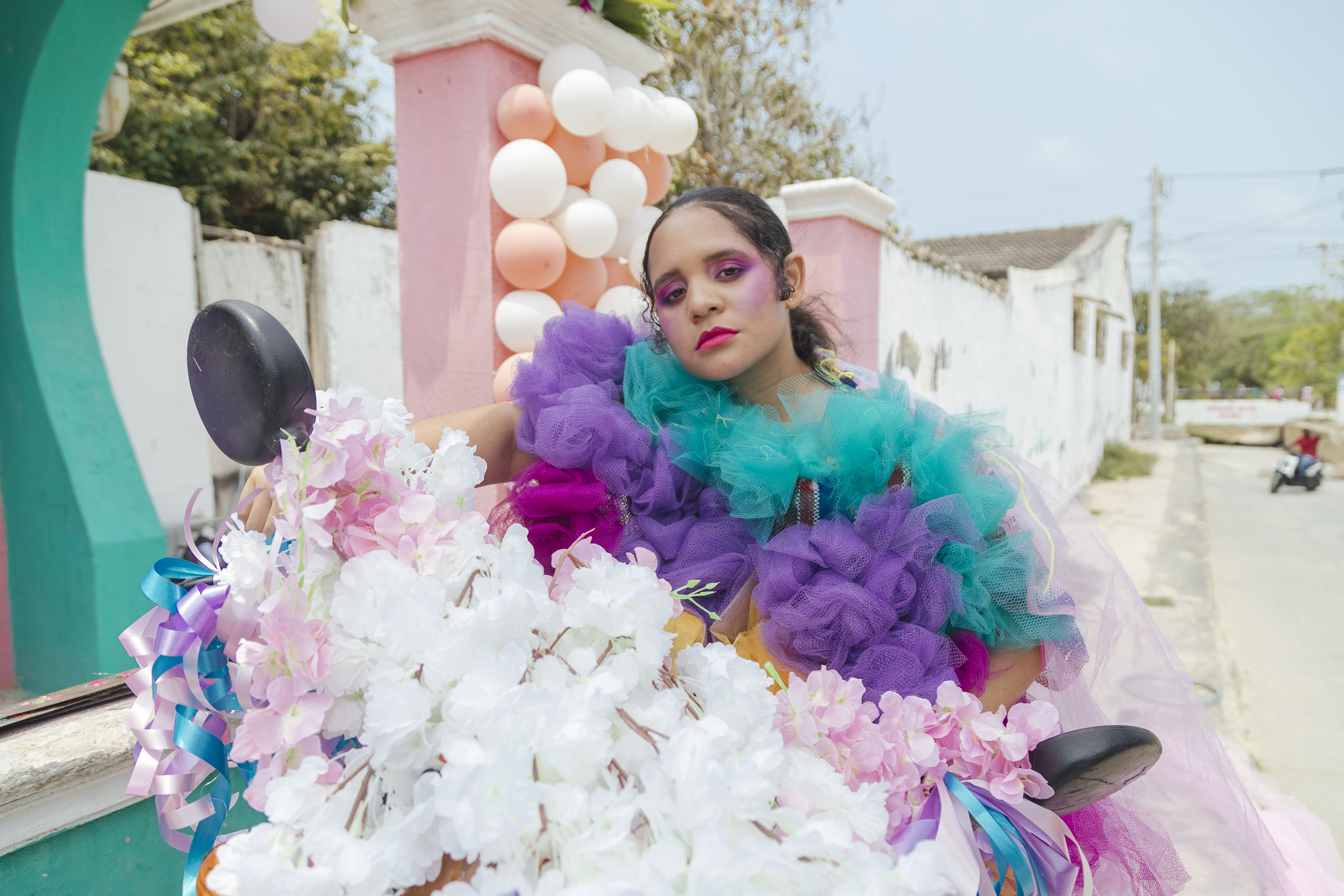 There is perhaps some irony to the fact that actually winning an award delayed Pimienta's own Miss Colombia moment. She was already working on the record when she learned that her previous album, La Papessa , was nominated for the Polaris Music Prize. "I saw that album as my way to get over baby daddy number one," she says of La Papessa, adding a little chuckle to emphasize her point. "It wasn't even an album that I had any agenda for."
But when the previous year's victor, Kaytranada, crowned her the winner, she suddenly became the hottest name in Canadian music. To take advantage of her newfound fame she put Miss Colombia on hold and toured La Papessa for another year. "I told baby daddy number two to get me pregnant so I could have an excuse to stop touring," she says with the same cheeky inflection as before. It was only after her second child was born in 2018 that she was able to think consciously about Miss Colombia again. That's when this latest chapter -- a triumph both musically and culturally -- began to take shape. "I realized I'd made a break up album that I didn't even give a shit about and it got this award. So I thought, why not do something beautiful, conscious and proper with songs that mean so much to me."
Ahead of the release of Miss Colombia on April 17, Lido Pimienta told i-D how the sounds of Colombia and her own personal history shaped one of the year's most reverent albums.
In an interview in 2016 with The FADER you spoke about Miss Colombia and you said, "sometimes I feel like I'm not Colombian anymore. But I know that I'm definitely not Canadian, either." Now, having spent a considerable amount of time back in Colombia making this album, do you feel like a different person to the one you were four years ago?
I am very blessed, because I am changing and evolving constantly. I am someone who is very self-aware, thus I am able to look at what is happening around me and how I'm being affected by it and I can be very realistic about the situations that I get myself into. When you grow older, [especially] if it's away from family who saw you when you were younger, what happens is that the memory that they have of you ends up being the thing that keeps you apart. I was a very shy, fragile little girl; everybody remembers me as this little girl that was always drawing, in the corner crying. So, when you go home and you see your family and you're not fragile, you're an adult with opinions, some of those family members are not expecting that and they're surprised and taken aback, because that little girl that they hold so close to their heart is now a different person. Fortunately, the people who I'm closest with in my family, they know I'm a better version of myself because I'm not that fragile little girl anymore. But for a lot of others in my family and other Colombians that I've interacted with, I have this aggressive energy because I'm not submissive, I do whatever the fuck I want. In Colombia, women are expected to worry more about how they look than what is in their brain. The government would rather have women at home with their kids looking like trophy wives than be out in the street demanding equality.
You see the way I have positioned myself on the cover? I want it to look like the virgin having her first communion, but also being baptised, having her quinceañera and getting married -- all the pivotal points of being a lady, the Colombian women. That's what my obsession with my country looks like. For ten years I had to figure out how the fuck I was going to live in Canada. I didn't get this country, I didn't feel like I belonged here. But ten years later I'm like, oh, I totally fit in here, I'm a weirdo and people love it. It turns out that I have to convince Colombians that I am one of them.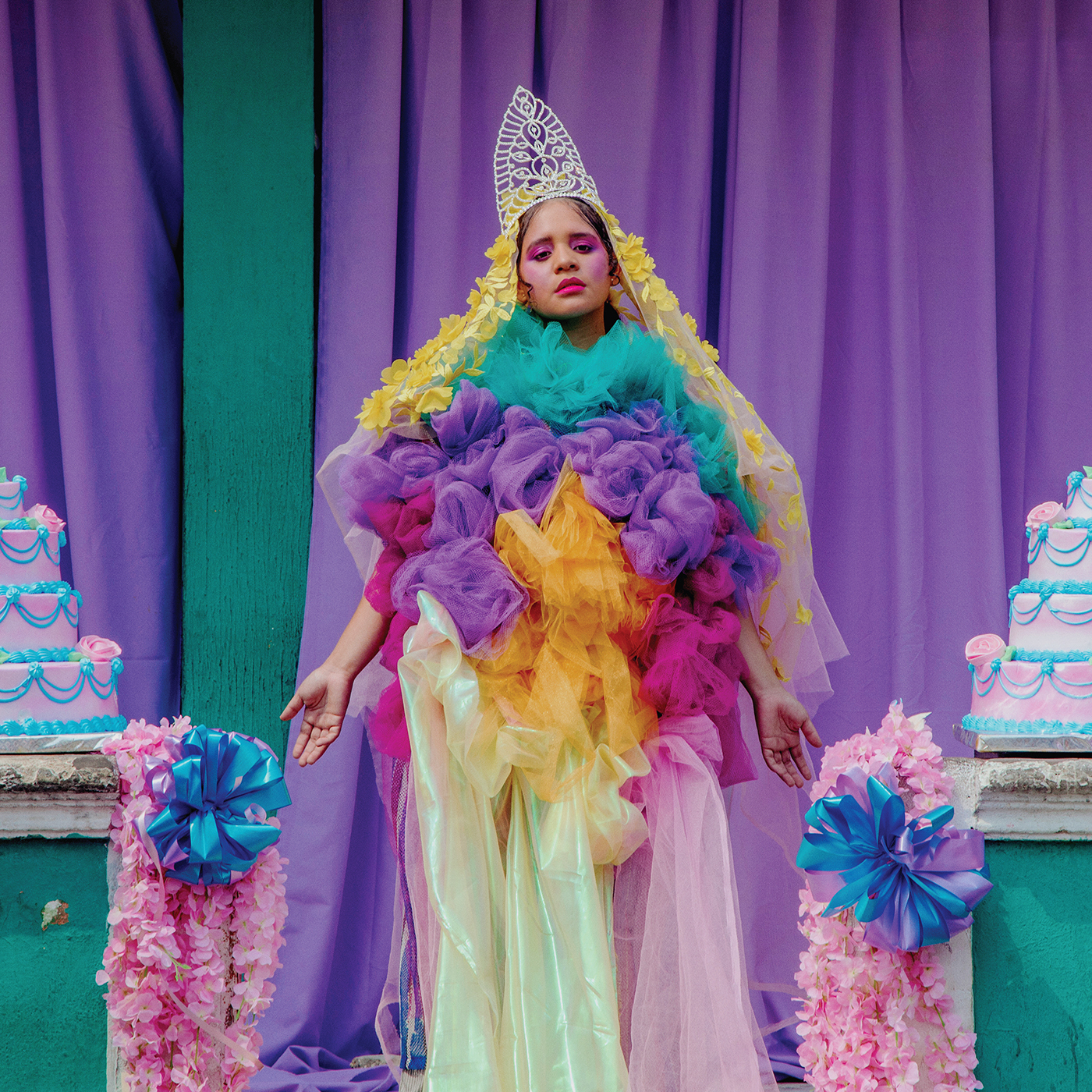 In the video for "Nada," you and Li Saumet have your hair braided together and at the end of the video she cuts you free and drags you to the river. Can you explain what that ritual represents?
In the village that I grew up in I would see women washing their clothes by the river bank, and I remember thinking about how strong those women were. They would beat these clothes and then load an entire household's laundry onto their shoulders and walk back twenty, thirty blocks with this load on their heads. That did something to me when I was a little girl, I never forgot it. The song is about this intrinsic pain [that women carry with them], so when my sister (played by Li Saumet in the video) helps me kill myself, she is letting me go. Hair is very important, because if you're African or have African blood, your hair is an important part of you. So, for me and my blood sister, that was the thing that united us -- I would do her hair and she would braid mine. My sister and I are very different, if J-Lo and Kim Kardasian had a baby, that would be my sister. Everything matches, the nails match the shoes, the shoes match the purse, that's my sister. So, that song is also a love letter to my sister, because no matter how different we are, she always gets me.
You recorded some of the songs in San Basilio de Palenque, a place that is hugely important to African people, especially the descendants of people who were enslaved in South America. But it's also a place that has largely been white washed from Western history. Can you tell me what that town means to you and how it's connected to your own personal history?
Palenque is the first free town in all of the Americas, but when you go there you're not going to know that right away. It is a very poor town, they don't get a lot of resources and the people are mostly left to their own devices. But musically, it's so rich that people have been able to live off their music. A lot of musicologists and music historians go there and do research, but a lot of them take photos and leave. It's a constant exploitation. They need to have people come, take photos of them and hire them for their gigs. So, when I wrote the treatment for the "Eso Que Tu Haces" [video], I decided to get the dance group KUMBE. When I was 13 years old I was the singer in that group, and I know very well that I wouldn't be the singer and the artist that I am today if it wasn't for my experience singing in the street. I always say that I am more of a live performance artist than I am a recording artist. The recording part of it I am still learning, that's something you can learn online, but when it comes to performing, to projecting or hypnotizing people, that's a thing you're not going to learn online. That's something Palenque gave me.
You included a recording of a conversation you had with Rafael Cassiani Cassiani, who is a legendary musician from Palenque. Can you explain why you wanted to have him speak on your record?
When we were recording ["Quiero Que Me Salves"] he had a hiccup, so he said "I'm just going to sit this one out." And I said, well let's just chat then, because I wanted to capture his voice on my record at that moment in my life because he was so major for me. Maybe for some people their music heros are some rock and roll dudes, but for me it's this old guy in Palenque. A lot of people might be like, 'OH, The Beatles, Paul McCartney, AHHHH,' but I can not connect with The Beatles, I still don't know a single Beatles song (except for the one that Fiona Apple covered). But I do give a shit about Rafael Cassiani Cassiani and his work. Like all the singers and songwriters of the north coast of Colombia, he makes really beautiful music that deserves the same amount of attention and resources, but we don't give it to him because he's not some rock and roller from a British colony. I often think, what would have happened if Lido Pimienta wasn't Lido Pimienta. What if I was Lido Pepper and instead of singing in Spanish I sang in English. Then add another layer and instead of singing about all the complicated shit I sing about, just sing about the man that didn't write me back. It makes you wonder, you know? I might have a house by now.