Left: Élan D'Orphium and right: Sakeema Peng Crook
Vibrant portraits of the global drag community in self-isolation
Photographer Damien Frost captures drag queens and club kids from all over the world -- from Paris to New York -- via FaceTime.
Left: Élan D'Orphium and right: Sakeema Peng Crook
Damien Frost is anything but a stranger to nightlife. Since 2013, the Australian-British photographer has been capturing the London club scene dominated by colourful creatures of the night: from iconic drag queens to beautifully adorned club kids. With a distinct portrait style that mixes old masters such as Rembrandt and Velázquez with documentary photographers like Diane Arbus, it's safe to say that Damien is an important chronologist of the city's current nightlife. "It's the process of transformation and reinvention that I find fascinating, but also the intense creativity and ephemeral nature of the art form where one look may be worn once, never to be repeated," he explains. "As a documentary photographer I enjoy capturing these looks -- the thrill of the chase that you might go out one night and not find any major looks and then another night might be totally the opposite."
And then the coronavirus came along and Damien found himself in self-isolation, just like the community he so passionately documents -- stuck at home like birds of paradise whose wings have been clipped. Rather than waiting it out, he decided to reach out to the community both in London and beyond to take their portrait via FaceTime. "I like to keep myself busy so when the lockdown was announced I had to recalibrate how I would continue to create these sorts of images with the current restrictions. I found the term "social distancing" to be quite interesting as it's a bit of an oxymoron and I liked the idea of using video chat to be social at a distance and use that medium to keep taking my photographs."
The only thing is, Damien isn't much of a video caller. "I'm awkward enough on the phone but that's dialled up even more on a video chat. And the whole process is fraught with difficulties! It's very dependent on not only the camera the person is using on the other end of the line, but also the quality of the internet connection, which can often be extremely poor." But all of that quickly disappeared into the background the moment the beautifully dressed drag queens and club kids entered his screen. "I originally didn't plan for the series to be all about drag and transformative dress, but the majority of people getting in touch were from that scene. They were overwhelmingly positive that doing something like this was giving them an excuse to do what they love and also help provide some sort of focus at a time when it's often really difficult to have one."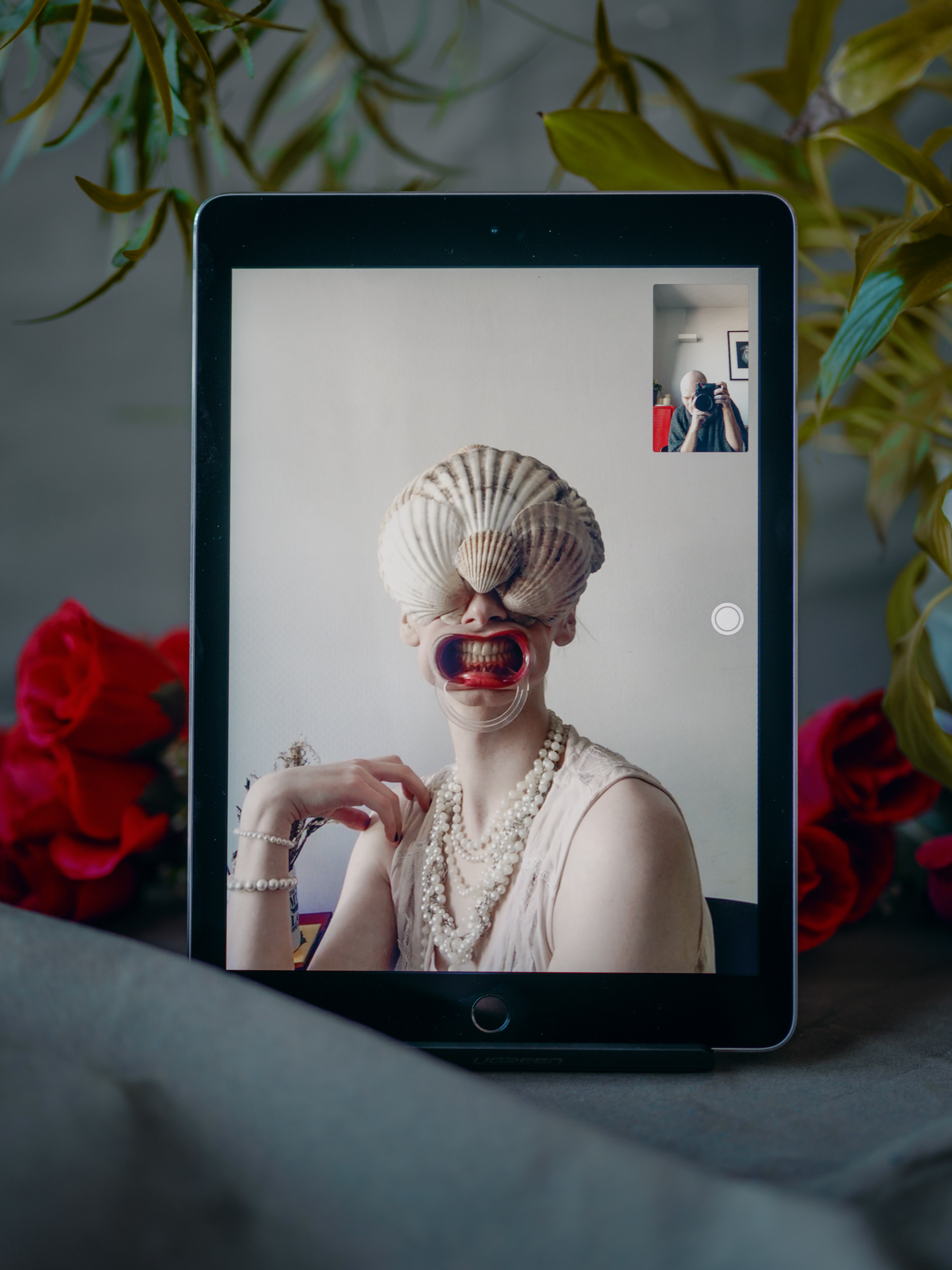 "I am self-isolating in a flat by myself -- my partner is stranded abroad. As a freelancer, I've been left with no work at all and I don't qualify for any of the benefits or packages the government is rolling out. Having recently graduated, I am also attempting to begin my performance career which is a challenge when every venue in the world has gone dark. Although the finances, morale and general stress is a bit of a rollercoaster right now, I'm keeping these particular demons at bay by staying very busy making costumes and works so I can explode onto the scene when this all ends. If indeed there is any scene to explode onto. I may end up just looking excellent in whatever apocalyptic Mad Max future we find ourselves in."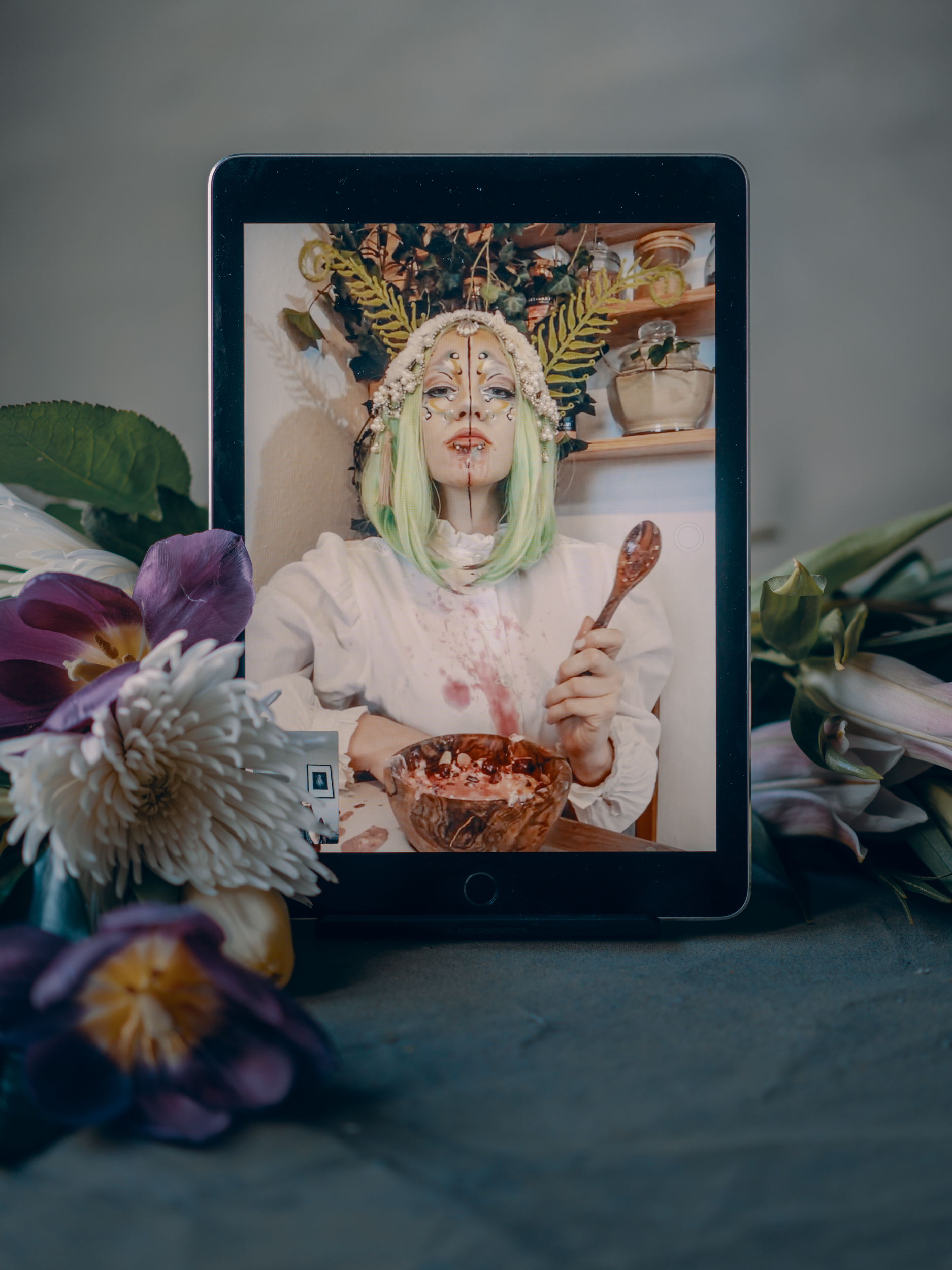 "I don't know how long I've been quarantining for... I live alone and often spend consecutive days working at home and not seeing anyone. The difference is that it's unacceptable to go out now and, classic me, now I want to go out more than before. But what I'm finding most incredible about this time, is that people are realising how important the previously unrecognised essential workers are. We could turn the whole system that divides the poor and rich around with this experience. So, for me, this is a time that shows us what is fundamental to existing -- politically, but also personally. It's a time that shows us what kind of people we really need in this world. It's a time that we can physically see and understand the ever-pressing importance of empathy."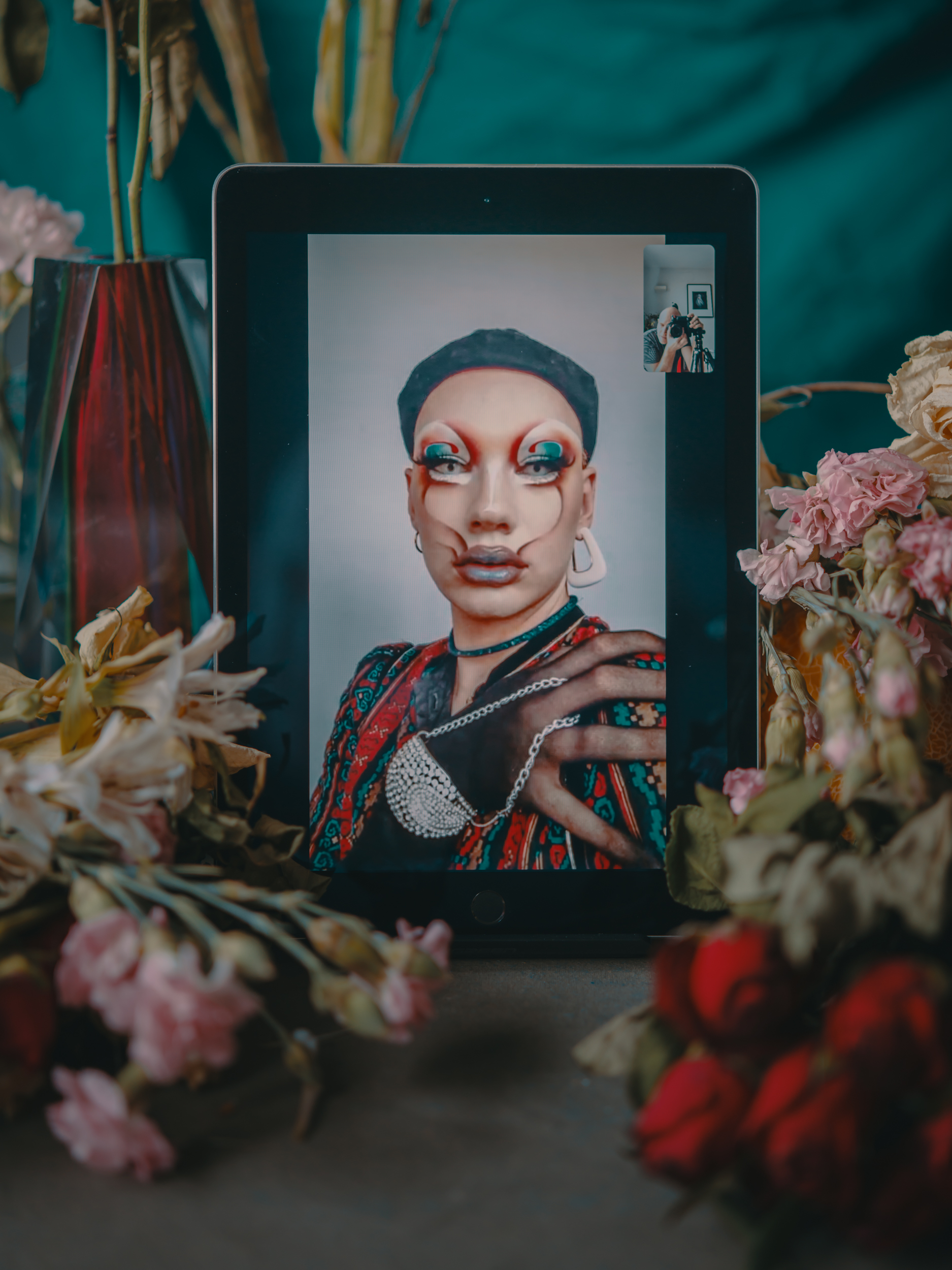 "Just before the crisis, I started a new job as a makeup artist and was looking for my own place. I can't work and make money right now so unfortunately I'm still at my mother's apartment. Me and a friend started an online challenge with a different theme every week during the quarantine and people seem to enjoy it. As soon I can work again everything is ready to let me fully embrace the life I want to live: shoots are booked, new outfits are on their way and travels are planned. This lockdown has made me consider how valuable the time is that we have -- I'm not ready to lose any more minutes locked at home."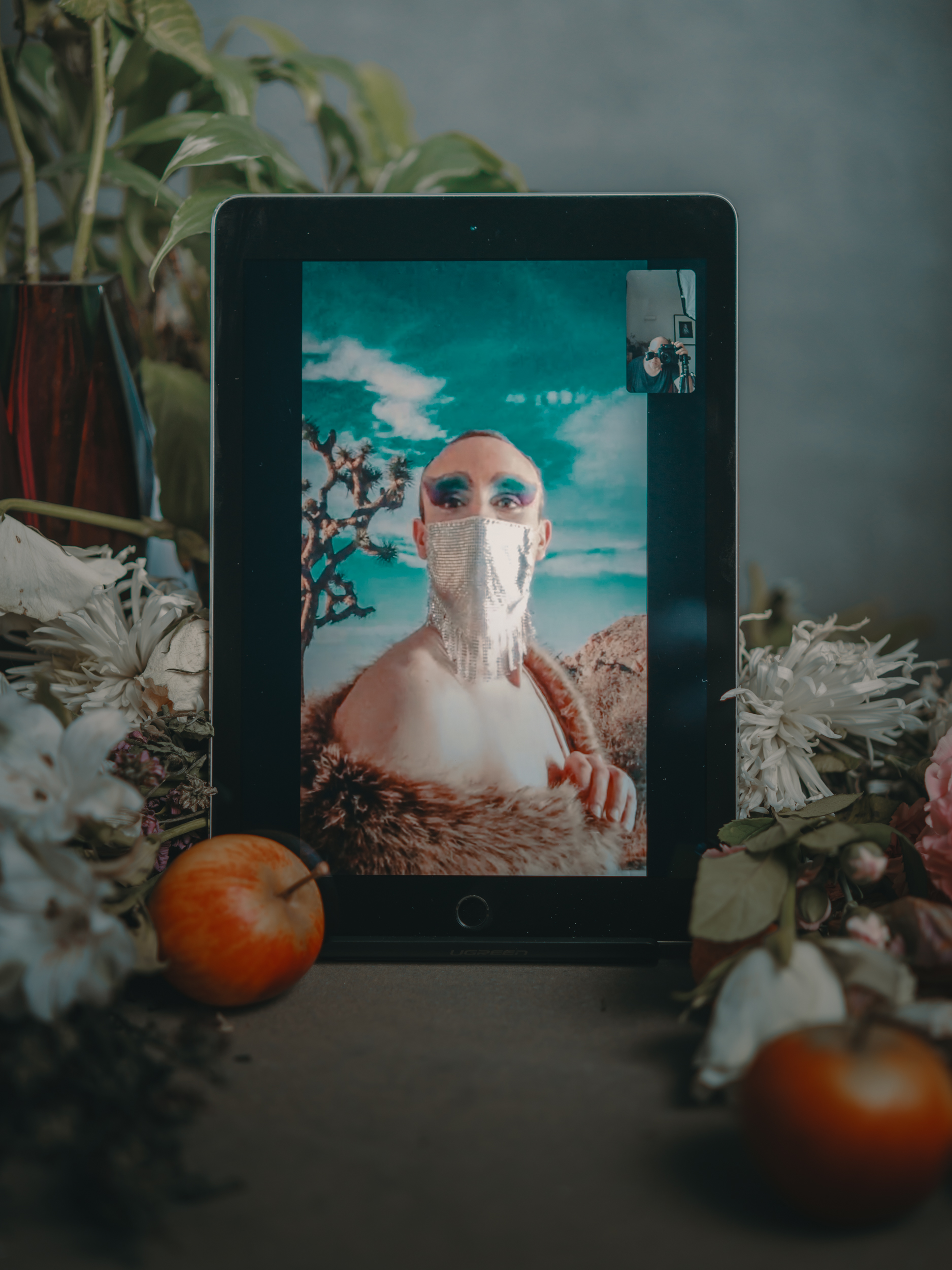 "I finally found my niche in New York City in early March -- and then everything shut down. Living alone has been both liberating and disorienting. I can sit at my desk writing code in full drag but haven't had an in-person conversation in four weeks. Sensual exploration at parties and clubs is replaced by zoom calls and solo dancing in my living room. I work in finance, and it is surreal to know that stock exchanges and bank offices are deserted while traders sit at home in their pajamas, biting their nails and watching global markets convulse. The walls between work and life have been erased. New York is scary, and I don't know what our new normal will look like, particularly for the creative, expressive, performing scene."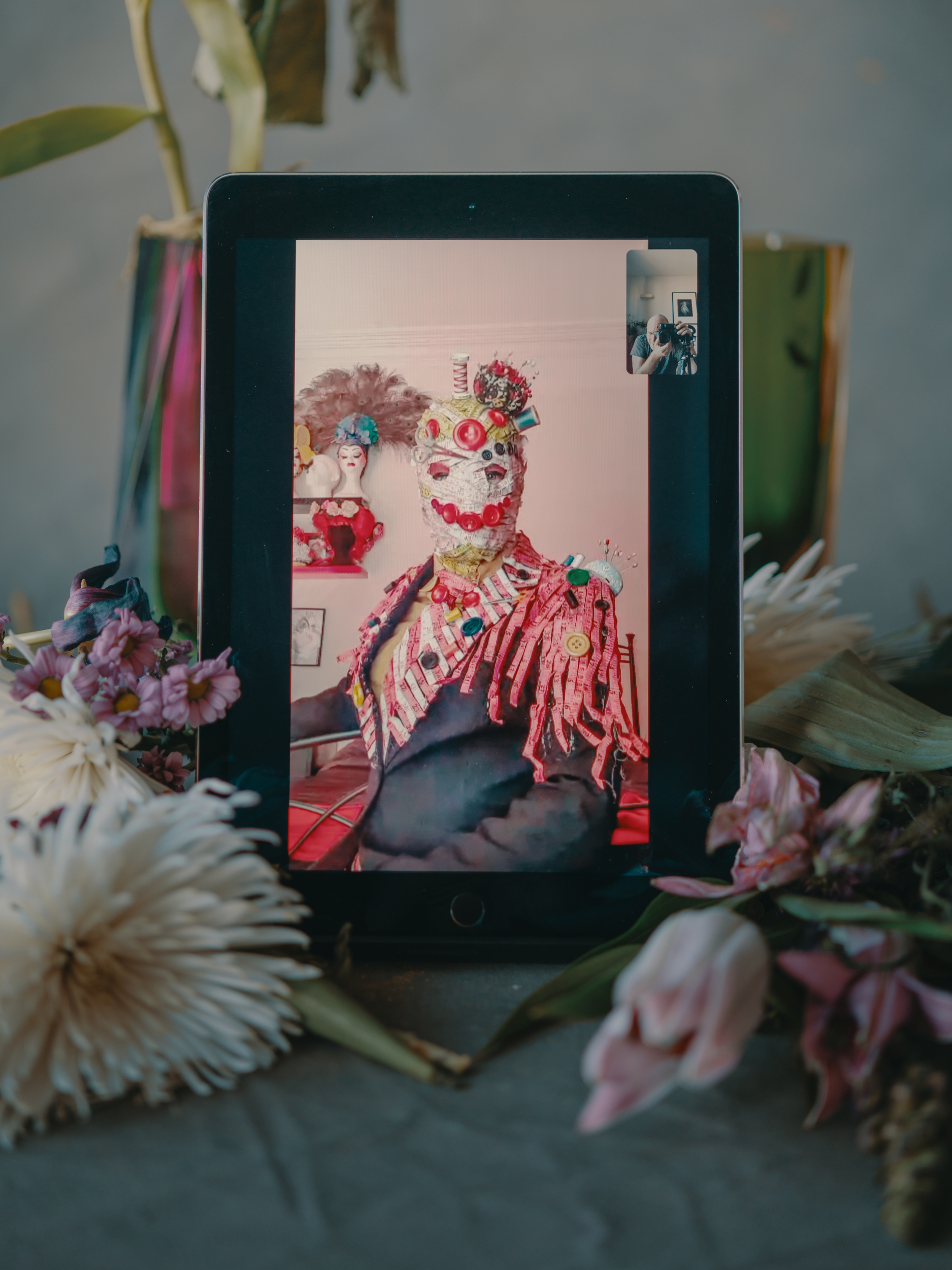 "I am worried about my job as a latex wear designer and also my job as a performer. I live in a small flat with my partner Max Deviant and we don't have an outdoors area which can be frustrating, but luckily enough we live super central in London, so on our daily walk we can see some amazing London landmarks. It's very eerie without people in the streets. I try to keep myself busy making things and occasionally dressing up. We also have a super clean flat now! I hope a proper vaccine will be found very soon, and I hope we can rebuild our economy together. Perhaps make some positive changes in terms of how we all work together, and also for the environment -- the air is so much cleaner now."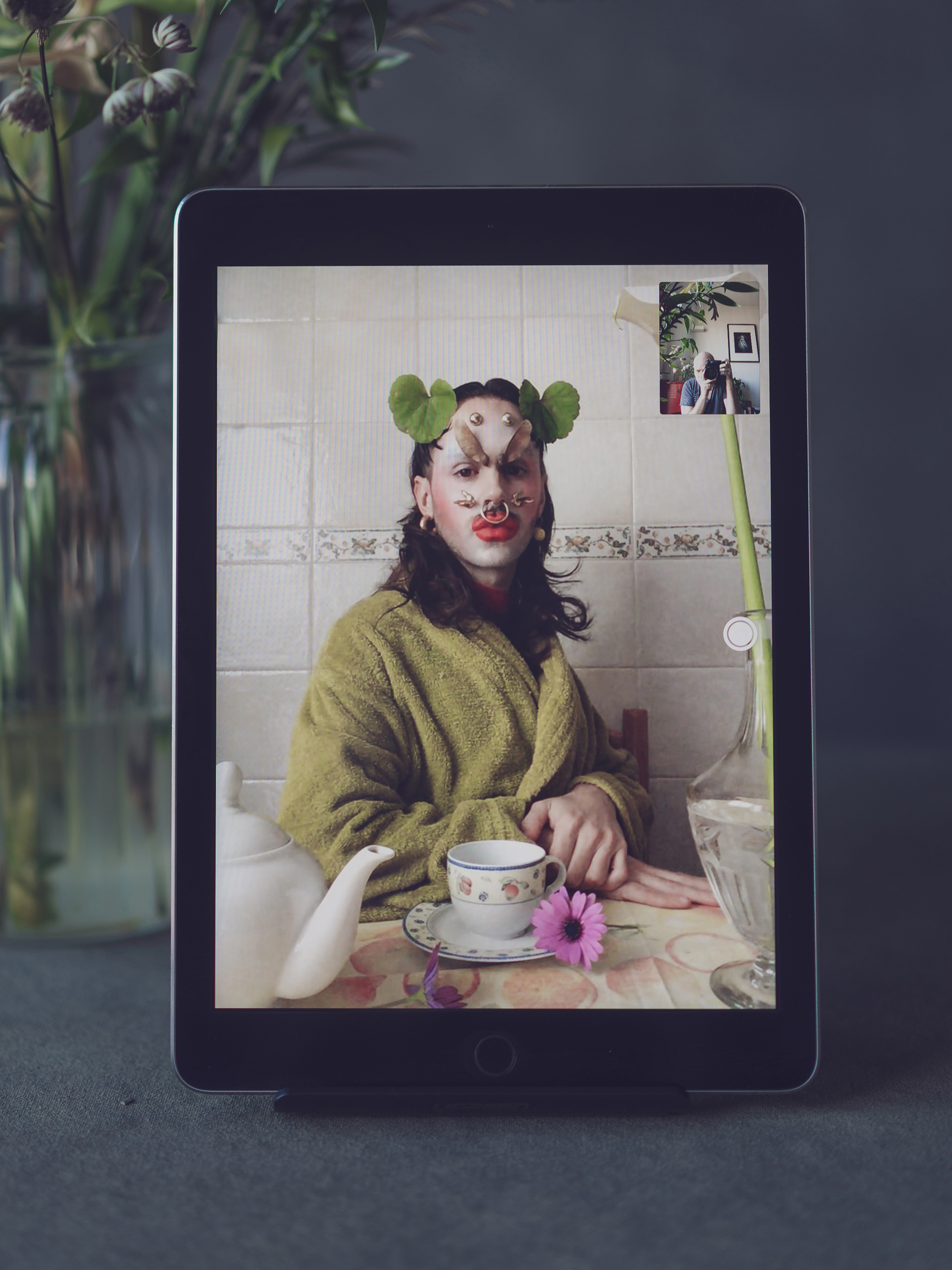 "I am trying to spend this 'break' as best as I can by doing things that before I never was able to do. This situation allows us – or at least me – a brief moment to breathe and think in an otherwise unstoppable system. I do miss touching other people but I also appreciate the space self-isolation is providing us. We can now listen to our own sound. We don't do that enough, there is usually too much noise."
"In Paris, we've been in isolation for four weeks now. I'm staying with my drag mother at a friend's house while he's away. Of course I would like it to be over, because I miss seeing my family and doing drag. Drag is my only source of income, so it's difficult. But at the same time, being forced to take a break is good for me. Besides drag, I go to college for biology and I work on several other projects, and this lifestyle is exhausting. I barely sleep five hours a day. Nowadays I'm able to sleep as much as I need, and just watch cool movies without worrying about any deadlines, which I haven't done in a couple of years."
"I am a student and I'm still working at a grocery store a few days a week. Even though it represents a risk, I feel lucky to see colleagues and people who are grateful for our work. It helps to keep my mind clear. When I'm home I see isolation as an opportunity to ask myself: who do you want to be? I try to maintain a daily process of creativity in order to not get disoriented or constantly fear the uncertain future. So I work on my design degree and I drag medical masks I used at my job, since I can't perform with my drag collective. It's also a way to feel less alone in my flat: each mask brings a character with its own story, a daily escape."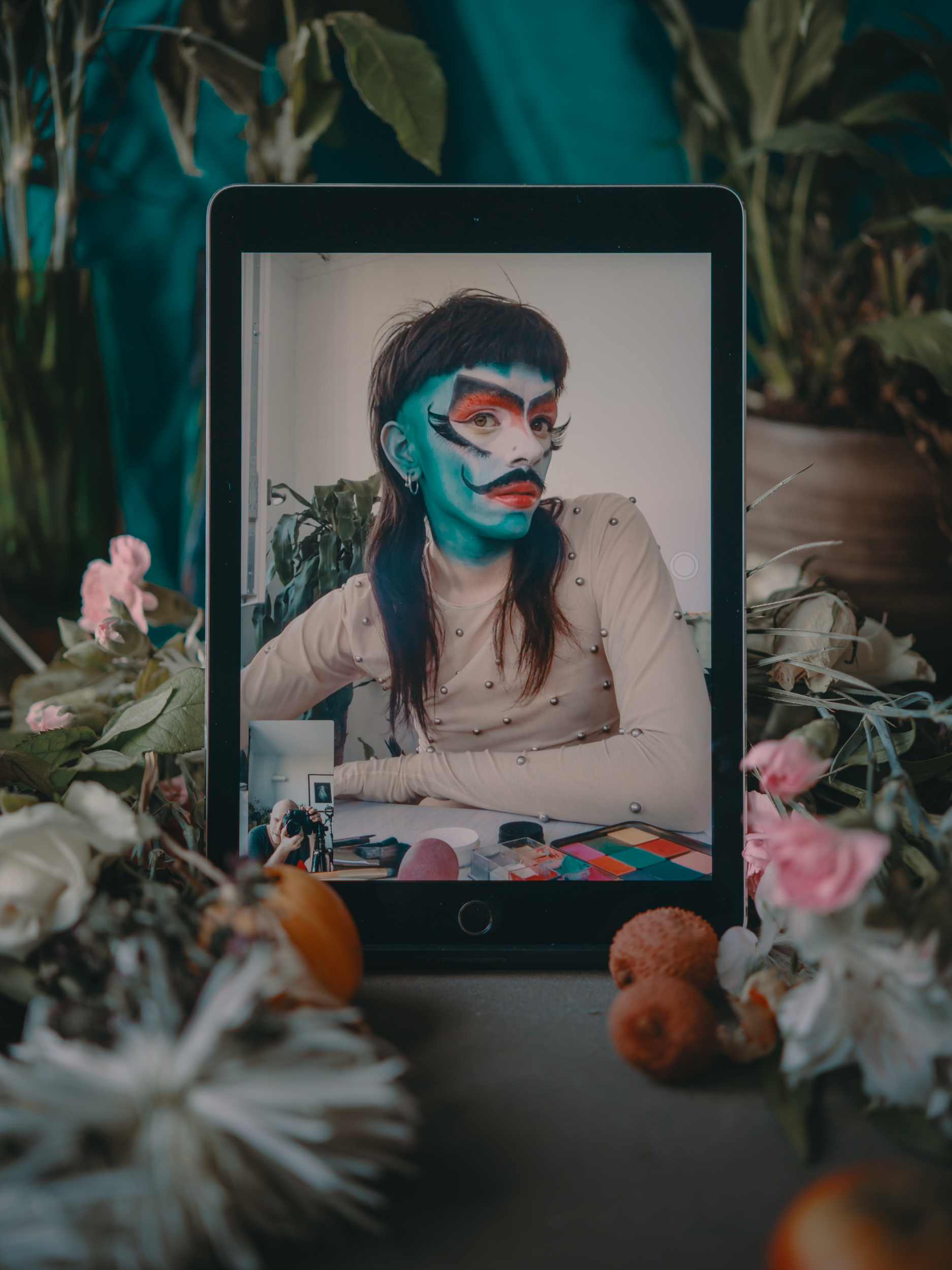 "To me, this period of self-isolation is a relief. As a fashion designer, the rhythm of this industry is kind of exhausting -- always pushing you to the limit of your creativity. So for me, it's been a good way to charge my batteries, and have the time to think and be creative for myself. When I was still going to school, I bought so much material that my basement was like a fabric market! So I am currently going through it all, and creating my new drag outfits for photos or performances to come."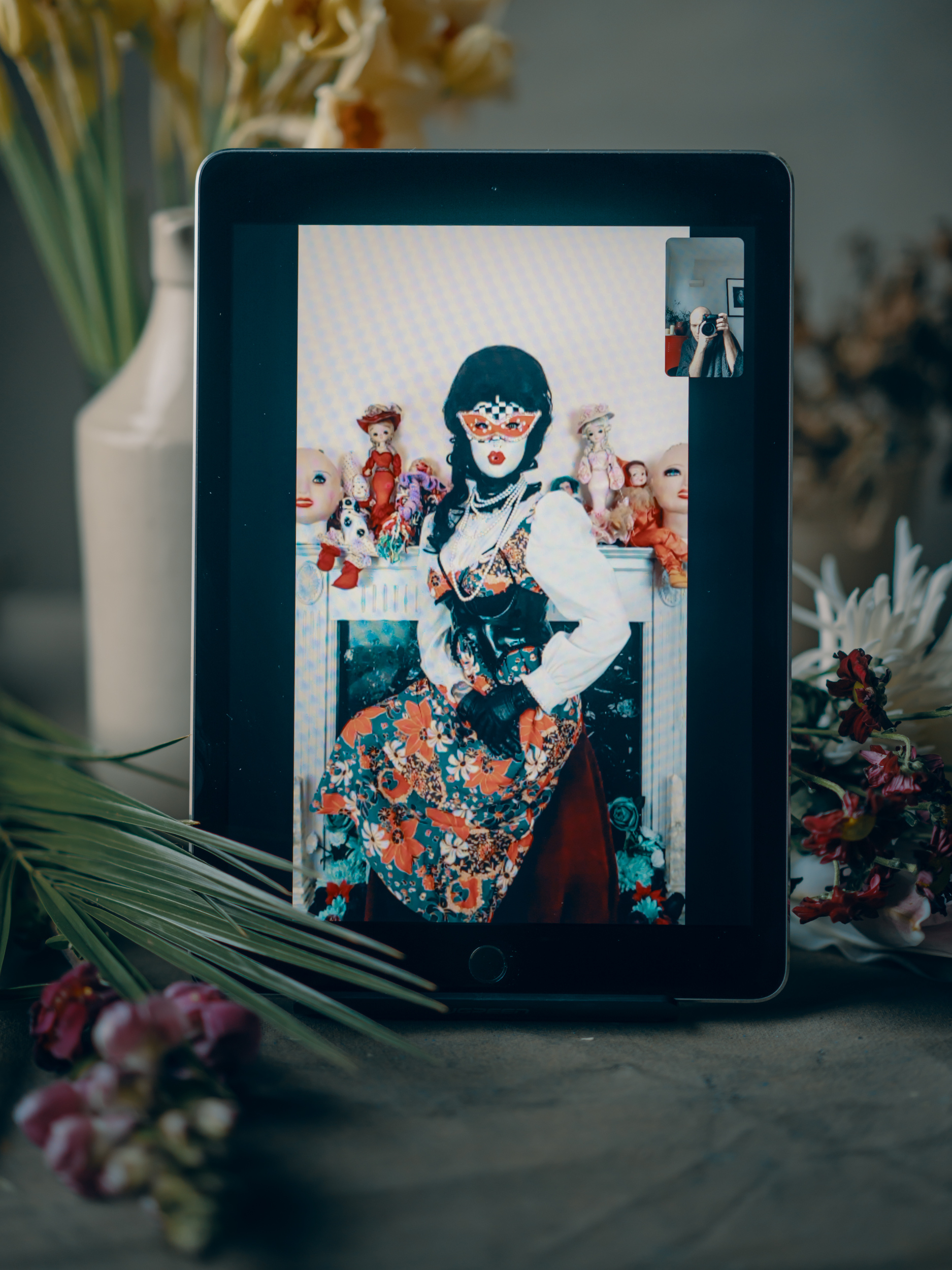 "When we went into lockdown here in London, I had grandiose visions of days upon days of working dawn til dusk on creative projects. But as the days, and then weeks, progressed I found myself riding an hourly rollercoaster of emotions and unable to focus on any kind of tasks at hand. I got angry with myself, depressed, sad, frustrated. Here I was with all this time and yet I couldn't find the energy to get up and do a shoot or even edit images. I was one of the lucky ones that was actually able to spend my time in lockdown creating and yet I couldn't muster up the motivation or emotional strength to do anything at all. We're a few weeks in now and I can -- albeit very slowly -- feel myself coming out of the coronavirus media frenzy fog. I am able to think about things other than the daily death toll and I've actually begun to settle into this new way of "life on lockdown". Sort of. I am determined to be more kind to myself and take life one day at a time, to be as kind to others as possible and to not let the news or social media get the best of me."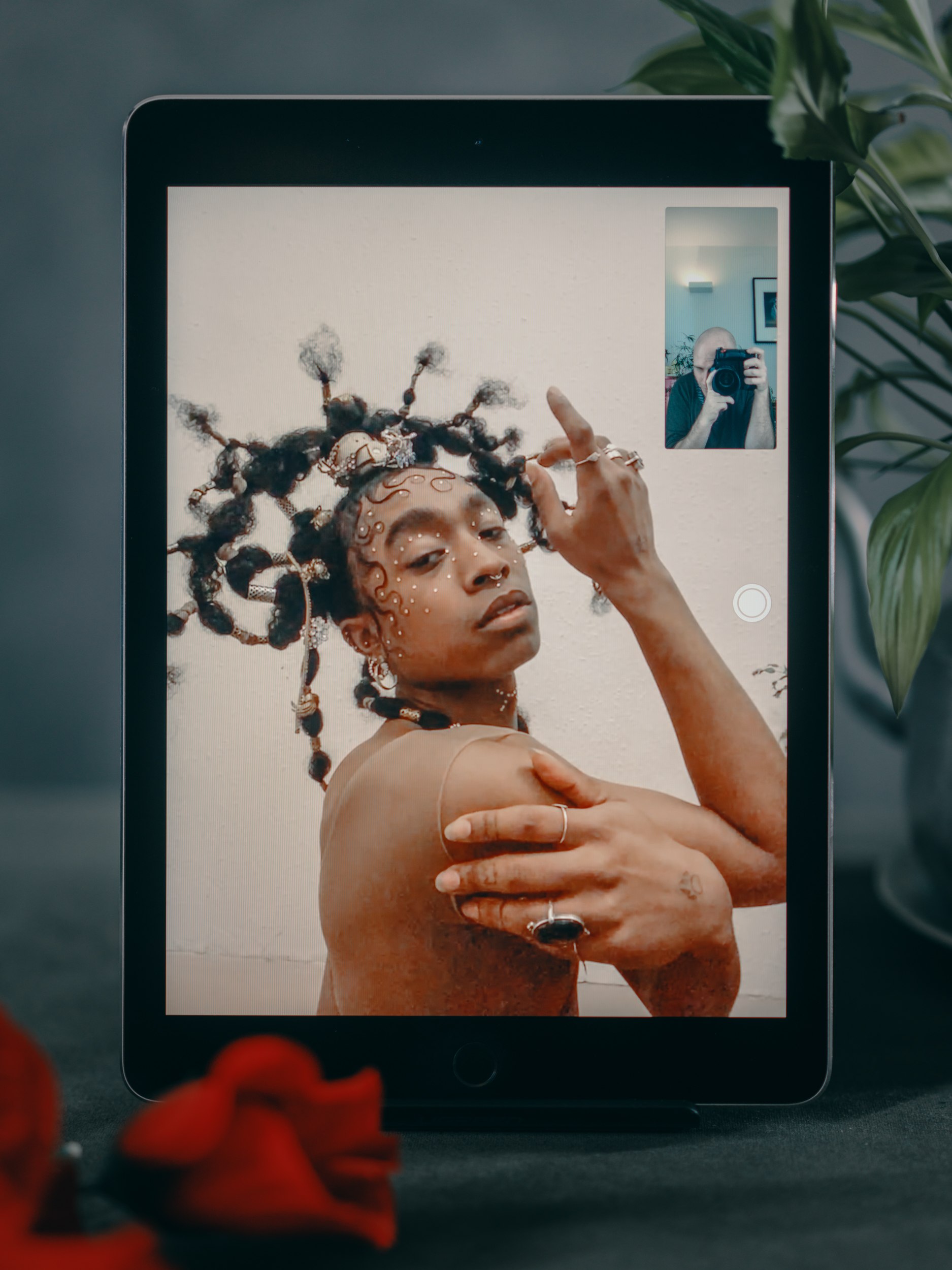 "I don't know when I'll next be dancing in a production or where the next paycheck will come from, but despite all this I'm feeling overwhelmingly positive about the situation. I see it as an opportunity for us all to take some time out for reflection, work out what's important and allow the world to heal a little. In the meantime, I am using this opportunity to get in touch with my inner child again, like spending hours on shaping my hair into a sculptural work of art."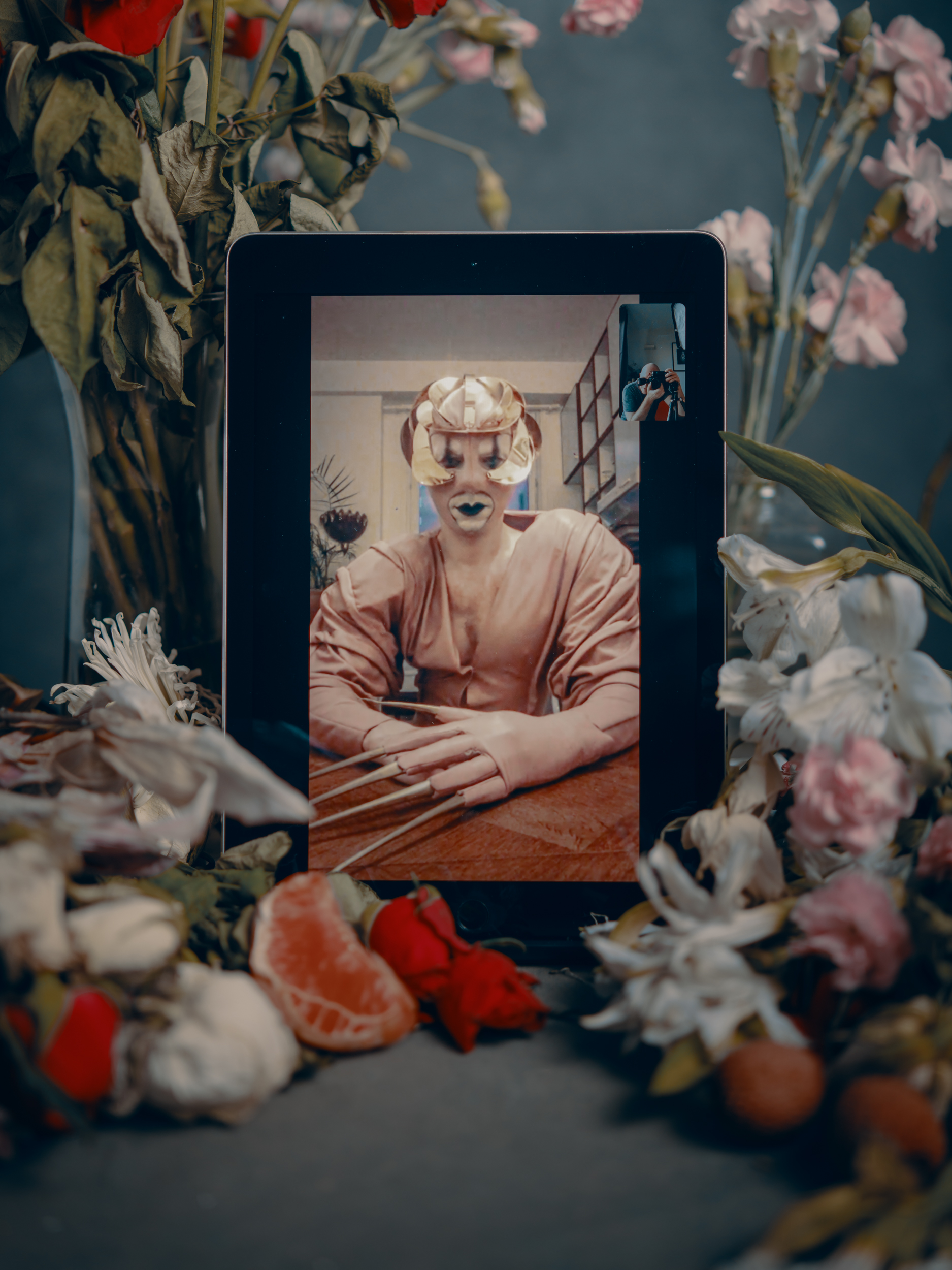 "I am a full-time performer based in Paris. My partner and I create every costume I wear from design to finish. Seeing all that work dissipate is heartbreaking. Like many performance artists, I too have seen all my future bookings cancelled or postponed indefinitely. This has left us in a position of financial difficulty and uncertainty, unable to see "the light at the end of the tunnel". We have focused on creating home photoshoots and "live" performances for social media including behind the scenes material for my platforms such as patreon, while keeping positivity in mind and planning for the future. Sometimes the most positive effects come from the most negative of times... and we hold on to the hope that things can only get better."
"A friend of mine is leading online meditation on Instagram every single weekday and it's helping me to cope with self-isolation. If you'd asked me before if I was into meditating I would probably have laughed at you, but it's a regular, calming ritual and it really helps. Also, in all honesty, I'm smoking a lot of weed. After this crisis I hope that we're a little gentler with each. I hope we check in on our neighbours and friends a little more. I hope our priorities shift in a real way."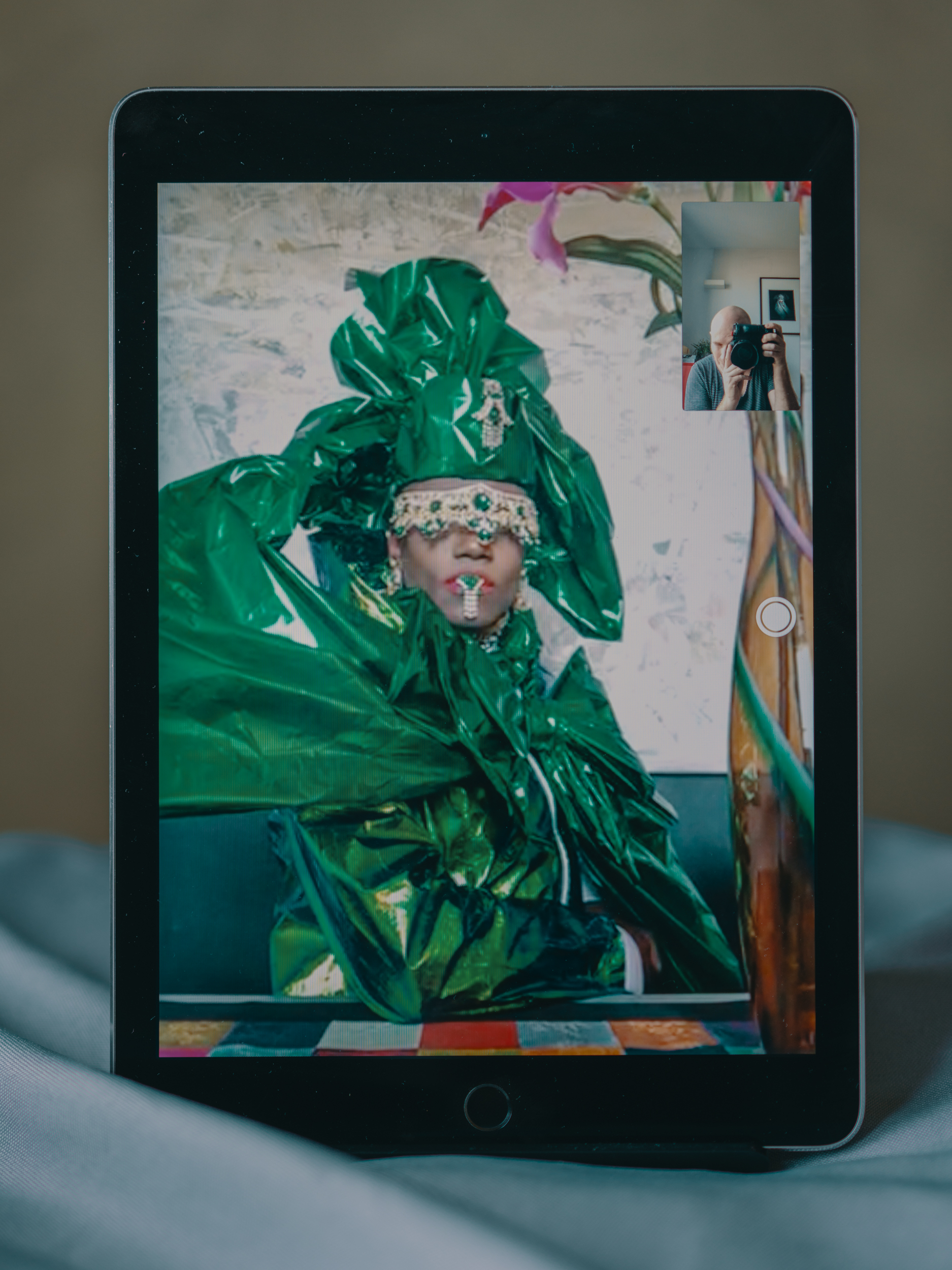 "Now I don't know about you but I'm a wild animal and not meant to be caged but Miss Rona is taking too much light and some of us are left in the dark. Other than that I'm fine. I'm treating it as a holiday at Auntie Suzy's. Not only do you have to do the home chores, you will also have to be her companion to church and have to try to squeeze a few minutes for yourself. I really miss night life. In the night is when people become their best self just like a moon flower. I miss the madness of it all. I miss getting ready, dressing up and showing up. Weirdly I even miss the smell! But mostly I miss socialising with friends."

Credits
---
All photography Damien Frost