Brazilian drag superstar Pabllo Vittar is the antidote to 2020
The pop icon on the importance of fun, her love of anime, and the political drive behind her career.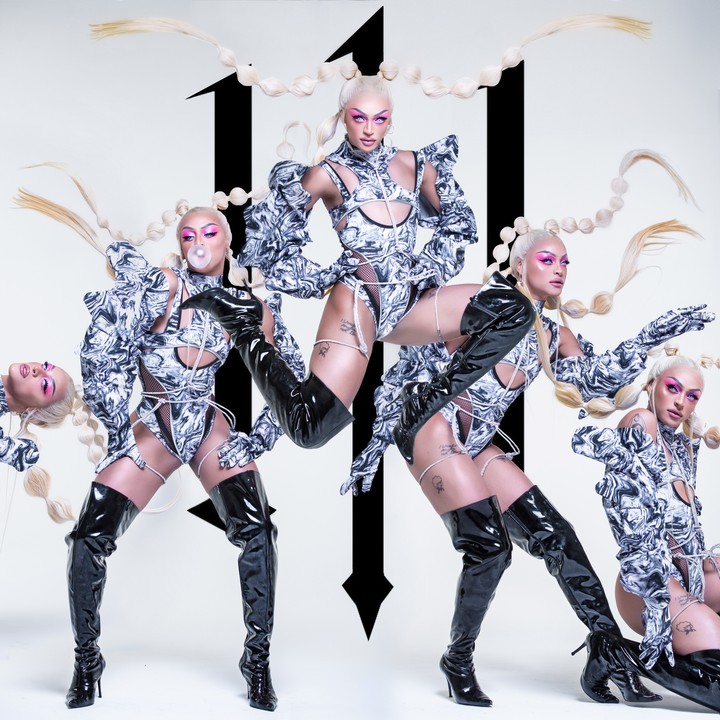 Pabllo Vittar - 111 Album Cover
In the recently-released video for "Tímida", an infectious duet with Mexican pop royalty Thalía, Brazilian drag superstar Pabllo Vittar repeats a simple, effective message, which literally translates to: "I'm not shy". Writhing around in a fishnet bodystocking and a leather harness, we don't for a second doubt the genderfluid artist when she says that drag makes her feel powerful, courageous and ultimately, happy.
"I've been doing drag for seven years now, since I was 18," she says. "I've always loved the feminine figure, so I think that's what attracted me: becoming a cute, sexy, feminine drag queen." One of Pabllo's other enduring passions is music, to the extent that she spent her childhood in São Luís seeking out stages to perform on. "I remember when I was a kid, I would beg my mom to take me to church so I could sing," she says. "I always loved to be in the spotlight!"
This determination paid off back in 2014, when her mesmerising, televised performance of Whitney Houston's "I Have Nothing" went viral. A few years later, she teamed with Major Lazer and Brazilian megastar Anitta for "Sua Cara" (a tune that has almost half a billion views on YouTube), which showed that she could turn club hits as well as iconic power ballads. Buoyed by success, Pabllo set about conquering the pop world on her own terms with a series of bop-heavy records: first came Vai Passar Mal (2017), then Nӑo Para Não (2018) and finally 111, released late last month after a teaser EP dropped on her birthday.
The latest offering is a concise, celebratory record full of club bangers, which introduces some new sounds to Pabllo's sonic universe. "With every album, we grow a little," she says of the release. "On this one, I could bring an even bigger mix and add to the Brazilian rhythms I love with some of the global trends I'm into."
Pabllo also sprinkled a few Spanish-language tracks into the blend for the first time in her career, but the production remains distinctly future-facing -- veering between glitchy synths, rumbling bass and shiny, high-octane pop moments as heard across the Rina Sawayama remix and the epic Charli XCX collaboration "Flash Pose". It's all part of what she describes as her ongoing mission: "I always try to bring happiness through my music! We already live in a world full of problems and issues of our own, so I make music to help people forget about that and have fun, even if it is just for a couple of minutes."
In this context, Pabllo's voice is more important than ever. In 2018, Brazil voted for self-proclaimed "proud homophobe" Jair Bolsonaro to be its new President. Since then, the leader has promoted evangelical allies, fought to abolish classroom discussions on gender and sexuality and issued a slew of bigoted public statements. Protest movement #EleNão ("not him") erupted in response, and Pabllo has continuously used her online presence -- as well as her live performances, where she's been known to scream the slogan -- to amplify these messages of resistance.
"We live in a super homophobic society in Brazil," she explains of her choice to speak out against the President. "My career isn't just about singing and being famous, it's about fighting over and over until we get our rights. It's about being a voice amongst a lot of other voices to ensure that we are not less than anyone, and to show that we deserve to be respected." Resilience underpins Pabllo's words, but she explains that it's more a communal state of mind, a constant drive to fight back. To prove her point, she quotes her friend Linn da Quebrada, a trans artist and activist who starred in 2018 documentary Bixa Travesty: "We were born struggling with violence so we will keep getting it, but we will keep fighting with all of our strength."
Drag is another political tool in Pabllo's arsenal. With a radical history that dates back centuries, it's a distinctly queer art form that disrupts established ideas around gender -- and now, it's become a vehicle for Pabllo's message to reach a global audience. Better still, the stigma that once lingered around drag musicians -- and fuelled the industry's reluctance to take them seriously -- is slowly fading away. In the last few years alone, Vittar has racked up hundreds of millions of streams and collaborated with pop royalty, marking her out as a successful star in her own right. For this, she thanks "the drag queens in the '90s that worked so we could get more space in the media, and be more respected."
To Pabllo, this isn't just about respect, it's about visibility. Her meteoric rise has empowered LGBTQ+ youth worldwide to be bold with their self-expression, and these teens often flood her inbox with praise. "We talk all the time," she explains. "That's super important to me -- we share our experiences to help each other and to grow together. I always want them to know that they can be whoever they want to be, and that they'll always have my support."
Before the global pandemic ground all plans to a halt, Pabllo was gearing up to tour worldwide. Now, she tells me she's spending her lockdown time watching anime ("I'm obsessed, the way they build stories is so powerful and there are always so many great twists") as well as 90s classics like Clueless. "It just helps me to forget the current situation," she explains, reiterating the importance of entertainment as escapism. She also has a few collaborations lined up, and although she can't give more details yet, Pabllo cites Little Mix, Rosalía and Miley Cyrus as just a handful of her dream pop partners.
"To me, the most important thing is a connection," she says of choosing collaborators, but it's a sentiment that echoes throughout her work. Whether connecting with marginalised teens, potential activists or loyal fans, Pabllo brings a distinctive mix of politics, pop and pure optimism to an ever-growing global audience in greater need of joy and escapism than ever before.