Meet the Season 12 queens of RuPaul's Drag Race
Starting 28th February, these queens will be competing for the most coveted crown in reality TV.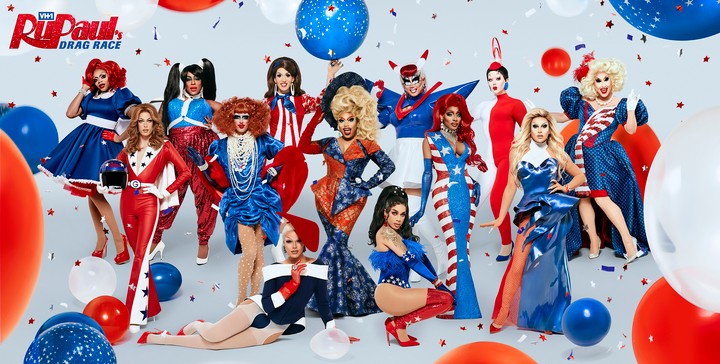 Charlotte Rutherford/VH1
It's the announcement we've all been waiting for: the 13 queens of RuPaul's Drag Race Season 12 have finally been revealed. As ever, it's safe to say that this year's lineup is looking fierce. Last night, Ru announced to her "fellow Americans" that "Season 12 is here and Momma Ru needs YOU -- to pledge allegiance to the drag." Styled as a glittering feast of red, white and blue, we can't wait to see these girls bring their A-Game.
So who have we got competing to be the next drag superstar, and will take home the crown and the $100,000 cash prize?
We've got Aiden Zhane, the spooky sister who built a drag career from her bedroom; Brita, an ex Shade: Queens of NYC star who was once a backup dancer for Katy Perry's Saturday Night Live performance, and Rock M Sakura, the first anime J-pop Manga Queen to name a few. Also, Crystal Methyd is a name on many Drag Race fans' lips right now. Her moniker aims to raise awareness around drug abuse in her hometown of Springfield, Missouri.

Then there's Dahlia Sin: a burlesque dancer and the first queen in drag race history to pose nude on top of a floating doughnut; Gigi Goode, the child of a theatre costume designer (expect looks!); Heidi N Closet from North Carolina, who grew up closeted in a baptist house and found her true self through performance and dance, and NYC's Jackie Cox, a Star Trek enthusiast who considers herself something of a comedy queen.
Also showing face are Jaida Essence Hall, who knows the pageant circuit inside out; New York City's Jan Sport (named so after a backpack) who went toe-to-toe with Simon Cowell as part of her performance on America's Got Talent last year; Nicky Doll, the "anime prostitute", and Sherry Pie, who "shot out of her mother's Vagina wearing kitten heels and glitter". Last but not least, we have Widow Von'Du, a beauty contestant and recording artist from Kansas City who considers herself to be "the original plus-size Barbie."

Earlier this month we saw the arrival of RuPaul's Drag Con in London, where thousands of die-hard fans rocked up to the Kensington Olympia to see their favourite stars. This combined with the launch and overall success of the 2019 British version -- featuring Graham Norton and Alan Carr as judges -- highlights that the captivating art of drag is growing in demand.
So which of the United Queens of Ru-Merica will shantay and who will sashay away? You'll have to tune to VH1 on the 28 February at 8pm (and a day later in the UK on Netflix) to find out, so place your bets now.