Imaan Hammam
: "Everything Rihanna touches turns to gold"
For i-D's special Rihannazine issue, the model talks success and paying it forward.
This story originally appeared in i-D's 'Rihannazine' Special Edition, no. 01, 2020. Order your copy here. For this one-off project, Rihanna put a series of questions to the women shaping culture today, and invited them to share their visions for 2020.
Can you introduce yourself?
Hi, I'm Imaan Hammam, and I'm a model. I was born in Amsterdam. My mum is Moroccan and my dad is Egyptian.
When did you move to New York?
When I was 16. I got scouted in Amsterdam when I was a kid, and I did a couple of shows in Paris, and then I got this big opportunity to move to New York for my career.
When was the first time you started feeling successful, professionally and personally?
Well, the first time I started feeling like a success was when I worked with Riccardo Tisci. I opened a show for Givenchy. It was so great to have him supporting me at the time, and that felt like success. In terms of personal success, I would say being an ambassador with She's The First, which is a charity that helps girls around the world with education, mentorship and life skills, and also fights for gender equality. That's something I'm really excited about and it's a great reminder not to take things for granted. It's very rewarding.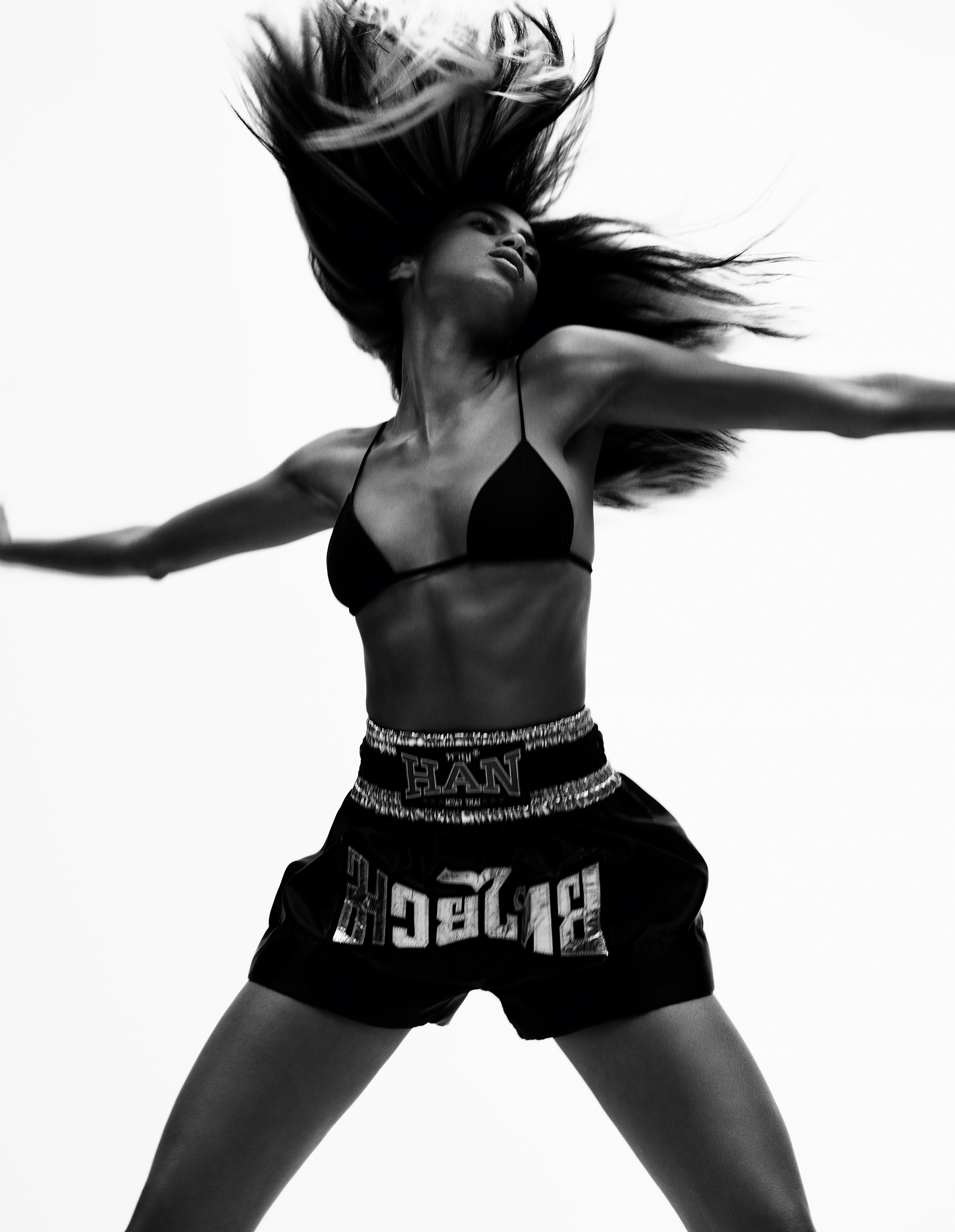 Do you ever get feedback from the people you've helped?
Oh yeah, a lot! The girls I met in Gambia, we FaceTime a lot. They FaceTime me while I'm working. We have a great connection. We also did this amazing fundraiser that made $70,000, and I got this video of all of them dancing and sending me their love. It was really dope.
As we're heading into 2020, what are you taking with you into this year, and what are you leaving behind in 2019?
It's so funny, because the first thing I think of is my ex! But maybe I can't say that. I'm growing into a woman, and everything happens for a reason. I have some good life lessons from this year. I'm leaving all the bad energy behind and I'm taking all the good energy with me.
Let's talk about Rihanna. Have you ever met her?
Yes! I've worked with her a lot of times. She's an icon, she's a legend. Everything she touches turns to gold. So I'm happy that I got to know her on a personal level. She's definitely someone I look up to. She's a great force in the fashion and music industry. She's killing it!
What would your question be for Rihanna? Or maybe it's just something you'd like to say to her.
Thank you so much for opening so many doors for so many different people, and proving that no matter where you're from or what you look like, you can have a dream and you can actually make it come true. Thank you for the music! I love you so much.
Credits
---
Photography Mario Sorrenti
Styling Alastair McKimm
Hair Duffy at Streeters.
Make-up Kanako Takase at Streeters.
Nail technician Honey at Exposure NY using Tom Ford Beauty.
Set design Jack Flanagan at The Wall Group.
Colourist Lena Ott for Suite Caroline.
Lighting technician Lars Beaulieu.
Photography assistance Kotaro Kawashima, Javier Villegas and Jared Zagha.
Digital technician Johnny Vicari.
Styling assistance Madison Matusich and Milton Dixon.
Hair assistance Lukas Tralmer, Dale Delaporte and Allie J.
Make-up assistance Kuma, Tomoyo Shionome and Megumi Onishi.
Nail assistance Tera Darden.
Set design assistance Mike Williams, Akaylah Reed and Amy Sabel.
Production Katie Fash.
Production coordinator Layla Némejanski.
Production assistance Fujio Emura.
Casting director Samuel Ellis Scheinman for DMCASTING.
Casting assistance Cicek Brown for DMCASTING.
Lede image Jumper Reebok x Victoria Beckham. Earring model's own.