Rico Nasty: "Going into the new year, I hope I'm more grounded"
The rapper tells Rihanna about her plans to shake up the music industry.
This story originally appeared in i-D's 'Rihannazine' Special Edition, no. 01, 2020. Order your copy here. For this one-off project, Rihanna put a series of questions to the women shaping culture today, and invited them to share their visions for 2020.
Can you introduce yourself?
Hi, my name is Rico Nasty, I am a rapper, rock star and mommy. You've gotta do a lot of things.
How do you define success?
Being at peace. Not necessarily being stagnant or complacent, but just at peace with where you are in life.
What's been your biggest personal or professional success?
I have to say I think my biggest professional success has been doing covers for Fader and XXL. Those mean a lot to me, and they trickle over into personal success, because they make me feel beautiful and comfortable with myself. I used to watch a lot of Keeping Up With The Kardashians, and I always used to see them going on shoots and think, man, I wish I could do that for a living. And now I do! So I never complain. I love it. You feel special. They're doing my hair, they're doing my make-up. They have these perfect outfits ready.
What do you think has been your biggest failure, and how did you move past it?
A lot of people don't like to admit their failures, but I think my biggest failure was being really, really competitive when I first started working in music. I started out being all me, me, me, and then, the more time I spent in the industry, the more I wanted to start building a ladder to help all the other girls that haven't seen what I've seen, because it's something you want to share with the world.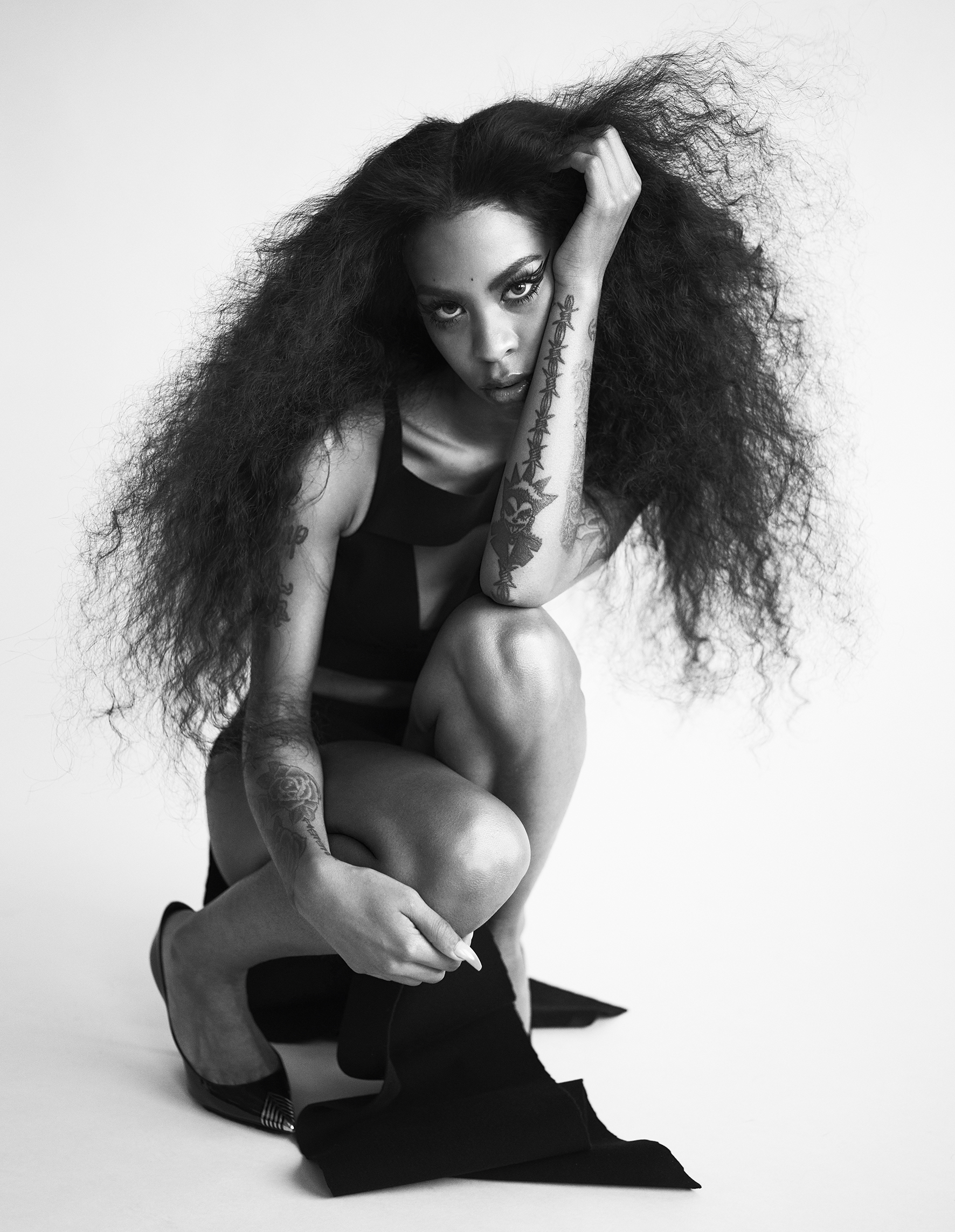 What do you want to take with you in 2020, and what are you leaving behind?
I'm taking my brain. My brain needs to work this year. I've gotta stay focused. Going into 2020, I hope I'm more grounded, and I hope I know what I want. And I definitely have a goal: in 2020, one of my goals is to potty train my dog. And to learn how to cook! Rico Rachael Ray in the house – it's lit!
What's your question for Rihanna?
My question for Rihanna is: how do you stay so bomb? I just have to know. If you can share a little secret – text me, maybe. You don't have to tell everyone.
How do you think she'd answer?
In the cutest way possible. It would probably make me blush. She just lives her life unapologetically, and that's it! How do you do that, when we live in a society where people pick apart everything you do? How do you just continue to rise like that, and be a role model?
Credits
---
Photography Mario Sorrenti
Styling Alastair McKimm
Hair Duffy at Streeters.
Make-up Kanako Takase at Streeters.
Nail technician Jenny Longworth at CLM using CHANEL Les Vernis and CHANEL La Crème Main.
Nail technician (for Sita Abellan only) Coco Michelle.
Set design Emma Roach at Streeters.
Colourist Lena Ott for Suite Caroline.
Lighting technician Lars Beaulieu.
Photography assistance Kotaro Kawashima and Simon McGuigan.
Digital technician Chad Meyer.
Styling assistance Madison Matusich and Giulia Bandioli.
Tailor Hannah Wood.
Hair assistance Lukas Tralmer, Amidat Giwa and Shaun McIntosh.
Make-up assistance Hiromi Ilsuka and Kimie Yashiro.
Nail technician assistance Nichole Williams.
Set design assistance Nia Samuel-Johnson, Louis Simonon and Eddie Amos.
Production Katie Fash.
Production coordinator Layla Némejanski.
Production Suzy Patten at Holmes Production.
Production supervisor Molly Zinar at Holmes Production.
Production coordinator Alex Whiting at Holmes Production.
Production runner David Herm.
Production intern Marta Pera.
Casting director Samuel Ellis Scheinman for DMCASTING.
Casting assistance Cicek Brown for DMCASTING.
Model Rico Nasty.