This duo makes nude bodies out of leather
Dalston leathermakers Whitaker Malem have hand-constructed everything from Christian Bale's Batsuit to the intricate, fetish-inspired mannequins at the new Christian Louboutin exhibition in Paris.
|
26 February 2020, 6:30pm
This article originally appeared on VICE UK.
Christian Louboutin's "red bottoms" were a cultural phenomenon long before Cardi B caused a 217 percent spike in searches for scarlet-soled stilettos in 2017. Now, a new exhibition -- Christian Louboutin L'Exhibition(iste) -- at the recently-restored Palais de la Porte Dorée in Paris (Christian grew up down the road from it, visiting the Art Deco museum on Sundays) celebrates the French footwear designer's 30-year career and the themes that have defined it. It has been curated by star exhibition-maker Olivier Gabet, the force behind the blockbuster Dior exhibition the year before last.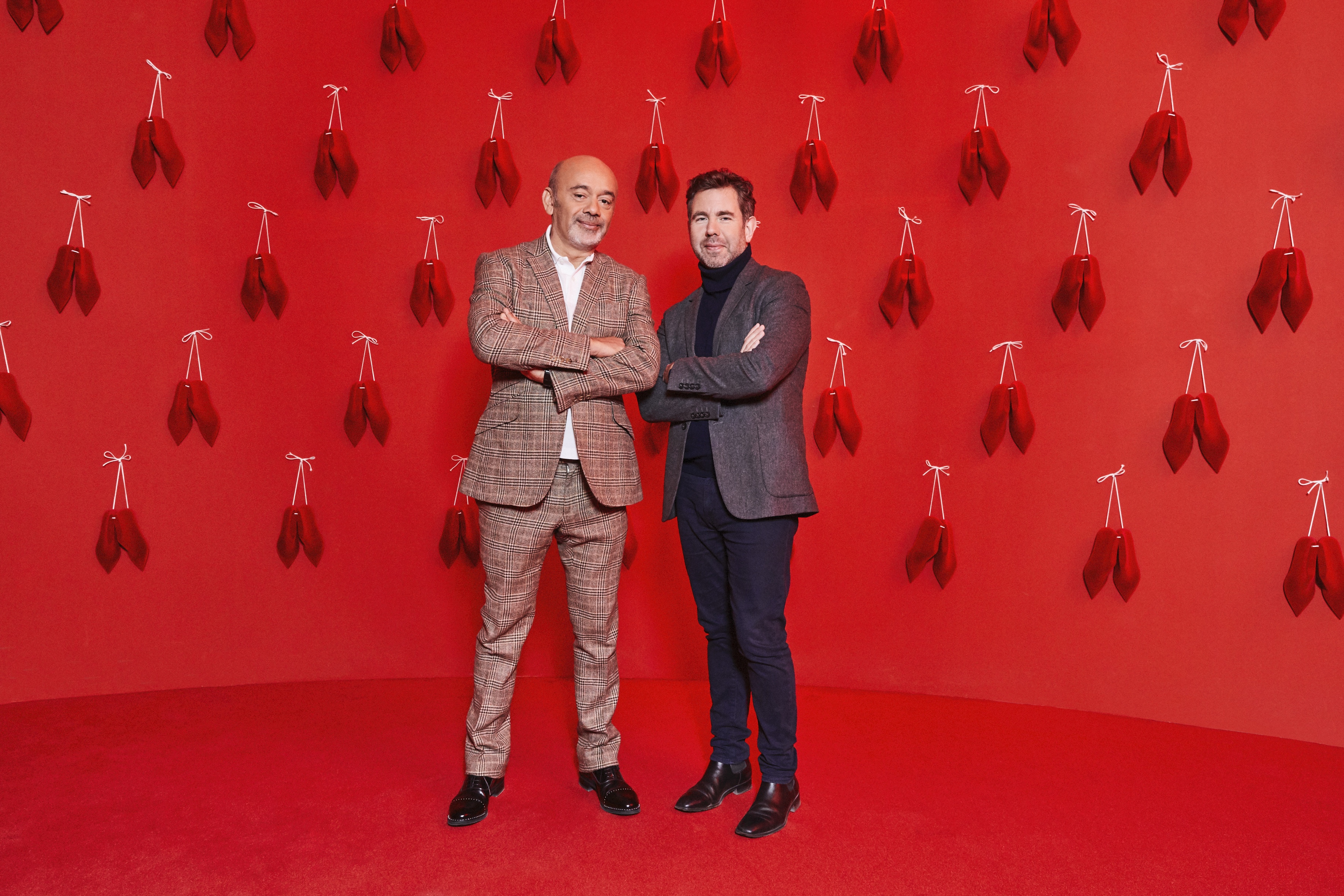 Not only does the exhibition showcase over 400 pairs of shoes -- everything from fish-inspired pumps to vertiginous stilettos more akin to sculpture -- but it brings together a remarkable collection of artists and artisans, who have been commissioned to create the scenography. These include director David Lynch, Pakistani artist Imran Qureshi, Spanish choreographer Blanca Li, revered stained-glass artisans Maison du Vitrail and Whitaker Malem -- a London leathermaking duo who you've probably never heard of, but whose work you've definitely seen.
Comprising Patrick Whitaker and Keir Malem, they're the craftspeople responsible for Christian Bale's sculpted black leather Batsuit in The Dark Knight, Halle Berry's white leather scabbard belt in Die Another Day (the one she wore with that orange bikini) and Madonna's croc-effect fencing gilet in the same film. They made Gal Gadot's superhero costume in the Wonder Woman reboot, the Greek mythology-inspired bustiers in Alexander McQueen's debut collection for Givenchy in 1996 and sculpted breastplates for Hussein Chalayan in 2005. The list goes on and on.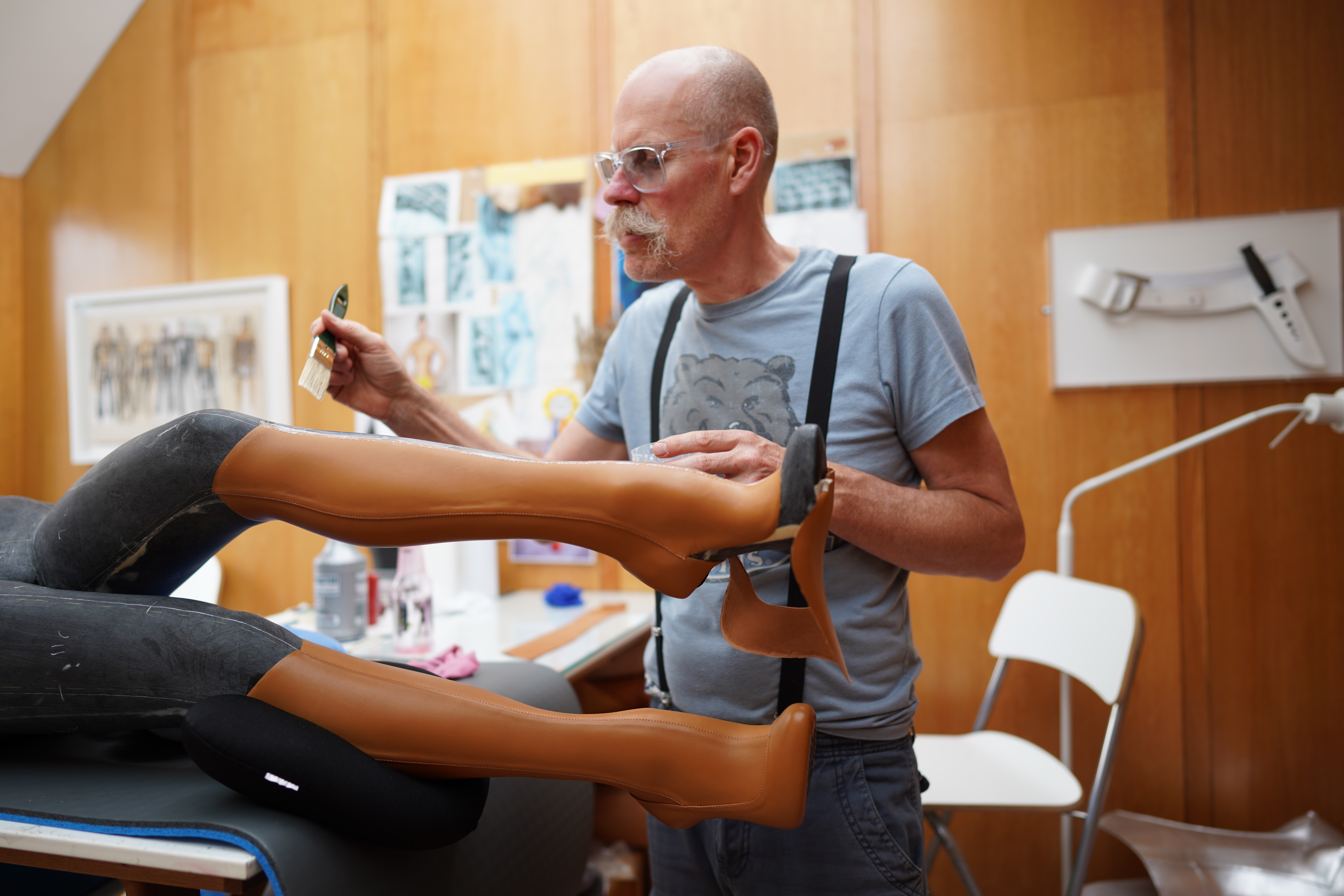 Yet Patrick and Keir (partners in life and work -- they met on the London gay scene in the mid-80s) couldn't be further removed from the pomp and splendour of the worlds their work has occupied. They're the kind of down-to-earth people who invite you into their wood-panelled Dalston home (which they designed themselves -- it has its own episode of Grand Designs) and offer you a cuppa and a selection of biscuits, giving you a tour of the house, bringing out books you might find interesting, firing off film references and recounting tales from the queer scene of yesteryear. Upstairs in their garden-roofed studio, they hand-make each of the leather sculptures and costumes that eventually grace the silver screen and become the inspiration for thousands of cosplay and Halloween ensembles around the world.
"The secret of our technique is that for everything that we make there is a block," explains Patrick. If the finished leather pieces are like a "a shoe for the body", then these sculpted figures are like lasts -- the foot-shaped wooden blocks around which footwear is constructed. Patrick actually started out with a footwear bursary in 1980 before moving on to fashion design at Central Saint Martins. There's a nice symmetry, then, in Louboutin inviting Whitaker Malem to create nine life-size, stiletto-heeled mannequins -- based on 3D scans of one of Louboutin's muses, the French singer Arielle Dombasle -- for the 'Nude' section of the exhibition. The figures are made in varying skin tones and posed among vitrines holding other shoes in an even wider range of fleshy shades (Christian Louboutin was a pioneer of broadening the concept of 'nude' by creating a diverse spectrum of shoes in varying skin tones in 2013).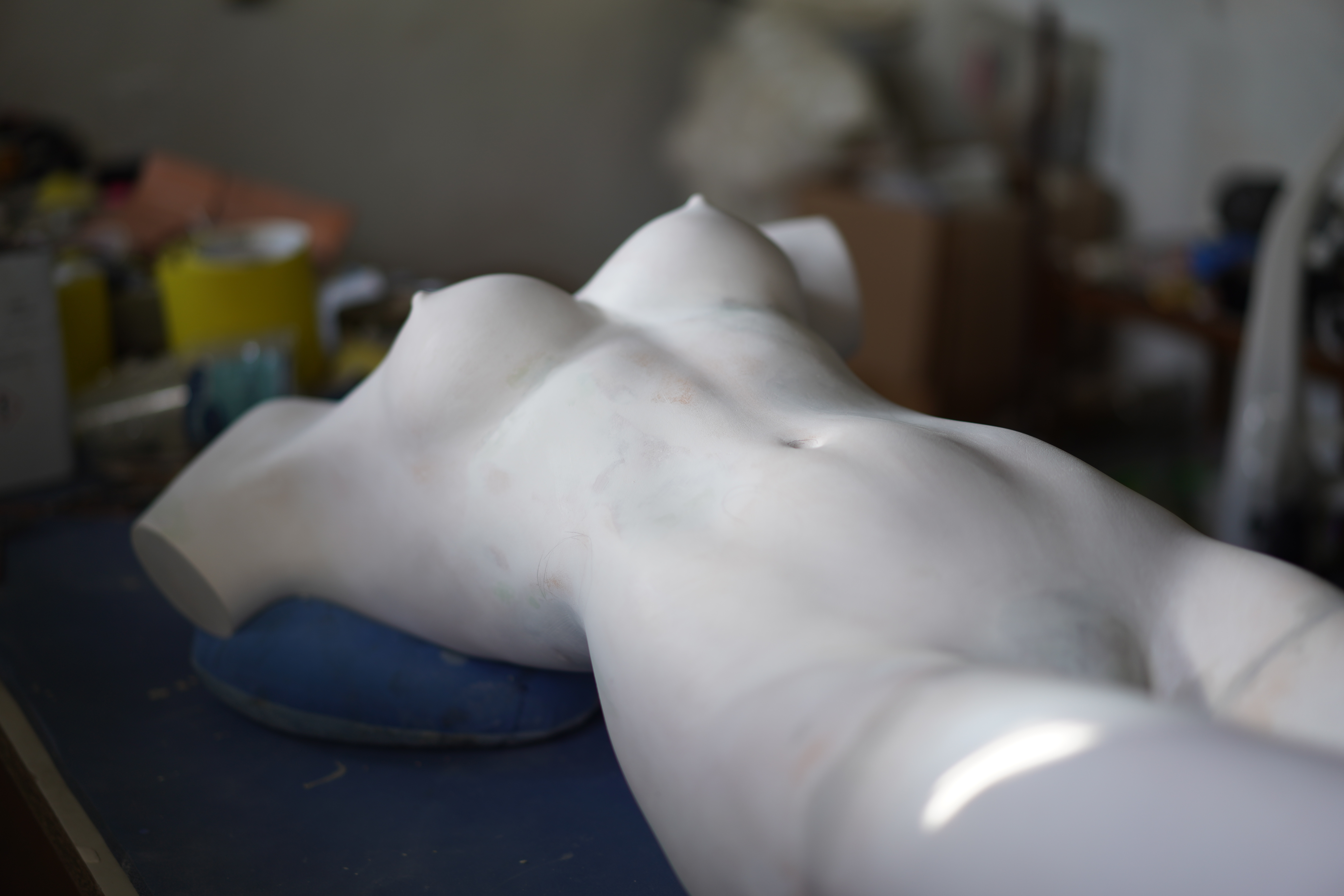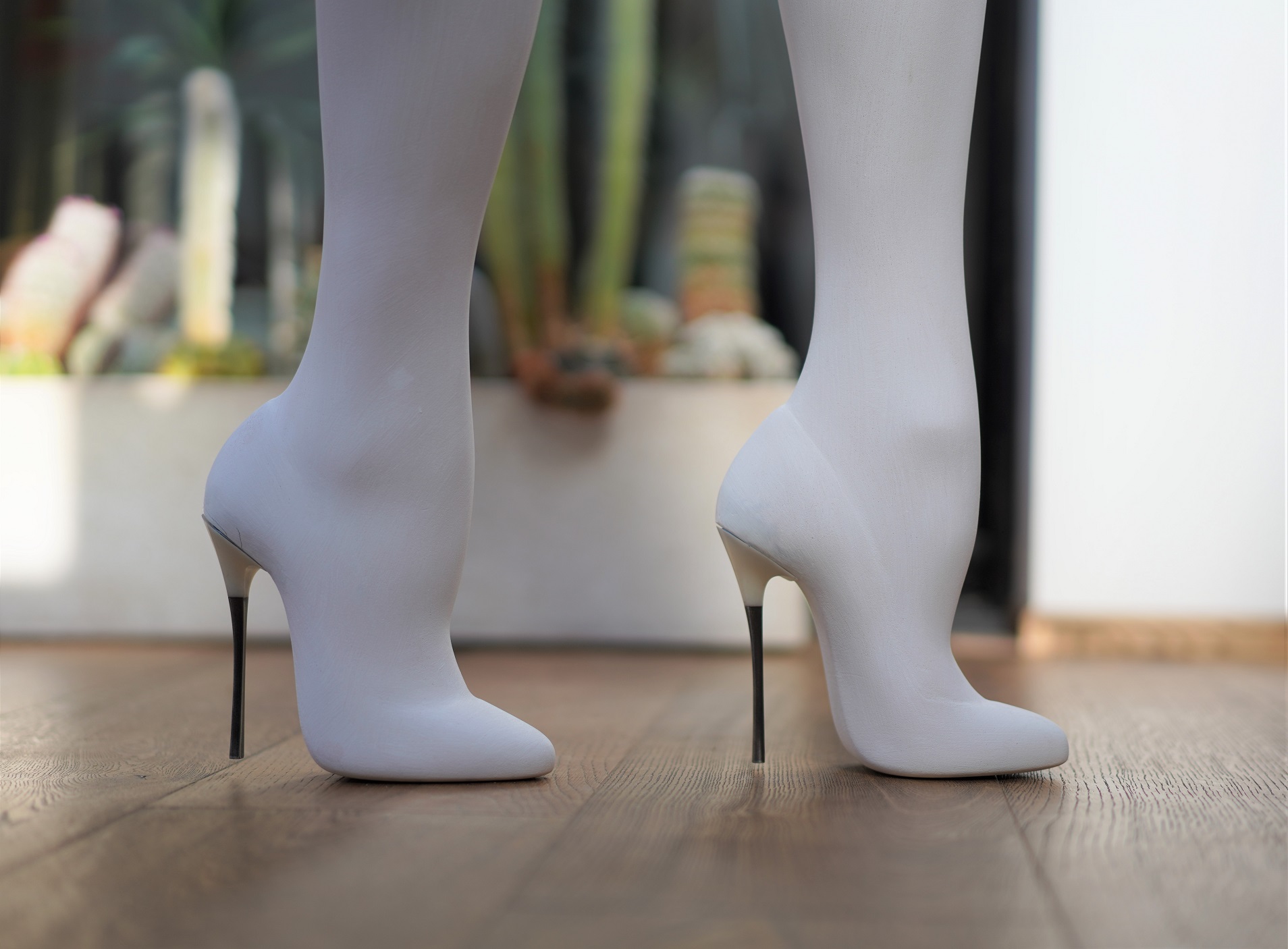 The collaboration came together because someone at Christian Louboutin once worked at Alexander McQueen -- where McQueen introduced him to Whitaker Malem, who came to see the duo in Dalston and was blown away by their work. "He sponsored us for a year to do this and enabled us to produce this work, which is horribly time-consuming and actually couldn't be done under pressure or farmed out," says Patrick. "We know one other person that could help us do this with us on the planet. And they've only just become available and they haven't done it for a couple of years. It's really at that level."
Each sculpture takes weeks to complete by hand, with the leather being meticulously hand-stretched and seamed and the fibreglass casts being hand-sculpted in Kent following digital scans and renderings of Madame Dombasle. So precise is their process that at a party to celebrate Louboutin's design of the Christmas tree at Claridges last December, they were approached by a plastic surgeon fascinated by their work. "It's kind of weird going to a plastic surgery place and being confronted with Whitaker Malem, but believe you me, they do darting, and if you want a proper old lift, it's a tailoring process they're talking about," laughs Patrick.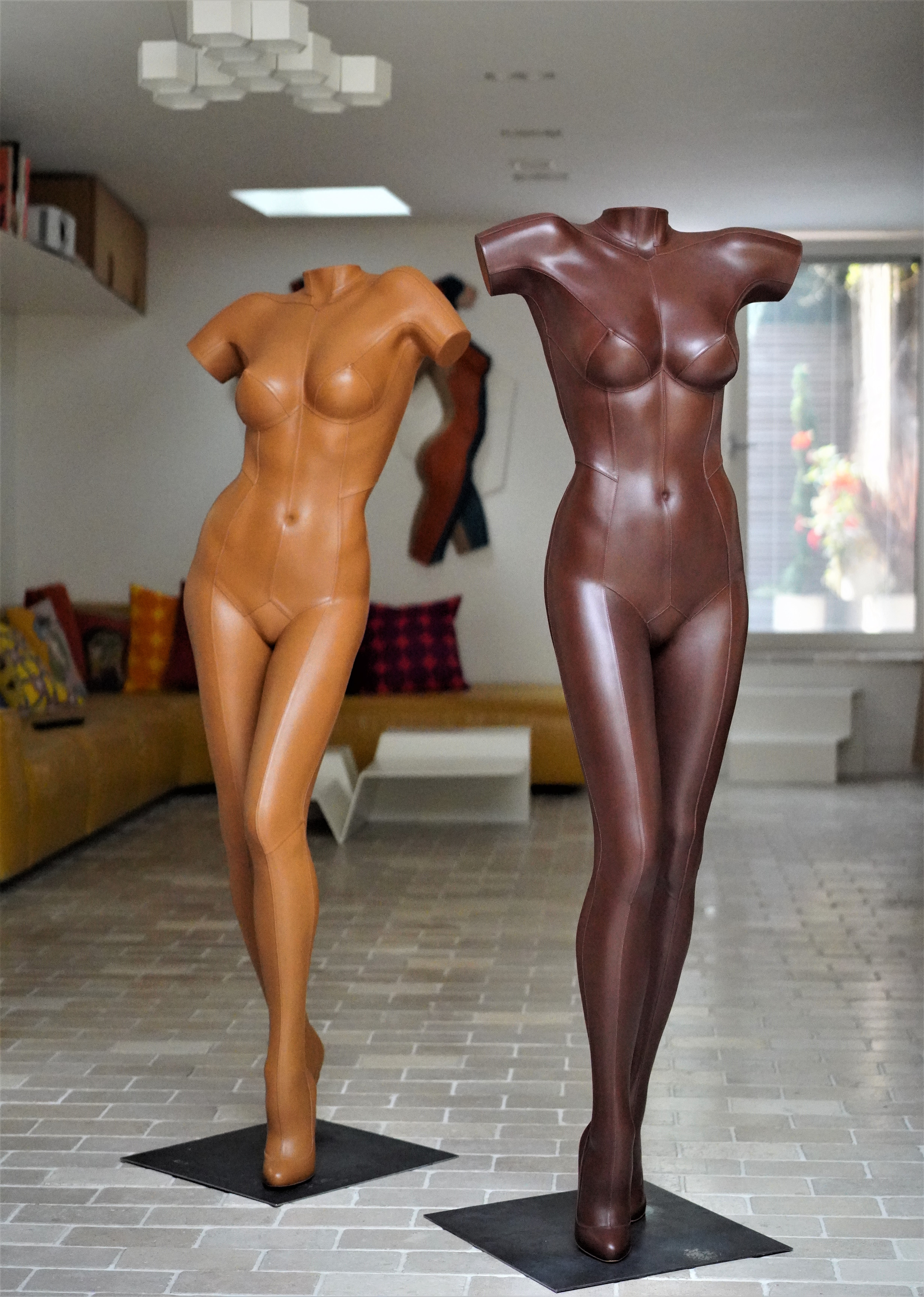 Initially, Keir assisted Patrick on his graduate collection at Saint Martins, which was full of the sort of moulded leather pieces that they would eventually become known for. Together they set up a fashion label before British designers who had landed top jobs in Paris, and Hollywood costume designers, came calling a decade later. "We never sold vast quantities of clothes, only to little tiny boutiques around the world," explains Keir. "Most of them were in America, really. We were selling in a couple of stores in L.A. and costume designers were buying our clothes from the stores and putting them in films." Soon, they caught the eye of pop stars including Cher, Janet Jackson and George Michael, who commissioned them to make stadium-worthy clothes.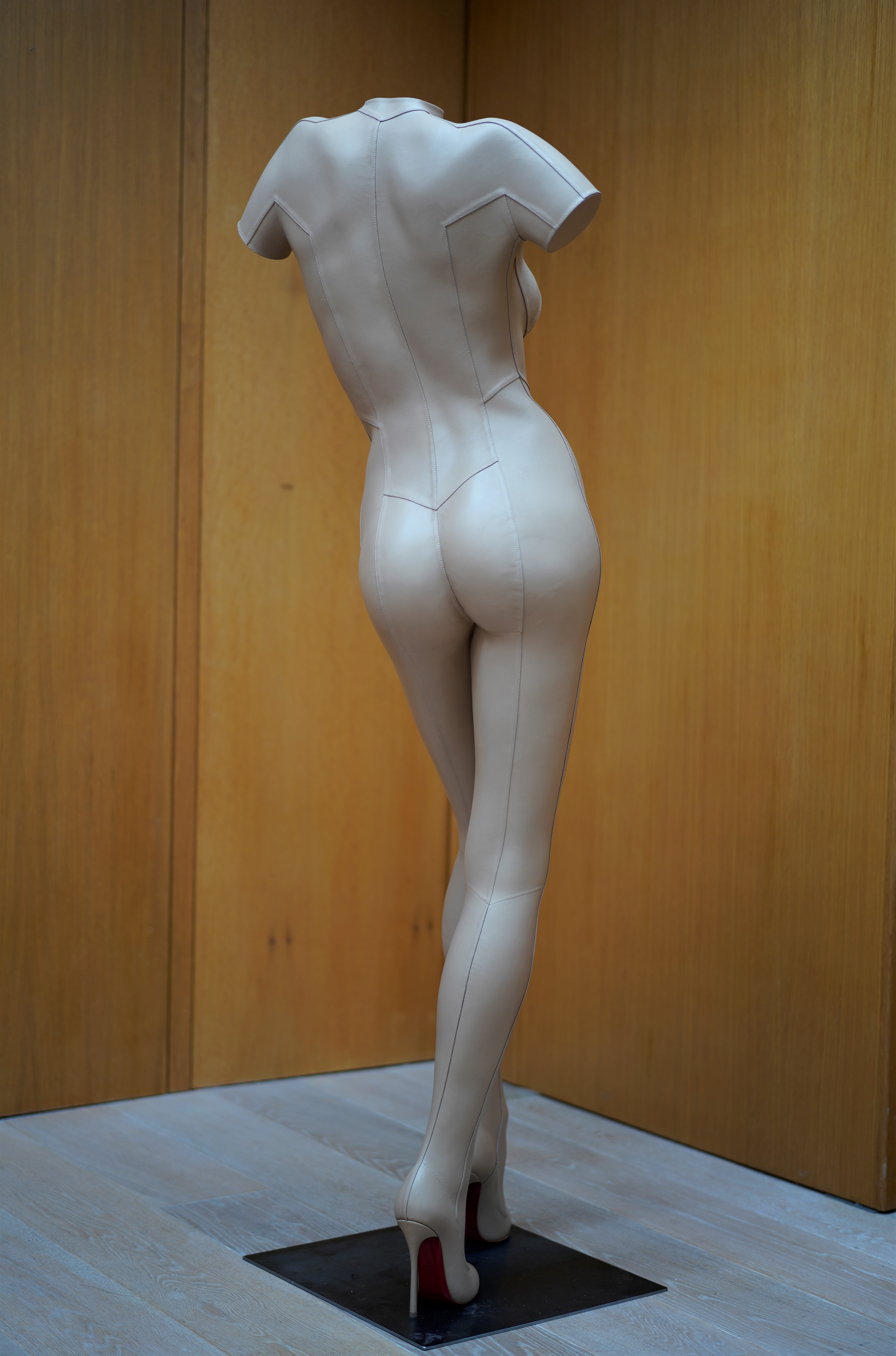 Today, Patrick and Keir's work is varied and they're more artists than run-of-the-mill designers. Their studio is full of phallic sculptures: exaggerated leather strap-ons, erotic leather armour that borrows body parts from both genders, several pieces made in partnership with Allen Jones. "It's really interesting to see what people can do to their bodies now," Patrick reflects. "The whole reason we've explored it is because this is what some people have wanted to look like. I wanted to see what an idealized version looks like… It's very, very potent."
It's funny to think how shocked Marvel superfans would be to see such avant-garde ideas from the people responsible for the looks of their beloved superheroes. But Patrick and Keir are happy to remain behind-the-scenes, whether they're shaping the aesthetic of cinematic blockbusters, or building blockbuster fashion exhibitions. As Keir notes: "Someone said to us that loads of people in the world have seen your work, but nobody knows who you are."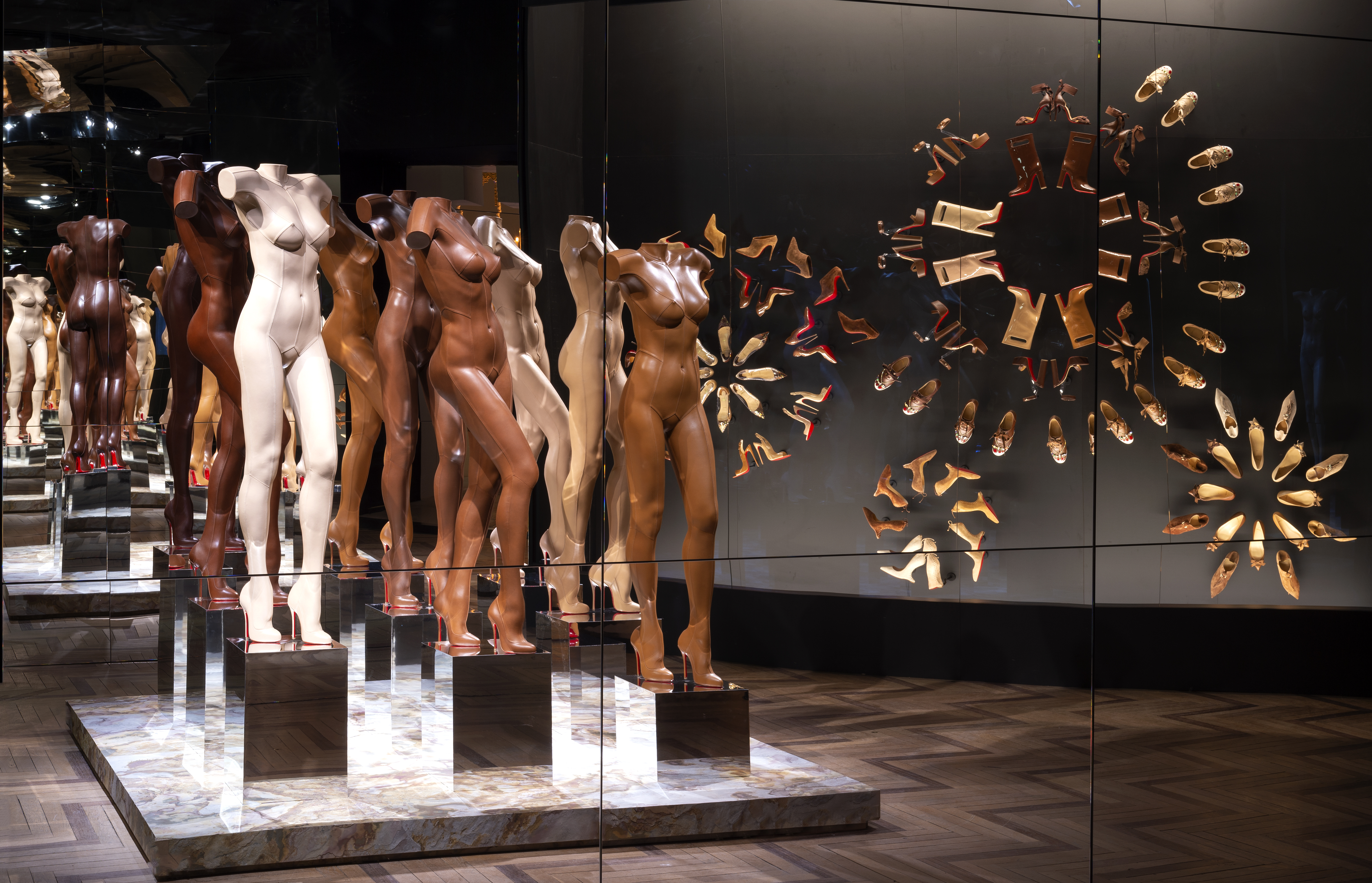 L'Exhibition[niste] is on at Palais de la Porte Doreé, 293 Avenue Daumesnil, Paris 75012, open from 26 February to July 2020