ABRA makes Barbie-inspired accessories for post-modern power dressing
How the Spanish designer behind some of Jacquemus' signature heels launched his eccentric-chic namesake label.
Photos courtesy of ABRA.
You might not know the name Abraham Ortuño Perez yet, but you're definitely familiar with his shoes. The Spanish designer was once one of the fashion industry's best-kept secrets. Responsible for Jacquemus' iconic sculptural heels and Coperni's egg sandals, to name just a few, he's the man to have on speed dial for eccentric-chic footwear and handbags. After a decade of developing and designing some of the most beloved accessories for some of Europe's most exciting brands, Abraham -- or Abra, as he prefers to be called -- has finally stepped out on his own with the launch of his namesake label ABRA.
"Everything started when I was a kid in my little village," says Abra, who grew up in San Felipe di Neri. The tiny town is deep in the heart of Spain's Alicante province, a region famed for its footwear production, and the designer's interest and expertise in design is rooted in his family's ties to Spain's artisanal industries. Growing up, the designer learned how to sew from his two grandmothers. His aunt worked in the shoe industry during the 80s: "She was very into fashion, always talking about Saint Laurent and Chanel… I just played with her clothes and shoes."
Abra describes his family as extremely open; his parents encouraged him to express himself and pursue his nascent interest in fashion. By age 5, Abra announced to his family that he would become a designer. And he cut his very first patterns around this time. Well, virtually. His parents gave him the computer game Barbie Fashion Designer, which came out in 1996: "You remember the first Barbie PC game to print patterns and glue them?"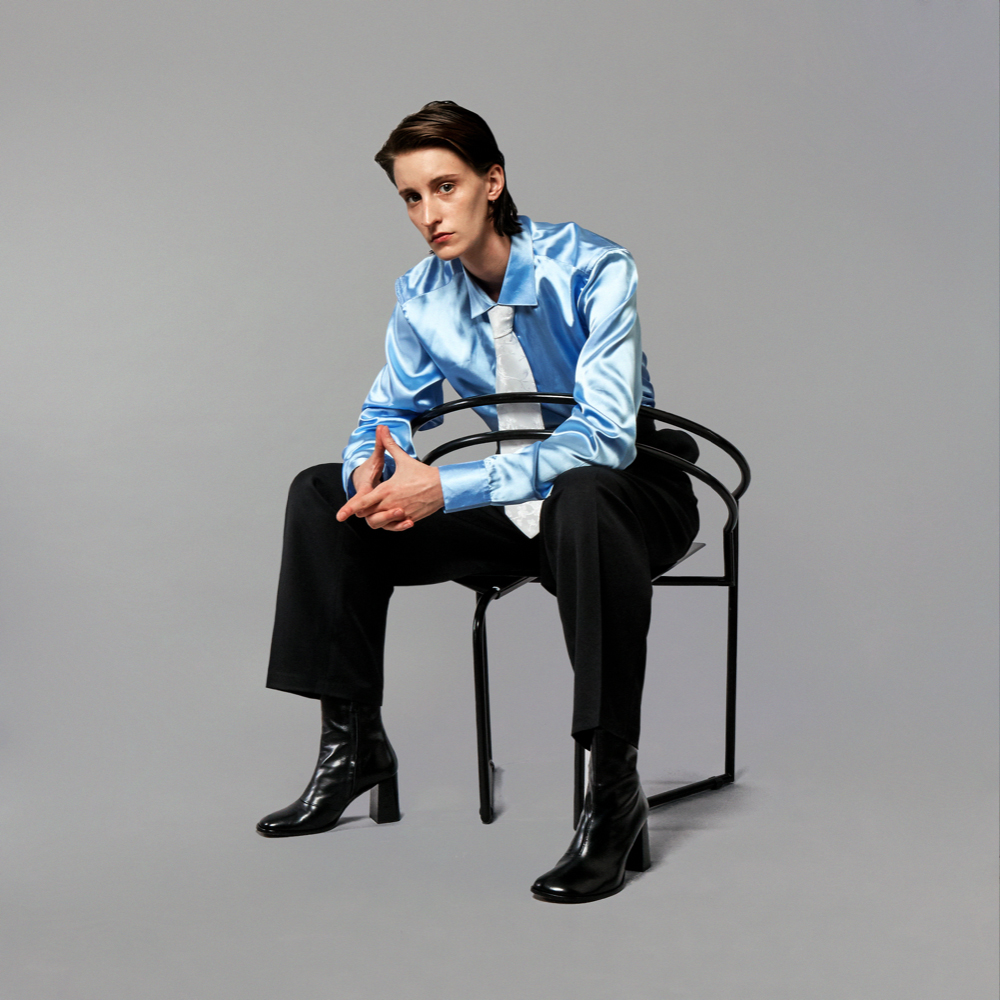 Abra moved to Barcelona at age 17, finding his place in the city's nightlife scene, where he met other like-minded individuals who helped him jumpstart his career -- first as a styling assistant and then as a pattern-cutter. Though his big break came when he met Elena Cardona. He assisted her in designing accessories for various French luxury houses, namely Margiela, before she pushed him to apply to the Institut Français de la Mode's prestigious master's program. During his time at IFM, Abra heard that a new French label was looking for an accessory designer with contacts in Spain. The designer behind the label was none other than Simon Porte Jacquemus, and Abra would go on to design his first accessories, including "Les Rond Carrés" and "Les Chaussures Clown", two styles that set the foundation for Jacquemus' famously mismatched shoes and that are still in production today.
After IFM and Jacquemus, Abra worked for Givenchy developing men's footwear before moving to Kenzo. It was during the two years that followed, working at Paco Rabanne under Julien Dossena, that Abra began to dream of creating his own brand. "Working for other people is great. It makes you challenge yourself to understand others' visions, but it can be frustrating if you believe in your ideas and other people don't," he says.
This notion of self-expression lies at the crux of ABRA, which launched for Spring/summer 20 with a line-up of bright Barbie-inspired shoes and petite handbags. The label's digital imagery is as idiosyncratic as the designer himself, and delivered tongue-in-cheek. ABRA's social media moodboards and lookbook snaps combine references as disparate as Charles Ray and Yrjö Kukkapruo seating to Hello Kitty and PriPara. They're accompanied by a dash of post-modern corporate imagery (think the dry, unintentional humor of a stock image) on ABRA's Instagram feed. Describing the spirit of his aesthetic, the designer states, "ABRA is me. It's all the things that impacted me since I was a kid. I think it's very important to not try to be anything other than yourself. The mix of all these elements creates something new: me."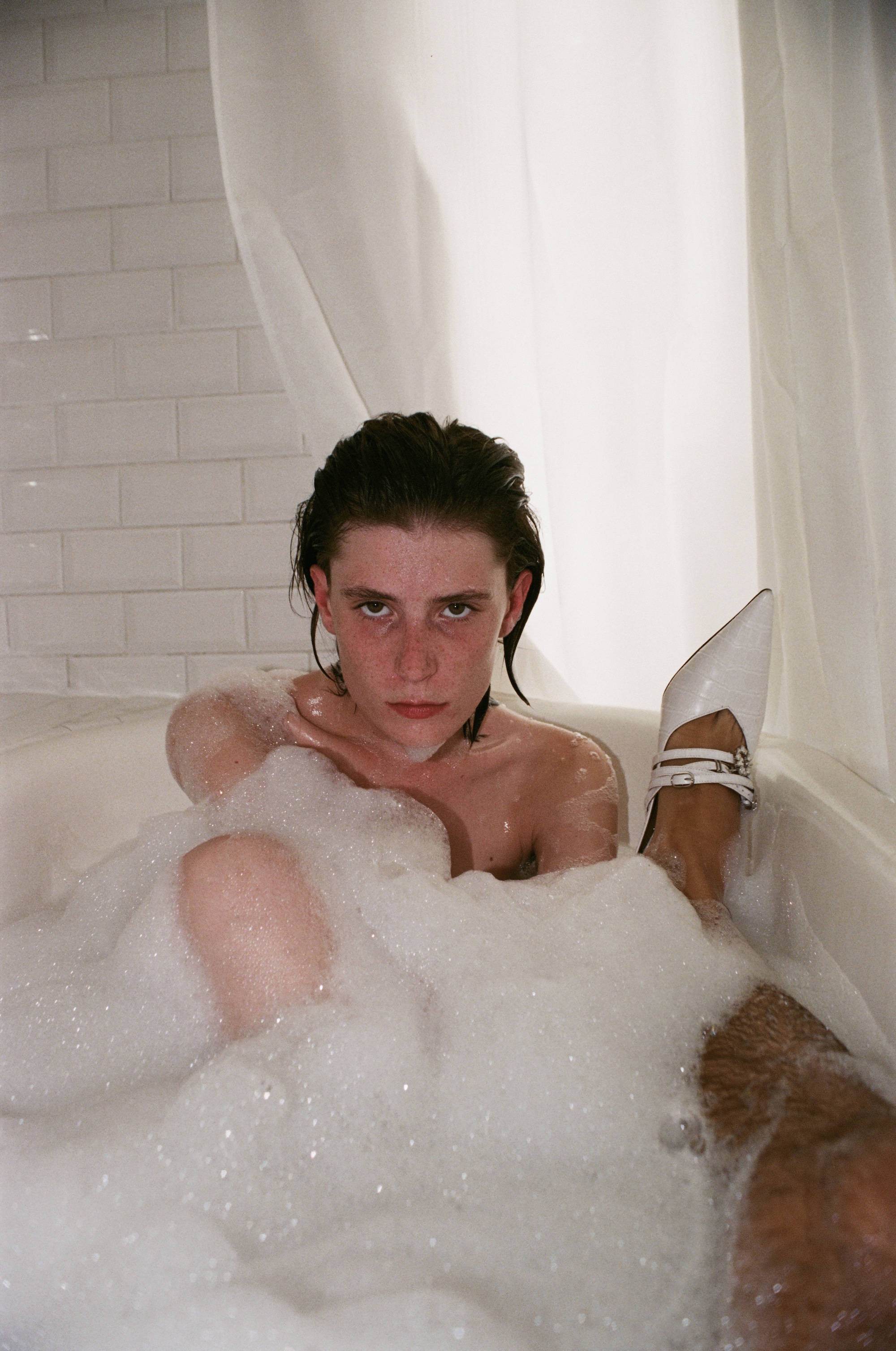 ABRA's concept is probably best described as power dressing with a Barbie-eyelashed wink. The label's SS 20 lookbook features models dressed in big suits, oversized shirts and untrendy wide ties, sporting the label's candy-coloured sandals, knife-sharp mules and tiny baguettes. "The business look is probably the most obvious code of the brand. The concept is always the same," Abra explains. "I really like the idea of regular people going to work with super nice shoes and everyone in the office is like, 'Oh wow, nice shoes!' or 'Your bag is so cute!'"
The ethos behind ABRA is as personal to the designer as is its magpie aesthetic. "During all these years, I always dreamed to find the perfect shoe. I remember wanting so badly the Tabi from Margiela or some old Balenciaga shoes in size 43, but it wasn't possible. So I always planned to make a brand with all the shoes styles coming in very small sizes to very big sizes," Abra says, when asked what inspired him to launch his eponymous label. Currently, ABRA produces its footwear up to size 43. However, during a recent Instagram story Q&A, and following the fervent requests of his fans, Abra is working to produce shoes from size 36 to 44.
ABRA offers its signature pointed heels in what are typically considered "men's" sizes, and his lookbooks feature both men and women, but he prefers not to label his brand as unisex or gender-fluid: "ABRA is a shoe and accessories brand where you can find very masculine shoes in small sizes and very feminine shoes in big sizes. I prefer not to put names or become part of a trend. We do shoes for everyone."
The label's upcoming AW 20 offering quietly expands on the weird and wonderful world of ABRA. The season's intimate Paris Fashion Week presentation, which read more as 'performance art piece' than 'fashion show', featured a DJ playing their set from a fluffy, white bed, surrounded by ABRA's colorful accessories. "The bed has been very present in my universe. It means so much. How many stories can you imagine linked with a bed? I like how everyone can get a different story," he explains. The collection itself featured, most notably, boot versions of SS 20's strappy Barbie Belt sandals and a checkered baguette. Perhaps unintentionally, he ties the fabrication of his accessories back to the concept of his showroom: "The bags are very soft and I love to use the same material for some of the shoes. When you wear them it's like being in bed."
With ABRA, the designs, the concepts, the fabrications always return to the designer's interior world and personal history, his own constellation of touchstones and moods. When discussing how the work of furniture designer Yrjö Kukkapruo has inspired him, he says, "Industrial design is very similar to fashion. My dad built our house and most of the furniture in it. We always had tons of interior design magazines during the 90s. I believe we always go back to our origins in the process of creation. We repeat what we lived, again and again."
Abra's vision is at once eclectic and pinpoint-precise, a rare combination that stems only from the deeply personal. His exuberance is infectious -- it's hard not to smile while listening to him speak about design. And that -- the ability to truly know oneself, one's vision, and one's passions -- is what makes ABRA so appealing, its accessories so desirable. With his namesake label, Abra hasn't just created a line of covetable shoes and bags, but has created an entire world all his own.