5 free online MoMA courses to help you become an art expert in isolation
You have time, you feel like doing things, you have the expertise of one of the best museums on the planet available for nothing.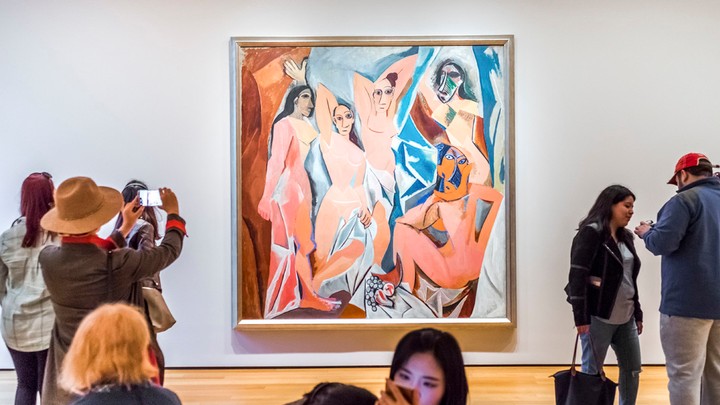 We know what you're thinking. You're a little overwhelmed by the number of articles you read every day about movies that you have to see, about aerobic exercises that you have to practice, about the books that you have to read. Because now you have time, because now there are no more excuses. We would really need a whole decade of quarantine to do all the things that we have set out to do and that the media and our Instagram friends recommend to us every day.
But hear us out on this one. The Museum of Modern Art in New York (MoMA) is offering a series of online art courses, free of charge. Whether you are an art lover, a fan of beautiful things or you just get bored a lot, they seem an ideal way of killing some of the coming hours and days of self-isolation -- not to mention equipping yourself with a raft of new artistic understanding for when you ever get to visit a gallery again. Try signing up for one of the courses below. They are brief, focused on any type of audience and sound really interesting.
Fashion as design
What is it about?
Designers, historians, manufacturers and others related to the fashion industry will analyse up to 70 garments and accessories from all over the world from kente fabrics to jeans and dresses printed in 3D. Through these garments, they will take a close look at what we wear, why we wear it, how it is made and what it means.
What is it for?
To develop tools critical for the industry, appreciate and contextualise fashion design, understand the life cycle of clothing, and better understand the choices we make regarding the visual language of clothing, individual and collective identities, and issues such as labor practices, sustainability and body politics.
How long does it last?
21 hours approximately.
Seeing through photography
What is it about?
With Instagram, we all think of ourselves as great photographers. However, this course aims to address the gap between appreciating and truly understanding photographs by introducing a diversity of ideas, approaches, and technologies that inform their creation.
What is it for?
To develop skills to better examine and understand the differences between various types of photographic images. To learn about how context influences our understanding of photography, discover different modes of artistic experimentation and investigate the role of photography in an increasingly visual culture.
How long does it last?
16 hours approximately.
What is contemporary art?
What is it about?
You will analyse contemporary art through 70 works made between 1980 and the present. In addition, you can listen to various artists, architects and designers from around the world share their creative processes, work tools and sources of inspiration.
What is it for?
You will develop a deeper understanding of how artists work today and gain confidence in looking at contemporary art and making connections to your own life or creative practice.
How long does it last?
17 hours approximately.
In the studio: abstract post-war painting
What is it about?
This course offers a deep look at the materials, techniques and thinking of seven artists from the New York School, including Agnes Martin, Jackson Pollock and Mark Rothko.
What is it for?
To understand each artist in their cultural, intellectual and historical context, to improve your analytical capacity and to use the works of each artist as a source of inspiration for your own. You can participate in the study exercises, for which you are invited to post images of your own paintings on the discussion platforms, or you can choose to complete the course through written tests and evaluations.
How long does it last?
27 hours approximately.
Modern art and ideas
What is it about?
This course is designed for anyone interested in learning more about modern and contemporary art. You will be able to listen to audio interviews with artists, designers and curators and you will learn about a series of selected works in additional readings and exercises.
What is it for?
To learn how an artist works: from how they are inspired by their surroundings, to how they question the world and respond to its social and cultural problems through their art, through how they use everyday objects to challenge assumptions about what constitutes a work of art.
How long does it last?
12 hours approximately.
This article originally appeared on i-D ES.
Tagged: