A guide to Lady Gaga's style evolution
From hair-bow heroine to Gucci-clad fashion killer, here's your guide to Mother Monster's ever-evolving look.
|
17 November 2021, 5:00pm
It is undeniable that, in the worlds of music, fashion and art, Lady Gaga has been leading the way for the 10+ years she's been in the spotlight. Since her arrival back in 2008, she has toed the line between high concept artistry and shocking scandal. The Italian-American New Yorker knows how to make a statement about herself, her fans and the disenfranchised people her music speaks to.
Of course, this grounded discourse has always been elevated and given a lick of glamour thanks to Lady Gaga's close ties to designers like Alexander McQueen and Donatella Versace throughout the years. Now, after everybody's favourite pop star returned to form with the electropop excellence that is Chromatica, she donned a 70s black perm and some iconic Gucci archive looks in her new thriller House of Gucci. As we celebrate the movie that could get Gaga her first Academy Award, here's Mother Monster's style evolution.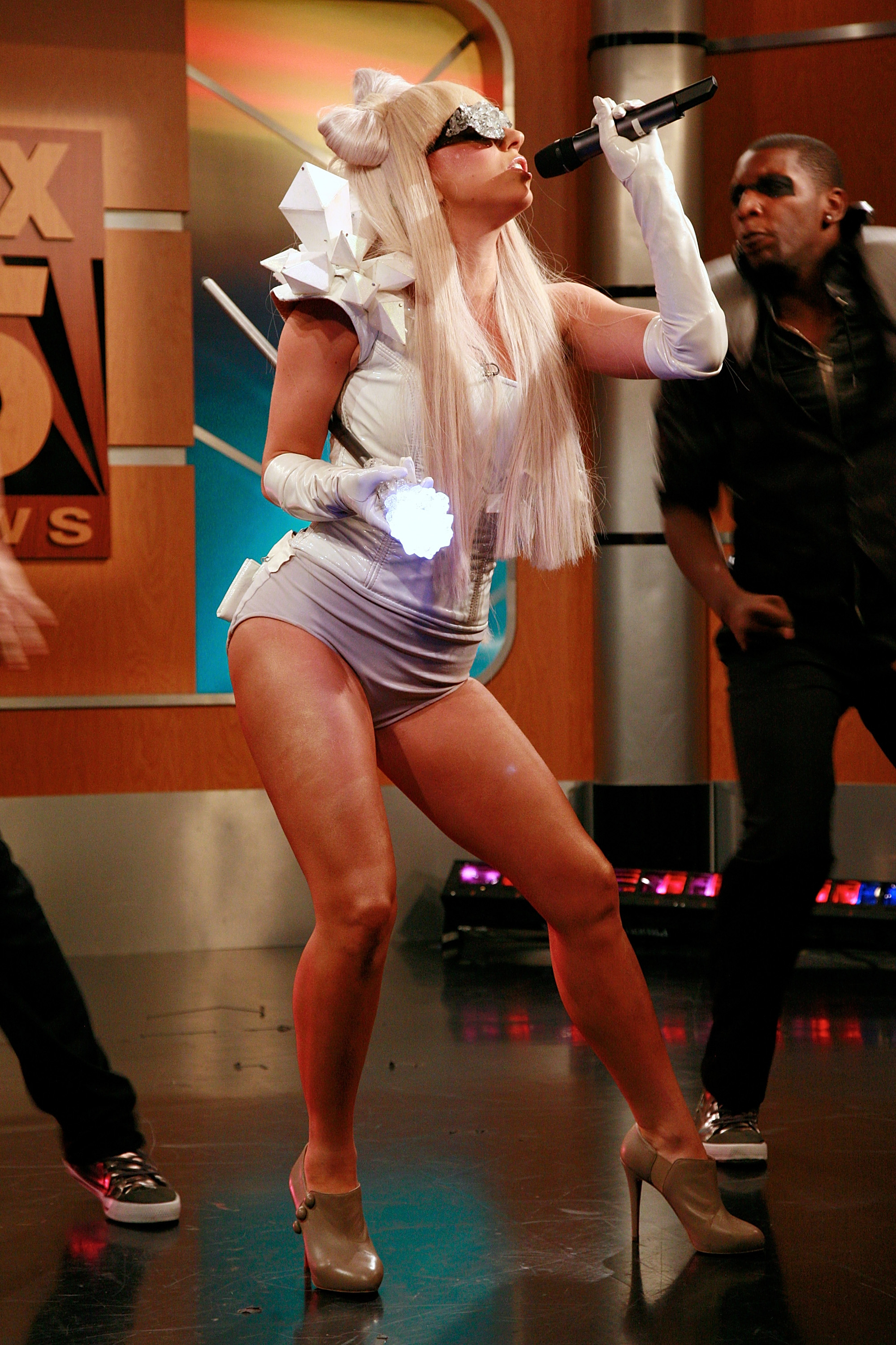 Hair Bows, 2008
It's 2008 and Minnie Mouse has been found dead in a ditch. The giant hair bow was an early sign that Gaga was going to be a champion for the queer community, taking society's concepts of conventional beauty and making them campy and ridiculous. As she took to the stage at Good Day New York in a lycra white bodysuit, crystal shoulder piece and signature black-out sunglasses, the stand out piece was that giant kawaii bow, made from the strands of her bleach-blonde wig and held together with industrial levels of hairspray. Her look would inspire Halloween costumes for years to come.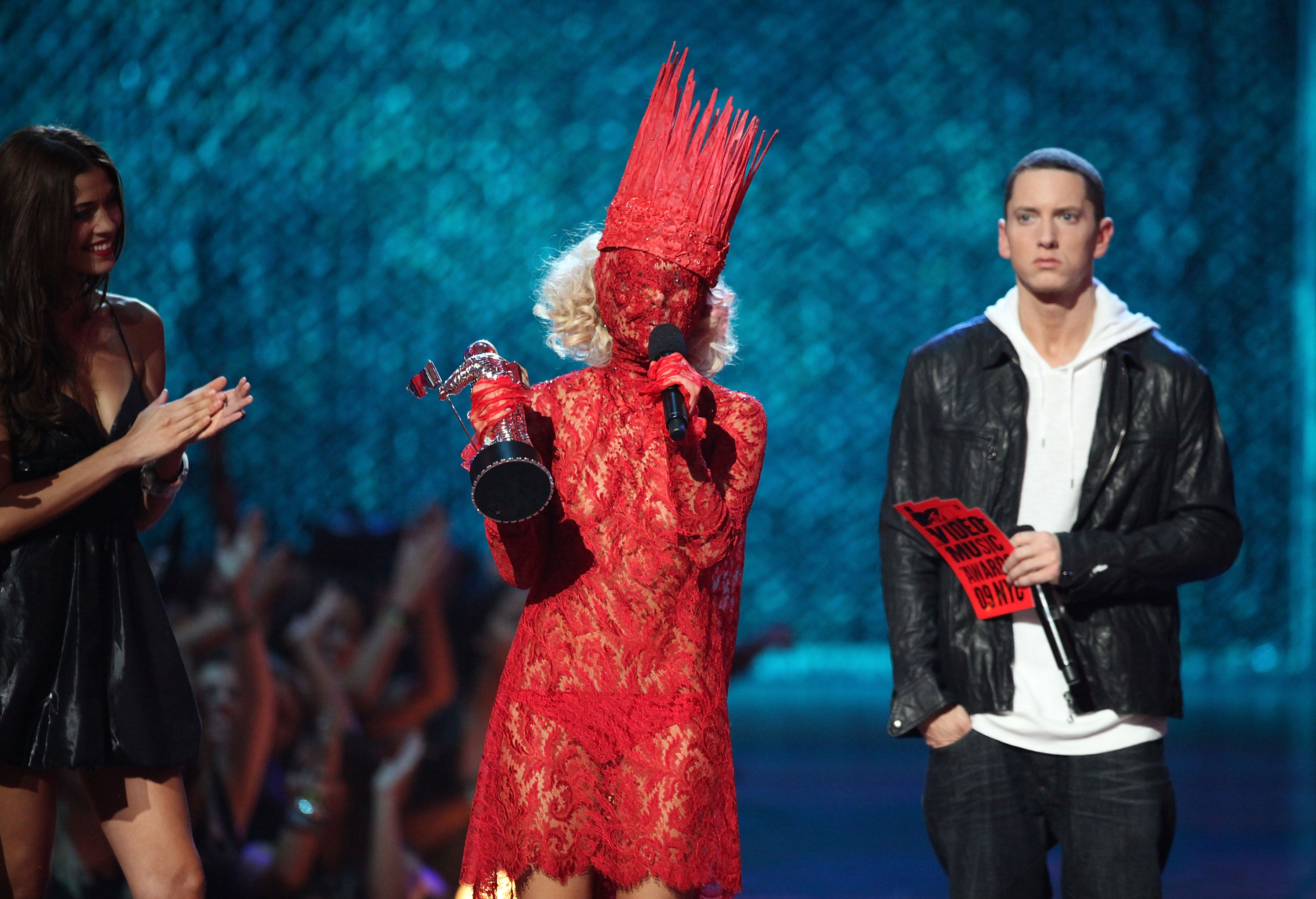 The first of many VMA serves, 2009
Back in the days when MTV's Video Music Awards were the go-to place to cause a ruckus — a scandalous mix of Beyoncé baby reveals and Kanye "Imma let you finish" microphone steals — Gaga was setting the bar for gag-worthy moments. At her first VMAs, wearing an Alexander McQueen sheer lace dress in cherry-cherry-boom-boom red that ascended into a mask across her face, topped off with a towering, jagged crown, she took to the stage to accept her win for 'Best New Artist'. She thanked "God and the gays" for her new found success. No, thank you, Gaga!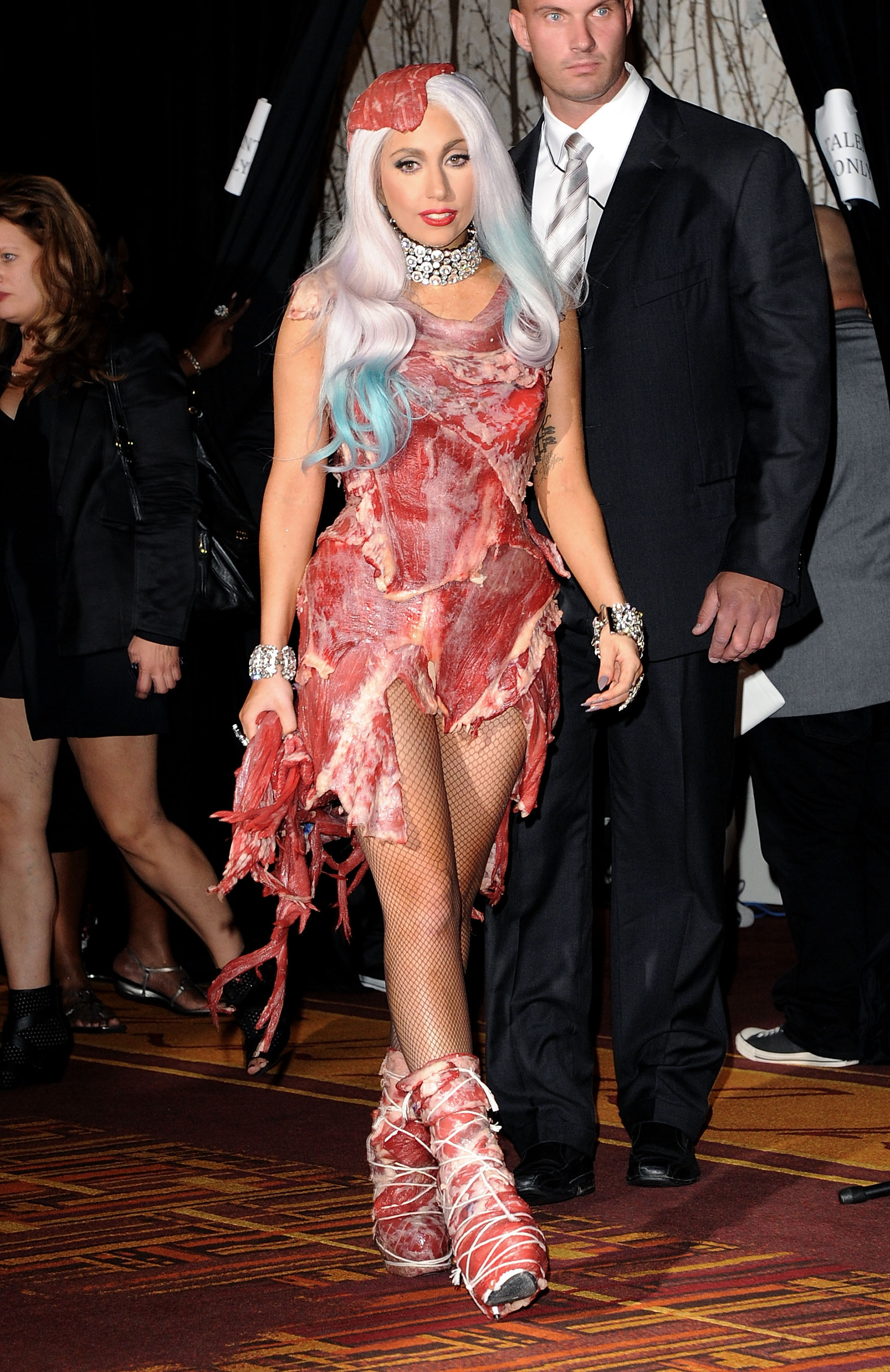 The Meat Dress, 2010
Ask any Boomer who Gaga is and we guarantee they will mention the meat dress. A year of cigarette sunglasses and offending the Pope with some iconic blasphemy was characterised by the notorious moment Gaga accepted her Video Of The Year VMA for "Bad Romance", wearing an entire outfit made of raw, flank beef steak designed by Franc Fernandez. She sat next to outspoken vegan Ellen DeGeneres and handed her meat bag to Cher (we stan the audacity), but the underlying talking point stemmed from her desire to speaking out against the controversial, anti-LGBT+ legislation, Don't Ask Don't Tell. "If we don't stand up for what we believe in and if we don't fight for our rights, pretty soon we're going to have as much rights as the meat on our own bones," she said.
Jo Calderone, 2011
At the beginning of the decade, unsubstantiated tabloid rumours that Gaga was a hermaphrodite were swirling. She took an articulate jab back at them on the cover of Q Magazine with a dildo stuffed down her pants. Later, in true Gaga fashion, she mocked the tabloid vitriol while showing support for the LGBTQ+ community by appearing in drag as her male alter-ego, Jo Calderone. The grease-lightning, cigarette-smoking Italian-American from New Jersey made multiple public appearances in 2011 including playing Gaga's own love interest in the music video for "Yoü & I".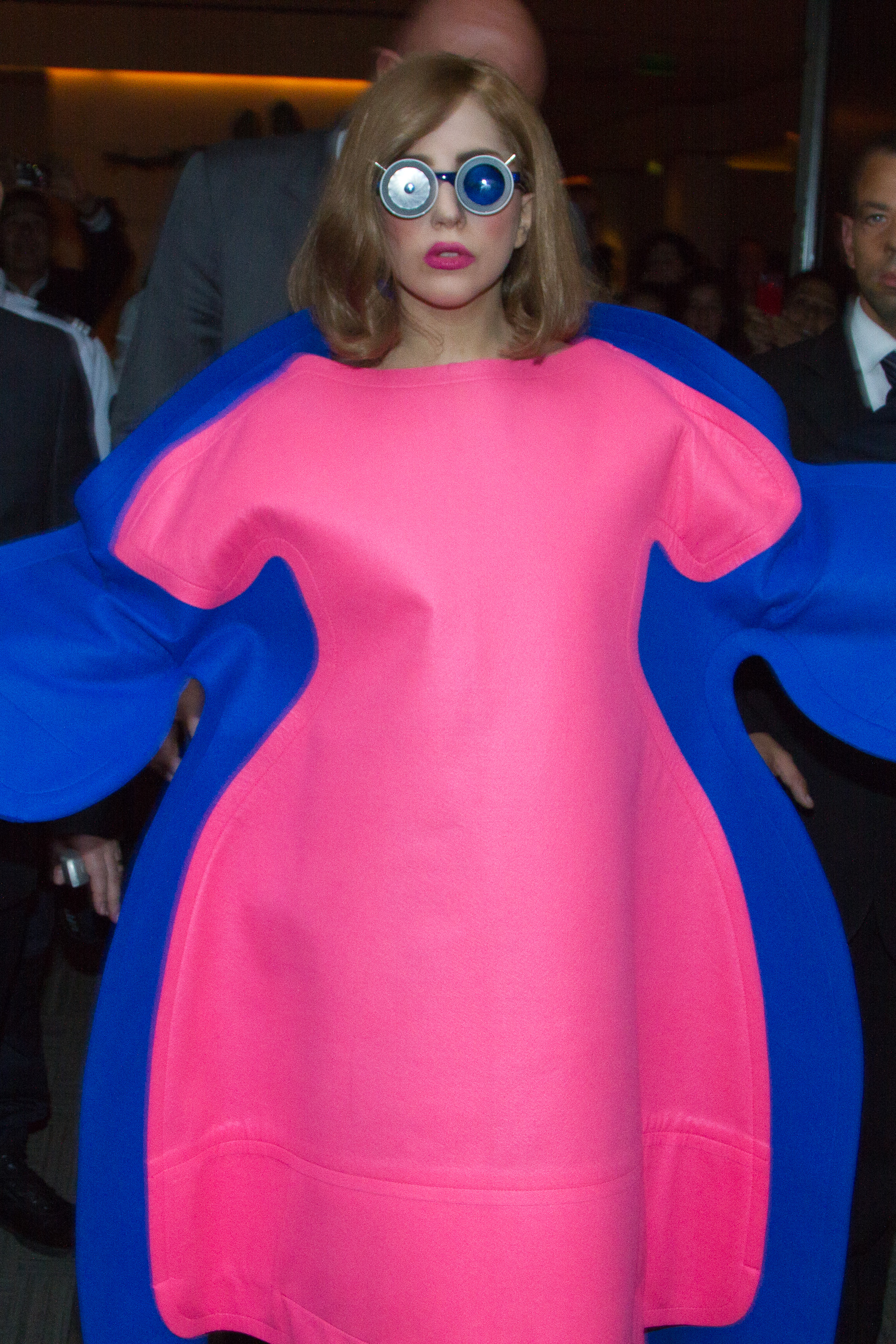 Gaga's Comme Des Garçons 'fuck you' to the press, 2012
As the tabloid press labeled her "Porker Face" and speculated that the star had "eaten her meat dress", Stefani Joanne Angelina Germanotta ended her fat-shamers by walking out to the Parisian paparazzi wearing a trompe l'oeil Comme Des Garçons dress-on-a-dress that drowned out her shape, and mocked the ridiculous body standards that were forced against her. This was the moment we knew we were in the presence of divinity.
ARTPOP, 2013
Can your fave hatch out of an egg one moment and then somehow transform her body into a Lego sculpture the next? Of course she can! The ARTPOP album and its subsequent artRAVE tour was a whirlwind of chaotic energy. Gaga toyed with the boundaries between fashion, music and art, collaborating with Jeff Koons, Marina Abramovic and… T.I. (?), taking her craft to a place the world clearly wasn't quite ready for in 2013. Nowhere is this more clear than in the "Applause" video; a visual minefield of sea-shell bikinis, face-paint, skeleton wings, duvet-couture, reptiles and Gaga's head superimposed onto a black swan. Gaga was living in the future and us mere mortals just could not keep up.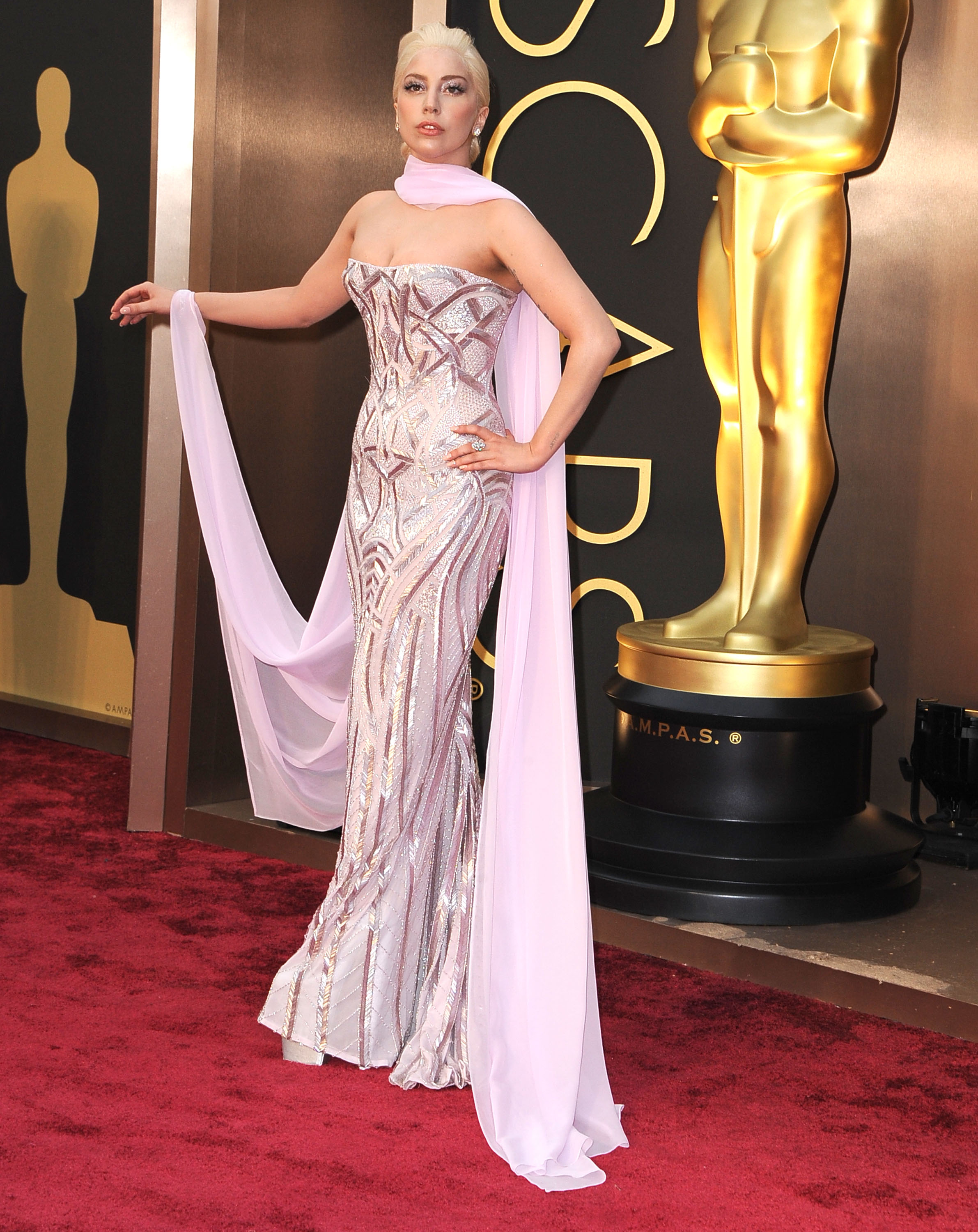 The Academy Awards, 2014
Tired of the constant media scrutiny and the criticism directed at her criminally under-appreciated last album, Gaga began to tone down the Gaga. Of course, she still looked amazing. Turning up to The Academy Awards in a Versace pink metallic gown and draping shawl, the Grecian goddess vibes proved that there was nothing Gaga couldn't pull off — be it pure, simple elegance or high-concept, camp artistry.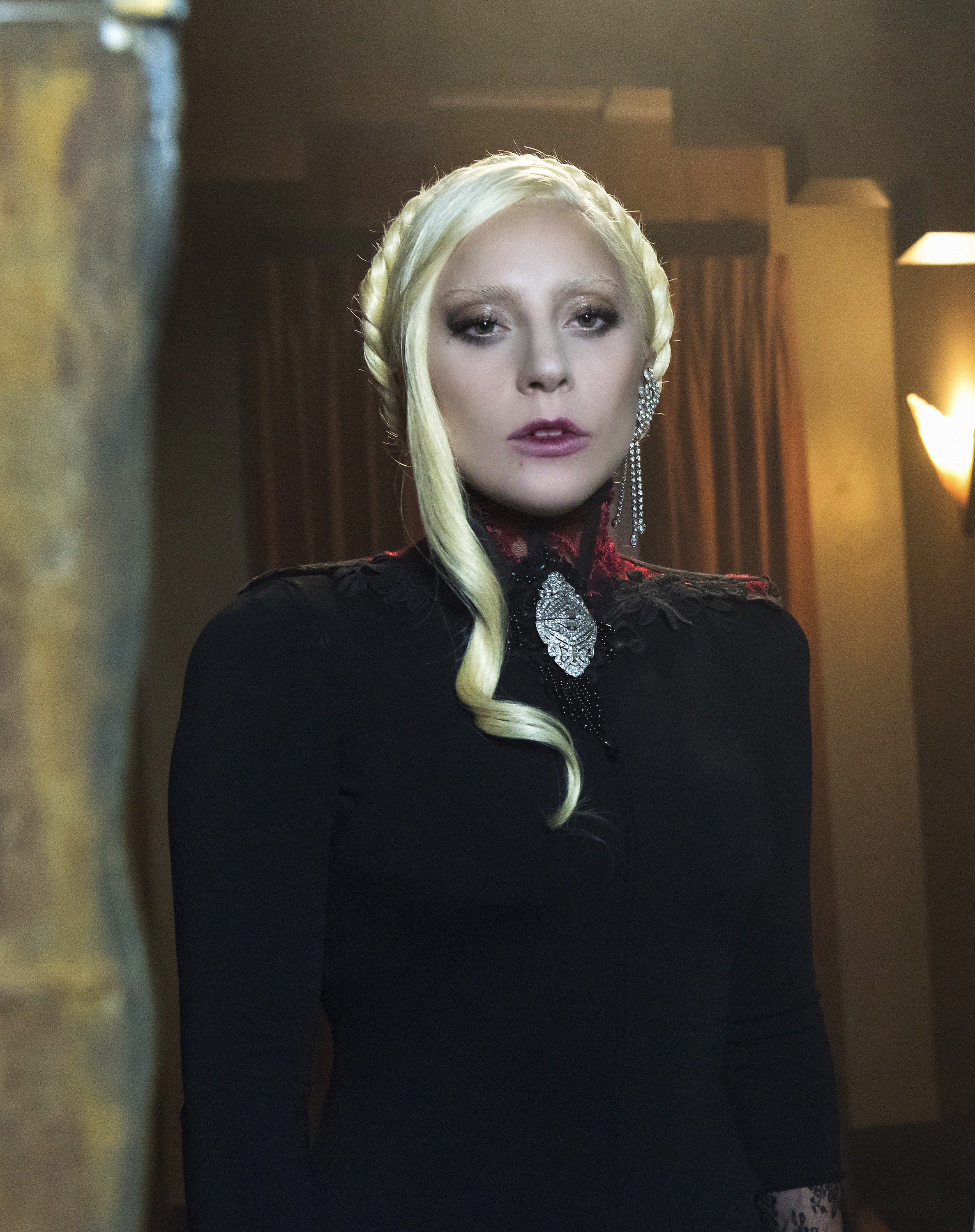 The Countess, 2015
Vampires, ghosts and drill-bit dildo demons — when Gaga was announced to be in the new season of American Horror Story, the Little Monsters were excited. Playing The Countess, a blonde, skinny, rich and a little bit of a bitch vampire who owned a hotel and had orgies with Matt Bomer; we were treated to a ravenous Gaga in high neck velour gowns, silk dresses stained in blood and crystal encrusted gloves with knife-edge nails, perfect for throat cutting. We were gagged.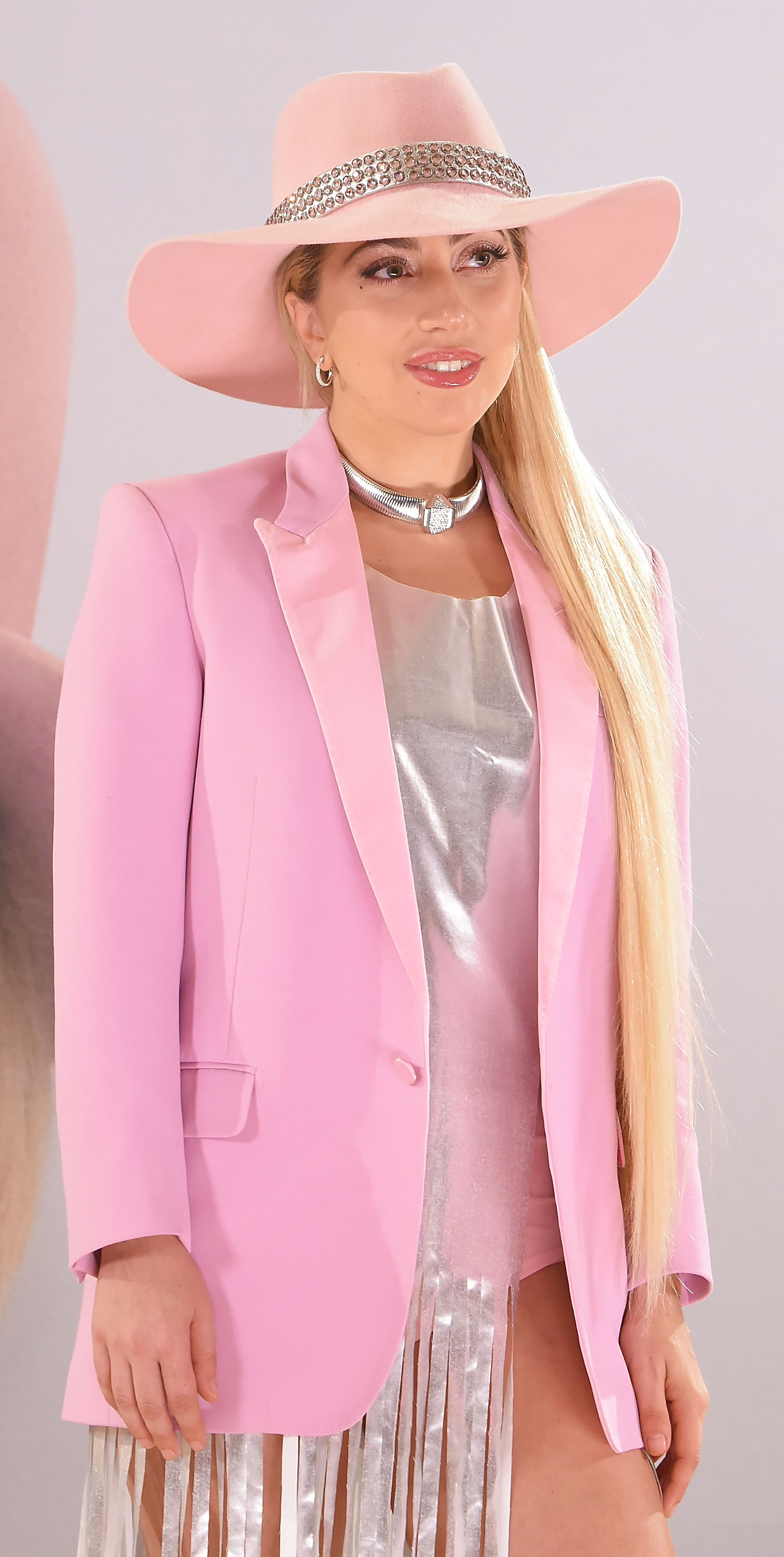 The Joanne Hat, 2016
The wide brimmed, millennial pink cowboy hat designed by good friend Gladys Tamez was the defining image for Gaga's fifth album. As she continued to tone back her aesthetics and performances — opting to sing about her late aunt Joanne, John Wayne and Pinot Grigio — Gaga was the epitome of the all-American girl-next-door, swinging her high pony and rocking crop tops and daisy dukes.
Versace at the Super Bowl, 2017
Never in the history of sports have the gays been more interested in American Football than when Gaga jumped from the roof of the NRG Stadium in Houston, Texas wearing full custom Versace. As she abseiled through the air and sung a medley of her hits for the half-time show, she paid homage to the first decade of her career in a custom, broad shouldered, bodysuit and go-go boots all encrusted with Swarovski crystals, later stripping down into a bejewelled American Football cropped jersey. Needless to say, the fans were well and truly fed.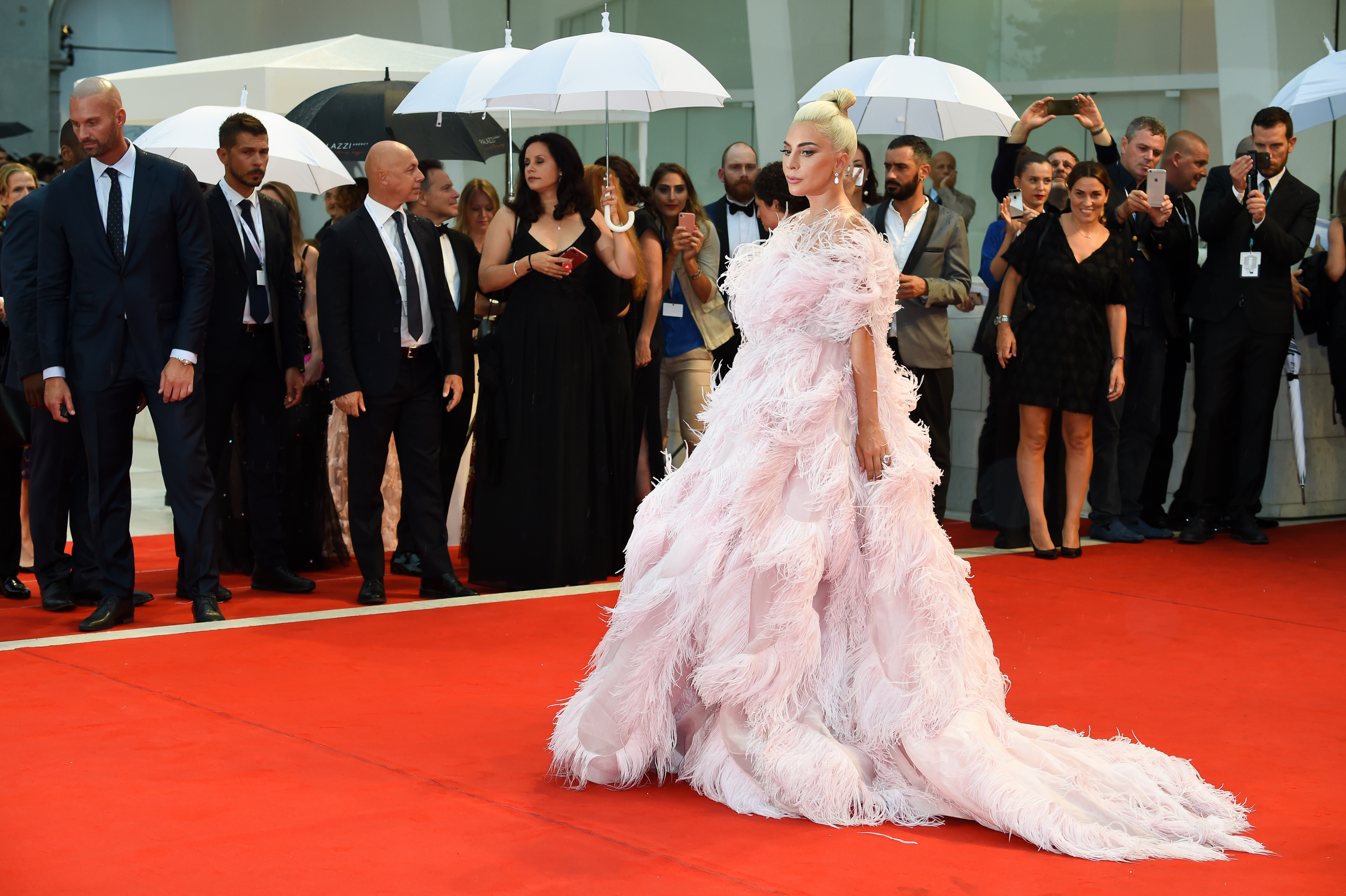 A Star is Born, 2018
Remember in 2018, when Gaga tried to make us calling her Lady a thing? Luckily it never caught on, but the year was a big one for our queen regardless. She defied the critics and haters with her leading role in the hit film A Star is Born, proving to all she was not a force to be ignored. As she stepped out at the Venice Film Festival in Valentino Haute Couture, the baby-pink, feathered, off-the-shoulder gown that moved with every step was the perfect show-stopper to celebrate her new household name status. We have flashbacks of her refusing that umbrella in the pouring rain every few hours.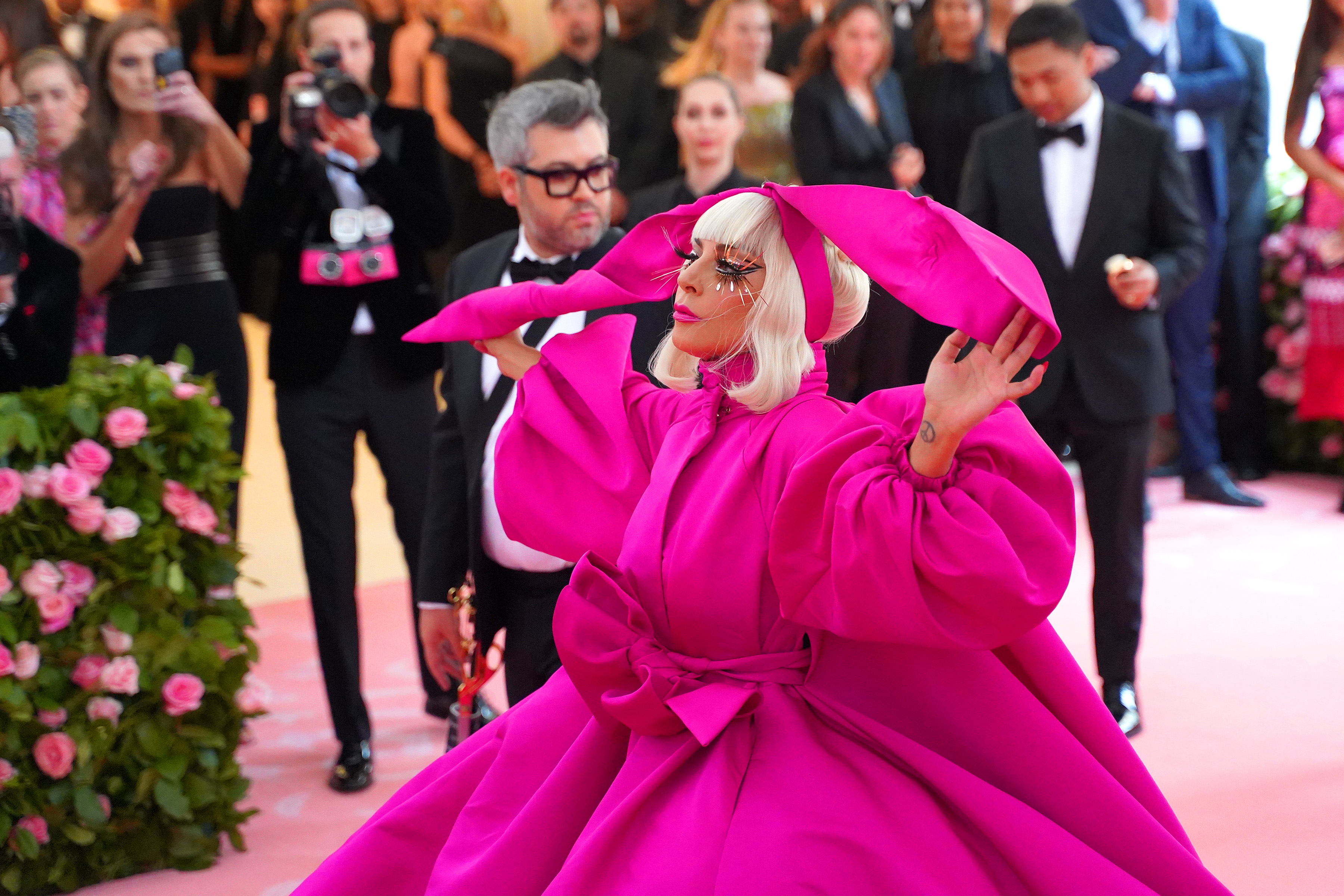 Gaga at the Met Gala, 2019
When Gaga was announced as a host of the 2019 Met Gala, themed around the concept of camp, we knew our jaws would be on the floor. What we didn't know is that Gaga would serve not one, not two, not three, but four whole damn looks all within the space of 16 minutes. As she paraded around the pink carpet, she casually stripped off layer after layer revealing a new outfit underneath each time. For all the superfans, there were also references to her past lives — mini hair-bows and black out sunglasses, an embellished black bra set and deathly heels — all served with serious Fame Monster energy.
Chromatica, 2020
In 2020, little monsters the world over rejoiced as Gaga returned to the high-concept performances, iconic fashion moments and cinematic music videos that her early album releases were known for. The Chromatica universe gave us warring monochromatic alien tribes and it's lead single, "Stupid Love", saw Gaga don head-to-toe pink Power Ranger looks as she united everyone with the power of dance. Many of her looks in this era were designed by young up-and-comers in the fashion industry — including outfits by Central Saint Martins' graduates Johannes Warnke and Andrea Brocca and Parson's graduate Jackson Wiederhoeft — as well as intricate makeup looks from her NY Ball culture-inspired beauty brand Haus Labs.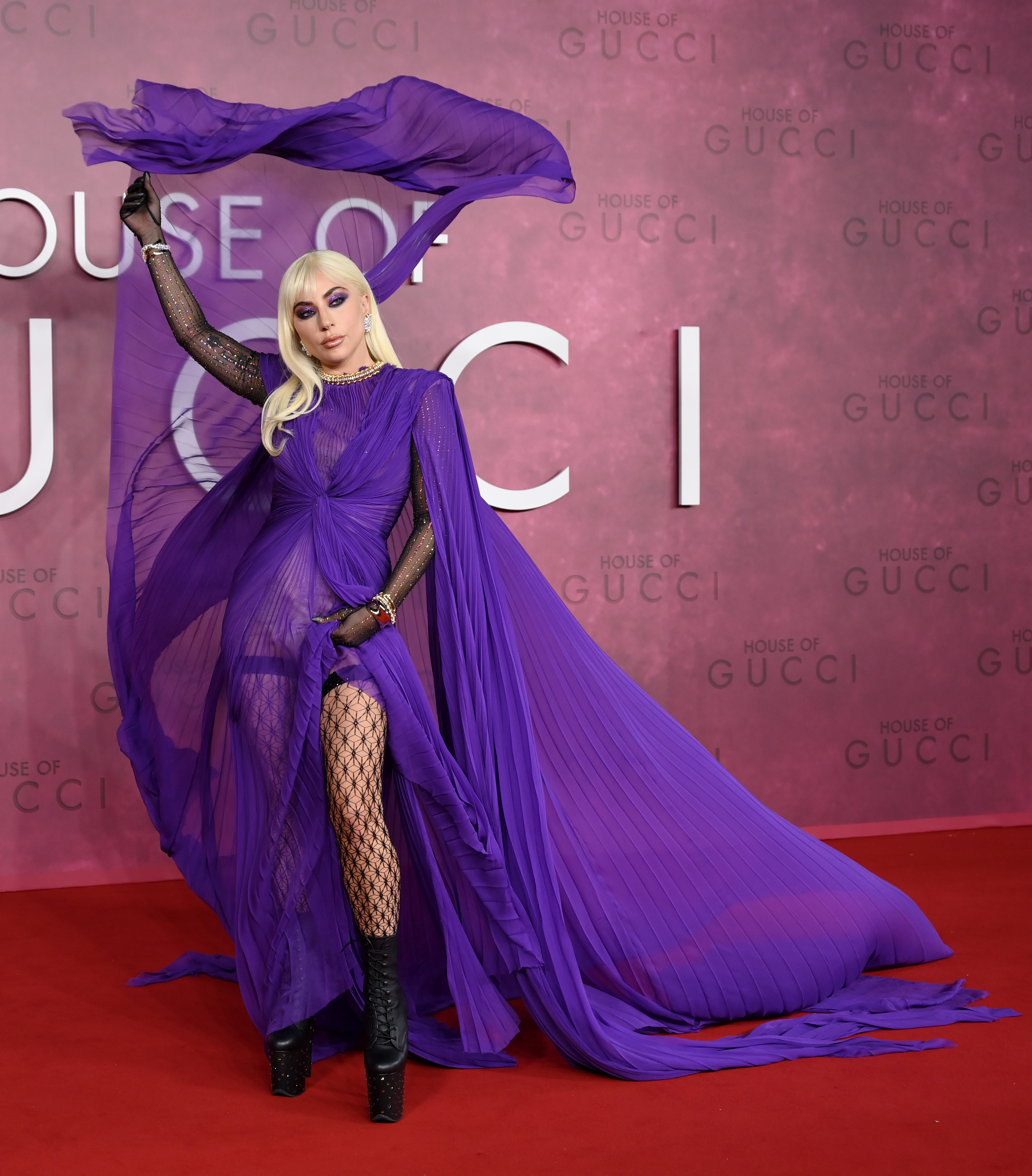 Gucci at the House of Gucci premiere, 2021
After spending eighteen months embodying Patrizia Regiani, the murderous wife of Maurizio Gucci, for Ridley Scott's upcoming fashion drama House of Gucci, Gaga was very much back to form for the premiere. Showcasing a new vampy style and a return to her signature mega-platform heels, her purple Gucci gown from the Spring 2022 ready-to-wear collection billowed as her rhinestoned, mesh-gloved hands swung the sheer draping fabric around. Although set to potentially finally get that Best Actress Oscar, it's the first time in a while that the superstar's next project hasn't been quite clear. Whatever it is, we know it will be served with some iconic looks along the way.