10 things you need to know about Stockholm's Eurobeat angel, Namasenda
The PC Music signee will make you nostalgic for 2003.
|
06 February 2020, 3:30pm
It's 2020, and the wild art of Eurobeat lies safely in the hands of a girl from Stockholm. Her name is Namasenda and, right now, she's producing some of the most gloriously winking, trance-adjacent pop songs the world has seen in, like, at least two decades.
Born in and now based out of the Swedish capital, Namasenda released her debut EP, hot_babe_93, independently back in 2017: a fizzing, high-fidelity collection of candy sweet dance pop. It instantly made her a fave in queer pop music circles. Her track "Donuts", about doing spinny wheel tricks in cars was a viral smash, and it's not hard to see why. She rhymes "donuts" with "soda" and "Motorola on the song's chorus; an overwhelming club track for anyone and everyone who feels really nostalgic for the year 2003, even if they didn't actually live through it.
She's been working hard behind the scenes ever since, not to match the success of that song specifically, but to create music that makes those who hear it go wild -- which is quite a tall order in a time when we're hyperconscious of dancing to seem cool, and not like we're actually having a good time.
Great news, then, that the 21st century geniuses of superimposed glossy pop PC Music have taken her under their wing. With the guidance of king A.G. Cook on production, she's just dropped a cute visual for her track "24/7", which you can watch, as a treat, once you reach the 10th bullet point in these very important things you need to know about Namasenda. As one stan in her YouTube comments puts it: "NAMASENDA MUST BE A WAITRESS WITH THIS MUCH OF A SERVE".
1. She knows how to define a great popstar
"You can be really good at songwriting or playing a certain instrument, but those things don't make you a star. A star is someone who is unapologetically badass, or who knows what they want and will do everything to make that happen."
2. And believes she is one too
"That is a star, and I'm a star who makes pop, so I am a popstar! :)"
3. She's moved between LA, London and Stockholm
"I'm just a restless soul, and ever since I was a little girl watching 90210, I knew I should move to LA. So I moved there when I turned 18 but, being restless, I had to try London, and then I had to try Stockholm again as well! I never thought I would say this, but Stockholm makes me really really fucking happy. I don't know why, because I hate everyone here, but there's something about it. The city is so beautiful in the summer."
4. The Spice Girls made her want to create pop
"Sporty was the coolest to me, but all of them are cool!"
5. And PC Music are her first (and favourite) musical family
"When you've been a fan of a collective for such a long time, it's weird being a part of it. Here in Sweden, I've always been -- I wouldn't say an outcast -- but someone who's not necessarily part of a group or who fits in. It's cool to be with a group of people who understand and appreciate the same kind of music as me. I don't have to explain myself, they just get it."
6. If she wasn't doing this, she'd be an architect or something
"I'd love to make buildings. I really like buildings: new buildings, tall buildings. They make me feel weirdly safe, Or actually! I love clothes too, so I'd maybe be a designer if being an architect didn't work out. My plan B!"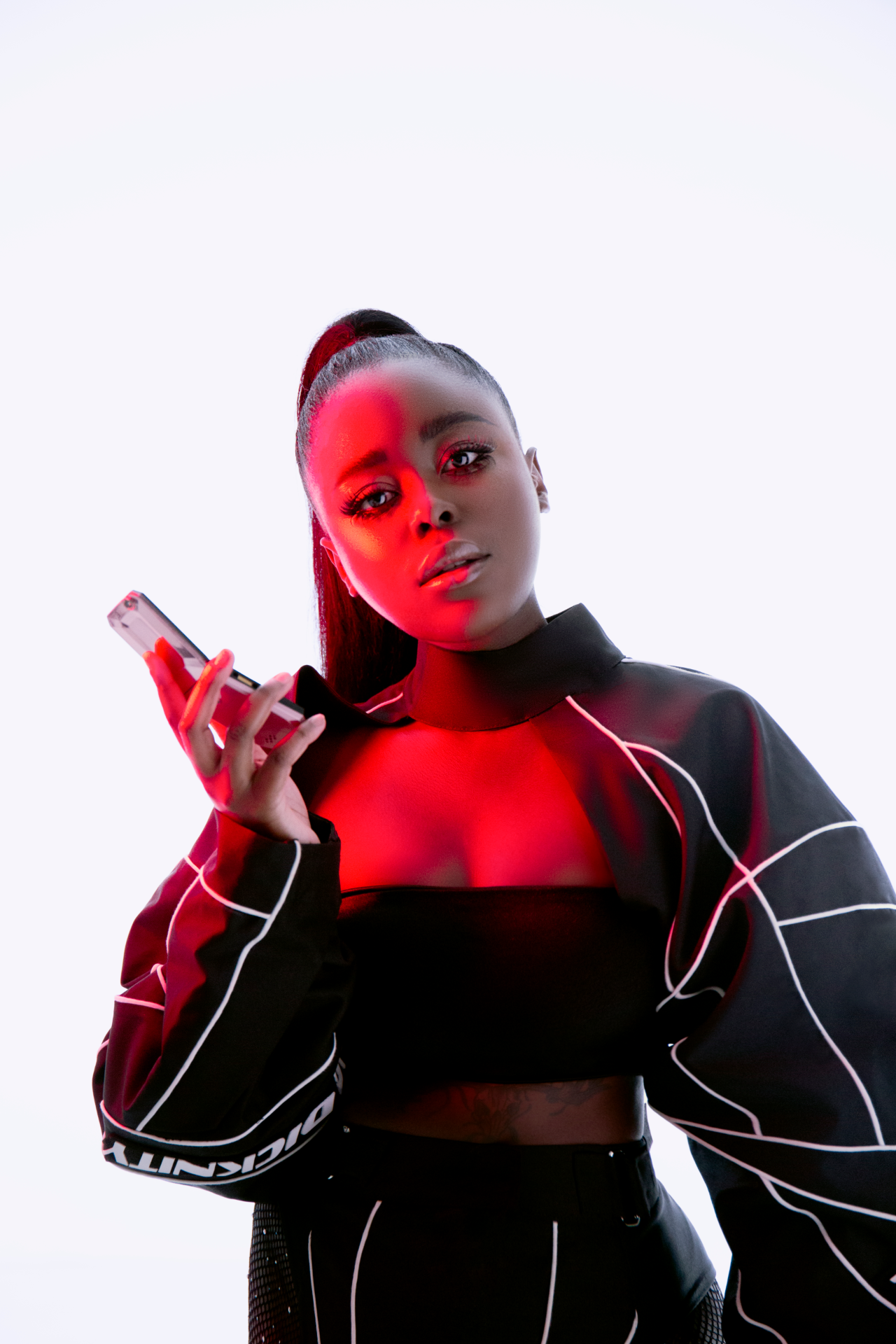 7. There are some labels she never, ever wants to carry
"I never want to be described as calm. Or safe. I don't like those words at all."
8. Her definition of success is flexible
"Success is when you're really, really happy. Like, so happy that you're crying -- or winning a Grammy!"
9. She thinks we'll have moved to another planet in the next half century
"I thought we were all going to die in 30 years, but if we don't -- my dream is that we move to another planet, like the ship in Interstellar. But I'm not sure if that's gonna happen! I'm eager to find out. I will let you know in 50 years."
10. But not before releasing more bops very fucking soon
"The next big thing for me is the release of a double single which I'm really proud of. I just got the newest mix from A.G. Cook last night and it sounds really, really good. Then it's finishing writing my mixtape, which I'm excited about too!"
Namasenda is making music right now and you can -- and should -- stream it if you know what's good for you.