Pussy Riot's quarantine reading list
27 books that'll change your life during lockdown -- spanning topics including sex, depression, AI and life hacks.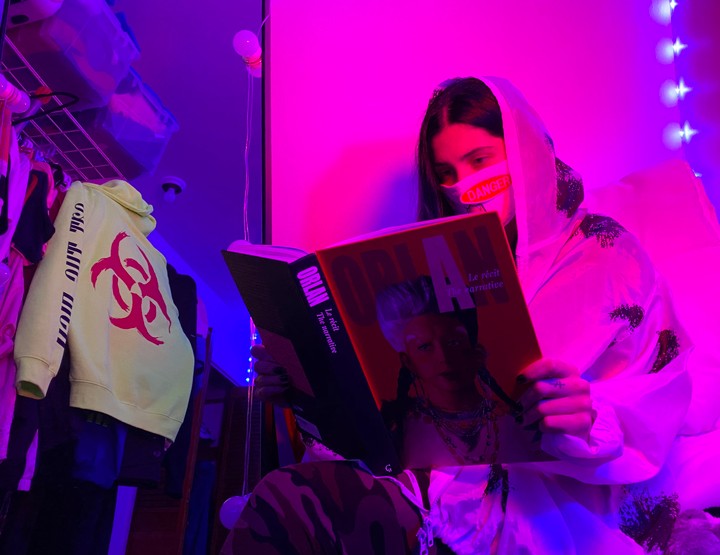 Some of us are self-isolating. Many of us are under total lockdown. Where once our days were filled with gym classes, office hours and friends we were allowed to touch, the majority of us have suddenly presented with a whole lot of nothing. You might consider trying to watch everything on Netflix. Or instead, you could actually sit down and read a book like you've been meaning to for the past few years. You just might learn something! Online shopping is still permitted, so go order something that'll have more of a lasting impact than the Nintendo Switch you've been eyeing up or that multipack of Creme Eggs you strongly considered investing in just now. But where to start…
It'd be good if some well-read person you admired turned up with tips on which books to read wouldn't it? Luckily, Russian artist and activist Nadya Tolokonnikova from Pussy Riot has done just that. Currently self-isolating in lieu of the extensive US tour Pussy Riot were supposed to be on right now, the frontwoman has kindly put together this essential quarantine reading list. Topics include AI, depression, sex, capitalism, revolution and life hacks; with work by the likes of Arundhati Roy, bell hooks and Michio Kaku.
We caught up with Nadya to discuss how she's dealing with the pandemic and to get her literary recommendations, below...
Hello you! What effect has the pandemic had on your life and work?
Pussy Riot were about to have a big tour in the United States and Canada, so since the end of the last year we've been preparing for it -- creating new audio and video content, choreography, rehearsing for 12 hours a day, making a brand new capsule collection of merch. You know, this Pussy Riot 2020 tour was a big deal for us. We had high artistic hopes. And then it all was cancelled. It took a second to process, but we've all recovered relatively quickly, realising that honestly our scale of problems is fucking nothing in comparison to what this crisis brings to some other people. So we stopped whining and continued to create art -- here, in quarantine and self-isolation.
How are you responding to the situation?
All my life (well, besides two years in prison), I've worked from home. So my lifestyle has not changed that dramatically. I'm trying to take advantage of this forced vacation and learn things that I always wanted to learn -- like music production. Before I'd write songs and record them with someone else, and now I'm opening a whole new world for myself. I'm reading too, though I always read a lot. I listen to audiobooks mostly: when I cook, when I run, buy groceries, do my make-up, stretch, sew patches onto our masks, when I'm on a plane or in an Uber, before I go to sleep, etc. Right now I'm working on the scripts for future music videos and also trying to grasp the fact that Pussy Riot will be soon 10 years old.
Major. So what are your goals for this period?
To stay healthy and see people around me being healthy and safe, mostly. Secondly, to keep living meaningfully. Think, create, communicate (via web tho).
What book are you reading right now?
Lifespan: Why We Age -- and Why We Don't Have To by David Sinclair and Matthew D. LaPlante.
If we were to read just one book from the below reading list, which should we definitely read and why?
The first one on the list -- Life 3.0: Being Human in the Age of Artificial Intelligence by Max Tegmark. I read it three times and honestly can't stop reading it. Since I was a kid, I loved to put things into perspective. I loved philosophy. I studied philosophy for five years at Moscow State University, in order to keep my ability to think outside of the narrow schemes. I found out that Tegmark's book helps me to achieve this goal like nothing else.
Pussy Riot's reading list:
Future, AI and nano
Life 3.0: Being Human in the Age of Artificial Intelligence -- Max Tegmark
Superintelligence: Paths, Dangers, Strategies -- Nick Bostrom
The Future of Humanity -- Michio Kaku
The Future of the Mind -- Michio Kaku
The Age of Spiritual Machines -- Ray Kurzweil
Homo Deus: A Brief History of Tomorrow -- Yuval Noah Harari
Our Final Invention -- James Barrat
The Deep Learning Revolution -- Terrence J. Sejnowski
Depression
The Upward Spiral -- Alex Korb
Lost Connections -- Johann Hari
The Depression Cure -- Stephen S. Ilardi
Sex
Sex At Dawn -- Christopher Ryan, Cacilda Jethá
Designer Relationships -- March A. Michaels, Patricia Johnson
The Ethical Slut -- Janet W. Hardy, Dossie Easton
Untrue: Why Nearly Everything We Believe About Women, Lust, And Infidelity Is Wrong -- Wednesday Martin
Capitalism and revolution
How Will Capitalism End? -- Wolfgang Streeck
What About Me? The Struggle For Identity In A Market-based Society -- Paul Verhaeghe
Wages Of Rebellion -- Chris Hedges
Capitalism: A Ghost Story -- Arundhati Roy
Rules For Radicals -- Saul D. Alinsky
Global Inequality: A New Approach For The Age of Globalization -- Branko Milanovic
Capital -- Thomas Piketty
A People's History of the United States -- Howard Zinn
Life hacks
All About Love: New Visions -- bell hooks
The Hunger Fix -- Pam Peeke
The Song Machine: Inside The Hit Factory -- John Seabrook
Atomic Habits -- James Clear