Photo by PhotoNews International Inc./Getty Images.
7 of the most iconic New Year's Eve outfits
From Grace Jones to Lady Gaga, we look back at some of the best New Year's Eve party looks of all time.
|
31 December 2020, 8:00am
Photo by PhotoNews International Inc./Getty Images.
New Year's Eve has always been the time to dress up in your best outfit. To look forward with excitement to the encroaching year whilst reminiscing over the past 12 months — it's ups and downs; how it's all changed you — with a glass of champagne in hand and bedazzling fireworks lighting up the night skies outside. While this year we may do less of the celebrating and reminiscing, instead, choosing to collectively manifest a less chaotic 2021, the annual celebration of the year's turning has traditionally brought out some enviable party looks from our favourite fashion icons. Whether it's Grace Jones collaborating with some of the greatest artists of the 20th century to create a memorable spectacle; Paris and Kim, completely redefining the cultural concept of celebrity and partying the night away; or Lady Gaga, using these moments when eyes are on her to court controversy, have fun and spread an important message. Here, we look back on some of the most iconic outfits of New Year's Eve past.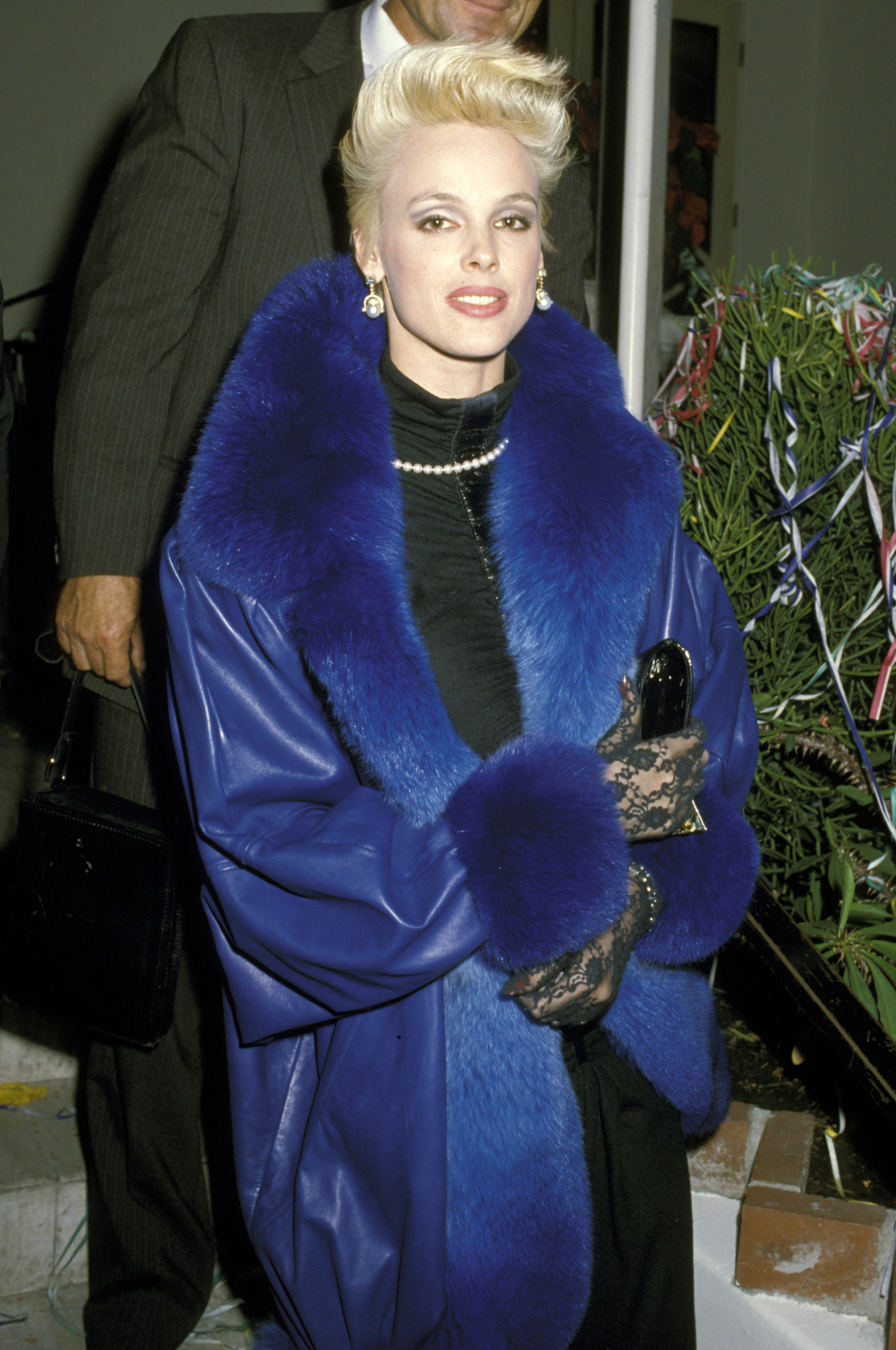 Brigitte Nielsen at Billy Wilder's New Year's Eve Party in Hollywood, 1986
1987 was about to be a big year for Danish model and actress Brigitte Nielsen. While a highly-publicised, 19-month marriage to Sylvester Stallone was about to end, the star landed her first ever Playboy cover, released her debut pop and hip-hop album, Everybody Tells A Story, and starred as the villainous Karla Fry in Beverly Hills Cop II. Here, Brigitte's celebrating the New Year with acclaimed screenwriter, director and friend Billy Wilder, in a ruched black turtleneck dress with delicate lace gloves, a simple pearl necklace and earrings, and her platinum blonde hair perfectly coiffed. She later covered up the ensemble with an oversized metallic blue, fur-lined overcoat as she exited the party at Wolfgang Puck's restaurant, Spago's, located in a beautiful 1920s-era house on The Sunset Strip.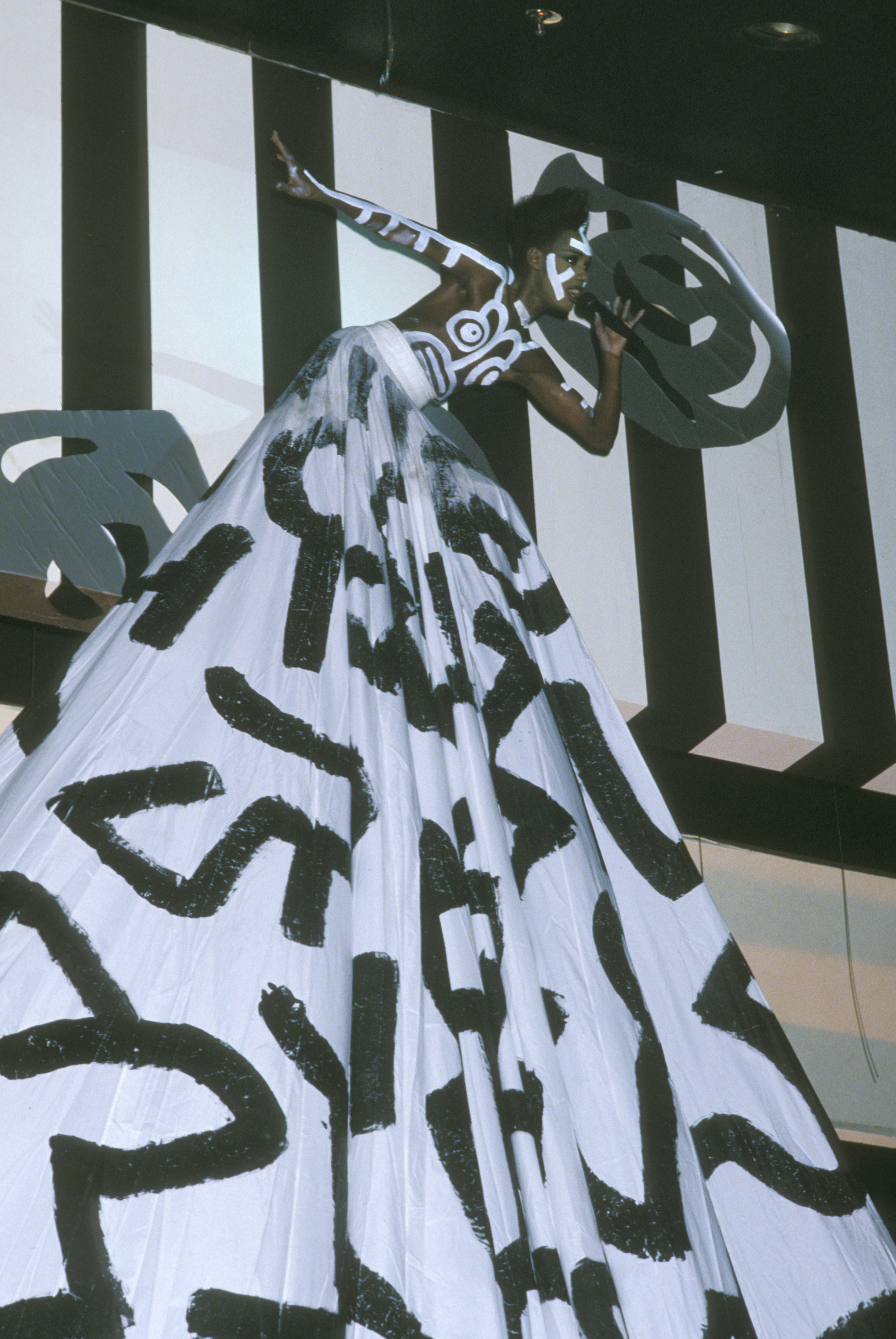 Grace Jones at her New Year's Eve concert in New York City, 1987
The only Grace Jones self-directed music video, for single "I'm not perfect (but I'm perfect for you)", stars none other than queer pop artist Keith Haring. In it, he paints a giant piece of white fabric with dramatic black shapes in his distinctive style, which is later worn by the iconic singer as she performs the last chorus of the song, towering over her audience. This wasn't the first time the pair worked together, having been introduced when they collaborated with Andy Warhol and Robert Mapplethorpe, painting Grace's body in the same bold style, as well as for her role as Queen of the Vampires in the 1986 film Vamp. For the Grace Jones New Years Eve concert in 1987, the pair melded together their previous works, resurrecting the stunning 60-foot skirt and extending the design up with white body paint over her chest, arms and face. It was sure to have been one of the greatest fashion moments of all time, and a visually breath-taking phenomenon to witness.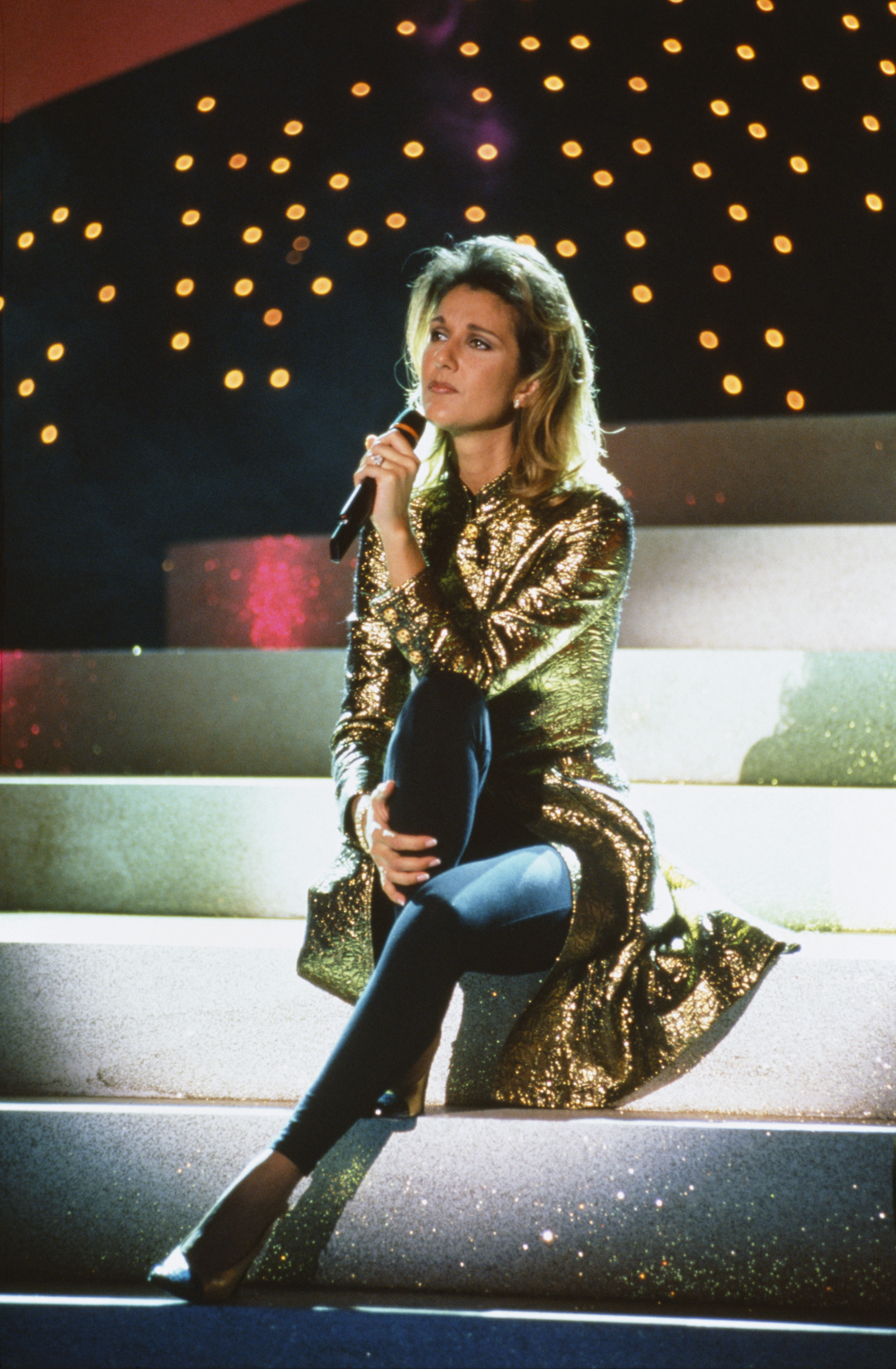 Celine Dion performing on the Faite la Fête New Year's Eve television special, 1996
In 1996, Celine Dion was at the height of success. She released her fourth English speaking studio album, Falling For You — which quickly became one of the best-selling albums of all time — just a year after releasing her third French speaking studio album D'eux — the best-selling francophone album of all time. On New Year's Eve, 1996, Celine looked radiant in a glittering gold turtleneck dress that extended into a train and an incredibly contemporary Rachel from Friends hairstyle. She performed the ballad "Je reviendrai à Montréal" with Quebecois psychedelic and folk rock musician Robert Charlebois for the New Year's Eve French Television special on the set of Faite La Fête. Celine welcomed in the new year, one that would bring her continued success with the release of the 1997 film Titanic and thus her Academy Award for best original song with "My Heart Will Go On".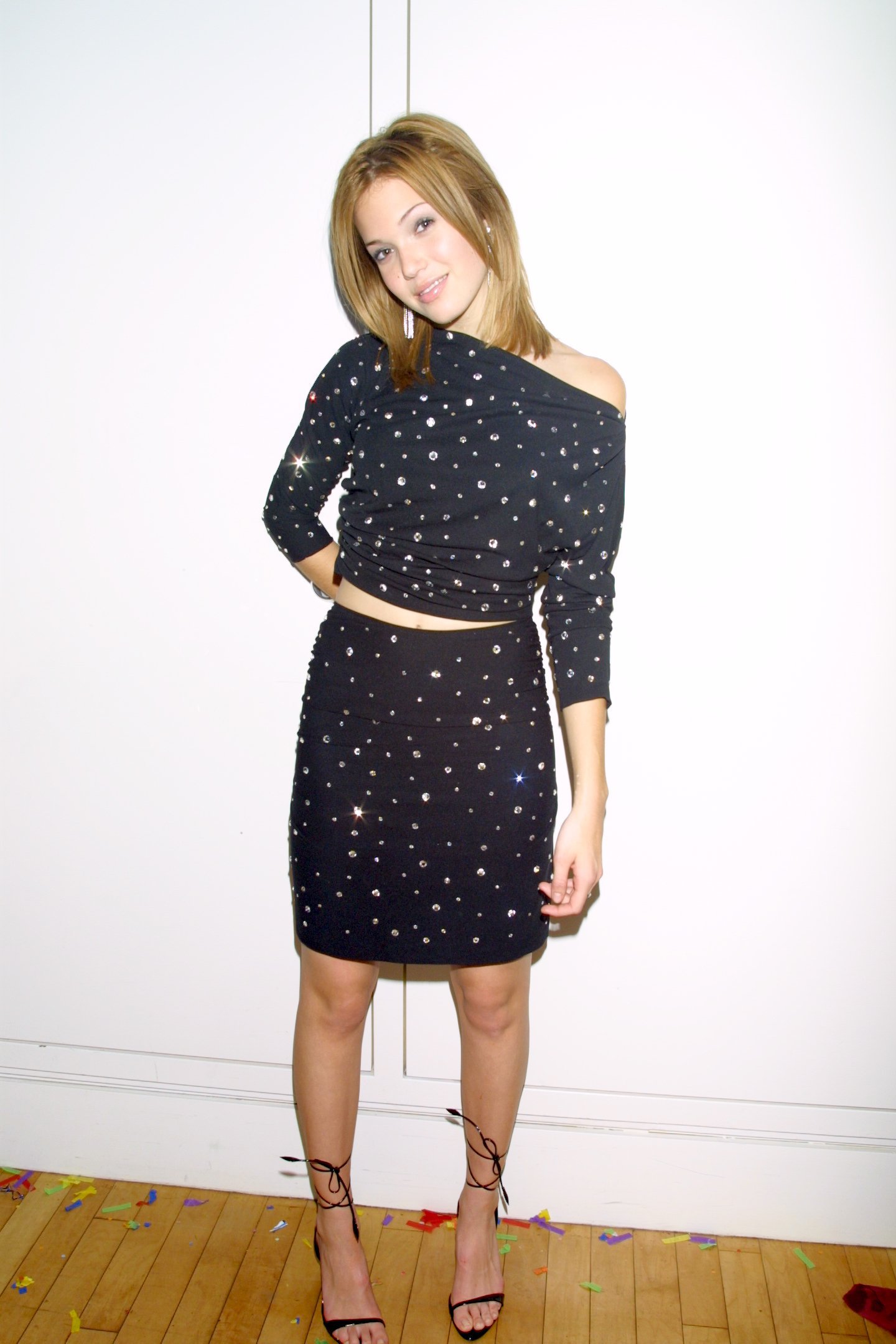 Mandy Moore at MTVs New Year's Eve bash, 2000
From 1999 to 2015, MTV would host an annual New Year's Eve bash that celebrated the turning of the year with coverage of the Times Square Ball Drop, live performances and a host of icons of the moment in attendance from Aaliyah and Jennifer Love Hewitt to Selena Gomez and Snooki. A face often seen in the event's early years was Mandy Moore, who was making waves with her music career and a few Billboard Hot 100 singles. As she celebrated the upcoming year — one that included playing popular girl Lana in Disney teen rom-com The Princess Diaries — Mandy took to the MTV party dressed as a beautiful starry night sky with a rhinestone-studded, off-the-shoulder black top and matching skirt, both cut to just have a hint of her stomach showing in true early-00s fashion.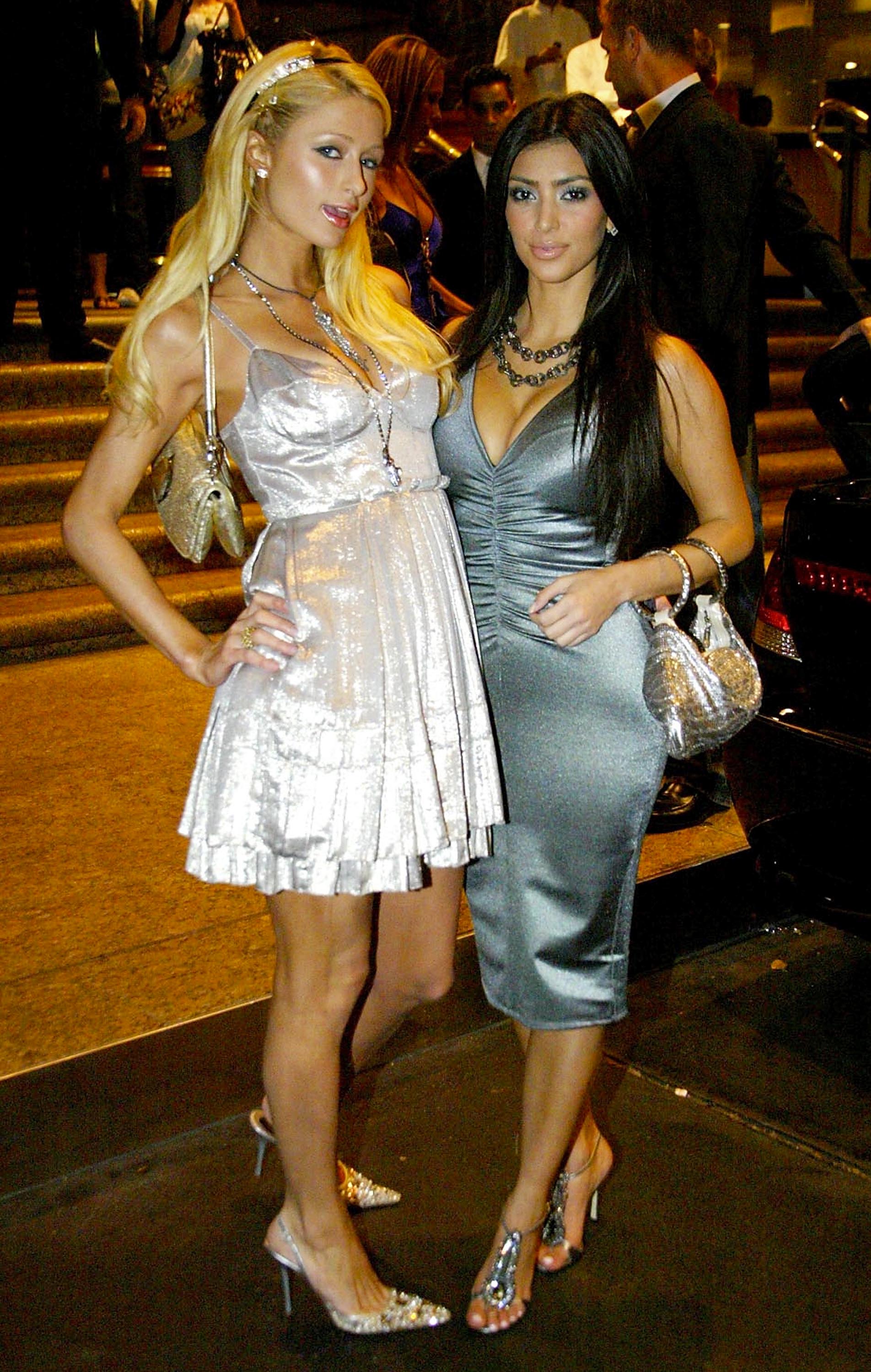 Paris Hilton and Kim Kardashian in Sydney, Australia, 2006
Today, it's hard to imagine anyone referring to business woman, beauty mogul and future lawyer Kim Kardashian-West as anybody's entourage. However in 2007, Paris Hilton, the original slasher it-girl who became the blueprint for today's influencers, and her friends — which included her then much lesser known stylist, Kim — were reportedly paid a half million dollars to fly to Sydney and spend a few days partying there over the new year in order to drum up some press for the city. Paris and Kim were inseparable during this trip, seen continuously holding hands, each with giant Louis Vuitton bags slung over the other arm, and coordinated outfits — obviously all styled by Kim. At a party in Sydney on New Year's Eve, the two were twinning in metallic, ruched dresses, nodding to the noughties with their thick black eyeliner, smoky eyes, glossy lips and layered necklaces. Although the marketing scheme was a success, with those behind it saying Paris should have been paid double, local tabloid reports from the time suggest Paris was less than pleased, leaving the event saying: "This is the worst party I've ever been to".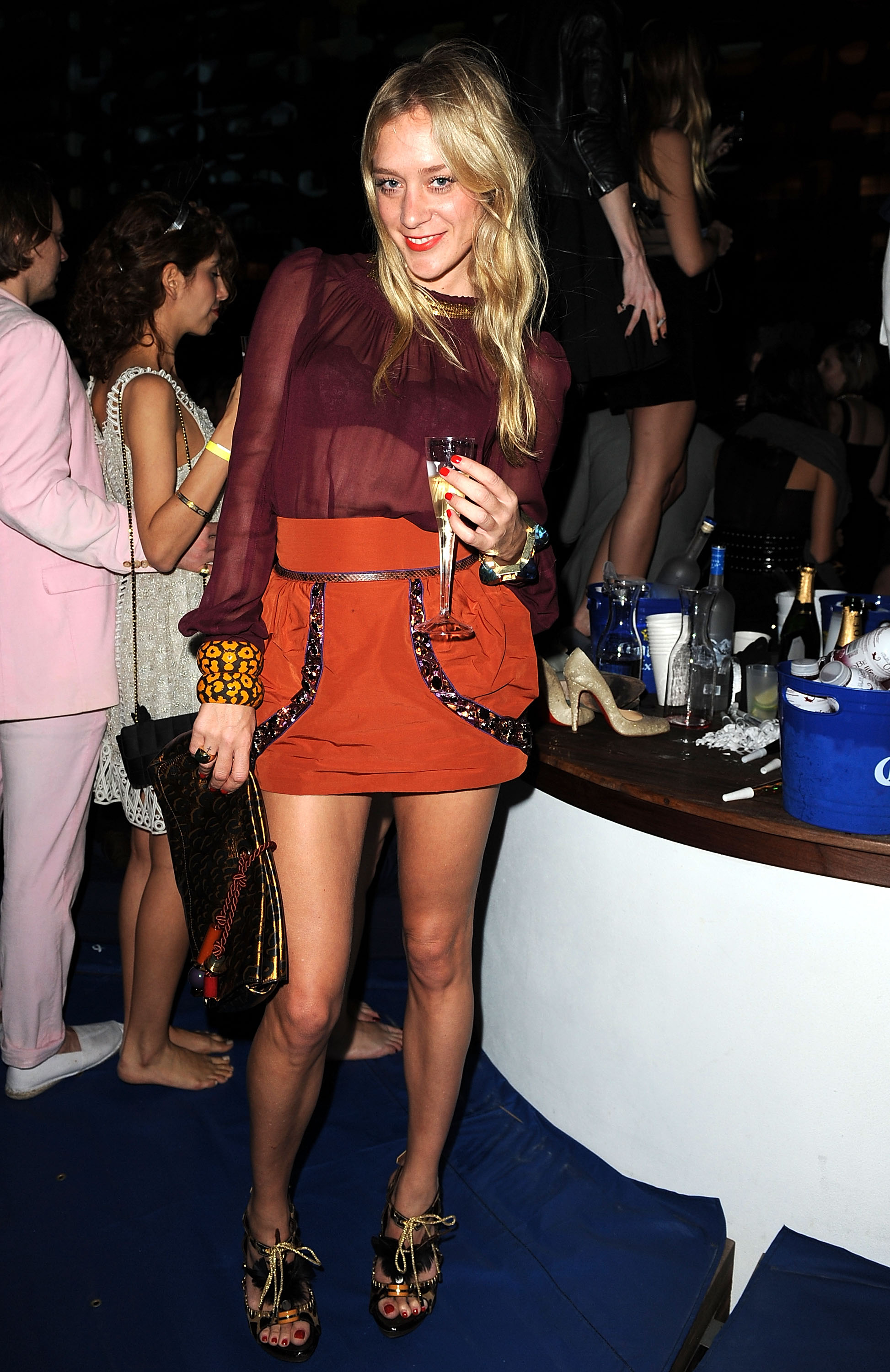 Chlöe Sevigny at a New Year's Eve party on Miami Beach, 2008
i-D cover star, model and actress Chlöe Sevigny took a mini break from acting in the latter half of the 00s after starring in Zodiac, the crime thriller by directed by David Fincher. Instead, Chlöe strode into the world of fashion with a gender-fluid clothing collection for Opening Ceremony and by, fittingly, becoming a spokesperson for the fashion house Chloé. Hosting a New Year's Eve party with rapper T.I. on Miami Beach in 2008, Chlöe showed off her fashion credentials wearing full Louis Vuitton Spring 2009. Her sheer berry blouse and ruffled orange mini skirt — paired with a festively tall glass of champagne — was a stunning look to toast the new year that would see her film comeback in the Clea DuVall-led psychological thriller, The Killing Room, and David Lynch's crime drama, My Son, My Son, What Have Ye Done.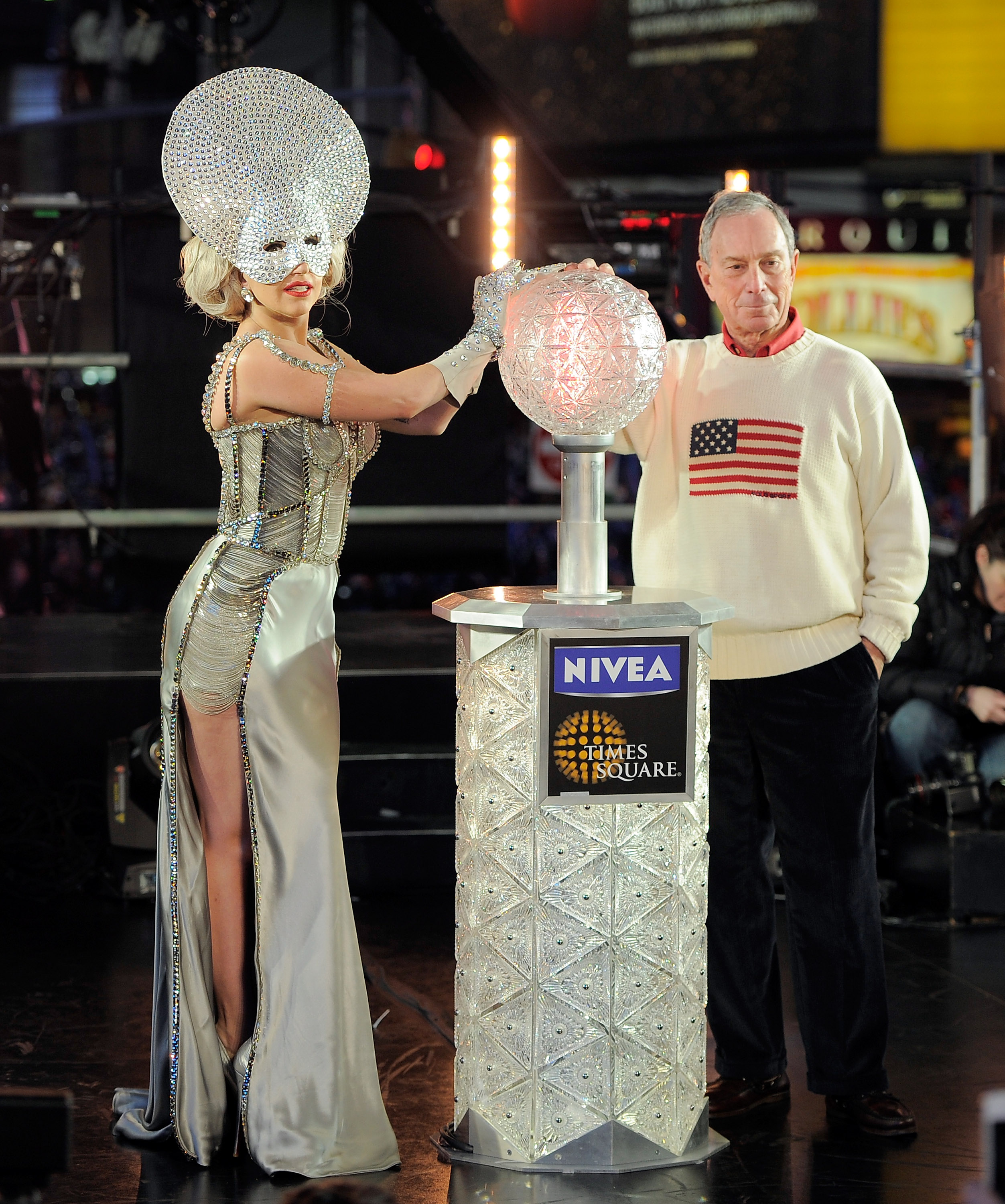 Lady Gaga performing at the Times Square Ball Drop, 2011
Honestly, do we expect anything less from Mother Monster than to turn up to the 2011 Times Squares Ball Drop with her very own ball protruding from her head, thus stealing the show? Gaga paired her chainmail Versace dress with diamond encrusted white gloves and a matching Venetian Colombina mask that extended into an orb, resembling the towering ball that would later drop at the stroke of midnight. Despite a mammoth year that saw Lady Gaga win a Grammy for The Fame Monster as well as release her follow up Born This Way and do a rather iconic i-D cover; the star had begun to receive a lot of tabloid speculation and blowback for her freakish fashion and gender expression. Nevertheless, in true Gaga fashion, she took control of the conversation, performing LGBTQ+ anthems "Born This Way" and "Heavy Metal Lover" on Dick Clark's Rockin' New Years Eve. All this occurred before she controversially kissed then New York City mayor, Michael Bloomberg, at midnight and danced around the stage with him to "Auld Lang Syne".