Meet i-D's new Editors at Large
Jawara, Lotta Volkova and Sydney Rose Thomas will be sharing their fashion and beauty expertise. 
|
18 February 2021, 1:34pm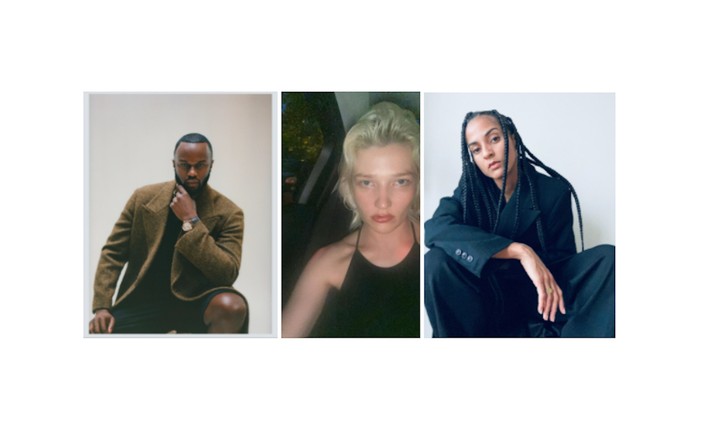 Good news! i-D has three new senior additions to our masthead. Hair stylist Jawara will take on the role of Senior Beauty Editor at Large, whilst stylists Lotta Volkova and Sydney Rose Thomas will take on the role of Senior Fashion Editors at Large. Alastair McKimm, i-D's Editor-in-Chief and Creative Director says: "Since its inception over 40 years ago, i-D has been the incubator for the best talent in the fashion industry. I'm honoured to add to that legacy with our extraordinary new team members. Jawara, Lotta and Sydney will bring their own singular visions to i-D's rich and storied DNA." Carlos Nazario, i-D's Fashion Director, adds : "I have always considered i-D to be a big, extended family comprised of creative minds and indelible voices. It is exciting and inspiring to welcome our newest members -- Jawara, Lotta and Sydney - whose unique voices and incredible visions will be a welcome addition."
As i-D's Senior Beauty Editor at Large, Jawara will be working creatively on i-D's beauty remit for the print issues as well as for special projects outside of the magazine. He first started his career as a salon assistant in Brooklyn when he was just 16. After graduating from the Fashion Institute of Technology and the Aveda Institute, Jawara moved to London and began assisting industry legends Guido Palau and Luigi Murenu on runway shows and shoots before being mentored by icon Sam McKnight. He began working independently in 2013, when his extensive knowledge and diverse skill set soon garnered the attention of many influential names, including artists Cardi B, FKA Twigs and Solange – with whom he has worked extensively – and clients including Off-White, Gucci and Calvin Klein. In 2020, Jawara debuted his virtual exhibition, COARSE: The Edges of Black Ingenuity, a presentation that explores the poetry and politics of Blackness through the lens of Afro hair.
Lotta Volkova and Sydney Rose Thomas will be responsible for contributing to fashion shoots, editorial and ideas for the quarterly print issues. Lotta was born in Vladivostok, Russia and studied Photography and Fine Art at London's Central Saint Martins before moving to Paris where she now lives and works. After a brief stint as a designer, it was in the French capital that Volkova's focus fully shifted to styling. Volkova has played an integral part in developing the creative vision behind Vetements, Gosha Rubchinskiy and Gvasalia's newly reborn Balenciaga, where she has been involved in the casting, styling and also consulting on the collection. Since then, Volkova has taken time to focus on more personal projects and has collaborated with photographers such as Juergen Teller, Harley Weir and Johnny Dufort, and with brands such as Marc Jacobs, Miu Miu and Blumarine.

California native Sydney commenced her work as a stylist only after rigorous training in the creative, technical and business fundamentals of fashion design. What began with instruction in basic pattern making, construction and sewing techniques quickly progressed after Sydney relocated to New York where she sharpened her design skills and learned valuable lessons about brand management. Sydney worked as Alastair McKimm's assistant before establishing her independent practice. Her editorial clients include i-D, WSJ, Re-Edition and Display Copy, and she has worked with brands including Saint Laurent and Supreme.