Photography Silvia Draz. Images courtesy of Bianca Saunders
Bianca Saunders offers a trippy take on classic menswear for AW21
With intentionally creased suiting and surreal clothes-on-clothes prints, the young London label's latest collection updates wardrobe staples for these strange times.
|
21 February 2021, 12:49pm
Photography Silvia Draz. Images courtesy of Bianca Saunders
During that glorious blip in time last summer when foreign travel was allowed, Bianca Saunders hopped across the channel to take part in a group exhibition in Paris. Exhibitions are no foreign context for the London-based designer -- the 2019 show she curated in Brixton a case in point -- but what made this different was that she wasn't presenting her work as a fashion designer, but rather as an artist. Suspended from the beams of an industrial space close to the Palais du Tokyo, the sculpture she showed comprised a crumpled jacket and pair of trousers, their creases held by invisible "wire structures beneath them, so it looked as though the clothes had a moving body within them," Bianca says. While the project mirrored the kinetic sensibility she's always exhibited in her collections -- where shoulders shrug inwards, for example, or T-shirts and trousers are ruched -- the experience of creating free from the confines of fashion and its commercial logic inspired the designer to "bring a more artistic way of working to my brand," she says.
The result of that pursuit is Superimposed, the AW21 collection Bianca today revealed on the London Fashion Week schedule, and easily her most accomplished body of work yet. It sees the designer bring experimental, sculptural flair to her seasons-long interrogation of menswear staples, moulding a tailored wool coat and trousers and an otherwise crisp blue Oxford shirt into intentionally crinkled silhouettes. Elsewhere, a grey cable-knit jumper is bunched up into a woollen crop-top, and a rippling suit jacket is composed of overlocked off-cuts of shirred fabric.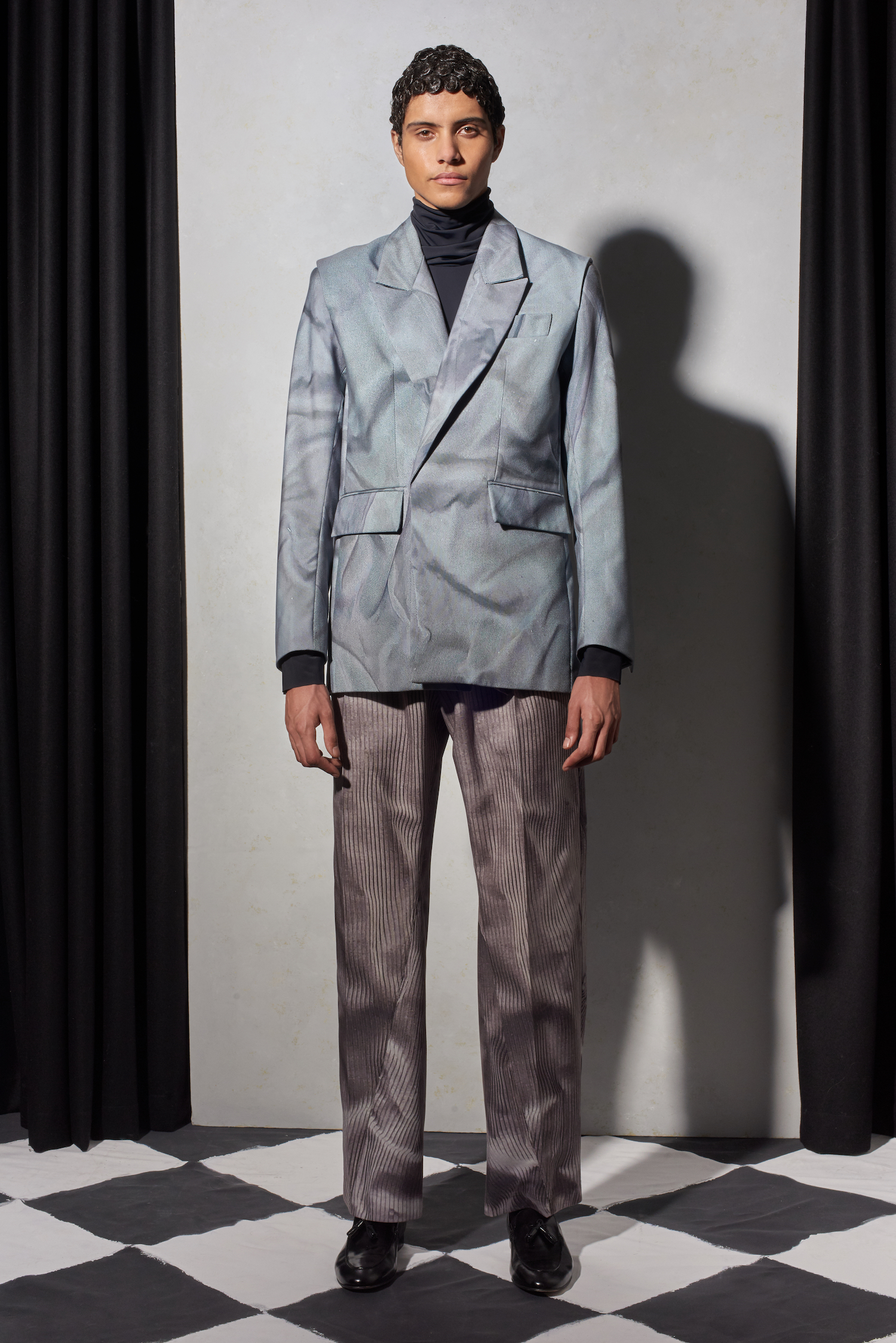 These bold developments in her exploration of how to bring a sense of movement to menswear owe much to two exhibitions she visited while in the French capital: one, an exhibit of the photography of arch-Surrealist Man Ray; the other, a retrospective of the Austrian artist Erwin Wurm. "I felt that his work really linked to what I do, this idea of using bodies as sculptures, and seeing how clothes move within the context of a body's movement," she says. This approach, best exemplified in the artist's encyclopaedic One Minute Sculptures series, also the informed trompe l'oeil sublimation prints that feature across the collection: in a continuation of the designer's collaboration with Wrangler, which started last season, a photograph of creased denim is transposed onto a shirt, straight-fit jeans and a cotton tote bag, and a scarf is printed with a graphite sketch of another pair.
Balancing out these overtly experimental pieces are a series of gorgeously dapper classics -- a boxy teal Harrington jacket, a dinner suit and a brown houndstooth tweed overcoat -- given a more subtle Bianca Saunders makeover by way of the designer's signature draped shoulder. They hardly sound like the sort of comfy, stay-at-home clothes that might seem logical for the current moment -- but frankly, when it comes to dressing, it's time that we let logic leave the room, and once again perceive fashion as a balm for abstract, emotional needs. "Lately, I just want to dress up to just go to the local shop," Bianca says. "People are dressing more for themselves, rather than to be seen by people."
That's the message at the heart of this season's film, her second collaboration with director Daniel Sannwald -- the first being for SS21. Building on the collection's Surrealist references, the pair drew inspiration from The Blood of a Poet, Jean Cocteau's experimental 1930 film. Shot in black and white, the minute-long-clip focuses on a single character passing his time by gazing into reflective pools and peering through a keyhole out of the room he's trapped in. It does a good job of conveying the sense of the abstraction and isolation that lingers over life right now, but it does an even better one of proving the restorative power of dressing up for one's own sake, even in the most desolate circumstances. "I just wanted to create a collection that will make people feel good about themselves when they wear it," Bianca says. Rest assured, these are clothes that will do just that.