Photography Raphael Bliss. Courtesy of LN-CC
How to get your hands on exclusive Vivienne Westwood archive pieces
Dalston's LN-CC are here to bring us all some much needed festive cheer.
|
04 December 2020, 4:26pm
Photography Raphael Bliss. Courtesy of LN-CC
While, once upon a time, tenth birthday parties were relatively straight forward affairs — you probably had a cake, some party rings… a bouncy castle if you were really lucky — reaching any milestone in such turbulent times as these is something worth pulling out all the stops for. Take Dalston's LN-CC, for example, who have decided to mark a decade's run as one of fashion's most agenda-setting retailers by pairing up with 10 iconic designers to issue a series of looks from their feted archives. "The project stems back to the launch of LN-CC in 2010. The founding members launched the platform with an amazing selection of brands and their own archive pieces," explains Reece Crisp, LN-CC's Head of Buying, Creative and Styling. "It is in homage to them, and to our mission to have each of our partners support us on sustainable initiatives. […] We wanted to focus on brands who have a rich history, and iconic products."
For their latest in the series, dropping today, they've teamed up with a brand that more than meets those criteria: Vivienne Westwood. "How could we not include Vivienne Westwood?" is Reece's response when asked how they settled on working with British fashion's grande dame. "It's an archive you dream about. So many iconic moments and pieces," with 23 making up the exclusively reissued capsule collection. Among them, you'll find pieces like a lilac-on-stone-grey bondage twinset with "bondage strapping is synonymous with Westwood's first London boutique at 430 Kings Road, SEX," Reece says, as 'Alcoholic' shirting -- they make use of a tailoring system that sees traditional techniques applied as if the tailor were drunk, resulting in chicly skewiff silhouettes and proportions. There are also the Krall trousers, which demonstrate Dame Viv's subversive appreciation for Savile Row tailoring, and the Chains Top, a nod to the designer's trademark DIY approach to clothesmaking that she pioneered throughout the 70s.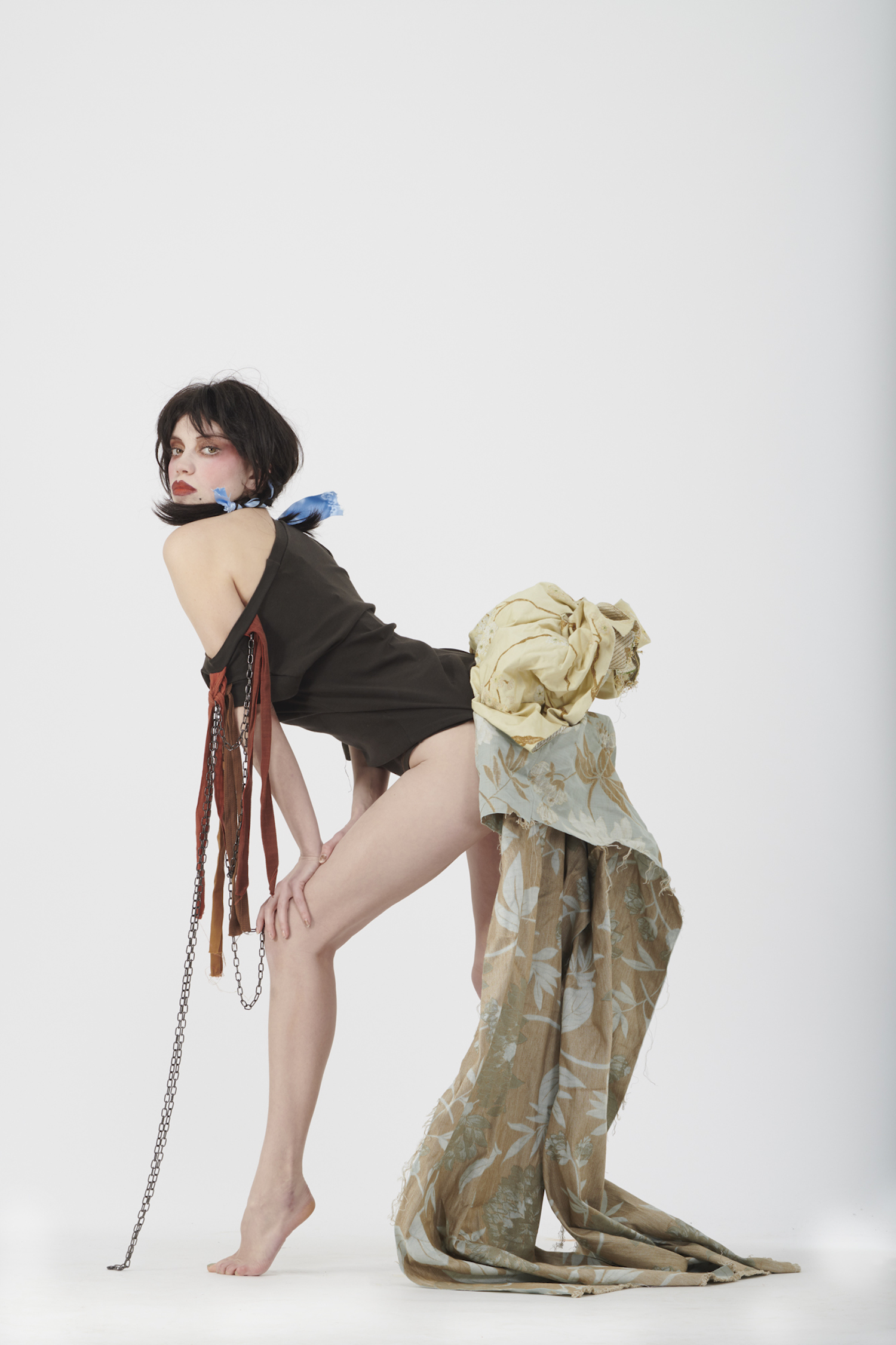 For each chapter of the archive series -- which has, among others, also included Walter van Beirendonck, Jil Sander, Acne Studios and Marine Serre -- the LN-CC team has worked closely with the respective brands to best encapsulate their DNA. With Vivienne Westwood, "we were fortunate to acquire some exclusives that only one part of the world would have seen before," Reece says, creating further cause for excitement -- not that much more was needed -- around the release of the archival capsule for both long-term brand disciples and newcomers alike.
With Christmas just around the corner, the idea for the accompanying editorial, shot by Raphael Bliss and styled by Charlotte Ghesquiere, was to explore the common jolliness that both the season and Vivienne Westwood share. "The direction was to give some festive cheer," Reece says. "This year has been a tough one for all, so it's playful and harks back to some of our favourite Vivienne's shoots of old." Keen to get even further into the festival spirit? Head to lncc.com to cop.