Photography Jora Frantzis
On Sin Miedo, Kali Uchis lets go of her fears
The Colombian American alt-singer's sophomore album and first Spanish release, 'Sin Miedo (del Amor y Otros Demonios) ∞', is also her most unabashed.
|
03 December 2020, 10:00am
Photography Jora Frantzis
Kali Uchis has been thinking about angels. The genre-defying singer, who's real name is Karly-Marina Loaiza, has been portraying herself as ethereal in some form or another since 2013's "Honey Baby." A mash-up low budget music video preceding her 2015 debut EP Por Vida ("For Life" in Spanish), the clip takes place in Colombia and Los Angeles, where, a bleach-blonde Kali sings two songs (and a bit of the chorus of future Jorja Smith collab "Tyrant") that wouldn't see the light of day until TO FEEL ALIVE. Released back in April, the made-in-quarantine EP opens with "honey baby (SPOILED!)" and "angel". Longtime fans immediately recognized these tracks as long-awaited studio versions of the "Honey Baby" demos. The pair serve as an essential genesis of two important yet disparate aspects of Kali's artistry: the angel and HBIC.
The EP touts an explicit painting by contemporary artist Oh De Laval as its cover, featuring Isolation-era Kali eating out Por Vida Kali (the singer is openly bisexual). Sonically and aesthetically, Kali Uchis plays with herself, merges the pouty Fiorucci angel with the take-no-prisoners diva and becomes the archangelic black-pink winged creature on the cover of her latest record Sin Miedo (del Amor y Otros Demonios)∞, or Without Fear (of Love and Other Demons)∞, released on November 18, 2020.
"I consider myself a spiritual person, a person manifesting my goals into existence." Kali tells i-D from her couch in LA. "The material world is an extension of this part we have inside, not just as human beings but as spiritual entities. I'm tapped into all of that when I'm creating, and it all goes into that imagery. It's where I'm in my zone."
Before making a name for herself as a lo-fi R&B siren and Tyler, The Creator collaborator, shy Kali never dreamed of making music herself, wanting instead to make music videos for other artists. A DIY autodidact to the end, Kali ended up making Drunken Babble in 2012. The 40-minute mixtape of psychedelic indie soul was made in two days on Garageband while she was living in her car. It reached the ear of rap mogul Snoop Dogg, who gave Kali her first spotlight on his That's My Work 3 mixtape with "On Edge." After putting out the Por Vida EP and hotly-anticipated debut LP Isolation, where she flirts with Spanish in the breathy outro of synth track "Tomorrow", Kali's synthesized her style and decided to more fully incorporate her Latinx roots.
Growing up between Pereira, Colombia and the suburbs of Virginia, Kali's sophomore release is the bilingual artist's first record almost-entirely in Spanish. On Sin Miedo Kali continues to invoke the angel, channeling a heavenly being in lovers and in herself throughout the album, from neo soul jam "quiero sentirme bien" ("I want to feel good") to guitar-tinged closer "ángel sin cielo" ("angel without a sky"). The latter track sees her flying through the sky á la John Milton's Satan, breaking free from the expectations of the world — translated from Spanish: "Angel with no sky/ My life is one/ And I don't owe anyone anything." The record is a notable fusion of Kali's interests and Latin American influences, featuring a long and varied list of collaborators from Latin hip-hop heavyweights like Jowell & Randy on "te pongo mal(prendelo)" to more contemporary voices like Jhay Cortez on single "la luz(Fín)".
"I had never had a whole album in Spanish," Kali says. "I felt I had to do this because it's such a big part of me, and it would be crazy not to tap into the different layers of who I am as an artist and a person in order to fit into boxes." The album was largely produced by Latin firebrand Tainy during a writing camp at his NEON16 collective's Miami studio. The initiative paid off, with Kali digging deep into her Latinx roots with fervor, further sharpening the reggaeton sound she teased listeners with on Tainy-produced promo-single "Solita", which came out late last year and served as a small taste of what was to come.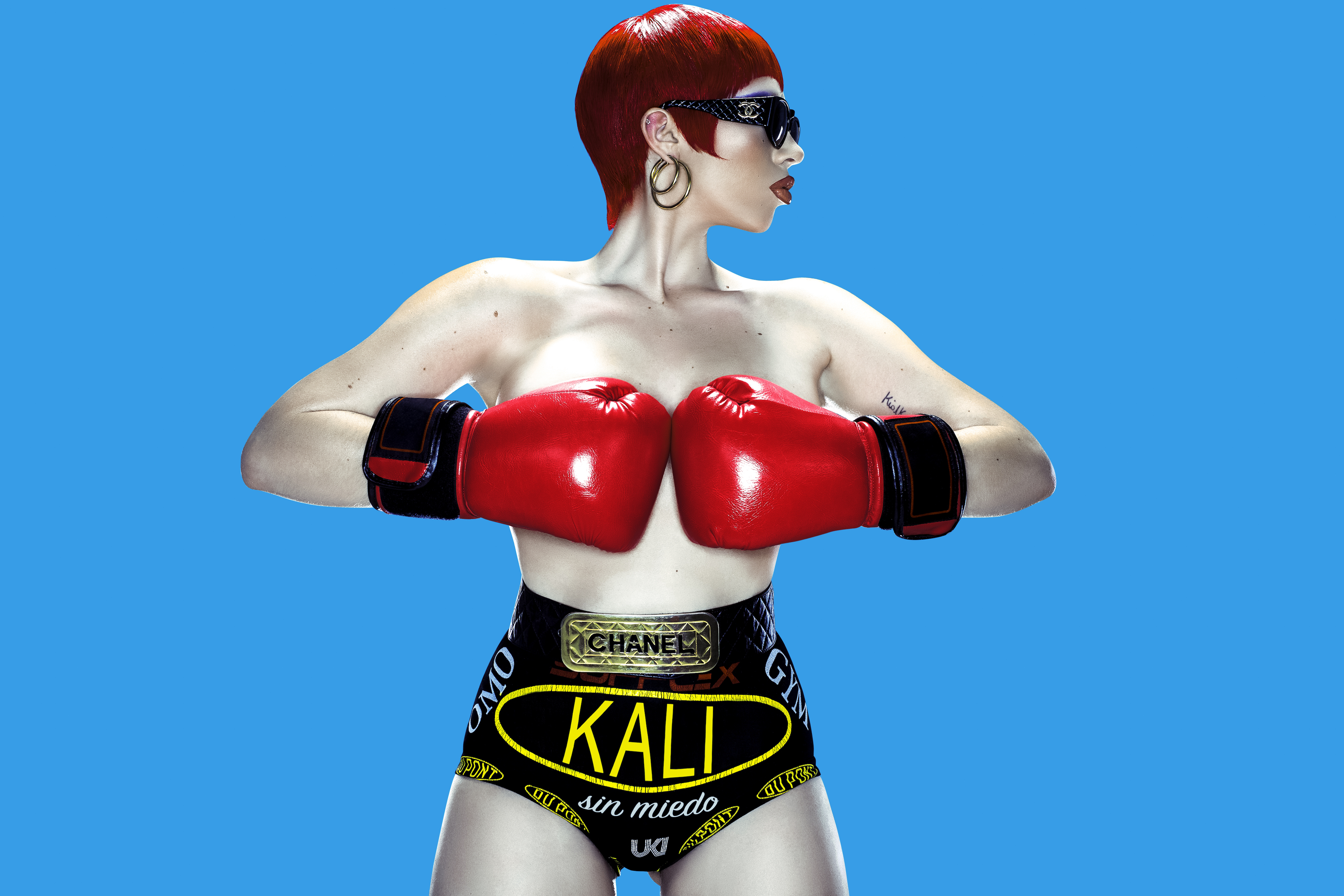 Making efforts to honor her South American roots while acknowledging her privileges growing up in the US has made Kali a siren of migratory identity's gray spaces. Sin Miedo gives her largely English-language fanbase a crash course on the wide umbrella of music coming out of the South American diaspora, broadening the Anglo-centric definition of "Latin Music" for those who don't already know we're more than a reggaeton beat, more than a tropical exoticization. More gently put, she's been listening to old boleros and it shows. Few artists these days have the guts to kick off a pop album in 2020 with a cover of Cuban doo-wop group Los Zafiros' "La Luna En Tu Mirada" ("The Moon In Your Gaze"), which cleverly becomes "la luna enamorada" ("the moon in love") in Kali's capable hands.
"If I'm gonna make a completely Spanish album, it's gonna be inspired by all of it," Kali says. "We are so multi-dimensional, with so many cultures and so many different levels to 'Latin music' that people don't recognize. I wanted to represent the best I could. I never made a bolero before, so let me make a bolero. I never made perreo, so let me make perreo. Let me push my pen and see what I can really do." Kali gets sentimental as she tells me about the Zafiros cover that opens the record. "In that time in my life, I'd have that song on repeat; I'd go to sleep with it," she says. "That song was so important to me making this record. It'll forever be a part of that album and remind me of this era."
"La luna enamorada" isn't her only foray into Latin music's wide-spanning past. Breaking Sin Miedo in half is an elegant cover of legendary Cuban diva La Lupe's "Que Te Pedí." It's a brief and sweltering moment some critics point to as a bid for a James Bond theme. The interlude, stylized as "que te pedí///" and clocking in at just under two minutes, speaks to a much greater alignment. Kali stretches her voice to a belt over the classic horn intro, channeling La Gran Tirana and staking her own claim as a Latinx torch singer for the new age. It would seem, at last, she's let go of her fears and found within them a new kind of courage.
"She's an amazing vocalist and her voice literally brings me chills," Kali says of La Lupe. "I'll never be able to sing this song as good as her. I'm not a classically-trained singer. As an adult I decided to sing because I always loved music and everything that came with conceptualizing a project. I loved all of it; at the same time, I never felt I was a vocalist and I've always been a shy person. It was never in my plans to be a singer but it was in God's plan. To push myself vocally the way I have on this project — to find out I can hit whistle notes, my low register, these different tones — and maturing my voice to use it more is why I wanted to play with her song. It's all part of the process of learning."
The sixth track off Drunken Babble, "Table For Two", sees a young Kali deep in that process of learning as she gestates a classic Kali Uchis theme. Crooning over a minimalistic beat, Kali sets a table for two and waits for someone who won't come, who makes her feel foolish for loving. If Sin Miedo (del Amor y Otros Demonios)∞ is any indication, those days are far behind her. The table is set for one, La Lupe is blasting out of a vintage jukebox, and yes, she'll have a blunt with her beaujolais.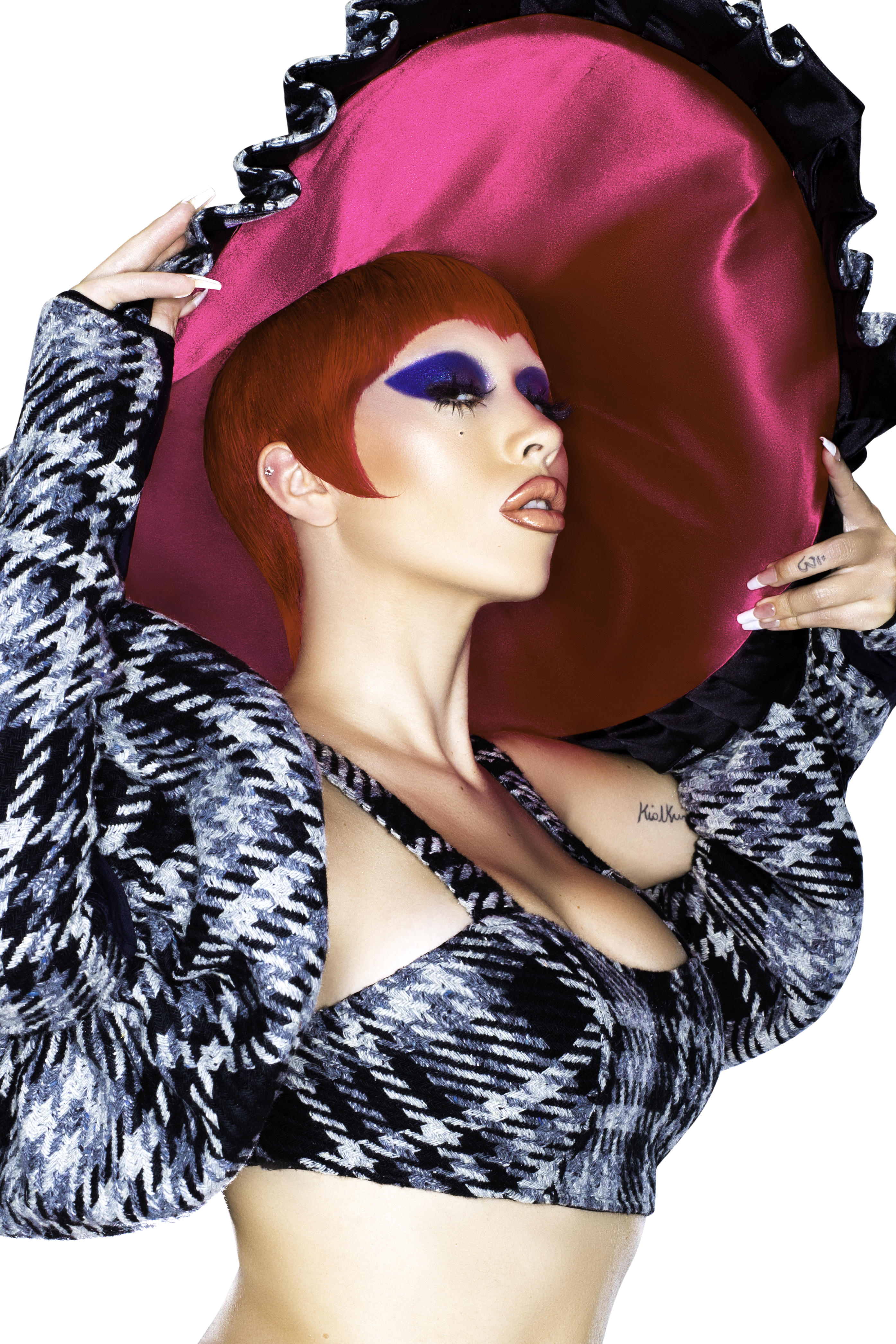 Sin Miedo (del Amor y Otros Demonios)∞ is out now on EMI / Interscope Records.
Tagged: