Inside Balenciaga's new video game, where you can play in its Autumn 2021 collection
Choose your player, and step into Demna Gvasalia's futuristic vision of Balenciaga circa 2031 in 'Afterworld: The Age of Tomorrow'.
|
07 December 2020, 11:36am
Courtes
At Balenciaga, Demna Gvasalia continues to evolve the boundaries of what high fashion can look, sound or even smell like (who could forget the show that came with an olfactory experience?). Back in April, when it became clear that fashion shows may not be the best idea during a global pandemic, Demna came up with the idea to show Balenciaga's Autumn 2021 collection via a video game. House-favourite models were scanned in a studio, a collection was designed and fitted digitally, worlds and settings were dreamt up by coders (everything from a brutalist Balenciaga boutique to an illegal rave in a cave) and yesterday, it came to light.
Set in the year 2031, 'Afterworld: The Age of Tomorrow' continues Demna exploration of futuristic, dystopic fashion. Whereas his previous collections have explored what the world may look like after radical new ways of producing and consuming fashion come into play, this takes things a step further. Because, really, there couldn't anything more futuristic than the idea of dressing an avatar in lieu of your physical body. Choose your player, welcome to the future of fashion.
Though this isn't the first time a luxury fashion house has flirted with the gaming world — Louis Vuitton released a League of Legends capsule a while back and Burberry streamed its last show on Twitch (as will Dior Men's for AW21 tomorrow) — this year, designers have had to get creative with the way they show their collections to the world. And Afterworld may be just the most immersive experience yet, and a refreshing breath of fresh air amid reels and reels of fashion films.
In the game, which is available to play on Balenciaga's website, each player goes on a hero's journey set in the year 2031. A store exit leads to a busy street and further on to a dark forest which hosts a secret rave. Beyond that is a mountain, atop which waits a surprise, once the player completes some challenges. It'd be easy to while away hours exploring this strangely chic universe, gawping at the lifelike avatars in their pristine Balenciaga outfits — in other words, the perfect activity for days spent locked down at home.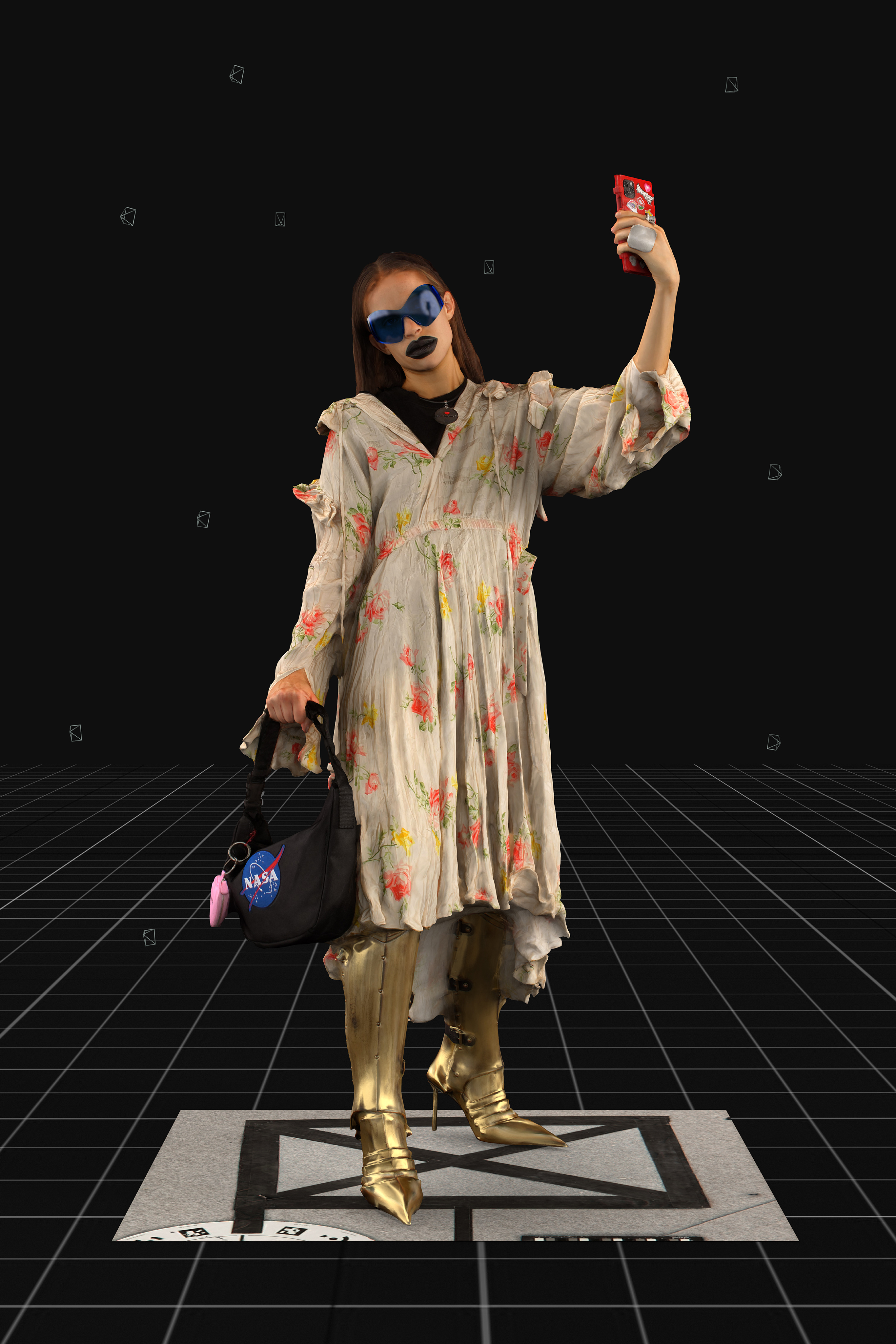 However, it's is also a brilliant Trojan Horse for falling in love with Balenciaga's latest collection. Demna has been exploring a post-apocalyptic, dark, cyborg-like vision of fashion for a few seasons now, but he's also been focused on improving Balenciaga's methods of production — in fact, 93.5% of the materials in his previous collection were either certified sustainable or upcycled.
This time, there were those hallmark quotidian clothes that we've all come to associate with Balenciaga: the chubby puffer coats, slouchy blue denim, giant handbags and suites of oversized inky tailoring. What was new? Demna played with the idea of armour — arguably the height of protective clothing and therefore très 2020 — with crotch-skimming boots for "a modern-day Joan of Arc", as the show notes put it. "The hinged, meticulously hammered metal suit evokes a distant, unimaginable future by invoking a distant, long-forgotten past." Things got a bit more Khaleesi-chic with sequins made to resemble dragon skin and frostings of icicles.
Elsewhere, NASA logos were emblazoned across recreations of bulky space suits "from a time before mass space travel, repurposed as futuristic outerwear". There were plenty of other typically irreverent moments: "gaming champion uniforms" with PlayStation 5 logos; handbags designed to look like an Uber Eats delivery bags (with re-worked Balenciaga logos to match); fluoro high-vis construction-site coats; T-shirts that ask the wearer be taken to a Balenciaga store if lost; others that offer information about circular fashion and closing the clothing waste loop. A sense of humour is paramount to Demna's post-post-postmodernist vision of fashion. But perhaps the most progressive thing about this impressive project is that everyone and anyone is welcome to step into this virtual universe, whether it's fashion editors or young fans of the brand. There's no intimidating boutique bouncers to pass, or a show in Paris to be invited to. Everyone is welcome to be a Balenciaga babe for a day. As far as fashion shows and experiences go, it couldn't get more futuristic — or just plain modern — than that.