Fendi AW21 was a playful take on the 'new normal'
Silvia Venturini Fendi gave us updated riffs on menswear staples and pondered what normality means today.
This season, Silvia Venturini Fendi wants to talk to us about what "normal" means today -- a needed conversation given that, 16 days into the new year, we barely remember how the damned word is even spelt. Indeed, as the world careens into the absurd with increasing speed, we've all, at some point, found ourselves craving the sturdy status quo we once knew. Counter to what you might expect of a meditation on 'normality', though, the Roman house's AW21 menswear show in Milan wasn't especially nostalgic. Rather than yearn for a lost sense of stability, this was a collection that revelled in the potential born of unpredictability; in the dynamism inherent to a world in which the only constant is change.
What that meant in practice was a subtle rethink of menswear staples, updating clothes we once relied on for times that certainly have a-changed. Roomy, dome-shouldered overcoats in camel cashmere and shearling bespoke a therapeutic tactility, such that they almost felt better suited to wearing indoors for self-soothing than to the Big Bad World beyond our front doors. Continuing in that train of thought were clothes that suggested a sumptuous, lounge-ready ease: ribbed-knit long johns (you saw them here first!), and diagonally-quilted satin jacquard shirt jackets, trousers and bermuda shorts.
Of course, relaxed, indoor-friendly fits like these have become a trope of post-pandemic dressing. And to muse on the modern meaning of 'normality' without paying due homage to this easier, breezier way of dressing would be an oversight, to say the least. But, in any questioning of the term, we also have to entertain the conclusion that, well, nothing really is normal any more. Every aspect of the world, and how we move through it, is up for discussion, renegotiation, or change -- be it for better or worse.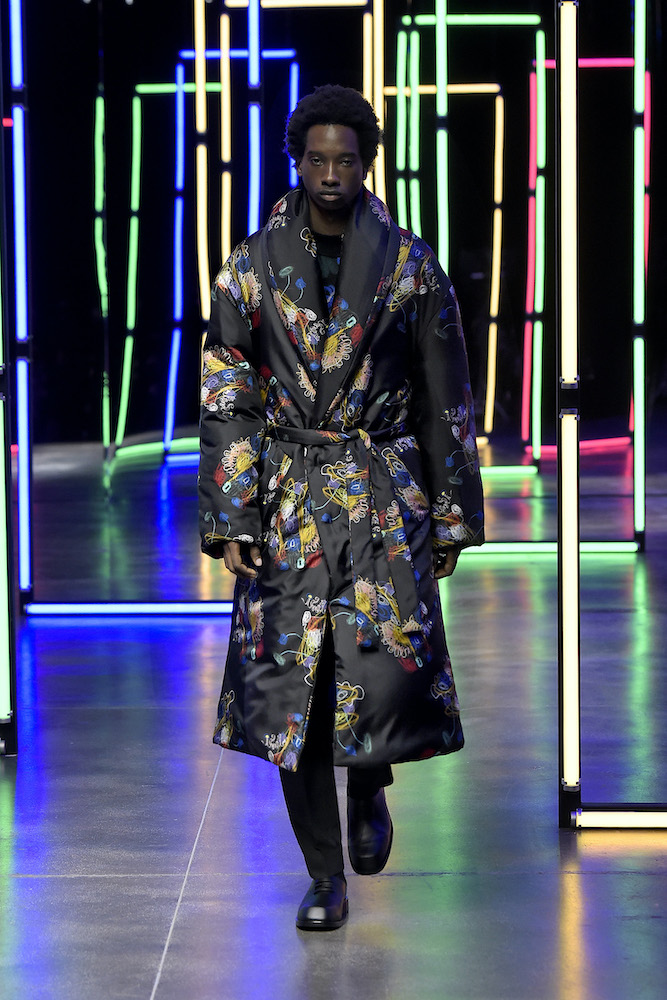 Rather than dwell on the solemn, Silvia chose to focus on the possibilities that come with change, the new horizons that open up. The theme was broached with an unambiguous sense of playfulness. Think: quilted coats in Power Ranger jewel tones; tailored trousers with slashed seams. Decorating peignoir housecoats and cashmere pullovers was psychedelic "multicoloured stream-of-consciousness scribble art" -- cursive Fendi logos and gleefully chaotic figures and faces in rainbow hues.
It was hardly what you'd expect of a house well known as a guardian of a perennially desirable vintage Italian take on luxury. And perhaps even less expected was the artist responsible for the doodles: Noel Fielding, the much-adored eccentric British comedian of The Mighty Boosh and host of The Great British Bake Off. But that was exactly the point. Living in a world in which the only thing we can be certain of is another twist in the plot, this was a call for us to embrace the unexpected, to accept that 'normality' is not a fixed ideal to which we return -- rather, it reflects the state of a given time.