Photography @mitchell_sams
designer giuliano calza shared a warning that social media is damaging the gcds generation
"Instagram isn't reality. I want people to embrace and share their reality, their conflicts, their truths, their dark desires."
|
25 February 2019, 11:49am
Photography @mitchell_sams
"I always want to create scenarios and imaginary fashion places where real clothes for everyday life can cheer you up," Giuliano Calza told i-D as he talked us through GCDS autumn/winter 19. From distorted Disney imagery through to manipulated sci-hi horror iconography and reimagined everyday kitsch, GCDS has a unique take on streetwear. "People expect drama from us and we give them what they want and we have fun doing it, but there's always a message too."
After last season's dystopian fantasy with headline grabbing three-breasted prosthetics, GCDS transformed its vast catwalk space into a palazzo to highlight how the media is affecting this generation. "It's not good versus bad, but the social media projection versus the cool reality." The 30-year-old creative director personifies the new energy that is changing Milan from the inside out. While the old, exclusionary luxury world might not have crashed, it has certainly shifted. As one of the city's most-hyped young brands, the new dawn appears to belong to GCDS and co.
"I make clothes for myself and I don't want to take things too seriously," he explained. "So there are many RuPaul's Drag Race moments," he laughed. GCDS constantly reminds us that fun fashion doesn't always mean frivolous, as it balances whimsy with home truths. You can enjoy yourself and still say something. "The closing looks see exposed rib cages entwined with flowers, Jazelle -- one of my best friends -- in a rhinestone cobweb dress and then Lindsey in a super sexy bodysuit and faux fur coat. Everyone is talking about feminism and messages, fewer talk about sex but our woman loves sex and isn't afraid to say so. In everything we're doing, I'm just trying to empower people to own their choices."
"Whatever you see in the collection is something I've experienced. It's my loves, my obsessions… I like dolls, I like creepy things, I like sex. I embrace all my sides." He played with Polly Pocket, so he collaborated with the toy brand of the 90s and 00s. He stans Angela Lansbury as Murder She Wrote was a lunchtime TV-institution in his home, so he created Murder She Wrote merch. He loves creepy horror so infused plenty of blood, guts and gore into the collection. "The collection begins with this pretty-in-pink, plastic Polly Pocket classic GCDS world and then there's a shift, a moving palazzo revealing different rooms where all of these creatures will come out," Calza promised behind a smile. As ever with GCDS, it's a marriage of fun-powered aesthetic and messaging. "Polly Pocket demonstrates what every child is aware of: being small doesn't represent a limitation, but a great strength," the show notes explained.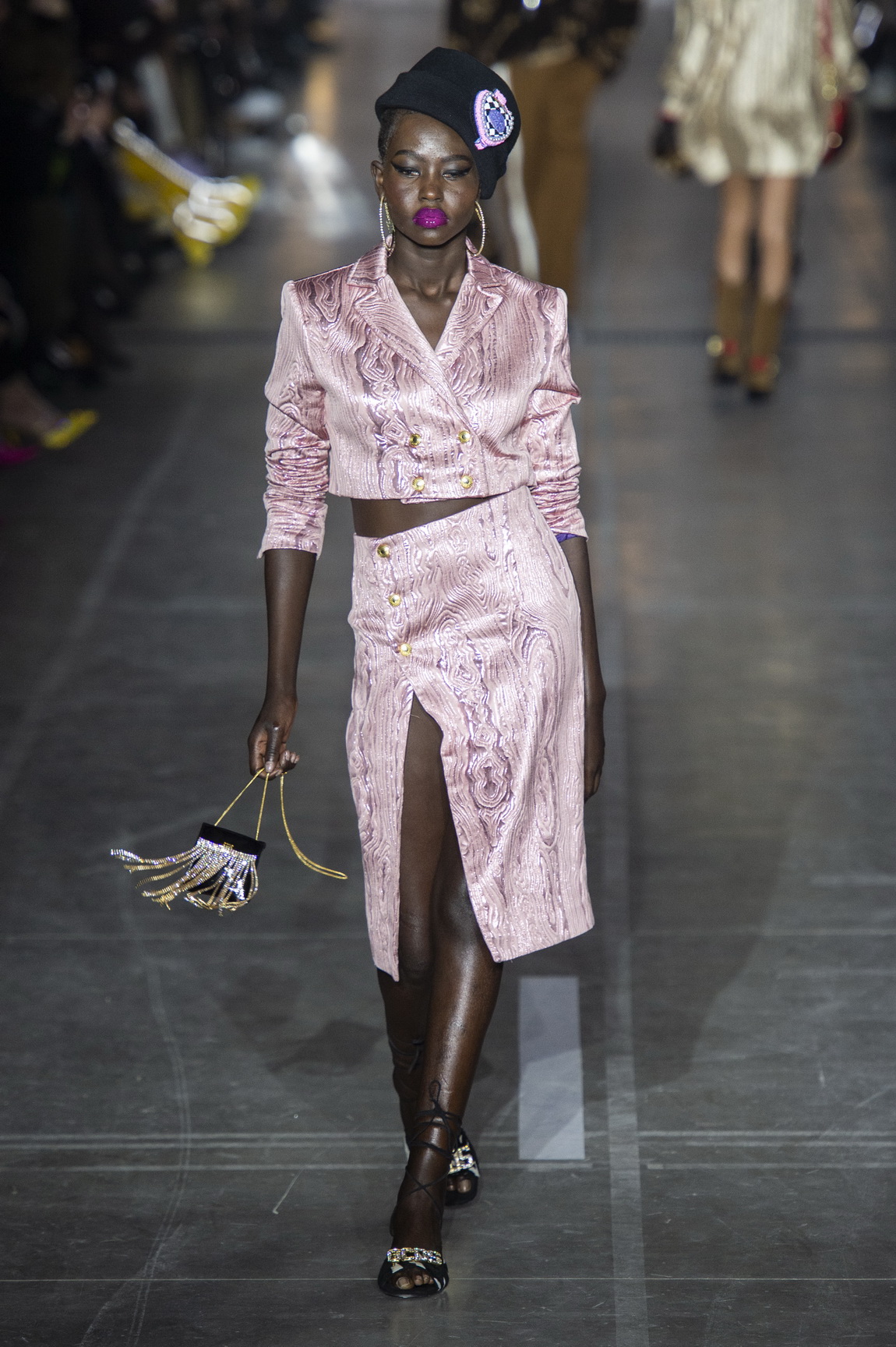 Beyond the madcap prints, logomania, reimagined 80s silhouettes and unexpected collaborations, the thread that stitched the entire collection together is its reaction to how the expectations placed upon society's youth are increasingly destructive forces on both their imagination and everyday reality. Rejecting these harmful pressures, Calza created a safe space palazzo in which beauty blossoms out of the darkness. The concept echoed Donatella Versace's rejection of the fantasy filter we place over our reality and declaration that imperfection is the new perfection. Although aesthetically world's apart, the message was similar: #NoFilter, embrace your truth.
"So many shows don't have messages," Calza explained. "We're fortunate to have a growing number of kids following us, so we want to use our platform to communicate something because it can have a positive impact. Last season we highlighted sustainability and recycling and people listened. Here, I want people to see how social media is affecting my generation. I want people to embrace and share their reality, their conflicts, their truths, their dark desires," he explained. There's no judgement here in the family of GCDS. However bad things are in our lives, there are always flowers just waiting to bloom." Against a backdrop of students skipping school to demand action on climate change, the message is timely.
"We're evolving all the time," Calza added as he took i-D on a tour of GCDS's new studio. "For the first time in my life, I actually own something," the designer explained. "We're building something and this collection is an elevation of what we're known for." The Milan-based brand -- with its name 'God Can't Destroy Streetwear' -- is an evolving case study of just how streetwear is shapeshifting. "Alongside the hoodies and T-shirts, we're having fun playing that bit more." Streetwear has changed. It's always changing. Streetwear is often used interchangeably with sportswear but that's so reductive. Streetwear, at its heart, is everyday fashion, it's what people are actually wearing. It's reality-wear. GCDS is increasingly fusing this reality-wear with fashion fantasy, pushing it into new realms. "Streetwear can be charming, it can be fashion, it can be fun, and it always has to be wearable. I've been criticised for being too playful but that's the world I want to live in."