diana rojas sculpts your favorite gucci, balenciaga, and hood by air shoes in ceramic
The Brooklyn-based artist talks making her own Margielas, and swapping memes with Petra Collins.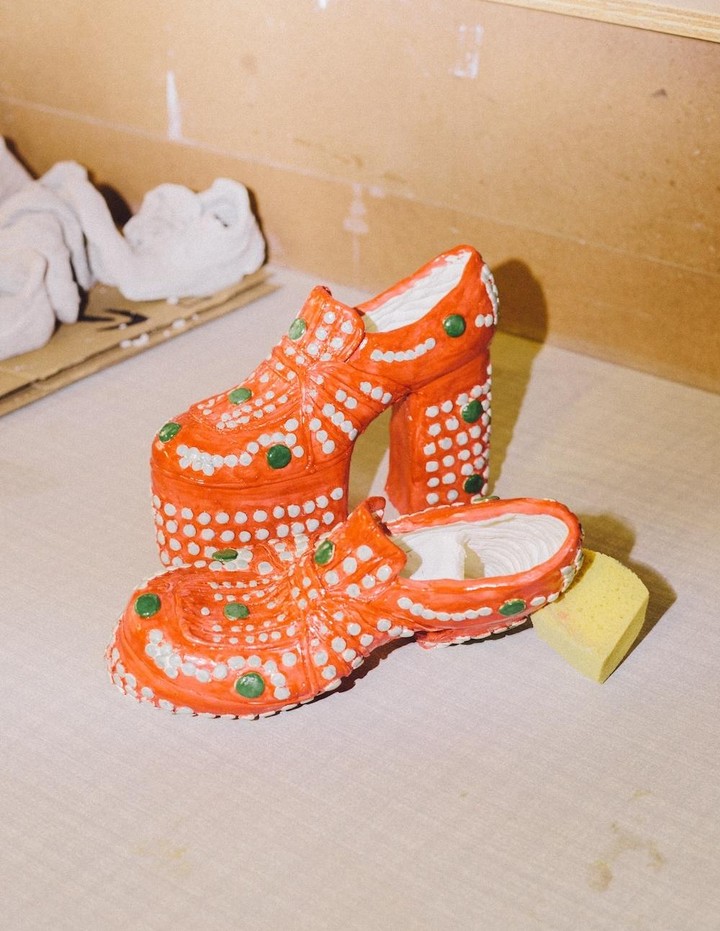 On the afternoon we meet in McCarren Park, Diana Rojas and I are wearing the same sneakers. (Black-and-white checkerboard Vans slip-ons). Hers are caked in the reddish clay dust that coats the floors at Group Partner — the ceramics studio best known for its beloved "boob pots," and where Rojas has worked for the past two years. On her shelf inside the cavernous Greenpoint space sits a third pair of Vans. Except those sneakers are made of clay, not canvas.
"I was walking around SoHo and I kept noticing how many people, mainly in their 20s, were wearing Stan Smiths. It made me become more aware of shoes in general, especially around different areas in New York," Rojas explains. In addition to Vans, she has created Chucks, Air Force 1s, and shell-toe Superstars from clay. "Shoes are very descriptive about a person's life and experiences. What kind of work you do, where you live, what you're interested in. They're great self-portraits."
Lately, Rojas's shoe sculptures have strutted in a more high-fashion direction. She's made Margiela's iconic split-toe Tabi, Hood By Air's banana peel-esque Double Boot, and platforms by Gucci and Balenciaga. Right now, she's researching Vetements's mega-covetable Flame Boot. Each piece is rendered with precise detail (down to the Air Force 1's distinctive lace locks), but Rojas enjoys the clunkiness of her handmade versions. "It's kind of funny to take shoes and make them into dysfunctional objects. I like that these recognizable fashion shoes look very physical — that you can see my thumb prints in them."
Where are you from?
My twin sister and I were born in Colombia, and our family moved to New Jersey when we were about four years old. I always trace back my experiences as a kid — moving here, not really knowing anyone, trying assimilate into American culture, and seeing my parents also trying to assimilate, then finding a community of their own.
What were some of your earliest experiences with art growing up?
Art was my dad's pastime. He works at a factory, so after work he'd come home and make pencil drawings or paintings at his drawing table. He'd sit my sister and me next to him, and we'd try to replicate what he was doing.
When did you start working with ceramic?
Besides playing with Play-Doh, I had never really experimented with it until my sophomore year in college, when some friends started working at the Pratt ceramics studio. I think the reason I found it so attractive was because it reminded me of my mom, and when she would make masa for arepas. It had a nostalgic feeling for me, and sort of brought me home.
How did you begin working at Group Partner?
I met Isaac [Nichols, Group Partner's co-founder] at a gallery show. I went up to him because I was familiar with his work, and I told him how much I liked it. He asked if I wanted to come visit the studio, and told me he needed help painting [the pots]. It was summer and I had a lot of free time, so I went by. It was one of those This is what New York City's about moments. I've been working there for two years now, and I've moved on from doing painting to doing customer service and business stuff. It's cool, because it gives me a lot of insight into a small business. That's something my parents have always dreamed of doing — having a small business in America.
Creatively, where do things start for you? How do you get inspired?
Ceramics is a good way of documenting. It's been around for so long; some ancient pieces have been found from 24,000 BC. I'm really interested in the history of it, and tying it back to today by making contemporary objects. So I often start by thinking about clay itself — knowing that it's technically mud. With ceramics as a medium, you're sort of making something out of nothing, and I think that's really funny.
You made a zine of ceramic turds positioned around the Pratt campus that made me laugh a lot.
I wanted the poops to have more "longevity" by making them out of ceramic. So that I could move them around, touch them, make them into faces. I feel like that's comical, and I like to do work that makes me laugh. The shoes come from a similar place: from humor, and from thinking about ceramic itself. It's kind of funny to make something we walk on — something that's typically on the ground — out of the ground.
How do you choose which shoes to make?
I definitely do some research. The Balenciaga boot was the first high fashion-inspired shoe I made, apart from the sneakers. I was like, "Wow, these are really beautiful pieces as objects, not even just as shoes." What I like about those shoes in particular — the HBA boot and the Gucci platform loafer, which I think is absolutely beautiful — is that it's funny seeing them translated as a clunkier version. I was looking up Eckhaus Latta online, and I saw this one shoe they did that was like a sneaker stack.
Oh yeah! I was at that show; everyone flipped when they came out.
They're so cool. It inspired me to try deforming the shoes I already make. I've started throwing the shoes to create stacks, not really copying [Eckhaus's] particular stack.
One of your shoes was featured in Petra Collins's In Search of Us performance at MoMA. How did that come about?
She knew of my work because she's friends with Isaac, and has come by the studio a little bit. We initially connected through social media, and keep in touch by sending each other dog memes on Instagram! I was so honored to be in the show, because I love her work, and I loved the idea of that particular tableau. It was a surreal experience for me — getting to work with people like Petra and all of the female artists she chose to showcase. Also, Junglepussy performed, which was amazing! Her Instagram stories are hilarious.
What's up next for you?
I've had this idea of working on the Vetements Fire Boots, but at a very large scale. I want to make the pair and shoot it almost like a performance piece — maybe using a model and studio lighting. That's sort of where my head's at.
Credits
---
Text Emily Manning
Photography Nathan Bajar