australia's young, weird jewellers
Meet i-D's favourite young jewellers. Careful, they're white hot.
A jeweller's job can be a solitary one. Unlike their cousins in the world of fashion design, there's no fanfare-filled fashion week for silversmiths, no explosive Cruise presentation inviting us to celebrate their soldering. For independent jewellers, word-of-mouth testimonials substitute glossy ads; and there's not a Princess cut diamond in sight — but brilliance abounds. Australia's young jewellers deal in imperfect geometry, serpentine shapes, and silver twisting like seaweed: more Lewis Carroll than Cartier. We felt it was high time to pull back to celebrate this new, independent generation of talents crafting totally singular gems. Here, i-D speaks to four Australian jewellers with a vision all their own.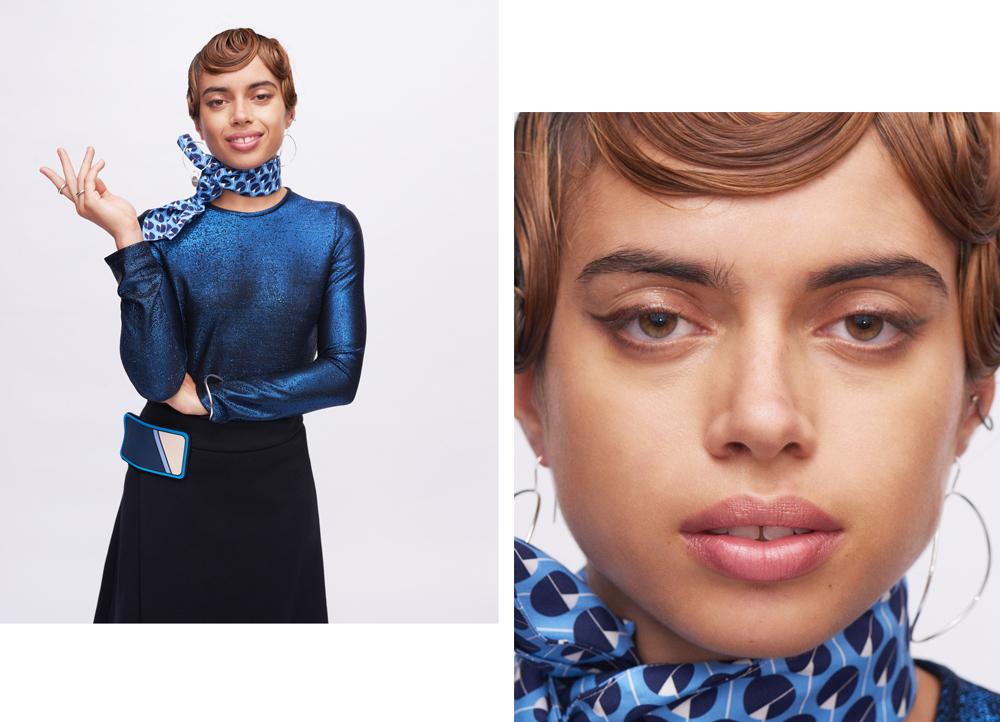 What's your name, what's your practice?
My name is Momoko Hatano — I am a jeweller and designer.
Can you share your first memory of jewellery?
My earliest memory of jewellery is playing with my mother's. Her style is actually quite minimalist and classic — a white shirt and denim kind of gal back then — but she always wore silver hoop earrings and a simple gold chain. When she wasn't wearing them, I would play pretend mum with them. I just loved the weight, the movement, the lustrous shine they had. I think it signified adulthood to me back then. It must have had an effect on me because I always wear hoop earrings now and my last collection, Arch, was all about re-imagined hoop earrings. We all fear turning into our parents and it seems like I am!
Every art has its challenges. Jewellery, I imagine, isn't just creatively tough, but labour intensive too — the heat, the science of it! Where does your practice challenge you the most?
Making jewellery really tests your patience — you have to be meticulous and super strategic — and I think I used to struggle with that because I just wanted to make things quickly. There are so many steps to follow until a piece is complete and if you make a mistake halfway you just have to start all over again. Before I used to try and avoid labour intensive techniques like soldering multiple joins and saw piercing, but now I embrace it as an essential part of my jewellery practice and I've come to enjoy the challenge of it.
Is there a famous piece of jewellery, or a historical one, that you really love?
I love tribal jewellery. Although it's aesthetically very different from what I make, I love traditional Moroccan Berber jewellery, Hmong jewellery, Tibetan and Afghan jewellery for their boldness, the intricate filagree, the colourful beads and enamel inlays, the inscriptions, the use of coins, the scale and the way it drapes and totally envelopes the wearer. I love that the jewellery is the focus of the outfit.
Is there a person you often imagine your jewellery on?
My absolute fantasy would be Solange and her crew wearing my earrings in the Cranes in the Sky video clip, or if Rei Kawakubo asked me to custom create a collection for her runway. That would be just fine too.
What single piece feels quintessentially you?
Hmmm, so hard. I really like the Two Way Tangle earrings and the New Moon earrings. I think it's a reflection of me in some ways because it's versatile — you can take them apart and wear them as simple bar studs or classic hoops, or wear them in a more embellished way. That's usually the way I dress as I'm either at the studio, looking rough and messy, or having to quickly scrub up to meet a client. I also like clever designs that surprise the wearer and transform depending to their style.
Which Australian jewellers, thinkers, singers, activists or artists are inspiring you right now?
Joao Vaz. He is a Sydney based jeweller, a dear friend and my studio buddy. I am always inspired by his relentless pursuit for innovation. His work is beauty and madness combined. I also admire Australian singer Nai Palm, she has an amazing voice and is a beautiful lyricist, but most importantly, she is authentic. And at such a young age she has really made a place for herself internationally.
What's your name, what's your practice?
My name is Seb Brown and I am a jeweller and artist.
What's your first memory of a special jewel?
My grandma had all these really cheap plastic clip-on earrings in the dress-up box. Me and my sister and our cousins would dress up as Aladdin characters and I would attach the clip-ons all over my face and ears. Also, Mum has a frosted beer coloured Lalique ring carved from crystal — I guess that made me think anything can be fancy.
What's the biggest challenge you face at work, day-to-day?
I am the designer, maker, photographer, stylist, PR, accountant, delivery boy, intern, tech person and secretary. I used to get so stressed managing every side of the business, but now I'm able to manage my time a lot better. The hard part is making it look easy breezy when you're constantly doing 12 things! The best part is that I get to spend a lot of time at the bench honing my skills, so I'm constantly learning. A designer friend once said to me "We're not saving lives," and when I'm stressing about something I remember that.
Is there a historical piece that you really love?
I'm really interested in jewellery and objects from antiquity. I saw an Avar (ethnic group from the Caucasus) goblet lid made from gold at The Met in NY, it was the essence of simplicity, just a large disc with a tiny hole in the middle and it was from 700AD, obviously pre-dating modernism, minimalism etc. It's not jewellery, but I am fascinated by Australian Aboriginal scarification; I haven't been able to find out a huge amount about it, as it isn't documented that much, but I'm keen to learn more about the symbolism of repetitive mark making and incision as adornment.
Do you have a dream client?
The people I imagine wearing my jewellery are wearing it! It's such a compliment every single time someone forks out the cash for a piece of my work. Sometimes I imagine one of my rings being dug up by a post-apocalyptic archaeologist drone in 500 years.
Okay, this one might be tough. Which single piece that you've made feels quintessentially you?
Lately I've been making gold serpent rings with ruby and diamond eyes. The snake in Victorian jewellery represents eternity and wisdom, and I worked out that a snake's head is basically a series of interlocking flat surfaces. This mixture of my love of geometry and symbolism makes me smile.
Which Australian artists are inspiring you right now?
I'm totally obsessed with Spike Fuck at the moment! Anna Varendorff is really true to her own aesthetic and embodies the artist-as-maker in such a classy way. She's not Australian but I love how Vivienne Westwood uses fashion (generally vacuous and apolitical) to push her climate change agenda, this is a dichotomy I really struggle with; how to reconcile making and selling objects to the detriment of an environment which we are steadily destroying. I also love Reko Rennie's 'Always Was, Always Will Be' art tram for the Melbourne festival.
What's your name, what's your practice?
Danielle Karlikoff, but my mum calls me DK. For now my practice mostly involves making custom jewellery with my hands and visuals with my computer.
Can you share your first memory of a special jewel?
I was always struck by the jewellery that came with Barbie-type dolls. I preferred the accessories to the dolls themselves. I remember connecting to this fake jewellery far more than the jewellery adults wore.
Are there elements of your practice that you used to wrestle with, yet don't anymore?
The most challenging part is also the most exciting. Because I only make custom pieces, and have only been doing so for less than a year, every piece is often a new technical or stylistic venture. I often have to research and investigate the best way to go about it before making it. Lucky, I'm surrounded by a few very experienced jewellers in my studio at Fitzroy Place who are always giving me vital tips of the trade! Shout outs to Cesar Cueva and Carla Maxine Jewellery.
Is there a famous piece of jewellery that you're captivated by?
The heart of the ocean necklace from Titanic of course! Simply stunning.
Is there a scene you often imagine your jewellery in?
Andre Leon Talley, Bjork, Arca, Chloe Sevigny, Serena Williams, Anohni and Nick Knight sit down at a function dinner table only to realise they are all wearing a commissioned piece by yours truly.
Can you name a single piece of your own design that feels quintessentially DK?
That would easily have to be this Swiss Topaz snake choker I made for myself on a bit of a whim. I saw this piece of square wire which had been sitting on my bench for months and it happened kind of instantly. Nobody had commissioned a choker so I thought I would keep it. I don't often wear jewellery; I'm so busy physically making it that it's kind of impractical, but the choker feels just right.
Which Australian artists are inspiring you right now?
Artists who are creating their own paths such as the heavily underrated Instagram accounts of @24__KT and @livetrendzsydney.
What is your name, what's your practice?
Sarah Gittoes, Founder & Creative Director of SARAH & SEBASTIAN.
What's the first piece of jewellery you remember falling in love with?
My nanna always wore a beautiful gold charm bracelet, and I vividly remember it being weighed down with so many charms that I could barely see the chain. I used to marvel at the intricate details of each charm — a tiny birdcage, a pair of sewing scissors, a piece of coral, and a tiny elephant to name a few. Every time I visited her, she would share a story about a particular charm, telling me when and why she had added it to her collection; it was like a storybook hanging around her wrist.
What's the most challenging aspect of making jewellery?
I wish I had fire resistant hands! I would love to be able to hold pieces of metal together when I solder complex combinations. It's incredibly time consuming to assemble elaborate structures, and so heartbreaking when a prototype collapses. Experience has taught me to be patient and to persevere, and I'm very lucky to have a team of talented jewellers at SARAH & SEBASTIAN HQ to share their knowledge with me.
Is there a famous jewel that you're obsessed with?
Not a particular piece, but rather a period of jewellery design: Etruscan. I love the rich gold, the metal forming and detailed decorative techniques, especially granulation. This period inspired a small series of pieces available in July.
Is there a scene, or a city, you fantasise about seeing your jewellery in?
For me, it's more exciting to see people on the streets wearing SARAH & SEBASTIAN. I love the thought of our jewellery being treasured, something that feels so natural it becomes an extension of your body.
Are you able to name a single piece of jewellery that feels truly you?
This is very difficult to say, as every piece I design is quintessentially me; inspired by a memory, a mood or an idea. I will always treasure our Line Earrings as these were one of the very first pieces we designed and so many of our loyal customers have their own pair. More recently, I find myself wearing our Large Diamond Egg Earrings on high rotation.
Credits
---
Photography Jack Grayson
Art direction Charlotte Agnew
Hair Stavros Georgoulas
Makeup Corinna Wilmshurst
Model Ebony