giphy culture editor jasmyn lawson is making gifs more black
And they're not all of Beyoncé flipping her hair or eyerolls from "Love and Hip Hop."
|
05 January 2018, 11:01pm
"I said what I said," Jasmyn Lawson is yelling at me. No, we're not in the middle of a heated argument. Jasmyn is acting out a GIF we both love: Real Housewives star Nene delivering an instantly quotable line after Kandi brings up her long history of shady comments. Much to my envy, Jasmyn gets to spend a lot of time turning scenes from The Real Housewives of Atlanta into GIFs. Clips of hair flipping, awesome one liners, and finger pointing. It's how she's improving diversity on the internet. As cultural editor of GIPHY (the New York-based startup that runs the internet's largest GIF database), Jasmyn turns iconic moments from black culture — like those groovy dances from 70s Soul Train episodes — into the GIFs we all text, tweet, and reblog. Basically, Jasmyn gets to make the world of GIFs a little more black.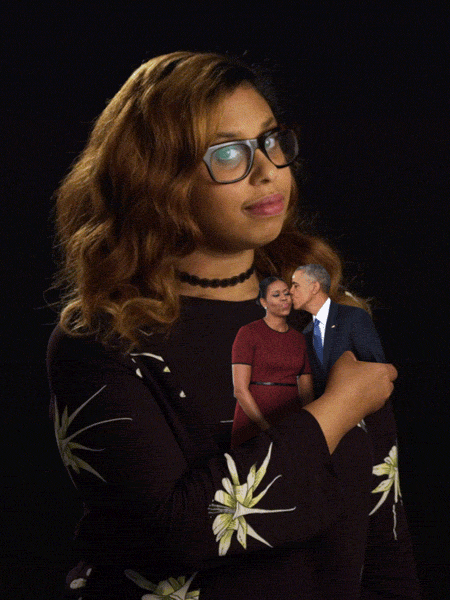 Everyone from the New York Times to Bernie Sanders uses GIFs. But if a minority wants to send a GIF of someone who looks like them, there is a dearth of positive options. For example, GIFs of black women — frequently pulled from controversial reality shows like Love and Hip Hop and Bad Girls Club — often reinforce negative stereotypes. Jasmyn is working to provide POC users with a broader spectrum of choices. She explains the power of pop culture GIFs like this: "You take a scene from Insecure of Issa's friends, Tiffany and Kelly, laughing with each other, and suddenly you have an image of black women together in friendship. That's the way I look at stuff."
This unique blend of humor and purpose is what makes Jasmyn's work so important. On a daily basis, she works to improve GIPHY's offering of diverse, inclusive GIFs and users' ability to easily find them. For Black History Month each year, she curates GIFs that celebrate the wide-ranging black experience. And sometimes she creates original content, too. "Last year, I worked with the GIPHY studio to curate a group of black artists," she tells me. "We created a project that highlighted black hair and the different textures we have. The experience of living with our hair: whether it's taking out our braids, going to the barbershop, or removing your head scarf at night."
How exactly does someone get a job in GIFs? Jasmyn fell into the job naturally. Before GIPHY, she worked at an ad agency and created GIFs for clients. "Then GIPHY visited our office in early 2016," she says. "They showed us everything they did on the site. I was blown away." Just a few weeks later, Jasmyn came across a hiring announcement on Twitter posted by her current boss at GIPHY. "He was like, 'Come be the Nicki to my Beyoncé.' I was like, 'Done! But I hope you know if I get the job I'm the Beyoncé and you're the Nicki.'"
As a member of GIPHY's editorial team, Jasmyn found herself attracted to projects dealing with identity and inclusion. "It's definitely been a hot topic in the media for the past few years," she says, "but it's something that has been close to my heart all my life." She quickly discovered her driving mission was providing better representations of black women. "Let's go deeper than GIFs of Nicki Minaj, Beyoncé, and Rihanna," she says, raising a challenge to the tech world. "I want to have GIFS that represent all types of black women: light-skinned, dark-skinned, heavy set, different sexual orientations, trans. And really make sure all the different sects of a certain minority group is being represented well in the media."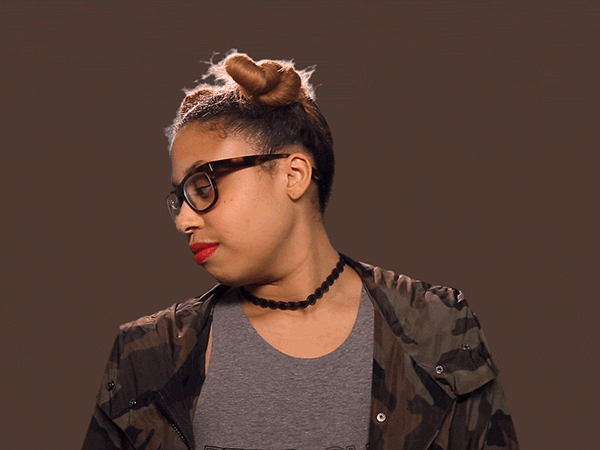 Being a black woman in the tech industry isn't easy, Jasmyn confirms. For starters, there aren't many. A 2016 Women In Tech report found that only 3% of tech jobs are held by black women. "It has been hard because there are so few of us and little access to opportunities," she says. "This is my first time working at a startup and really being a part of what's traditionally called the 'tech world.' It's been exciting to really find my own voice at a place like GIPHY and have people around me amplify my voice. To really speak up and share my ideas and not make myself feel small." And Jasmyn says she's trying to amplifying other peoples' voices too. "Anytime I know of a job here, I try to extend that opportunity to my own community and help it diversify and grow. I think the important thing for anyone in any job to know is that you can never be too inclusive."
In 2017, GIFs were how a lot of us found small laughs in an otherwise troubling political climate. GIFs of Maxine Waters yelling "Reclaiming my time!" became our inspo and the savage GIFs we live-tweeted during James Comey's testimony offered some relief and a sense of community. "During the hearing, I kept seeing people use the GIF of Kandi from Real Housewives saying, 'THE LIES THE LIES!'" Jasmyn laughs. She says it's been interesting to see GIFs merge with our culture in a new way during Trump's presidency. She's added news programs to her already long list of GIF-able viewing. When we chat, Jasmyn is keeping tabs on Omarosa Manigault's departure from the White House and the flurry of GIF-worthy reactions on television. One standout: a GIF of Leslie Jones playing Omarosa in an SNL skit and performing a hilarious reference to that iconic Say Anything boombox scene.
Jasmyn always has her eye on the next GIF-able moment, the next opportunity to give her community great content. "I am just one person, and it's really hard to make a dramatic improvement," she says. "But the little bit I can do each day in terms of helping others feel heard means a lot." And, apart from the roaring laughs and stellar shade, this is what GIFs have given our generation: a new way to share our voices.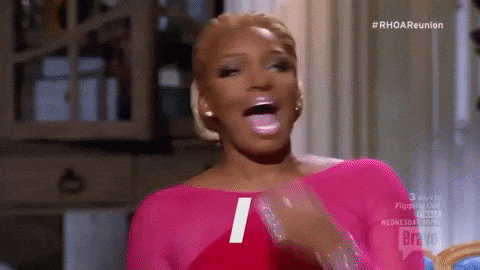 Tagged: