cottweiler go deeper underground for autumn/winter 18
The London duo's night at the museum saw them go on a journey into the centre of the earth this season.
|
07 January 2018, 11:55am
So what's up with London menswear at the moment? It was the question doing the rounds again on the opening day of the autumn/winter 18 shows. The schedule shorn of most of the biggest names, the big advertising spenders, and pared back to three days. No Burberry, no Vivienne Westwood, no J.W.Anderson, no Martine Rose, no Christopher Shannon… The remaining lights have to burn a little brighter. If the opening morn felt a little flat and quiet, it roared into life at the close with Liam Hodges and Cottweiler, two brands who display exactly what London's menswear scene does best. Two brands rooted in the city's subcultural energy and full of it's youthful vitality. Infinitely wearable but conceptual rooted and bursting with ideas.
Cottweiler, especially, find themselves in the most interesting situation of their contemporaries. Having shown their collaboration with Reebok at Pitti and picked up the Woolmark prize, their last 12 months have seen the brand grow beyond their cultish fandom.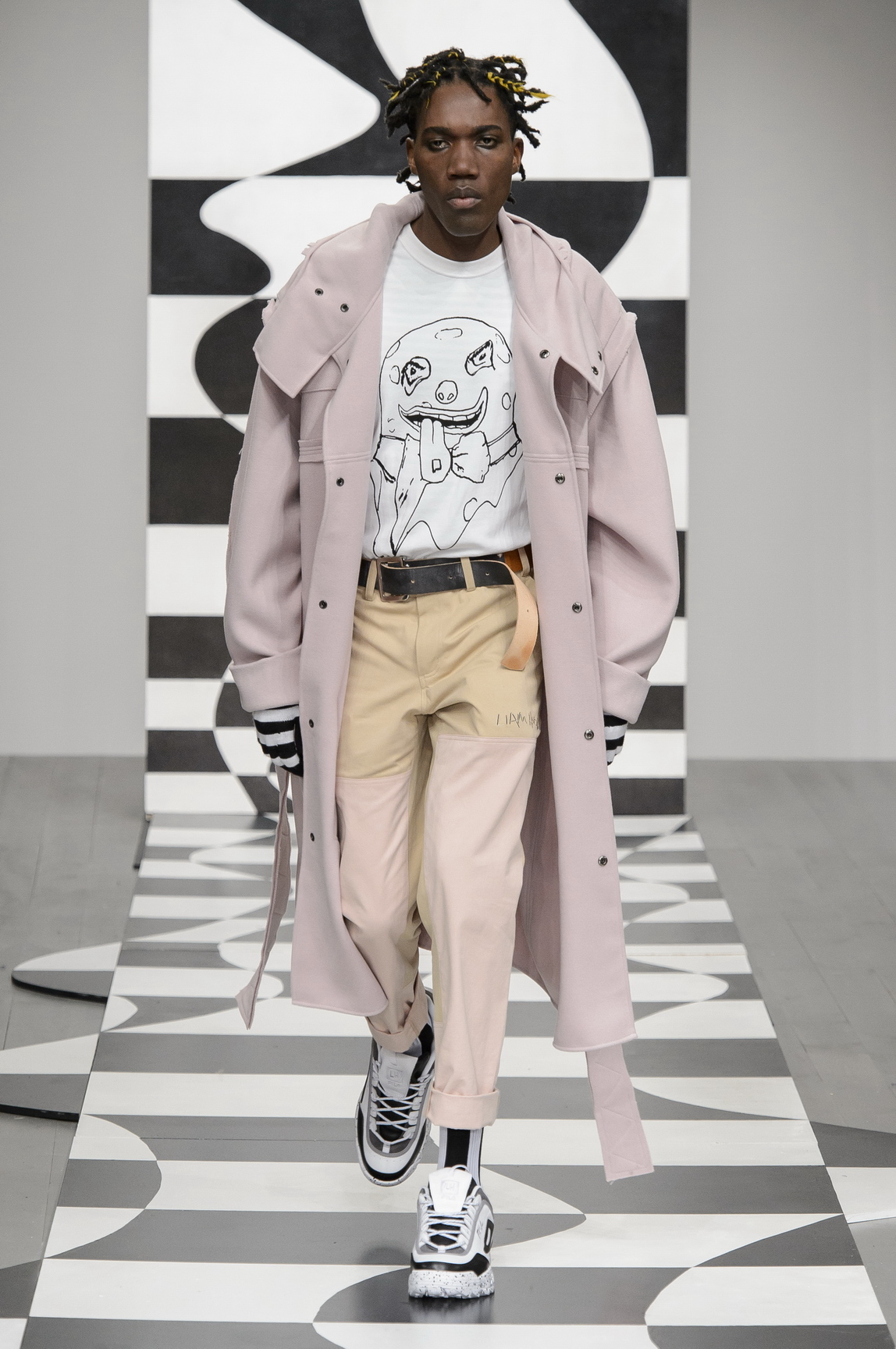 Their autumn/winter 18 show was very Night at the Museum, taking over the Natural History Museum. Closed for the night it was eerily empty. Walking through a deserted foyer, a dinosaur skeleton casting long shadows on the walls, displays covered up for night. The catwalk was set up in the museum's earth room, a long narrow corridor lined with low-lit displays of fossils, shells, crystals and rocks, dredged up from the depths of the earth. You were forced up close to the clothes as the models walking a mercilessly fast pace through dim light. The soundtrack by Palmistry and Kamixlo -- a pounding whirl of bass heavy 4x4 beats and prehistoric folkish wailing -- set the thematic tone.
Because Cottweiler -- for all the synthetic futurism and the brand's early overlap with the digital art scene and sense of urban dystopia -- has always been about the spaces where natural and manmade overlap and clash: "exploring the space where the future, technology and nature meet", they said backstage.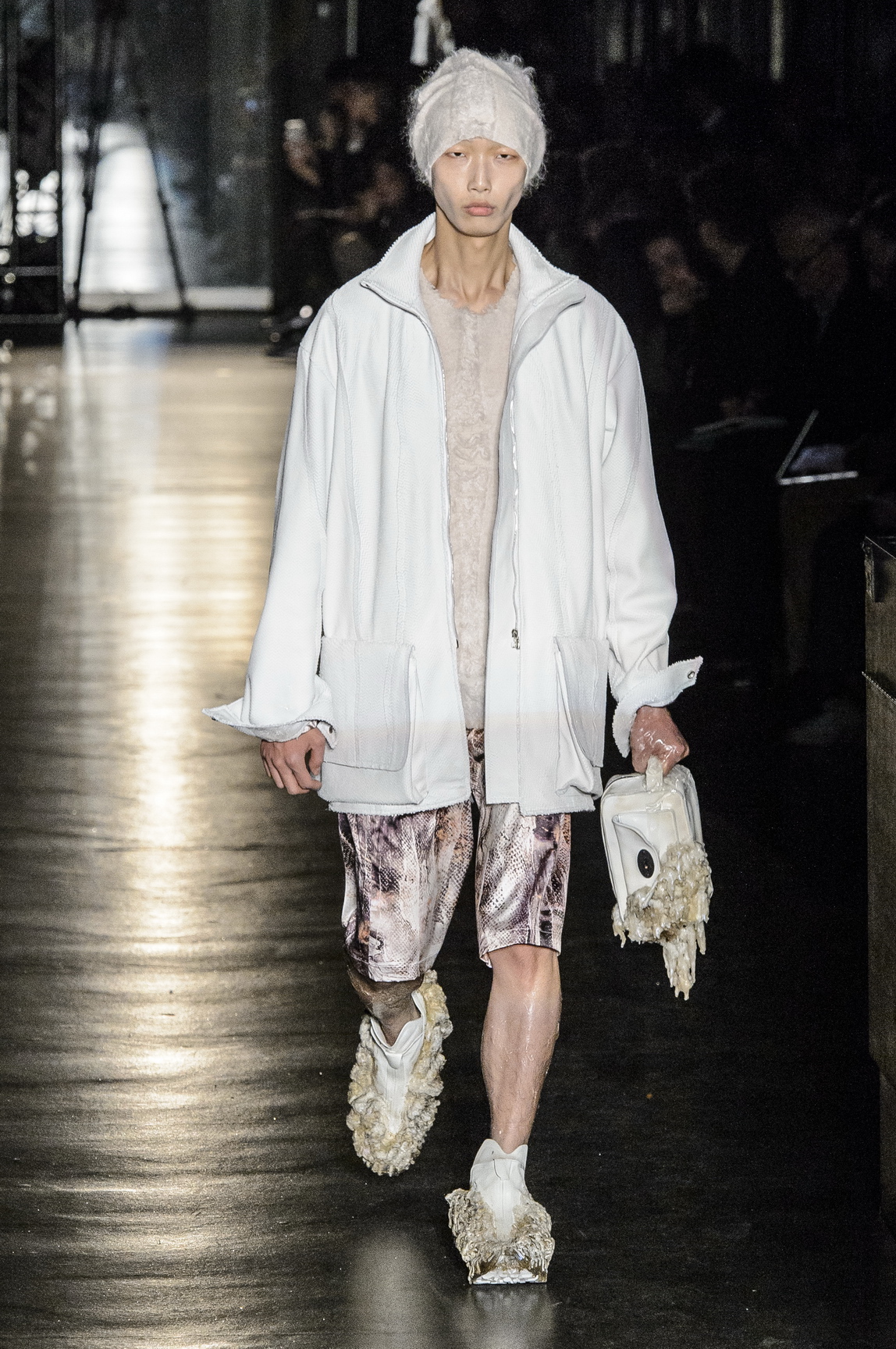 For autumn/winter 18, it was less focussed on the urban side of that equation, and instead headed subterranean, with designers Ben Cottrell and Matthew Dainty drawing inspiration from a caving holiday they went on in Eastern Europe. This became the basis for the collection, which eschewed synthetic fabric, relying on merino wool, handworked leather and printed silk.
They were working in clashing textures and sympathetic layering, and stepping away from the more minimalist moments of their last few seasons. Prints came via photographs the duo made on their trip, becoming abstract patterns on silk. The colour palette, too, grew out of it; luminescent and phosphorescent greens rubbing against deep dark greys and plunging black voids.
"We're always pushing forwards in terms of the fabric", Ben explained, "and trying to make it super technical, but this season we're using all natural fabrics. It came through our partnership with the Woolmark company. We spent the last six months really exploring the technical possibility of wool, and trying to present that research in not an obvious way. The last few seasons we've been very minimalist in what we do, but I think for us now, it's about texture, it's about layering, it's about something a bit more luxurious."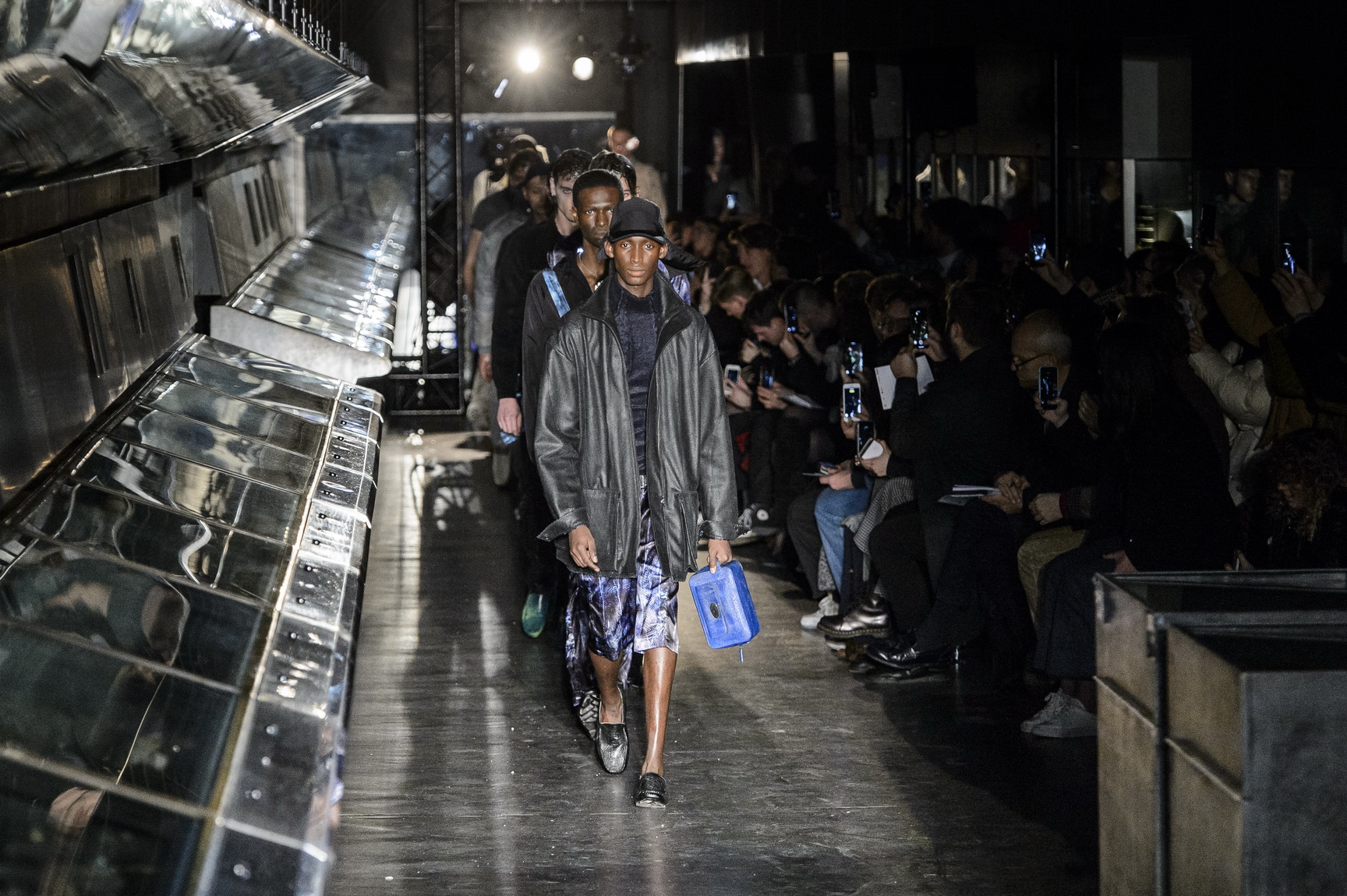 Credits
---
Photography Mitchell Sams