turns out stephen king loves the 'picnic at hanging rock' remake
He recommended the Australian thriller to his five million Twitter followers.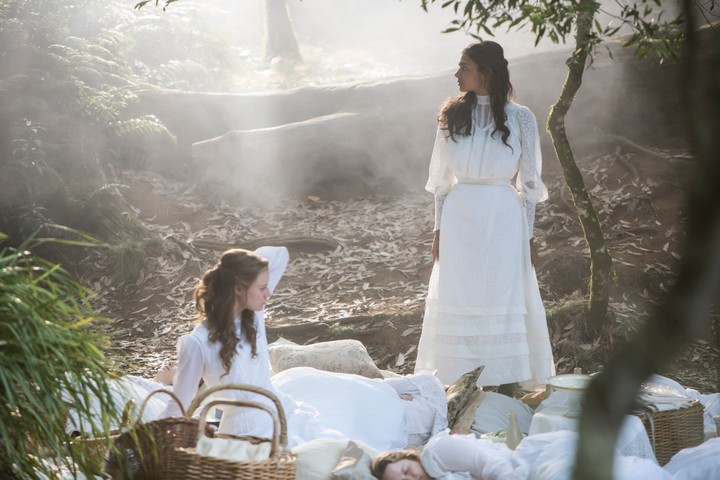 Miranda (Lily Sullivan) and Marion (Madeleine Madden) Photography Sarah Enticknap
Picnic at Hanging Rock is one of Australia's most well-known and loved tales. Written by Joan Lindsay in 1967, it tells the story of a group of Victorian-era schoolgirls who vanish during a visit to Hanging Rock (which is a very real place) on Valentine's Day. Playing into the ambiguity of truth, the story remains a parable devoted to our deepest subconscious fears.
When Peter Weir's film adaptation came out in 1975, the story touched an even wider audience. With its ethereal visuals of young girls in floaty white dresses and straw hats, it also inspired many a fashion collection, not to mention the very specific look and feel of Sophia Coppola's dreamy 2000 hit The Virgin Suicides.
This year saw yet another Picnic at Hanging Rock remake, with Foxtel commissioning a six-part television series closely based on the original. A cast of incredible young Australian actors took lead roles opposite Natalie Dormer, one of the only American imports, who played headmistress Mrs Hester Appleyard. Widely watched in Australia, the series may be about to enjoy a spike in international traffic after Stephen King took to Twitter to tell his five million fans about the show. He wrote, "If you liked SHARP OBJECTS, you'll like PICNIC AT HANGING ROCK even more. It's spooky, atmospheric, beautiful." We couldn't agree more.