Photography Nicki Krecicki
nikki krecicki photographed this year's pratt collections on her 91-year-old grandmother
"Jane was so amazed by the creativity and technical skill of the garments I photographed her in, so it was fun experiencing that excitement together."
Photography Nicki Krecicki
Fashion has always looked to the past for inspiration, but young designers appear increasingly drawn to the specific histories of their own families. Emily Bode has reinterpreted vintage quilting from her great-aunt's attic in South of France for presentations at New York Fashion Week. Saint Laurent muse David Friend drew on his upbringing on an Arabian horse farm for his first collection as Worstok. When looking through the May thesis collections from Pratt graduates this year, Nikki Krecicki noticed a similar theme: the majority of designers were influenced by their own family and grandparents. That fact struck a chord with the New York-based photographer. Nikki has spent the last few years developing a personal series titled Jane & I, a collaboration with her 91-year-old grandmother Jane, the former personal secretary of Albert Einstein. This summer, Nikki took the collections of three standout Pratt grads — Anderson Osmun, Rachel Lee, and Jeremy Woods — back home to North Carolina shoot them on Jane as an extension of this ongoing series.
Each of the Pratt grads weaves family heritage into collections that still feel modern. Wood uses traditional craft processes to create delicate knits with hand-adorned details. Lee's collection is inspired by the women who influenced her while growing up. Osmun is a self-described "textile dork" with an artfully structured brand of retirement home chic. "All of these collections together told an intimate story of the past," says Nikki, "and felt applicable for Jane & I." i-D talked to the photographer about how working with Jane has brought them closer together, and why the Instagram generation feels increasingly connected to family history.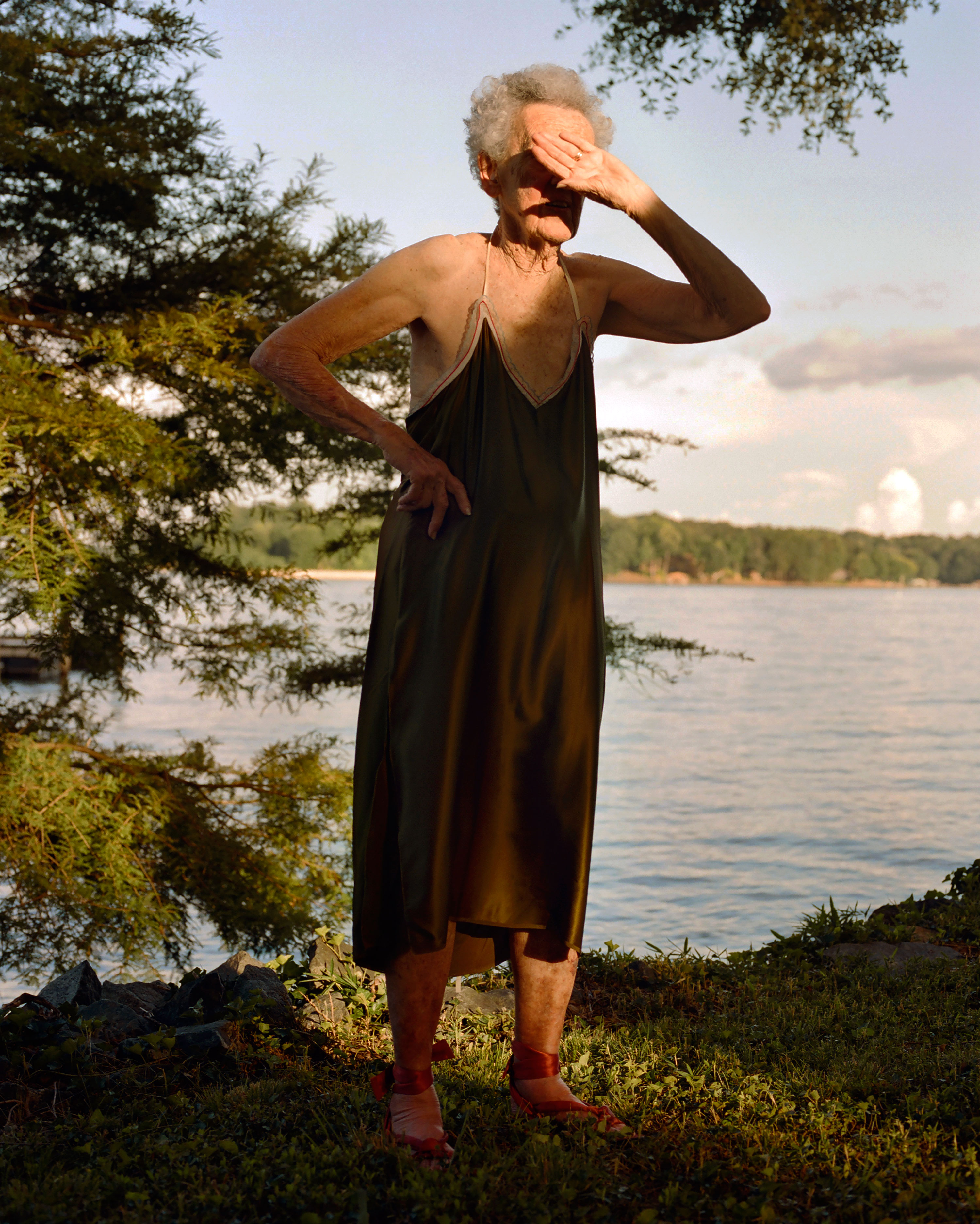 Why did you choose to incorporate the graduate collections into your ongoing series with Jane?
For the last four years, I've followed the May thesis runway shows and reached out to the seniors whose collections spoke to me. The Pratt students are some of my favorite people to work with; their collections are beautifully constructed and also so playful. This year I fell in love with the idea of putting some of the collections on my grandmother, blurring the lines of what age is allowed to wear what. Jane was so amazed by the creativity and technical skill of the garments I photographed her in, so it was fun experiencing that excitement together.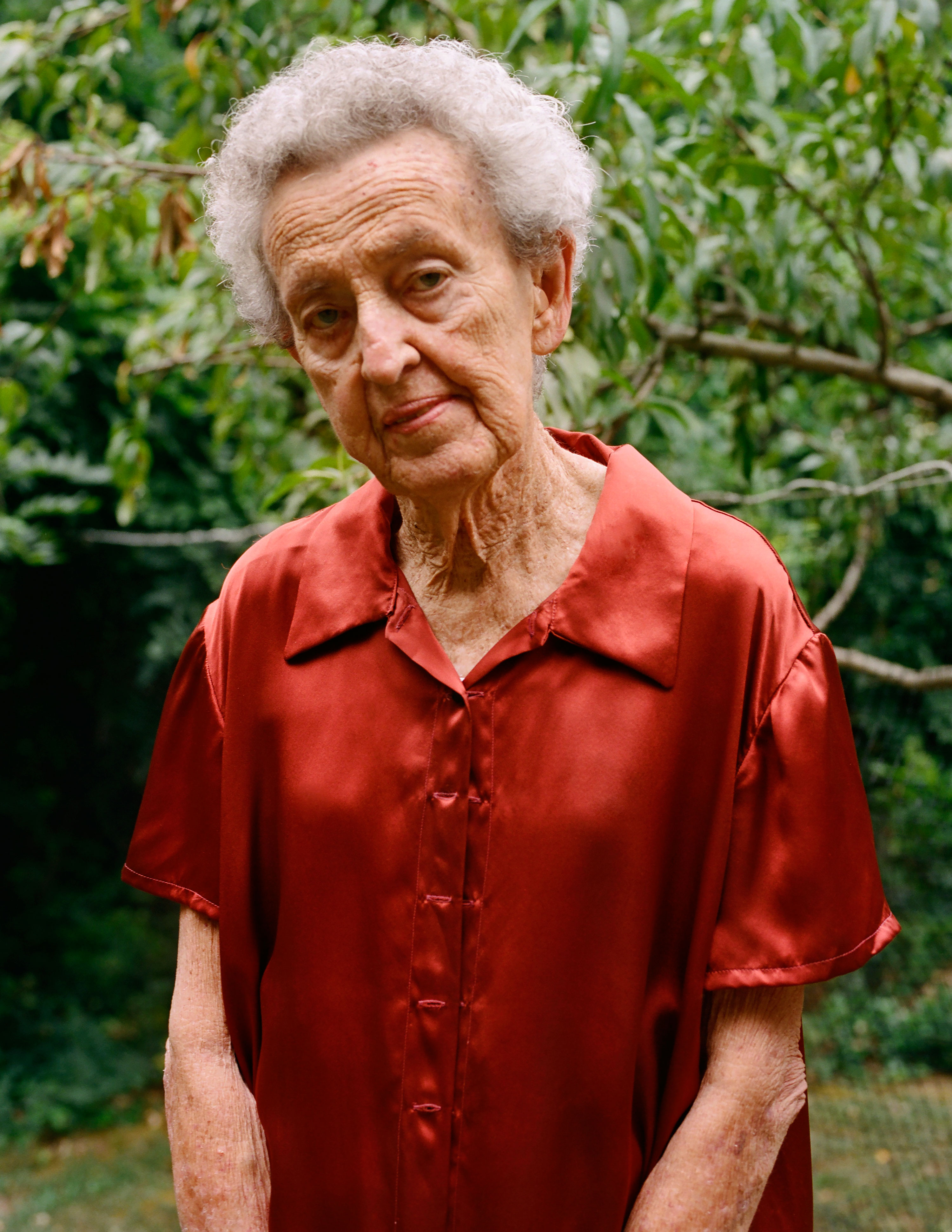 What does Jane normally wear? Has her approach to fashion changed as this project has progressed?
Since my grandmother was young, she used fashion as a stance for equality. As an 11th grader in 1944, she gathered up all of her babysitting money and bought her first pair of trousers. She got permission from the school to wear the trousers to class and used this moment as a fashion statement. Jane was and is tall and slender, standing at 5'11". She wanted to celebrate her height instead of downplaying it. With the series "Jane & I," we both view it as an opportunity to continue making statements, pushing past the boundaries of age. To this day, she can be found in a pair of trousers and a blouse, but she is happy to swap those clothes for a chance to dress up.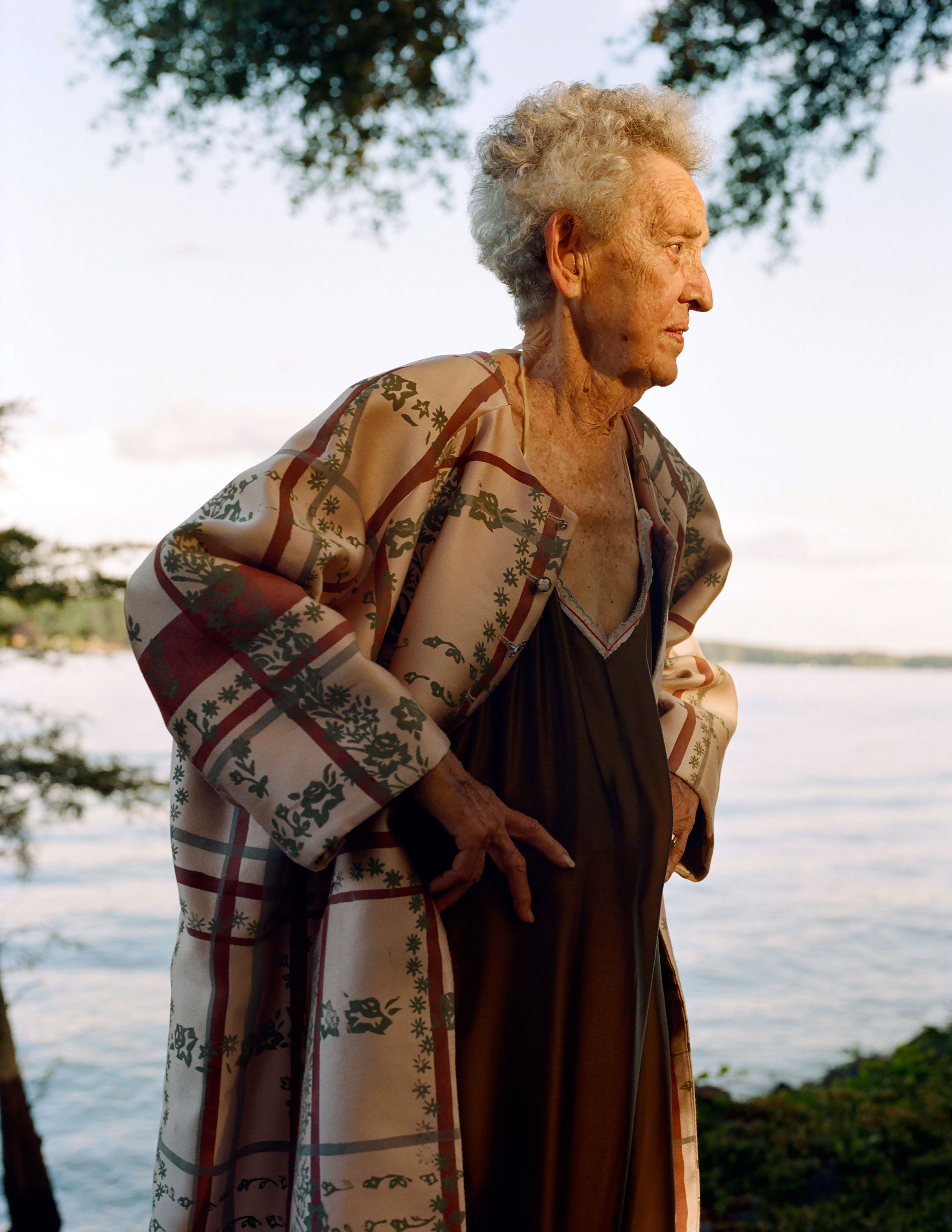 How has photographing Jane changed your relationship with her?
With this series I was able to portray myself through my grandmother. My own youthful characteristics are projected onto her aged body. The past four years photographing her, helping her get in and out of the garments, has strengthened our bond. I see a lot of myself in my grandmother both physically and emotionally. I want to embody the spirit and the thirst for life she still maintains at 91. It has also been incredible watching her own self-worth evolve through it all, which is what I strive to do with with all of my subjects. Ultimately, this project has shown me how much she loves me.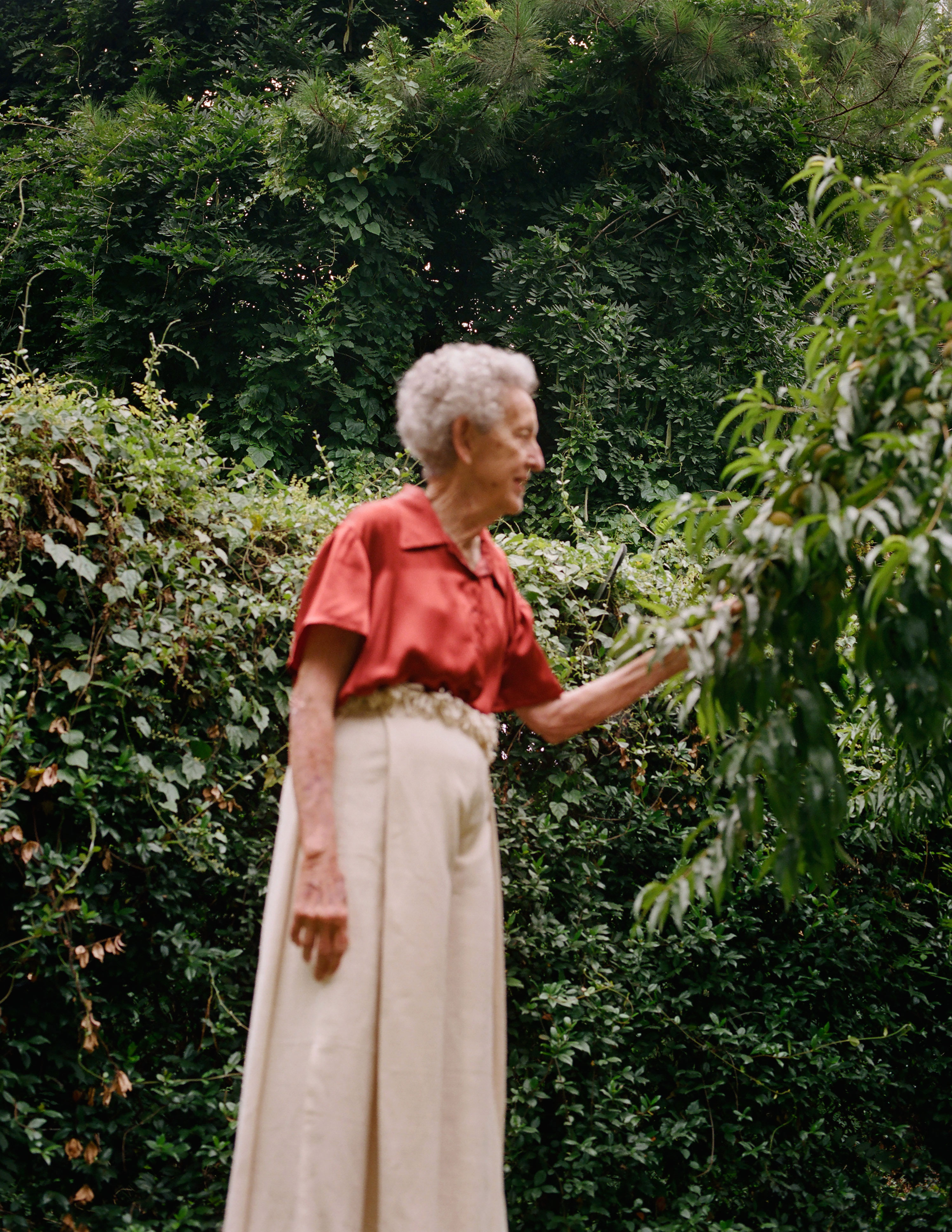 How has it changed your relationship to North Carolina?
I've always loved North Carolina, but now I long for it, especially where my parents and grandparents live. They invest so much love and care into their garden. I love walking out to the garden barefoot with the buzz of cicadas and the overwhelming sense of peace. It's an oasis for me whenever I visit. I love picking peaches and tomatoes in the humid air. North Carolina is now the place I look forward to photographing all year long.
Did Jane have a favorite piece from the shoot?
The piece that really stood out to all of us was Osmun's dusty pink plaid coat, hand painted with floral plaid.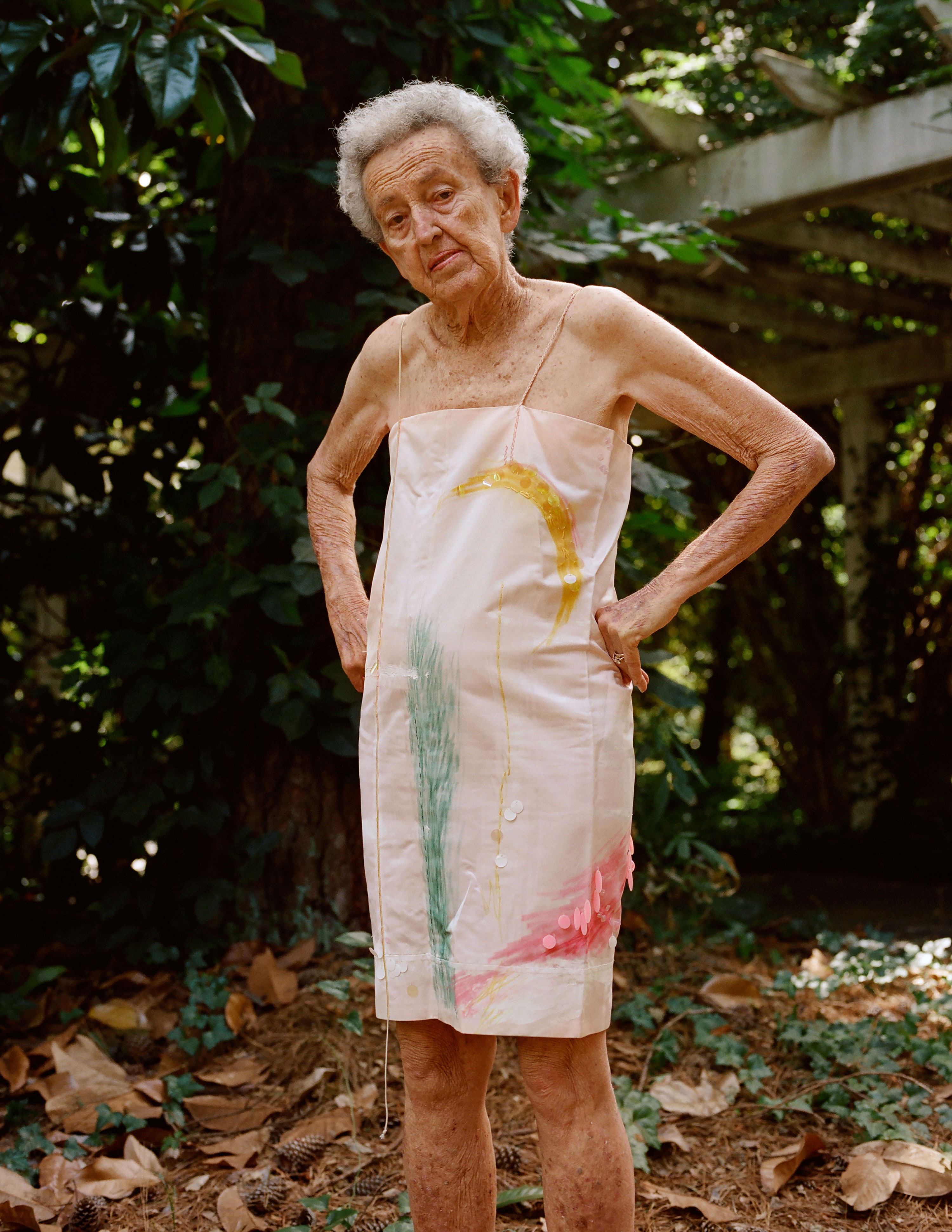 You mention that a lot of young designers were influenced by family and grandparents this year. Why do you think that is?
With most people I know, it wasn't until their 20s that they began to deeply appreciate and cherish their family and childhood memories. With the overflow of technology, I feel like young people are now craving simplicity and sometimes even the mundane. It was so special working with Osmun's hankie dress made from her great grandmother's hankie collection. Osmun told me, "[My great grandmother] would say that it didn't matter who gave something, it's how they gave it. She's didn't need anything other than a hankie. Just knowing who it was from is enough. Taking that idea is where everything drew from, taking my own little objects and moments captured in a small almost insignificant form."