"they call me suarez" – watch a short film about the football playing girls of uganda
Born out of a trip made by model Adwoa Aboah and photographer Felix Cooper, Suarez documents the strength and determination of young women in the world's largest refugee camp.
|
16 November 2017, 4:18pm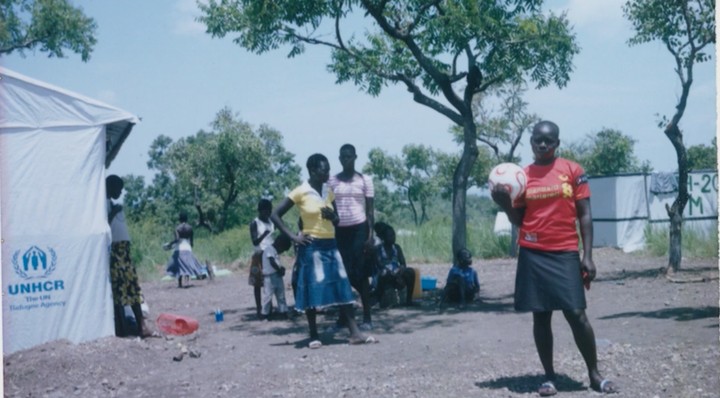 Earlier this year, model Adwoa Aboah and her friend, photographer Felix Cooper, travelled to Northern Uganda to visit the world's largest refugee camp. It was a trip organised by Save the Children, the international NGO that promotes important things like children's rights and relief for developing countries, and Adwoa went over with the aim of starting conversations with young women -- an extension of her very excellent Gurls Talk project, which provides girls with a safe space to discuss the issues they face growing up. It was there the pair first met Suarez.
Just 17 years old, Suarez arrived at the camp in June of this year, when rebel forces took her and her twin sister from their home in South Sudan. They managed to flee, Suarez sustaining a gunshot wound to the leg, and like a million others since 2016 made it across the border to Northern Uganda. With the help of Save the Children, she and her twin sister, Beyoncé, were placed with a foster family for care and support. In the months since, Suarez has pulled together a camp football team made up of girls just like her, and it's this that inspired Felix to create a short film, premiering exclusively below.
"She's a natural leader," he says, of a player the other kids nicknamed Suarez after FC Barcelona's catalytic striker, Luis. "Her purpose and confidence make her an unquestionable captain. Each player follows her orders."
Felix describes how young people, like Suarez, arrive daily and with few possessions; the camp's already stretched aid teams directing them to tarpaulin shelters. "Watching them play football is electric," he says. "All is forgotten on the pitch. Dedication to the game prevails. Many come without families. They are vulnerable, but they are determined."
Perhaps that dedication can be summed up in the response Suarez gave when Felix asked why she and her sister chose to come to Uganda, as opposed to crossing the western border to the DRC. "Education," she replied, with the same mix of strength and fearlessness she displays on the pitch. To find out how you can help girls like Suarez, visit savethechildren.org.uk/Uganda or watch the short film below.