open-hearted (and underwater) with michèle lamy
Artist, shaman, businesswoman: trying to define Michèle Lamy remains impossible, and perhaps it would not be fair or respectful to do so.
|
20 November 2018, 8:25pm
A version of this article originally appeared on i-D Japan
When I was asked to interview Michèle Lamy and write an article about her for i-D Japan's The Female Gaze Issue, there wasn't a moment's hesitation. I immediately said yes. Soon after, I imagined myself having a breakdown in front of the keyboard, desperately searching for the right words so as not to fall into clichés.
A lot has already been written about Michèle, since her generosity over the years has led her to accept many interviews. Some focus on her law studies, and others on her work as a stripper when she dominated the underground scene in Los Angeles in the 90s. Later, Michèle created a clothing line called Lamy and hired Rick Owens, who later became her business partner and, then, her companion and husband. People have also written about her Les Deux Cafes restaurant in a Hollywood Boulevard car park, her performances and her independent artistic projects such as Bargenale, Lavascar and Lamyland x Selfridges.
Yet trying to define this creative revolutionary and French entrepreneur remains impossible, and perhaps it would not be fair or respectful to do so. This is my interview with Michèle Lamy as it happened one morning over Skype.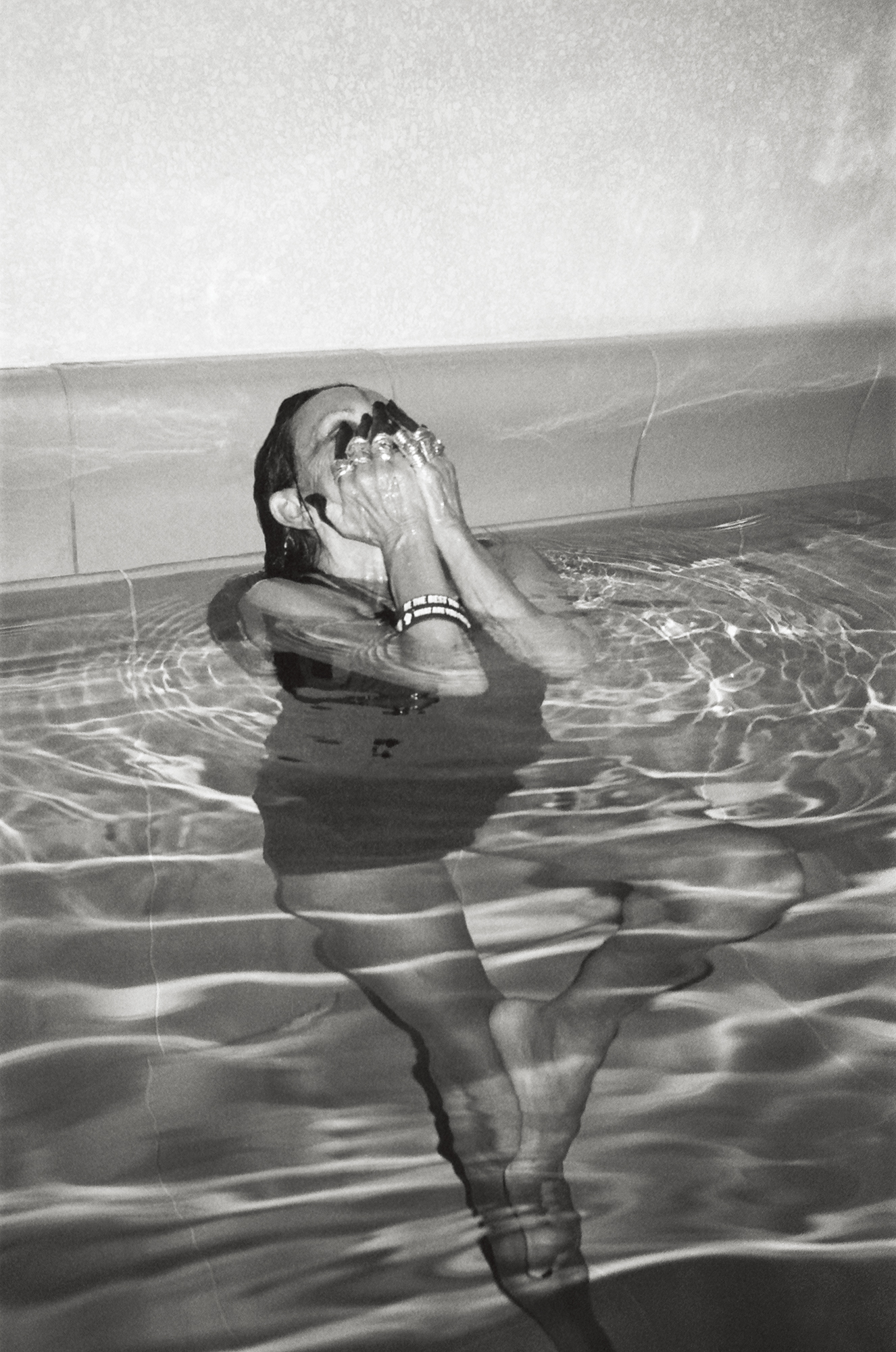 You worked with Rosie Marks on a shoot to accompany this interview. How did that go?
She is undoubtedly an inspirational photographer, even though she is only 25. We took a trip to London where I stayed in the Café Royal hotel, which has a beautiful pool next to the spa. We were able to use the space for as long as we wanted. Then, she told me that she wanted to use the underwater camera, so we got in the pool, but under the water the only thing I could see was the flash, so the pictures will be a surprise for me too!
Water is such a fertile element, it's perfect for The Female Gaze theme.
Yes, all of us are women in this story: Me, the photographer, you and the rest of the i-D team was made up of women. It's exciting. And that's why I wanted to take part in this story.
You have been able to create a microcosm that reflects different interests: fashion, cooking, visual arts, performance, boxing and much more. What I see, more than anything, is an intimate family, an extended community and the celebration of life. Can we, in a way, define your work as a contemporary form of shamanism?

Shamanism is a nice way to put it. Presented with a list of the things I do, I think a psychiatrist would diagnose me with schizophrenia, but shaman is definitely a nicer way to perceive it all.
You seem to have so much energy, and the gift of being able to connect and unite many people and many different interests in your life. It's a unique and precious ability. I think it's a kind of multidimensional female power.
Throughout all these years, many people have told me that I transmit a lot of energy, but for me it's curiosity, it's the desire to entertain people, it's the seduction I feel when I am with other people. The right way to do things is to do them with other people. I'm not a traditional mother and I don't view family in a traditional way, but somehow I can be a mother of the world.
I think we all belong to different tribes. The idea of the tribe moving and doing things is interesting. And so, wherever you go, you will do different things. You move from one thing to another, but I believe there is a continuity. When energy flows, things happen. I'm not good at planning in advance. Usually, I go somewhere and I meet people. We create ideas, we want to work together and that's how everything starts. I let myself be transported.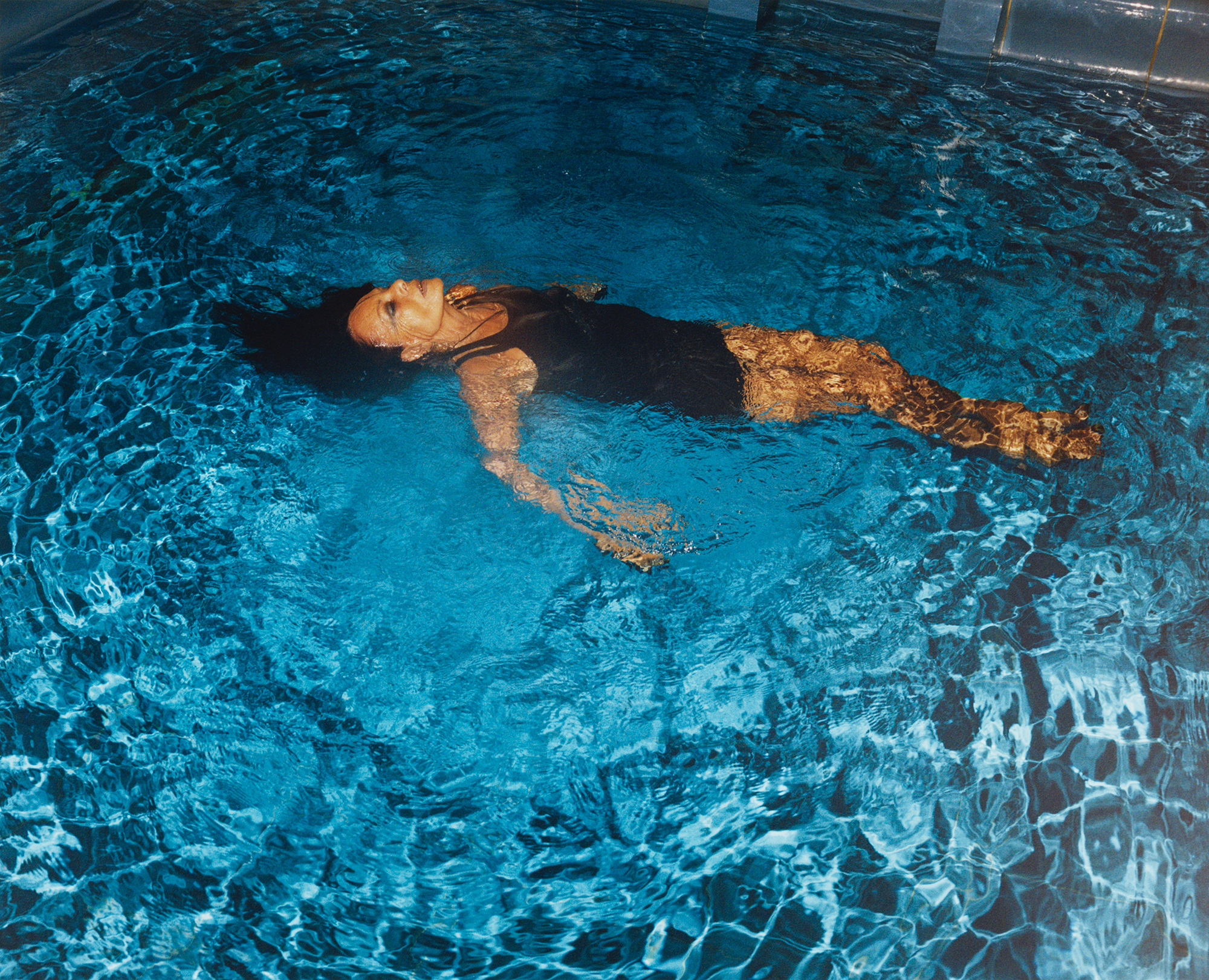 Last year I saw your boxing ring in Bargenale, for the Venice Biennale. It was positioned right in front of the ocean, an interesting and unexpected location for a boxing match. More recently, you worked on a project about this sport in London, how did it go?
I love boxing. I practiced it for 35 years, and it's a fantastic sport. On that occasion, inside Selfridges, I created an entire boxing gym for the local community, with an exhibition program open to the public. In the past, boxing was considered a men's thing, but today it's also a woman's thing.

It is women who have had to change things to compete against men in boxing, not the other way around. Boxing is a metaphor for an ideal. It's like a dance. For me it's not just fighting; it's a great way to train and observe. In the ring, you are looking at your opponent straight in the eye. Boxing is also a way of saving boys and girls from getting into trouble on the streets, it's a way to make them feel proud and teach them the rules of combat. It's more than a sport. It is a noble art and a discipline for gentlemen, and for ladies too.
I would really like to see you in the ring.

I think I have more style than force behind my blows (laughs). Boxing brings me joy. It makes me feel strong. It's a dance around another person, you look each other in the eye, find the right moment and start making your moves. And the boys aren't all that bad at it!
How long have you been with Rick Owens, and what was the first thing you thought when you met him? Was it love at first sight?
So, it was 1990 and my company was in downtown Los Angeles and I wanted to create a men's collection. My collaborator at the time, who also happened to be called Rick, knew a very good artist and pattern maker who would be perfect for the job, and that artist was Rick Owens. We met in Little Tokyo in Los Angeles for an interview. I remember he was wearing something like a bandana with skulls on it and he had that slightly Mex-Tex look, because of his mother's Indo-Mexican origins, and he seemed interesting. I hired him, even though I had to fire the other Rick. It was a tragedy, but we ended up dancing and drinking together.
Maybe it was love at first sight, but how many possibilities were there (laughs)? What was the probability of us staying together for 27 years? We started working together at the factory. I knew that he didn't understand a word of what I was saying, but we had so many things in common, and somehow we understood each other. One day I had to go to France and I would have gone alone, but he told me that he also had to go to Paris and that we would meet there. He told me he was looking for fabrics, or something like that. So, he came to Paris and we had some business meetings. The next day I had to go to New York, while he had to go back to Los Angeles. That last night, I was waiting for a friend, when I heard a Bang! Bang! Bang! Someone was knocking on my door in the Place des Vosges. I opened and it was Rick Owens, drunk. And there it was like, Boom! He said to me: 'I have a crush on you and you have a crush on me!'
That's how we came together.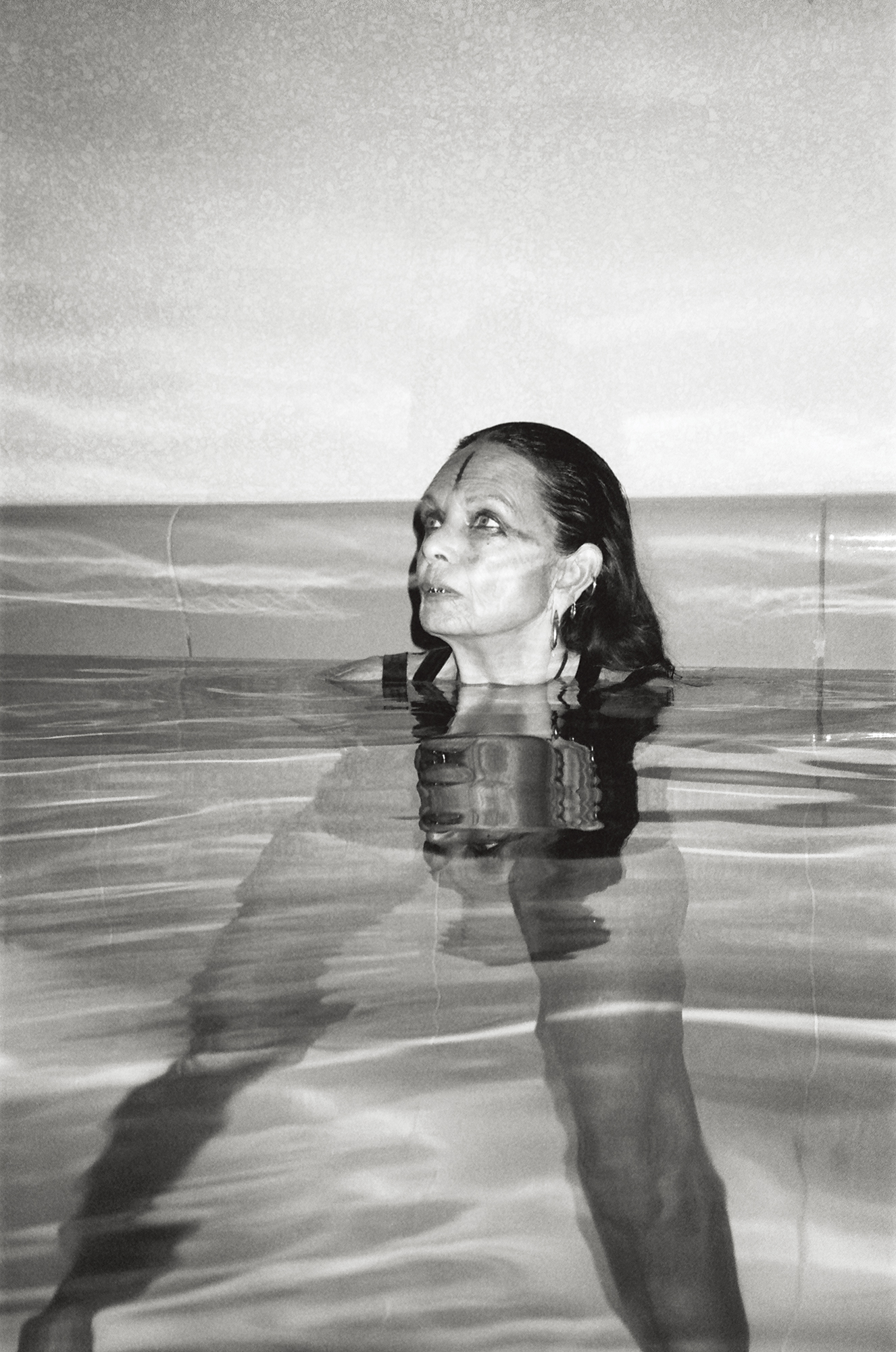 There has been a lot of talk about the female gaze in the last two years. Personally, I don't think women should be defined as being the same as men. I think women should be respected and honored for their differences. The point is not that we are all the same. The point is that we are different but we deserve the same respect and the same celebration for this. What do you think?
I agree, women are different. Total equality is impossible even to conceive, but this doesn't mean that this concept shouldn't be applied in politics. We need diversity among presidents, there should be alternation between men and women. Actually, it is in those kinds of contexts where we must aim for equality more than anywhere else.
Men have created this difference because they are afraid of women. I think men are clinging to their last chance. A new way of thinking must start with children and the younger generations. There is still a lot to do, we are progressing in small steps, but today we have the opportunity to show that we can do more things and more interesting things. Now it's time to celebrate our differences. For example, sex change is very important. We should perceive and embrace the possibilities of different genders and respect them all.
One of the most sensitive themes within the concept of the female gaze is motherhood, even if being a mother should not necessarily define being a woman. However, being a mother is a life-changing experience. How did becoming a mother change your life? Has your idea of life changed since your daughter, Scarlett, was born?
The moment you become a mother you have a responsibility, so yes, it has changed my life. Now I see it with a better perspective. It was very natural for me, I wanted to be a mother and I didn't care who the father was. He was in California, but I wanted the baby just for me. Now I realize that my daughter suffered when the family broke apart. Fortunately, she found her way and she is an artist now. But despite everything, the sense of responsibility always remains.
Credits
---
Photography Rosie Marks
Hair Akiko Kawasaki
Make-up Michelle Dacillo
Location Hotel Café Royal
Michèle Lamy is wearing clothes from her personal archive.