this is what you should know about sunflower bean's brilliant album, out today
From their very own mouths, here's everything important about 'Twentytwo In Blue' — from writing it in Jake's mum's basement to the experience of growing up and Julia feeling really old. Get inside the weirdo brains of NYC's coolest trio.
This article originally appeared on i-D UK.
Today, Friday 23 March, marks the release of Sunflower Bean's second album, Twentytwo In Blue, and starts a two week countdown to the biggest show of their careers at London's KOKO. It's all going on! The New Yorkers — singer and bassist Julia Cumming, singer and guitarist Nick Kivlen and drummer Jacob Faber — have been making music together since high school and are now widely regarded as one of the most exciting young rock bands in the world.
A follow up to 2016's Human Ceremony, written during their teens, Twentytwo In Blue is a coming of age record and a half. Co-produced by Unknown Mortal Orchestra's Jacob Portrait (Sunflower Bean's Jacob is a huge fan) and Matt Molnar from the band Friends (who also worked on their debut), it might still be the classic rock-inspired magic we've come to expect from the trio, but it's more them than ever before. Growing up but certainly not getting old — all three of them are just 22 — they're more aware than ever of the kind of music they want to make, and are confident enough to channel that into open, honest and beautiful songwriting.
With videos for lead singles teased out over the past couple of months; Olivia Bee shot the very beautiful "Twentytwo," in which the band get pageant-ready with nowhere to go, "I Was a Fool" was classic SB, and "Crisis Fest" compiled DIY tour footage shot across America. The latter is the most overtly political song on the record and was written in solidarity with their inspiring friends and fans — articulating shared anxieties over the current state of their country — but more importantly, celebrating the resilience and power of their generation. Sunflower Bean set out to write an album that people would love and carry with them throughout their lives, and having listened to a private stream of it on repeat for several weeks now, we're feeling pretty optimistic that they've accomplished that.
In London a couple of weeks back (they can't get enough!), we asked Sunflower Bean to meet us at our friendly neighborhood Antipodean coffee roastery early one morning. Julia ordered a black filter coffee and the boys sipped lattes as they waited patiently for eggs and soldiers. As they slowly woke up, they reflected on their career so far and shared some weird private jokes. Here's what was said:
The first time we met, on the end of Brighton Pier, was nearly three whole years ago. How have your lives changed since then?
JC: I remember that trip because we had just got our UK booking agent two weeks earlier after meeting him at SX and it was all happening really, really fast. I remember we were really excited. NK: It's insane to think that that was our first time here.
JF: I think we've matured a lot since then.
JC: And now we're getting ready to play KOKO, which is the biggest headline show we've ever done. I guess you don't really feel the change happening every day, but there are these big markers where you get the most sentimental.
NK: It's kind of like London headlining shows and New York headlining shows are different chapters of our lives. And albums, of course. But yeah, I agree that we've all really grown up over the past three years.
In what way?
JC: One thing I've been noticing lately is that my abilities as a touring musician have really improved. I'm in a better place with like, trouble shooting problems. There's still this really, really live element to what we do and so it's a real personal achievement; the ability to doubt myself less and trust myself more.
JF: Yeah, confidence in general.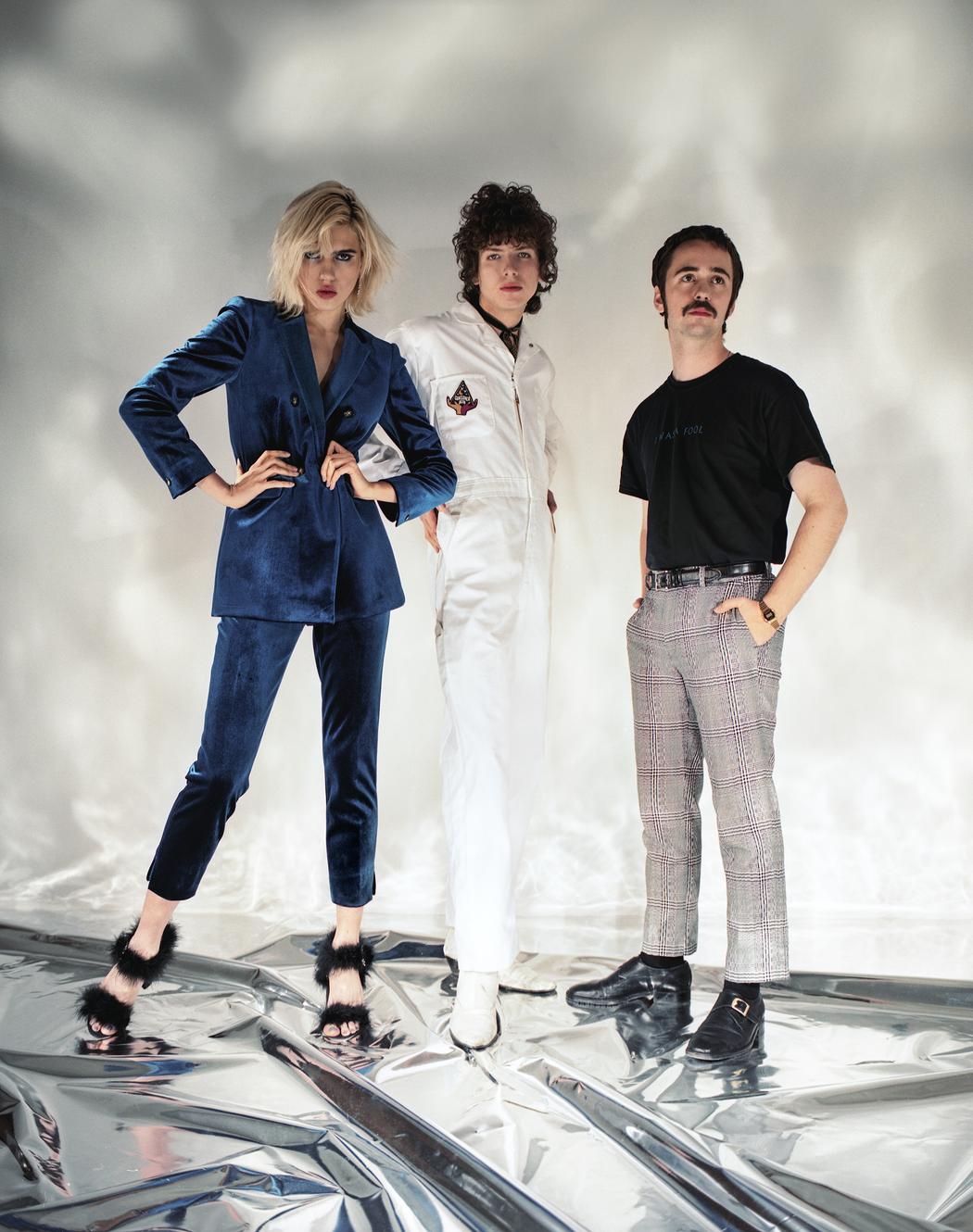 And how would you say your music has evolved since Human Ceremony?
JF: We've always shown people the big crazy statement rock, but musically for this record we wanted to reel it in a little bit and spend more time crafting these pieces. We really tried to focus on songwriting and making really nice songs, you know?
JC: Yeah, I think Jake's right about that. We wanted to go deeper on this record, deeper into ourselves, and make songs that felt closer to what we wanted from them. We want them to be something that you can really hold on to; not something disposable. Okay, we've gotta get this caffeine in us now so we can start making thoughts. Let's take a moment of sipping, everyone.
NK: Me and Jacob have eggs and soldiers on the way.
JC: Eggs and soldiers! Is it toast? Is it cute?
NK: Yes! I'm excited now. I love how British food is so fairytale-ish.
JC: Something we end up doing a lot in England is going to little shitty breakfast cafes, which is fun. [the eggs arrive] It's the eggs! Your boiled boys!
Yum. Great timing. What's Twentytwo In Blue all about then?
JF: A lot of the themes on this record revealed themselves to us as we were wrapping it up and trying to think of the album title and visuals. Something that helped wrap our heads around it all was the title Twentytwo In Blue. I feel like it sums it all up pretty well. 22 is all of our ages, and the colour blue just kept coming to us when we were thinking about the visual aesthetic of the songs. And when we thought about it further, blue is classically a sad or melancholy colour, which is obviously a big part of our personalities and the record. But then there's also another kind of blue; like a blue sky or a big blue ocean of hopefulness and resilience. So basically, we're looking forward into a big unknown and just being hopeful.
JC: Yeah, a lot of times on songs like "TwentyTwo," "Only a Moment," or even "Crisis Fest" — in the moment I felt like I was writing outward to a friend, but then when you look back, you realize that you needed to hear those things yourself and that you needed to say them just as much. Like Jacob said, resilience is probably the strongest theme, because no matter what the record is going through, it has this heart of not backing down.
Much like your generation in the current political climate?
JC: Exactly. It's funny, people have really been saying what a political record we've made, but there's only a few songs that are outwardly political.
NK: I would say that only "Crisis Fest" directly addresses the situation. And I think the rest of the record has a lot of subtext because everything is so overwhelming that it just seeps in.
Did you make the pilgrimage back to Jake's mum's basement to write the record?
JF: We did! Barb was blessed with the songwriting process once again. You know, when we do a VH1 Behind The Music, she'll have a big segment. She has a very unique point of view, hearing the songs from literally the first inkling of anything to watching us play them when we opened for Wolf Alice at Ally Pally. From a basement to playing in front of 10,000 people! She's the only one other than us who has that kind of perspective.
NK: Can I ask a quick question? What's up with the color of these boiled boys? They look like a carrot!
Pretty sure it means the chickens were healthy. What color are your yolks usually?
JC: Like, pale yellow.
JF: Or grey — seriously.
That's gross. So what movie would Twentytwo in Blue be the best soundtrack for?
JC: I think Harold And Maude. I recently rewatched it. He's like, "I love you, I love you!" and she's like, "That's great! Now you've got to go out and love some more." And I love that because it's true! That's kind of what love is! His age is so ambiguous in the movie, but he's definitely not a child or a man, so I think he's around 22. I feel like that movie, inadvertently, is linked to the album somehow. The only problem is the sound quality, and my hearing has gotten so bad.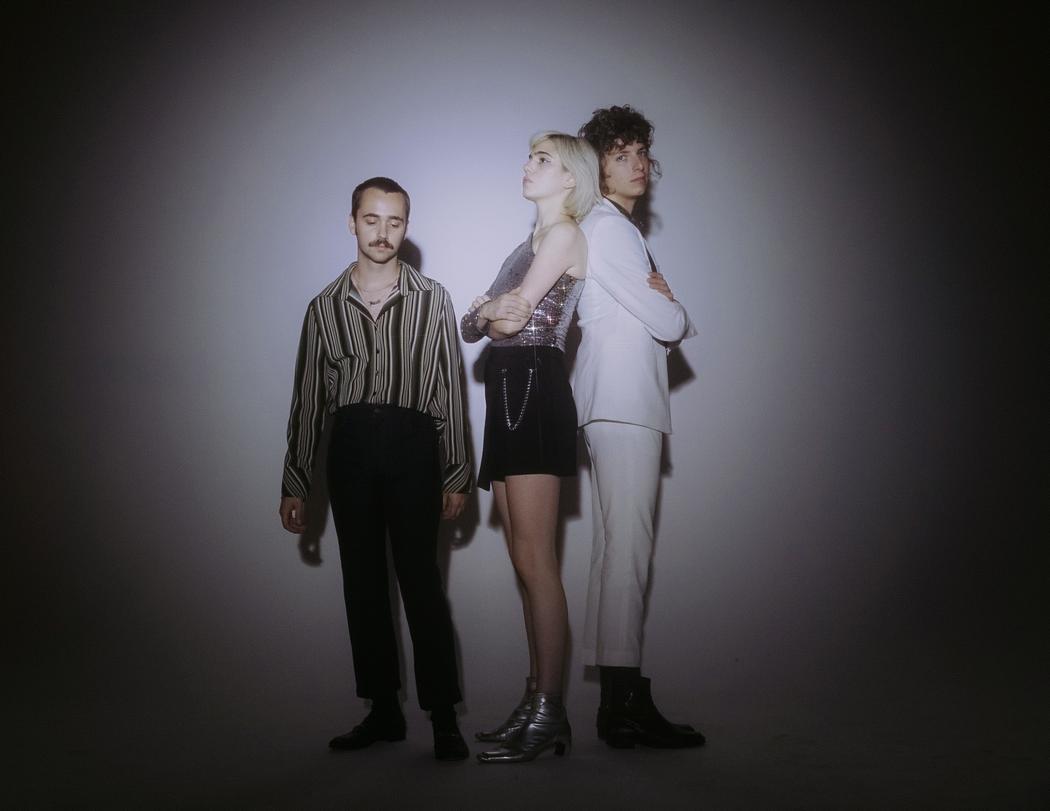 So will there be a Harold and Maude-inspired music video?
JC: That's a great idea. Nobody would get it though, they'd be like, "Julia, why are you dressed like a teenage boy from 1972?"
NK: No, you'd be the old woman!
JC: You think I'd be Ruth Gordon? Well she's just the best! She's my dream woman.
Well then that's perfect! You guys are basically touring all year. What happens if you wake up one day feeling like total shit but still have to go play a show?
JC: To tour, have the album out and have people sing the words back to us — it's full circle.
NK: And we're a super happy live band, luckily we really love touring.
Keep telling yourself that.
JC: We have this tour joke that all three of us are just a figment of someone's imagination; that we don't actually exist.
NK: That there's just this deranged person driving across the country thinking he's a band but it's just a weird fantasy going on inside some middle-aged guy's head.
NK: Our lives in New York are very small and closed, I feel. Especially mine. I live in Long Island and basically hang out with my two best friends every single day. It's all very insular. So when you get out on the road, all of a sudden, there are six weeks of meeting new people every night, being in a new city and talking to people who are connecting with your art. It's just magic.
JC: We're really, really, really lucky.
NK: And it's like, OH MY GOD. I'm gonna go home and sit in my room by myself for six months after this?
But I guess you need that?
NK: Yeah, it's a really nice black and white.
JC: I'm trying to move upstate, near where Alexis from Sleigh Bells lives. I was saying to her, that I feel like I get home and I'm just sounded out.
NK: Can I make a joke at your expense?
JC: Maybe...
JF: No, this is a good talk! When you get off tour, silence is the most rejuvenating thing. You definitely need to take a little time off from seeing any other live music just to get back to a place where you feel like you can hear things. Sometimes the sound processing to my brain feels a little disconnected.
NK: Well the joke I was gonna say…
JF: It's funny going and doing home things after being on tour.
Nick, you can say your joke next.
JF: You just wanna soak up all the home time you can. Say your joke! Let's hear this joke!
JC: Yeah, I wanna hear this joke.
NK: Well, it's been a long tradition in New York City for artists turning like, 32, to move up to the Hamptons or New York State. And Julia, you know, she's just been in the game for a long time so she's heading up there now!
JC: Well, we've all been in the game a long time. That's how we all met. We were always the weird kids in the music scene around adults all the time. We were just always there loading in, loading out. But you're right, my situation was different I guess, because I did a bunch of touring even in the eighth grade. First year of highschool we did our first European tour with Kate Nash. So I feel really old. I think every year gets better though, and that's a big part of Twentytwo In Blue. Being a teenager, at least for me, was really dramatic and hurtful and scary. And now I feel like I have a lot more control over myself and my life, and I think it's that understanding that makes Twentytwo In Blue. It makes me feel confident in my resilience that I'm out of that place. I'm more of an adult now.