the creators of netflix's 'on my block' on subverting inner city stereotypes
By only hiring poc screenwriters, they tapped into an authentic vein of comedy.
Courtesy of Netflix
Netflix's coming of age sitcom On My Block is one of the most buzzed-about shows right now. The dramedy, depicting the highs and lows of four South LA teens, has earned rave reviews not just for its predominantly black and Latinx cast, but also for its exhilarating cliffhanger ending (you'll have to watch to find out). It's not surprisin g On My Block has resonated with viewers. The show had a strong team behind it. On My Block was created by Lauren Iungerich (the creator of MTV's Awkward) and Jeremy Hat and Eddie Gonzalez (writers of the 2017 Tupac biopic All Eyez On Me).
Lauren found herself wanting to create a show for teens not seen "through a white prism," she tells i-D. "What if you allow these [POC] kids to be the heroes of the story?" she asked herself. "They don't need anyone to save them because they're saving themselves." Lauren knew that, as a white person, she could assist in telling this story — but definitely couldn't tell all of it. Enter: Eddie Gonzalez. Lauren was introduced to the Inwood-raised screenwriter through her friend Jeremy Hath. Together, the three filmmakers drew heavy inspiration from Eddie's life to create On My Block, highlighting the fact that joy, friendship, and community can also be found in inner-city neighborhoods. "Growing up in Inwood wasn't bleak," Eddie says, addressing one of the stereotypes about inner-city life that On My Block dispels. "It wasn't this hopeless place a lot of people portray it to be."
Here, the creators of On My Block talk discovering and mentoring POC screenwriters. Also, Eddie tells us why the location of his school locker, not gang violence, was the biggest thing he worried about as a teenager.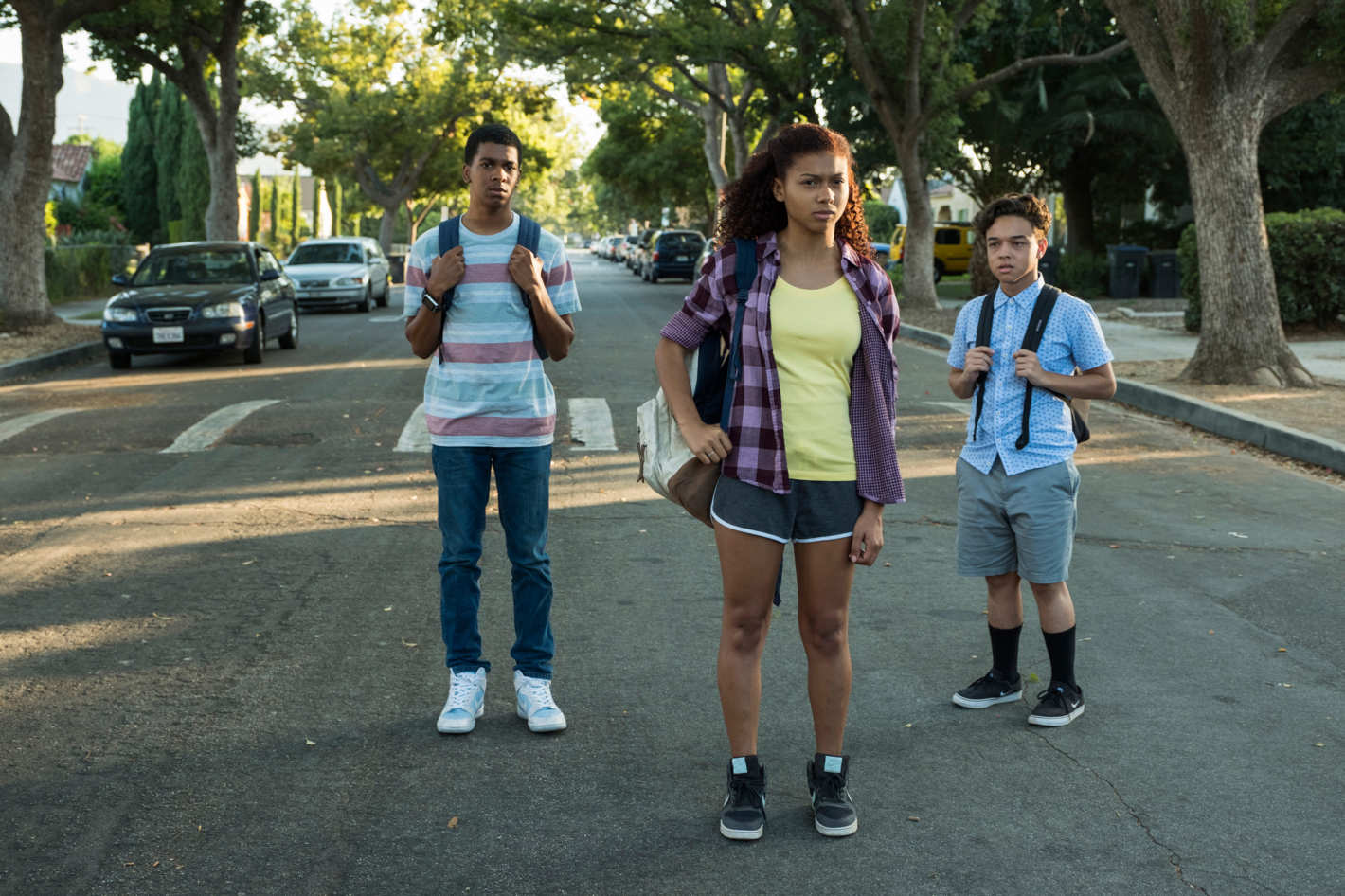 On My Block really stands out for being one of the few coming of age sitcoms to capture diversity well. How did the show come together?
Lauren Iungerich: I had created another YA show called Awkward on MTV. A couple years after leaving the show I made a bunch of busted pilots and was thinking about where my heart really lied. I thought about how most of the fun YA shows out there were seen through a white prism. I felt like kids from all backgrounds need to see representation of their own experience. Obviously this is not my experience, so I needed to collaborate. It just so happened I ended up having lunch with Jeremy, who is a good friend of mine that I met during the Writers Guild Strike in 2007.
Jeremy Hath: Yes, thankfully the strike paid off for both of us! [Laughs.] I told Lauren Eddie and I were writing a Tupac biopic and that Eddie grew up in Compton and Inwood. This is his life. When Eddie talks about his childhood it's not 'Oh woe is me.' He has great stories that are kind of universal: 'I like the girl, I want to play on the baseball team, I want to go to prom.' Most of his stories are fun and full of adventure.
What parts of growing up in an inner-city neighborhood did you tap into, Eddie?
Eddie Gonzalez: I was born in Compton and grew up in Inwood — and I loved my childhood. I grew up in a really dangerous neighborhood, but it was still a great neighborhood to grow up in. My biggest fear wasn't getting shot in a drive-by. I was bite-sized. I was five foot two when I was a high school senior. My biggest fear was that my locker would be on the top row and I wouldn't be able to reach it.
Jeremy: Tell them the story about you and the gang member! That's a great one.

Eddie: Oh yeah. In high school, I was one of those kids that got along with everybody. When I was a junior I had a gang member come up to me that I didn't know very well. I was terrified. Then he said, "You have sisters. They have quinceañeras. I want you to show me how to dance." It's things like that. Subverting the trope of what people think they know.
And how did you make sure the On the Block came off as authentic? What was diversity like behind the camera?
Lauren: We only had black and Latinx writers. We made a really big effort to find young screenwriters that were not on the traditional path and signed with agents. We went out and found three young storytellers to be in our room. One of them was Alexi Gonzalez, who graduated from the Ghetto Film School. She made a short film when she was 19 that she shot entirely in Japanese in Tokyo. We wanted to lift up young storytellers from these inner-city neighborhoods who don't normally get opportunities. To put them in our room and give them a real living wage.
What character or storyline did you each connect with most?
Lauren: I'm very Monse in a lot of ways and Jeremy is very Jamal.
Eddie: I'm Ruby, of course.
Jeremy: And we all wanted to be Caesar! [Laughs.]
Was working with Netflix different from working with a traditional television platform?
Lauren: The thing that was most different was if there was a discussion or disagreement about the path to take, Netflix would always give it to us to decide. I think in traditional media the artist doesn't always win. With Netflix, they were more of a partner than a boss. They would raise questions about the storytelling only to make us think it out and articulate why we needed to do what we did. Which was great. There are so few opportunities in film to feel like you're doing anything besides making candy bars.
You can watch "On My Block" on Netflix now