hungry is the mysterious club kid serving distorted drag
Corseted, painted and intimidating, the international club kid and surreal drag artist offers her notes on beauty.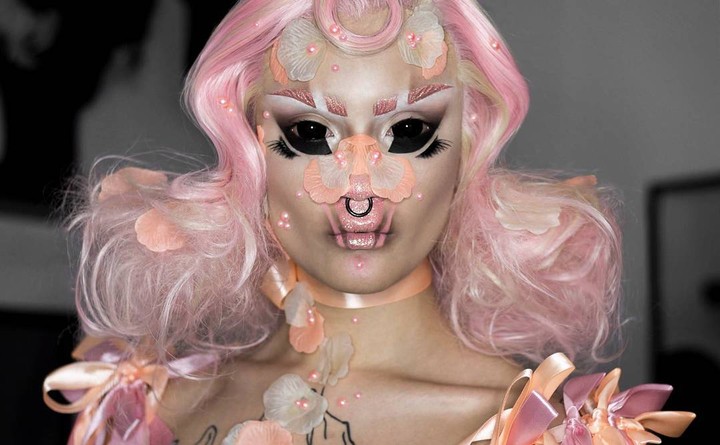 Image via Instagram
This article was originally published by i-D UK.
Roll up, roll up to The Mandrake, where interdisciplinary drag artist and esteemed club kid Hungry has teamed up with fine art and photography duo Studio Prokopiou to create an immersive three-day performance. Combining elements of Hungry's self-described "distorted drag" with Studio Prokopiou's high camp meets kitsch aesthetic, the performance will consist of a series of surreal tableaus, inspired by the impermanence of beauty. As she prepares to take on her role as official artist in residence, here Hungry opens up about her life in drag.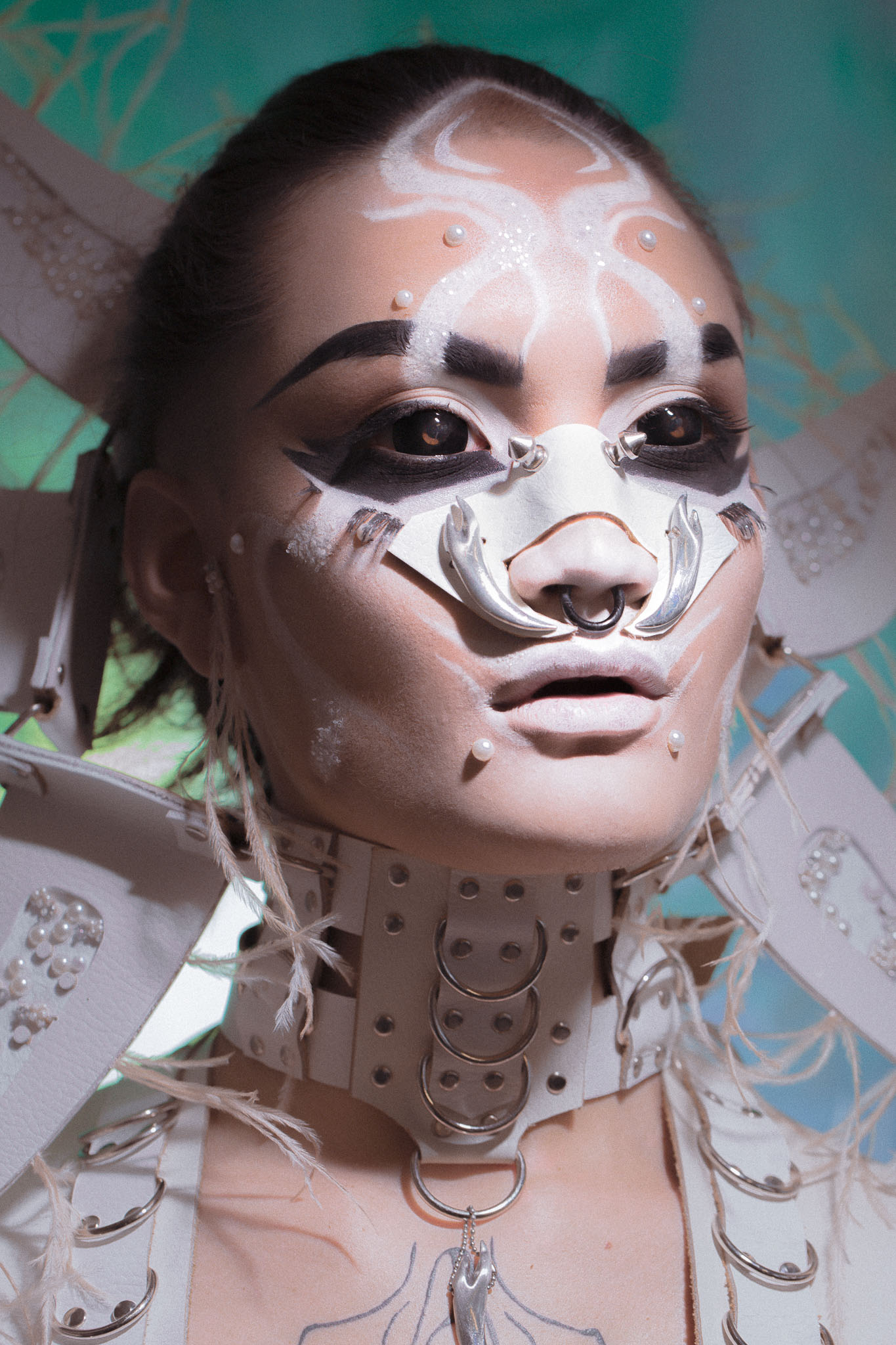 "Growing up, I was always considered the odd one out, seeing as I was an eccentric, half-Thai kid in a mostly white, mostly Catholic community in Bavaria. I never considered myself beautiful. I just tried to be as creative and visual as possible. I always loved making things with my hands; drawing, painting, sewing, craft, and construction, while my combined Catholic upbringing and Thai heritage has given me some good inspiration to build up on.
As soon as I left school, I moved to Berlin to get my degree in fashion design. There, I was able to experience life through the prism of acceptance. I also realized that it wasn't actually a bad thing to have a waist, long legs, and a slim figure. For what I want to do in life, it's actually perfect, so thanks for the genes. It took me a long time to consider myself beautiful, so now I'm happy to embrace it, even to a cocky extent. There's nothing wrong with a little healthy self-worth.
As a child I only wore makeup on stage, in different youth drama classes. Back then though, it was just very orange foundation and a bit of eyeliner to counteract the stage lights. Outside of that, the first few times I put makeup on was for parties, which constituted painting some black and white on my face and calling it a look. It was a big old mess, I had no idea how people managed to make it look that easy and sharp.
I've always been very excited about theatre and performance art. From a young age I was part of various groups and troupes. Gender was never a topic then and it isn't a big one for me now. While I do respect people's gender identity and the importance of the general gender discussion, I never considered it anything vital for myself. Makeup was not a topic for me, either, until discovering drag.
Even then, it was less drag culture, and more club kid culture, which I came to through reading James St. James's books Disco Bloodbath and Freak Show, and watching Party Monster. Through that my eyes were opened to the possibilities of a glamorous, fabulous life.
The character Hungry came about one night, when my best friends dragged me up and took me to a big drag event in Berlin. I loved the attention I received. It took another six months for me to dig out the wig again. I really enjoyed it the first time, but it didn't feel like it was very personal to me yet. It wasn't until a year later, when I found a more fitting type of drag, that I began to feel comfortable on the train or outside of safe spaces.
I started out by using very natural makeup to convey a sense of beauty. Then I got more into the visual aspect of the artform — the paint, the exaggeration. I mixed drag makeup with the androgynous outfits I had made back at design school. It became more and more artistic.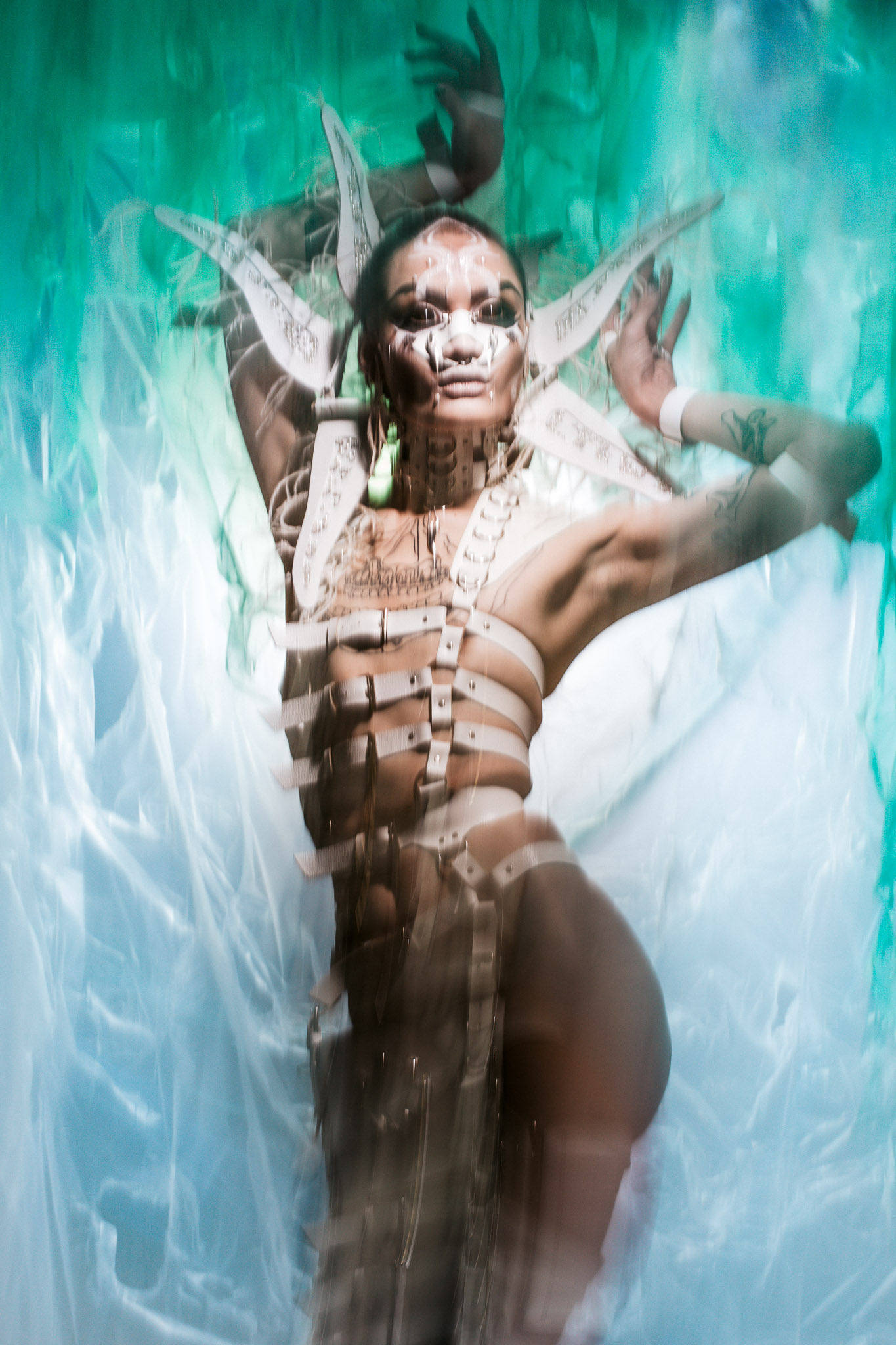 I then moved to London to intern at Aitor Throup and Vivienne Westwood, where the most severe change happened. I realized that London had so many gorgeous queens, that I didn't need to deliver beauty anymore, so I started dissecting my face, and analyzing the possibilities for experimentation. My face soon resembled a sewing pattern. For about a year, I had one continuous line cutting through my face, framing my bone structure and separating all my features. Sometimes I had it blended to look like a scar, and at other times I covered it in glitter or pearls. That line then became several panels and turned into different shapes to which I added different colors and more pearls. I didn't paint eyebrows at that time, I just blocked out a rhombus shape over my eye and added a crease cutting upwards onto my forehead. Back in Berlin, I invented my under-eye illusions, using white paint to maximize my scleras, and other colored contact lenses. From there I experimented with shapes and negative space.
I've never cared for realism. I've always preferred exaggeration, distortion and infamy. The bland reality of German fashion and drag culture left me longing for something more dramatic and just generally new. I've always pushed myself to break boundaries, creating weirder and weirder looks, so that I can create something unique.
Today I feel most beautiful in drag; corseted, painted, and intimidating. Hiding my flaws and showcasing my strong suit. Interacting through the mask of drag can definitely increase your self-confidence and cure you in many a ways."
The Brevity Of Beauty will take place from 5th April - 8th April 2018 at the Mandrake
This article originally appeared on i-D UK.