Vaquera kolekcja wiosna/lato 2018, zdjęcia: Mitchell Sams.
plastic bags invade the runway as sea levels rise
Vaquera repped Key Food supermarket and Public School took on the iconic takeout smiley face. In a time of environmental angst, what's with fashion's non-biodegradable bag obsession?
|
15 September 2017, 9:23pm
Vaquera kolekcja wiosna/lato 2018, zdjęcia: Mitchell Sams.
"It would be wrong to start anywhere but with the human-size Tiffany pouch," we declared last season when Vaquera sent out a butt-exposing dress shaped like the high-end jewelry brand's iconic seafoam drawstring bag. There were plenty of places to start at the rising N.Y.C. collective's equally irreverent spring/summer 18 show, but no Tiffany & Co. bags in sight. Instead a model stormed out in a disheveled pajama shirt clutching a paper bag from Amazon Prime and plastic ones from Key Food. It's not fashion's first dalliance with local grocery chains — last year a bikini-clad Gwyneth Paltrow got all up in the chicken aisle at Associated Supermarket for Harper's Bazaar.
Fashion Week hasn't historically been a good time for opponents of packaging waste. Fancy cardboard invitations start flooding desks weeks in advance, despite the advent of Fashion GPS. When Public School's invite arrived as a red plastic bag printed with the brand's show info, at least one person called out the brand on Twitter for being a menace to the environment. Aren't Maxwell Osborne and Dao-Yi Chow too smart to make waste for no reason? Yes, they are — the duo's show was a clever take on consumerism and the lengths we go to preserve products. Jordan 15 sneakers came wrapped in plastic bags, and plastic-coated tailoring implored us to "Come Again."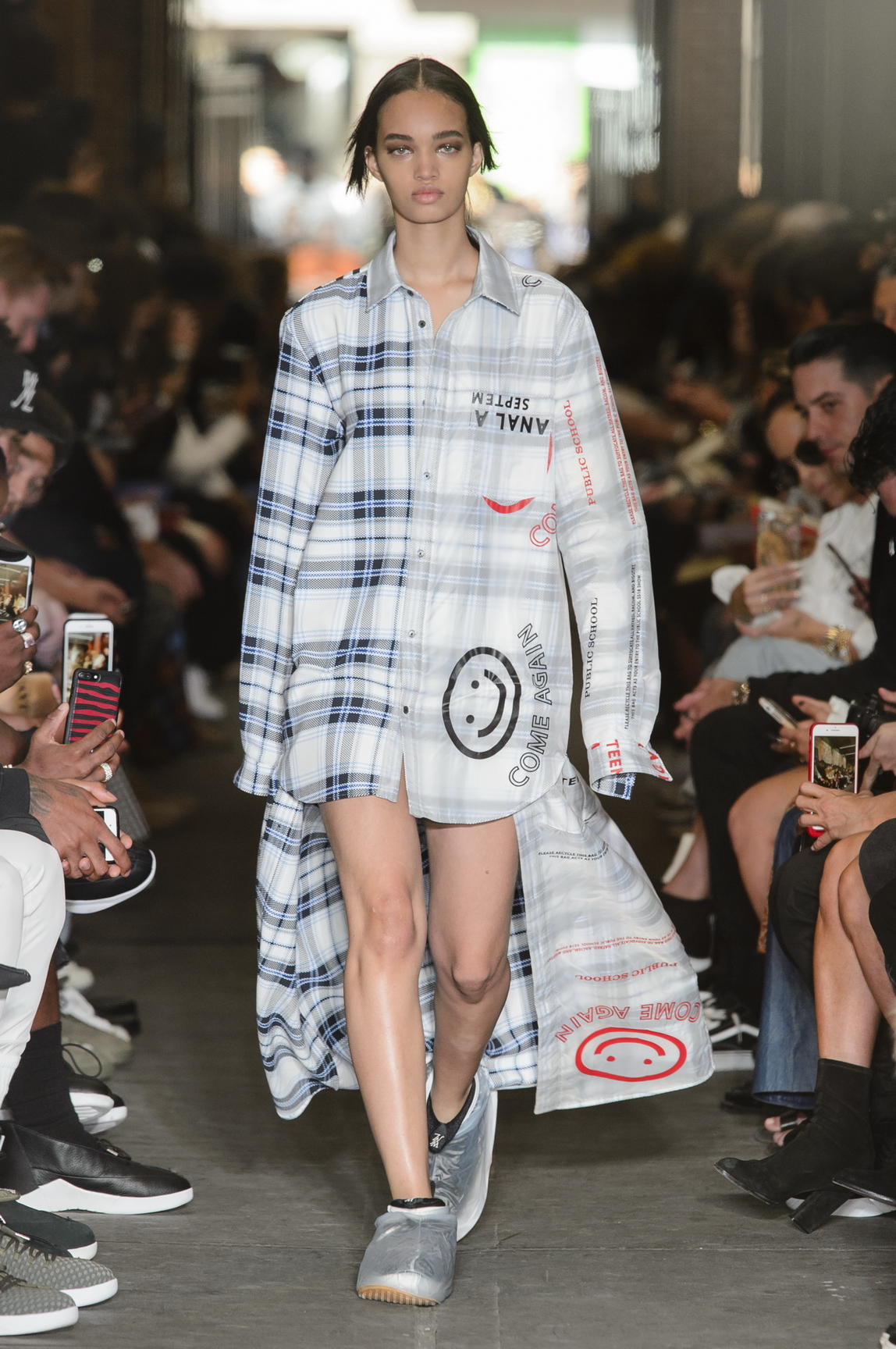 It's odd that plastic bags keep appearing on the runway in a time of environmental anxiety. Plastic bags are killing us, the New York Times has been declaring since Governor Cuomo trashed the city's proposed plastic bag surcharge fee in February. Raf Simons probably didn't have hyperlocal politics in mind when conceiving the sophomore Calvin Klein collection he showed last week, but his marvelous take on American horrors made plastic sinister not just in the eyes of recycling nerds. Achingly chic leather coats resembled the Patrick Bateman's blood-splattered American Psycho topper, while evening gowns looked suited for disposing of something very specific.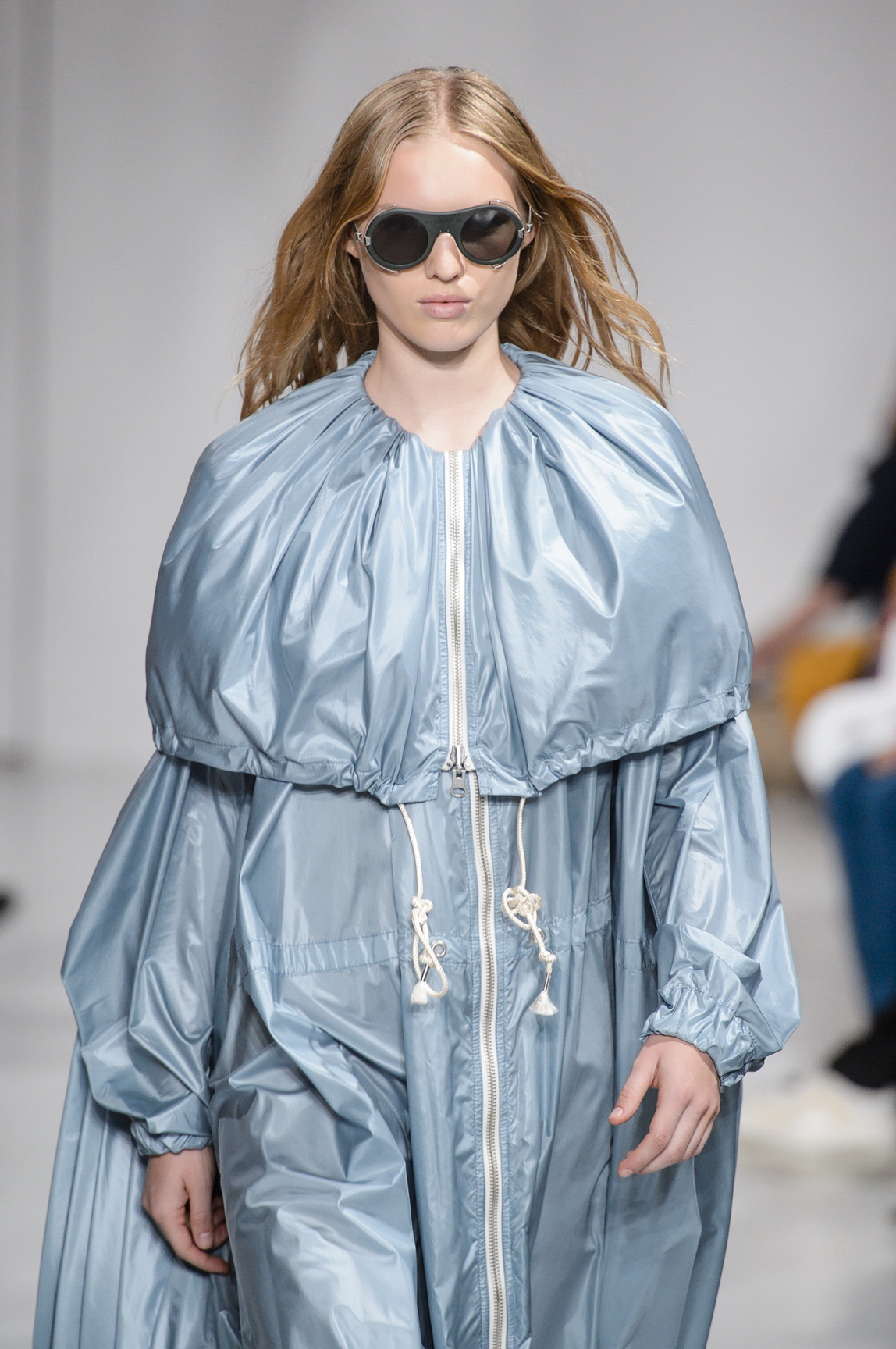 Speaking of coats, remember the acid yellow faux fur stand-out at Raf's debut Calvin show last season? It came covered in transparent vinyl like the sort your grandma might have used to protect a sofa. Maybe Raf's postwar suburbanites aren't all that different to Public School's Jordan-copping hypebeasts. (It wouldn't be the first time the designer has glamorized banal materials. Remember Jil Sander's $290 brown paper bag?) It makes perfect sense that humans might, at this anxious point in American history, have protection on the brain.
Most sensical, at face value, is fashion's repeated beautification of recycling bags, à la the controversial Chinatown plaid totes we've seen at Céline and Stella McCartney. Following the oversized blue $2,145 tote bag Balenciaga dropped earlier this year, the iconic IKEA Frakta tote that inspired it has soared to comical new heights of covetability. At NYFW: Men's in July, at least one sharp-suited man in Gucci loafers schlepped between shows carrying the Scandinavian chain's $0.99 version. The Frakta has inspired amazingly ridiculous DIY fashion projects ranging from bucket hats to bondage masks.
As the recent backlash to Silicon Valley's "Bodega" app shows, millennials have a fierce love of community-oriented corner stores and the cats they house. Vaquera said its latest collection represented an identity crisis, something that resonates in the divided climate of 2017 America. And where a Chanel 2.55 says, "You can't sit with us," a plastic bag says, "Thank You," "Come Again," "Have a Nice Day." What's more egalitarian than that?