"i am not a victim": the black model in dove's controversial ad speaks out
Lola Ogunyemi tells her side of the story in a powerful new column.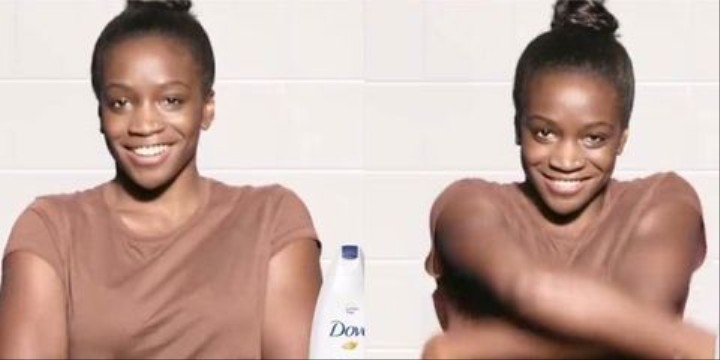 This article was originally published by i-D UK.
Ever since Dove's new ad dropped on Facebook earlier this week, showing a black woman transforming into a fair-skinned white girl after using the brand's body wash, there has been one — understandably angry — question on everyone's lips: How on earth did this clip manage to get past the endless meetings it takes to get an advertisement signed off, made, and posted on the internet? The backlash was instantaneous and furious. Commenters sent a deluge of criticism at Dove, with model Munroe Bergdorf, who was fired from L'Oreal after speaking out about institutional racism, tweeting: "Diversity is viewed as a buzzword or a trend. An opportunity to sell product to women of color. Dove — do better." Fifth Harmony singer Lauren Jauregui also branded the campaign "racist" and "pathetic".
Dove have since admitted that the campaign "missed the mark" and issued an apology on Twitter, taking the ad down. But the controversy is far from over. Now Lola Ogunyemi, the black model who appears as the "before" in Dove's ad, has spoken out about her experiences in an powerful Guardian comment piece, where she talks about becoming the "unwitting poster child for racist advertising" and insists she's not a victim.
In the column, Lola claims that the longer version of the Dove ad, shown on TV in the US, which shows seven women of different races and ages, does the ad more justice and conveys a better message. Talking about the "overwhelming" backlash, Lola explains: "If you Google "racist ad" right now, a picture of my face is the first result. I had been excited to be a part of the commercial and promote the strength and beauty of my race, so for it to be met with widespread outrage was upsetting."
"If I had even the slightest inclination that I would be portrayed as inferior, or as the "before" in a before and after shot, I would have been the first to say an emphatic "no". I would have (un)happily walked right off set and out of the door. That is something that goes against everything I stand for," she adds.
Lola, who is Nigerian, born in London and raised in Atlanta, goes on to say that her own experience with the Dove team was a positive one, and that all the models on set were excited at the idea of wearing nude tees and turning into one another. And when the first Facebook video of the ad was released, she still felt positive about it. She explains: "I loved it. My friends and family loved it. People congratulated me for being the first to appear, for looking fabulous, and for representing Black Girl Magic. I was proud."
However, while Lola points out that Dove's message may have been "misinterpreted," she feels that the public is justified in their outrage. She writes: "While I agree with Dove's response to unequivocally apologize for any offense caused, they could have also defended their creative vision, and their choice to include me, an unequivocally dark-skinned black woman, as a face of their campaign."
"I am not just some silent victim of a mistaken beauty campaign," she concludes. "I am strong, I am beautiful, and I will not be erased."