watch the original 90s supermodels strut to george michael's 'freedom' in honor of gianni versace
Naomi, Cindy, Claudia, Carla, and Helena honored Gianni Versace on the 20th anniversary of the designer's tragic death.
|
22 September 2017, 8:37pm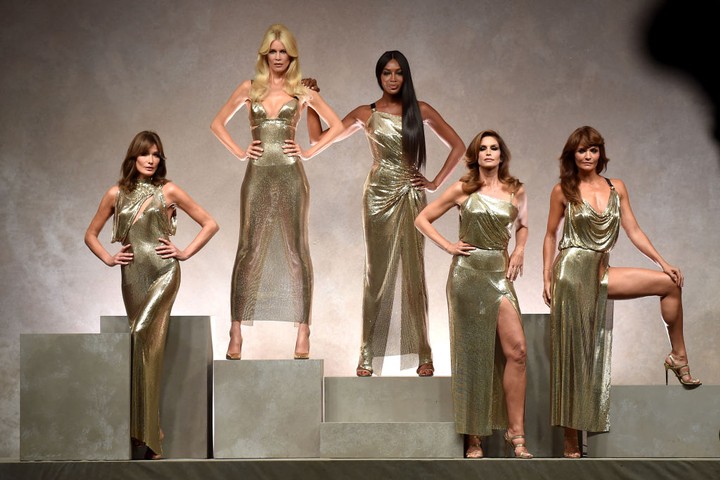 At the Versace spring/summer 18 show today, Donatella Versace paid a spectacular, heart-warming homage to her late brother on the 20th anniversary of his death. She recreated Gianni's most iconic looks, including the ever-enduring spring/summer 91 Andy Warhol print (one of the original evening dresses is now in The Met) and his fall/winter 92 indigenous peoples collection. The cherry on top was a curtain falling down to reveal O.G. supermodels Cindy Crawford, Naomi Campbell, Claudia Schiffer, Carla Bruni, and Helena Christensen posing in slinky, sheer gold dresses and strutting down the runway to George Michael's "Freedom! '90."
The moment was a fabulous reunion for the biggest supermodels of the 90s. In fact, Gianni Versace was one of the first designers to take advantage of the girls' star power. The "supermodel moment" is largely viewed as crystallizing when he got Christy Turlington, Linda Evangelista, Naomi Campbell, and Cindy Crawford to walk together in his fall/winter 91 show, joyously mouthing the words to "Freedom! '90".
The lineup was a bit different this time around. But the powerful moment was just as enthralling, particularly as it celebrated models over the age of 40.
"This collection is a tribute to the life and works of Gianni," Donatella said in a statement. "We pay homage to not only his artistic genius but to who he was as a man, and above all, my brother... This collection is for you, Gianni."
Watch clips of the slayage below.