Joy Labinjo, Untitled, 2018

joy labinjo: the fine artist depicting intimate scenes of family life
With her debut solo exhibition, Recollections, open to the public, we hear from artist Joy Labinjo on how she began to consider her own experiences as ample inspiration for her work.
|
16 November 2018, 8:00am
Joy Labinjo, Untitled, 2018

Joy Labinjo had always been good at art. The 23-year-old had the talent, the skill, the ability to paint detailed, figurative pieces ever since she fell in love with the medium as a GCSE student in her native Stevenage. "It was all nudes, paintings of hands, some portraits," as she puts it. "And they were good, everything matched up, they looked fine." But she couldn't help feeling like there was something missing: "That's when I realized all my paintings were all of white people," she says.

It's a story worth sharing when you consider Joy's work today. Her output is so tied up with her British-Nigerian heritage, so immersed in that intersection between belonging, identity and culture, that it's hard to imagine it any other way. "I guess I was looking at artists like Jenny Saville and Lucian Freud," she says. "And I just couldn't shake those people off. I didn't know how to paint my own ideas."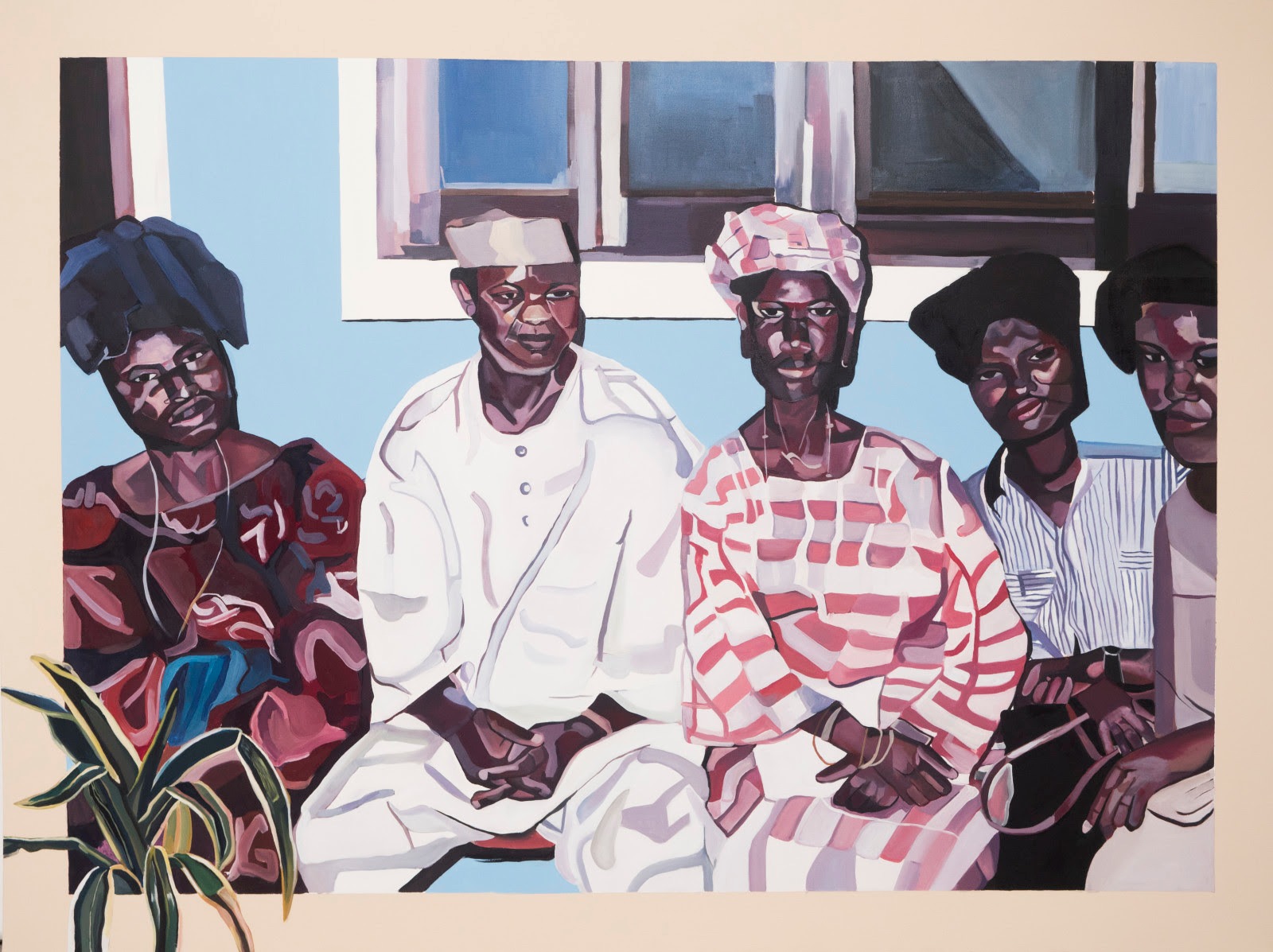 The turning point came when she moved to Newcastle to study fine art at university. "I grew up in Dagenham first, then moved to Stevenage, and it was always quite ethnically diverse. Then when I moved to Newcastle, I suddenly became aware that I was black and everyone else was white." She describes how, for the first time in her life, she'd get stared at in the street. "I was just very conscious of the fact I was black," she says. "And I didn't really know what to do with those feelings. Or how to put them in my work."
It was only in her third year, while writing her dissertation on the black British artists of the 1980s, that she first began to consider her experiences as ample inspiration for her own work. "I feel like I was asleep before my third year," she says. "I just thought that was art. I didn't think there was anything wrong with it. Through writing my dissertation I found my place. All the pieces just slotted together."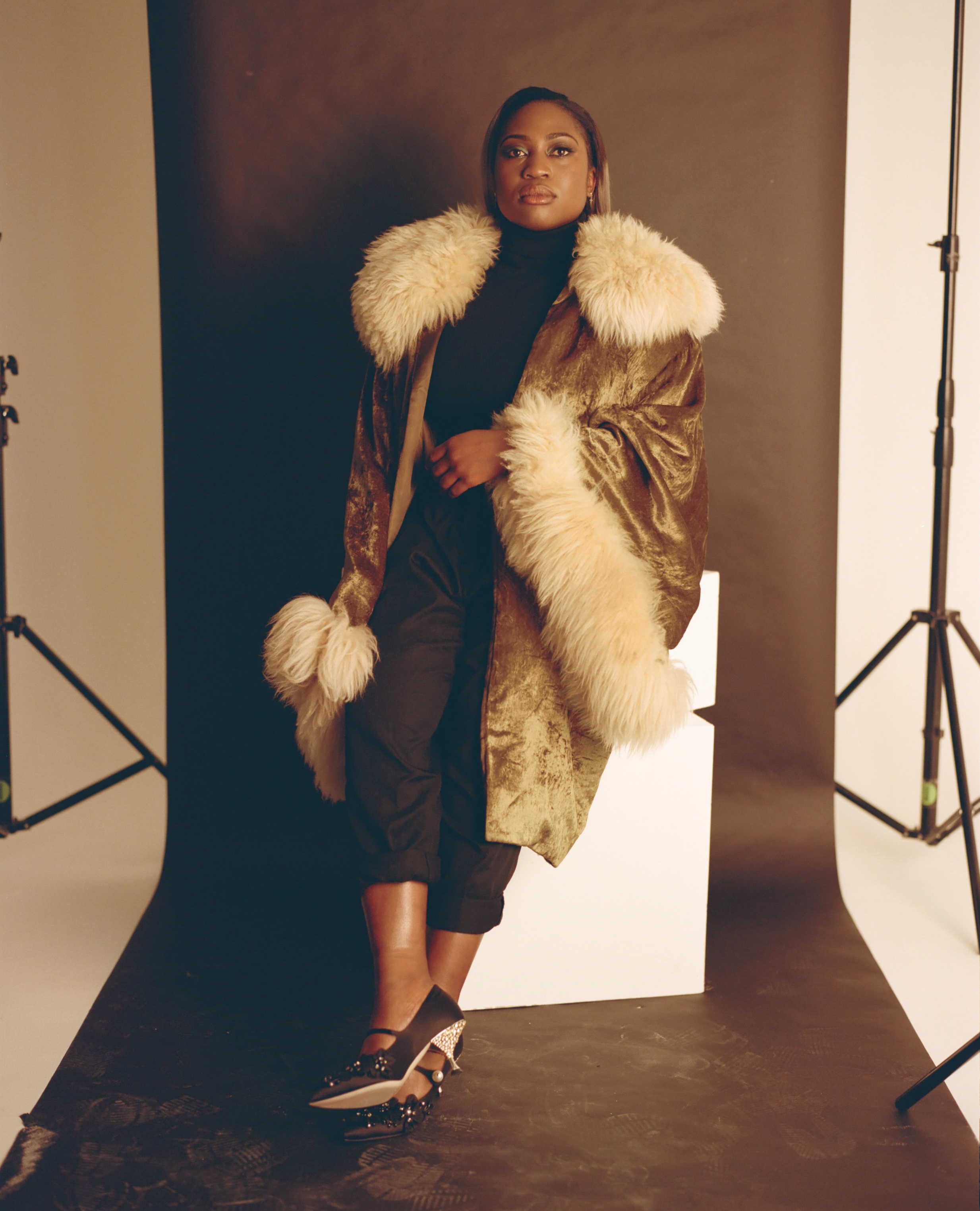 For her degree show that year, Joy mined her family photo albums, collaging found images as a starting point for her large-scale paintings. It was part necessity while studying in a predominantly white city, ("Just a way of finding black people, in compositions that kind of worked"), and part a process of self-exploration -- a desire to locate her own narrative, both personally and artistically. The resulting works -- all vibrant depictions of contemporary family life -- won her the prestigious Woon Art Prize in 2017, as well as representation by London's Tiwani Contemporary, who are presenting her debut solo exhibition, Recollections, at the gallery at the moment.
"I think the compositions, and the gathering with family, is something that's relatable to everyone. But it would be amazing for little black kids to go to a gallery and think: I can do this," Joy says. "From talking to a lot of my friends, they wouldn't go to a gallery. Not interested, not welcome. But if you think about how many black people went to see Basquiat at the Barbican or Soul of a Nation at the Tate, it shows that people are interested. They're interested because they can see themselves in it."
Recollections by Joy Labinjo is at London's Tiwani Contemporary until 22 December.
Credits
---
Photography Liam Hart
Styling Bojana Kozarevic
Hair Hiroshi Matsushita using ORIBE Hair Care
Make-up Rachel Singer Clark using M.A.C (For Rosie, Hannah, Bianca, Greta, Lewis, Gabriella and Zarina)
Make-up Anne-Sophie Costa (For Amrou, Franziska,Gala, Sang)
Photography assistance Andy Moores
Styling assistance Louis Prier Tisdall
Hair assistance Keisuke Takano
Make-up assistance Rachael Freeman (Anne-Sophie Costa)
This article originally appeared on i-D UK.