Photography Alasdair McLellan
jw anderson and gilbert & george discuss their new collaboration
Shot by Alasdair McLellan, Jonathan and Gilbert & George talk us through the fruits of this very amazing art and fashion dream team.
|
03 December 2018, 9:00am
Photography Alasdair McLellan
Since they met and started working together almost fifty years ago, Gilbert & George have grown into two very respected members of the British Art Establishment. This is despite the fact they've never grown up, artistically at least. Their work is still as joyfully smutty and playfully profane as it ever was.

And the art they have made over the last 50 years is all the more disconcerting because Gilbert & George dress, live and carry themselves like particularly sombre throwbacks of provincial middle-class managerialist Metroland, dressed in their three-button brown suits and sensible brown shoes. They've always fucked with the cultural associations that come with that though, always suggested that their just-so normality is actually rather strange, closer to BDSM than bourgeois. They've spent 50 years queering the establishment, making art that is kinky and kitsch, colourful and funny and shocking and obsessed with the body. And, despite (or because of) only ever wearing matching suits, they've grown into very recognisable fashion icons.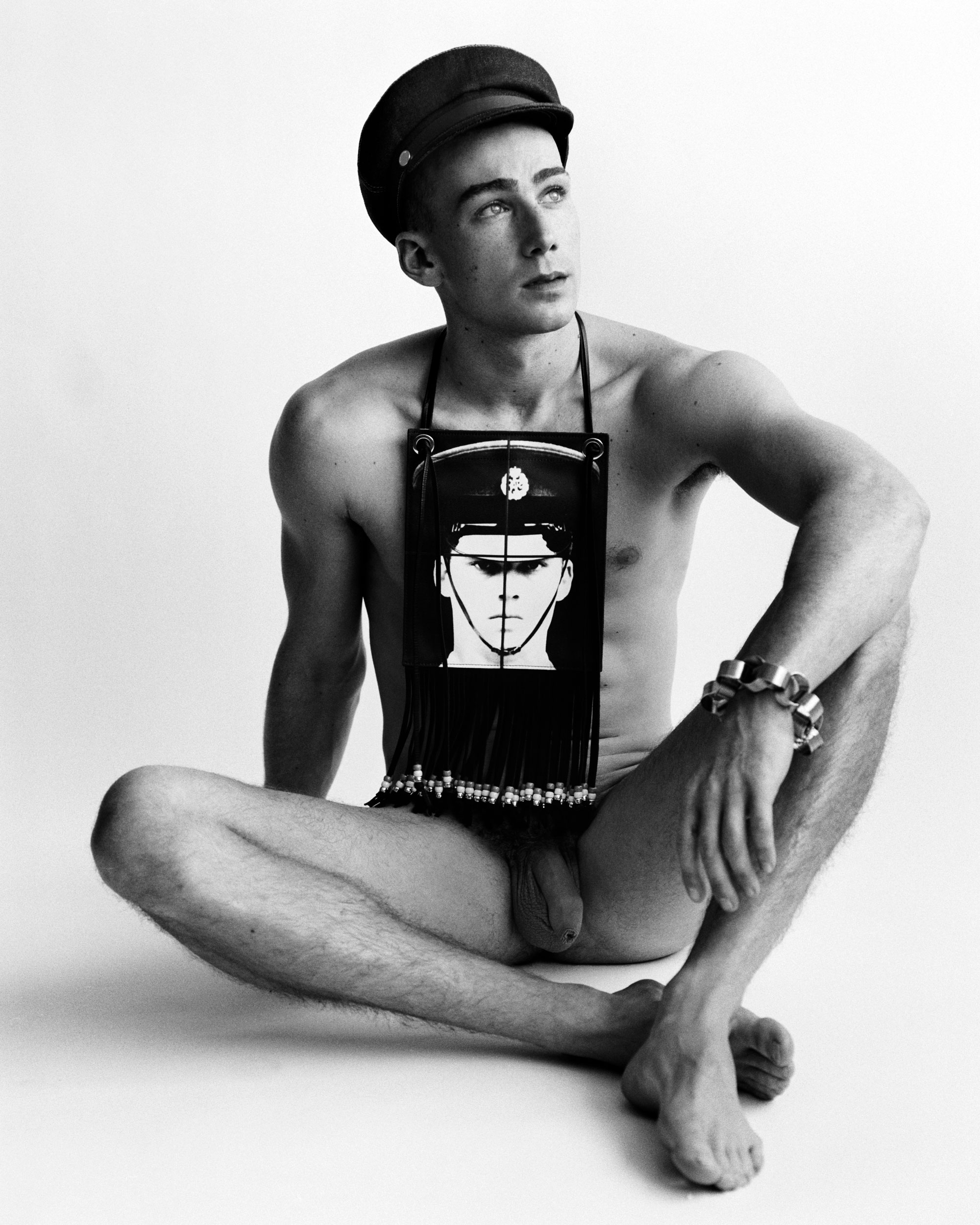 Their latest sojourn into the world of fashion involves a collaboration with JW Anderson, who the duo describe as "glamorous, intellectual and exemplary". Jonathan loves Gilbert & George for their "iconography and anarchy", and it was this that drew him to working with them for a limited edition capsule collection, launching exclusively at Matches on the 6th of December. Jonathan discovered their work after moving to London from Northern Ireland 13 years ago, and found that it perfectly summed up London and Britain and that very moment in time.
The collaboration sees their two aesthetics and worlds merge together quite harmoniously. It works well because, Jonathan suggests, "both J.W. Anderson and Gilbert & George are about the exploration of tension". In the collection, Gilbert & George's Pictures series form new works across bags, shirts, jumpers, and a particularly major leather jacket, which is also Jonathan's favourite piece in the capsule, because "it perfectly sums up the collection, because there's something seductive and political about it".
"In the beginning I was trying to work out what we wanted to be for this collection," Jonathan says, "and there was something so striking about the three images that we pulled that really made sense with. I wanted something to harmonise with it, that didn't feel like we were trying to abuse the artwork, something that felt more incorporated."
The artworks Jonathan has selected to turn into fashion span Gilbert & George's work in the 80s, and their iconic Pictures series, he describes the three works as having "something incredibly emotional about them". There is the aforementioned Guard Plants, from 1980, alongside Dog Boy and Heavy, both created in 1988. These images are Gilbert & George at their insidiously sexy and sly best, full of contrasts, tough and tender.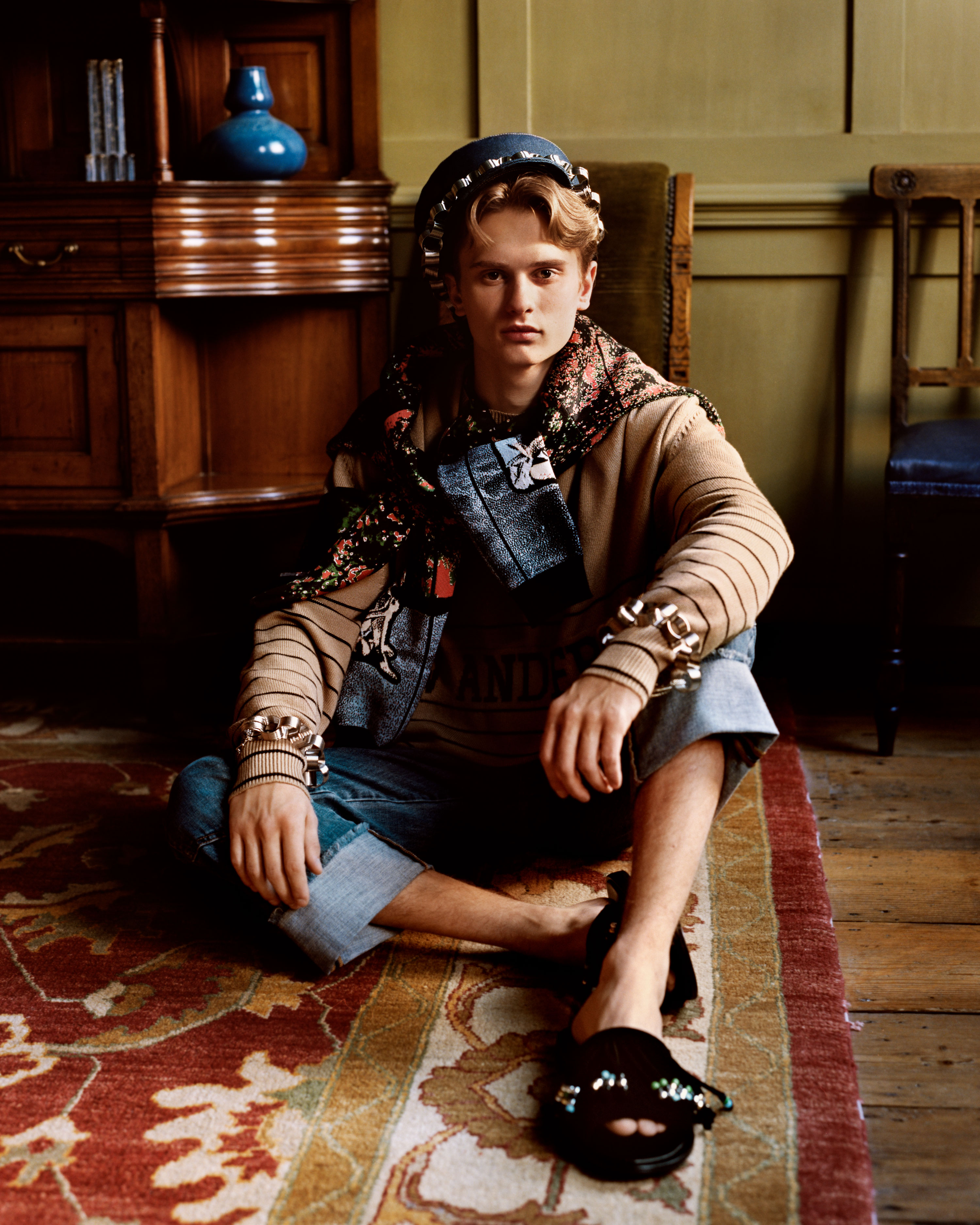 "There is a tension to the works," Jonathan says, "and then you juxtapose it with something like silk, which has a nouveau-riche vibe to it; a contradiction between two materials. We have parachute backpacks that are deconstructed, the bag becomes a jacket, like it grows from you. It was very easy. When you are dealing with such incredible artworks it is very easy to translate it, they become objects in their own right."
"We love that people who are half or a third of our age can find us crazy and inspirational," Gilbert & George explain of the attraction, for them, or a collaboration of this sort, seeing their work reimagined and turned into new objects. "We always love to see our art going out in the world in the many ways. ART FOR ALL!"
The JW Anderson Gilbert & George capsule collection is available from matchesfashion.com today
Watch more
---