aries, jeremy deller and david sims collaborate and make archaeology sexy again
Wiltshire B4 Christ is the Stonehenge merch collection you never knew you always wanted.
|
15 January 2019, 10:54am
From confronting streetwear's archaic gender binaries, to questioning fashion's outdated seasonal cycle, Aries has always been at least one step ahead. For its latest trick, the cult London-based streetwear label is about to make archeology sexy again. Collaborating with Turner Prize winning artist Jeremy Deller (and maker of "Fuck Brexit" T-shirts) and fashion photographer David Sims on an immersive exhibition, art book and capsule collection.

After Jeremy Deller curated a very British celebration to mark the 100 years since Stonehenge was gifted to the nation -- which included a touring lifesize inflatable version -- the artist turned to Sofia Prantera to collaborate on a capsule collection of T-shirts. What was once destined for the English Heritage merch stand soon evolved into a 30-piece limited-edition merch collection of tees, sweats, shirting, socks, blankets, stickers and more, before morphing into the shake-up of the senses that is the Wiltshire B4 Christ exhibition.
"I see Aries as a vehicle for different ideas and collaborations, in turn this frames the clothing we produce," creative director Sofia explained ahead of this week's launch at The Store X, 180 The Strand. "It has become harder to define your brand with clothing alone, fashion is now ubiquitous and therefore less relevant." Rejecting the homogenisation of the industry, Aries continually collaborates to create an output that goes beyond fashion product. Against the backdrop of the sociopolitical nightmare that is Brexit and coming at a time in which we're all questioning just what Britishness means in 2019, the exhibition's engagement of mysticism, pagan symbolism, and a particularly British exploration of identity, time and place is timely. Ahead of its opening, we caught up with Sophia…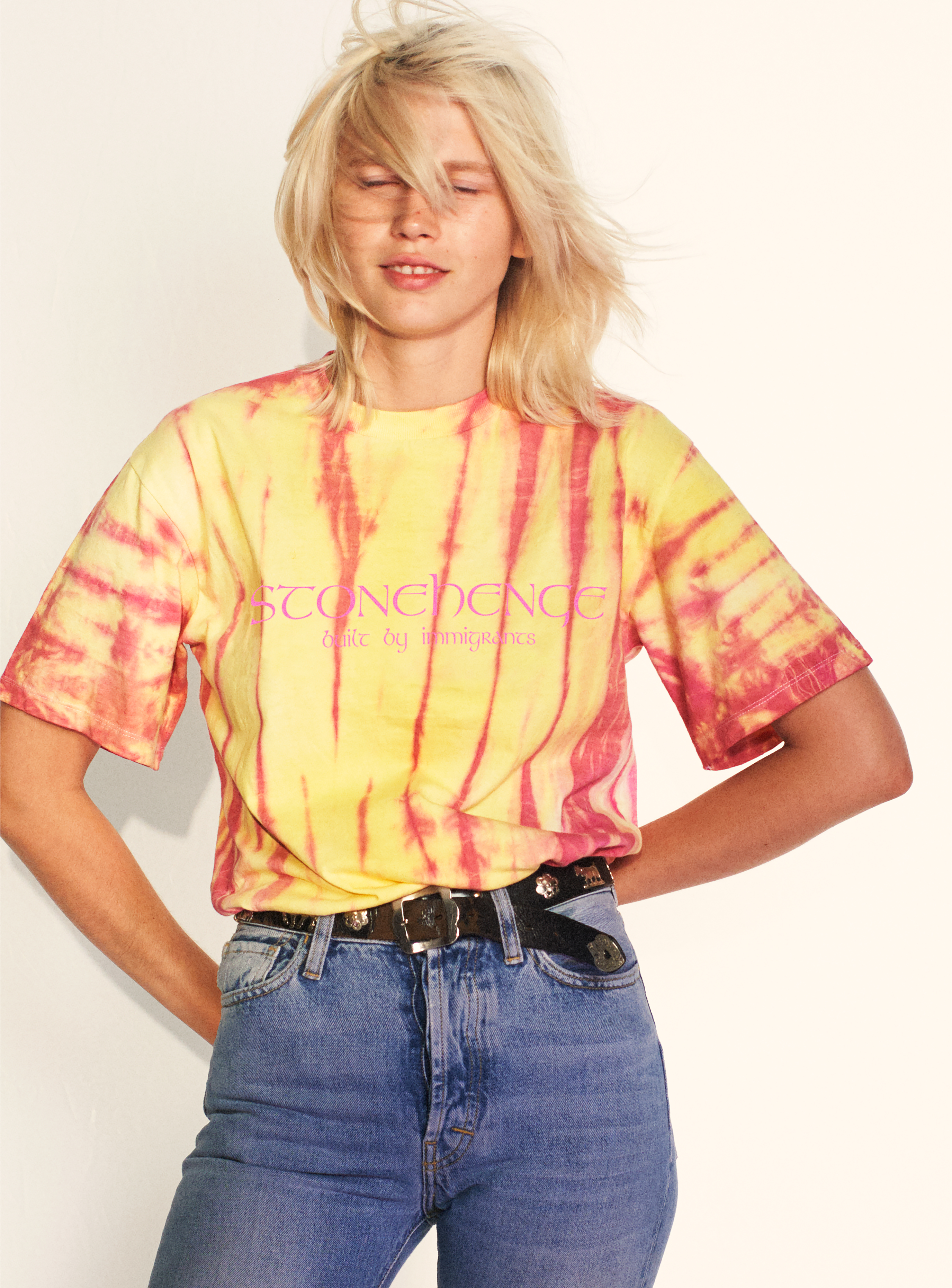 How did Wiltshire b4 Christ evolve out of conversations with your good friend Jeremy Deller and a desire to create next level English Heritage merch?
The project developed as a process. I like working in this way, without a fixed goal at the beginning, open to what might develop, it is what makes working with others so interesting. They will take you places you didn't envisage. It's true that it started with the T-shirt collaboration between Jeremy, Aries and English Heritage. At the beginning it was intended for the Stonehenge gift shop. Both Jeremy and I love product and designing it together was very easy. Every time we met we thought of more things we could make.
What do these Neolithic sites mean to you?
Stonehenge is a symbol; the simplicity and immediateness of the trilithon shape has the power of an ancient brand. It encapsulates a sense of history, mystery and longevity while being immediately recognisable. It is the ultimate logo, and for someone like me who started working in the 90s as part of skateboarding culture, logo repurposing and appropriation are at the heart of all collaborations. However I would never had dared to appropriate any of those symbols in a fashion context if it hadn't been for Jeremy's and English Heritage's involvement, especially with me being only half British.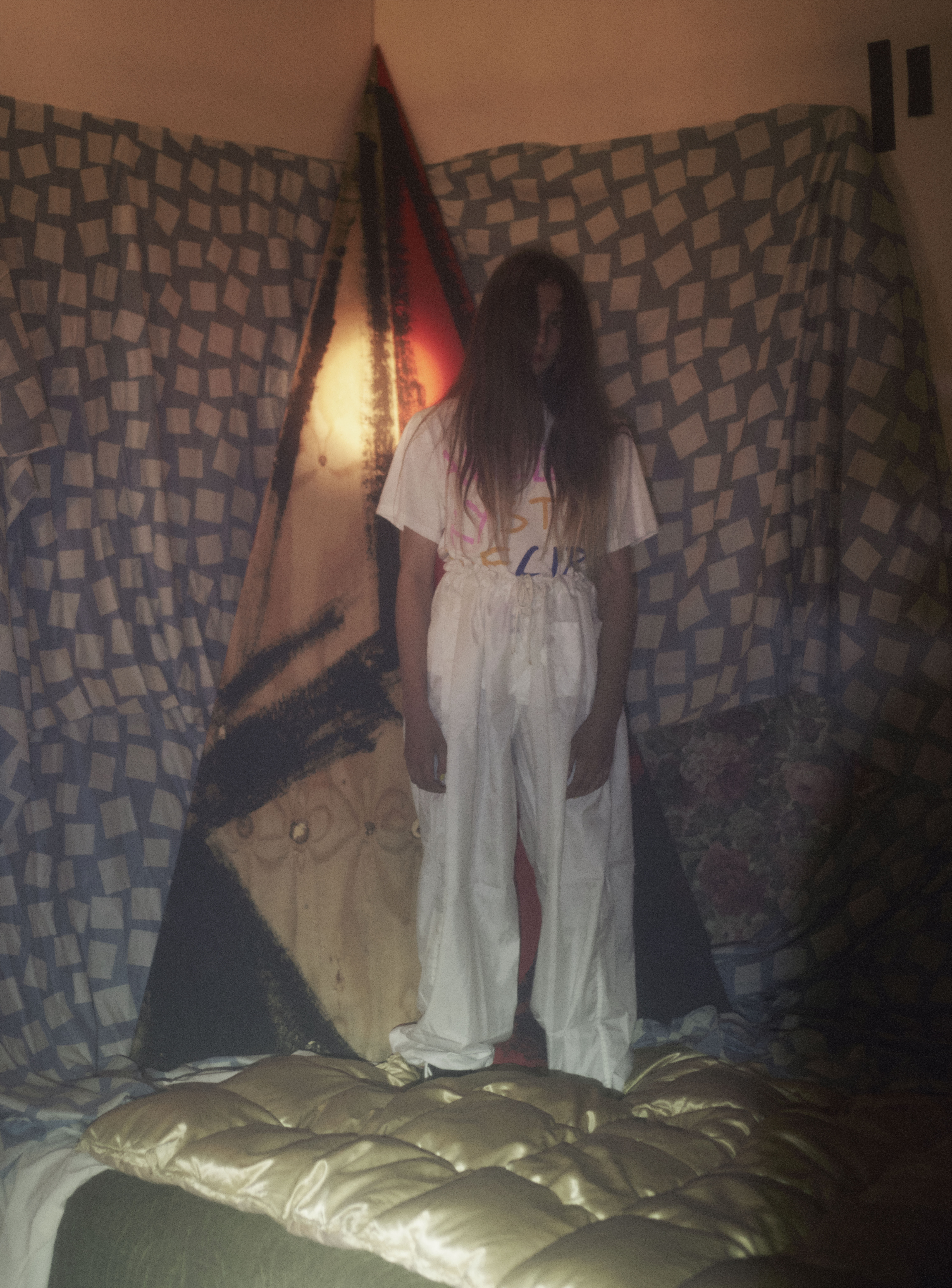 Could you talk us through how the collaborative merch evolved into Wiltshire B4 Christ?
I like the way collaborations allow you to explore and expand into different creative endeavours which couldn't/shouldn't have existed otherwise. When English Heritage offered the Stonehenge site as a location for the T-shirt shoot, we felt it was important to involve David and Jane How. Fashion has its own language and photographing tees in such a recognisable spot with models in four hours would have been otherwise very challenging.
A lot of the research supplied by David was of Romantic and Crepuscular painters of the end of the 19th century and beginning of the 20th, like the Norwegian Harald Sohlberg and the French post impressionist Charles Cottet, mainly depicting shrouded almost religious-like figures, he was adamant we shouldn't see the hair and that colour should be left to the graphic element of the tees, which became the main inspiration for the outfits. The title came last, Jeremy came up with a couple of different ideas, but I liked this one because the images looked almost religious and with this sense that Christianity is failing to deliver the right message to the new generation. I personally have very secular views but I am interested in the idea of religion and I am particularly fascinated by what makes believing such an important part of our lives.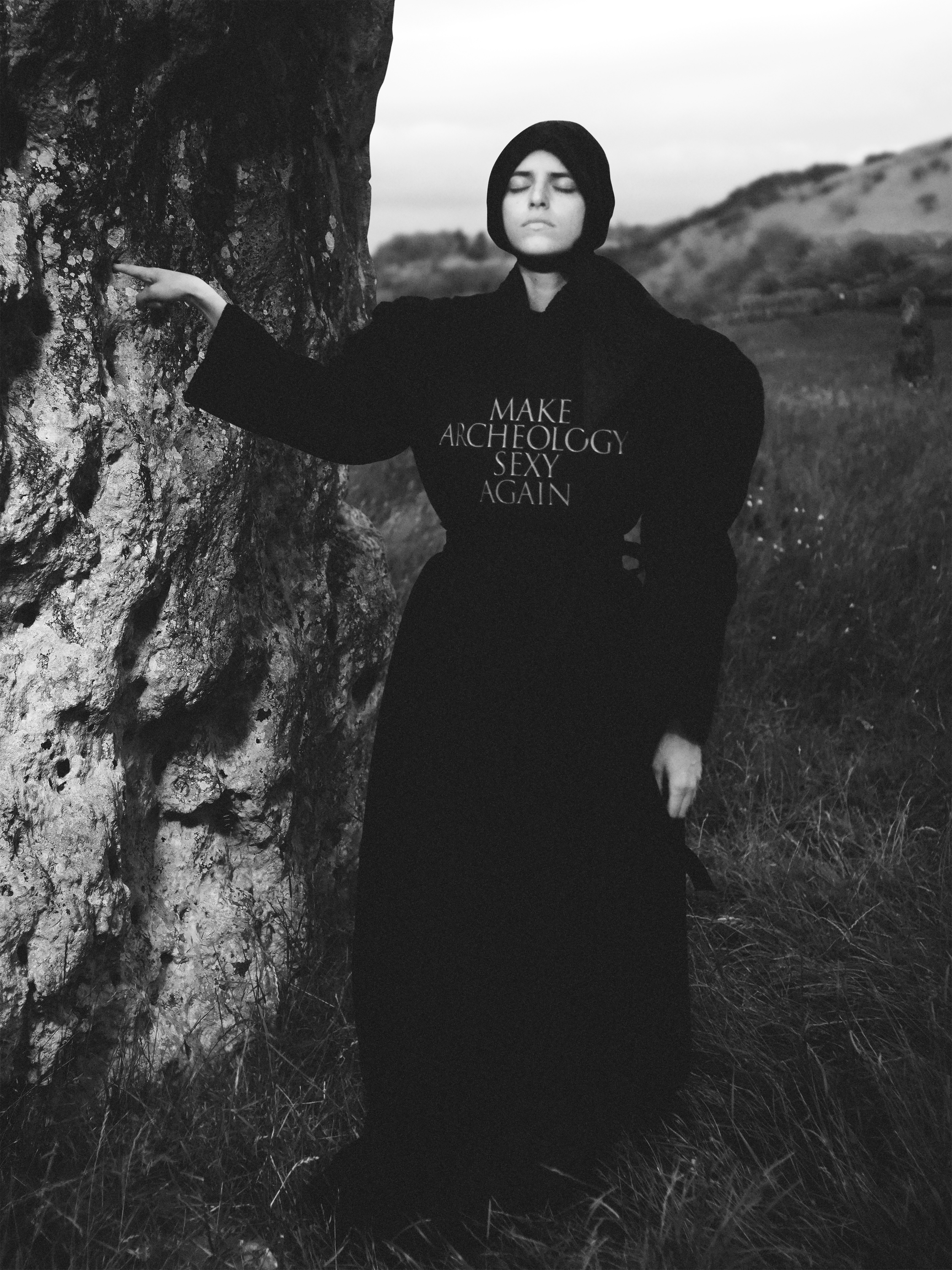 Did your opinions of the ancient sites change at all during this process?
I learnt a lot about Neolithic Britain, which, with my Italian education, I was very ignorant of. Not much is known about these sites and what places like Stonehenge were originally built for and it is all still shrouded in mystery, but for me the most interesting discovery was reading that recent developments in genetics and DNA sequencing have established that the human remains found in Stonehenge were not of local populations, but, like some of the stones themselves, were brought in from far away. Prehistoric British populations were most probably nomadic and of Arab origin and it was only subsequently, and at around the time Stonehenge was built, that these original populations were almost entirely replaced by an influx of northern Beaker People, which brought in the genes for paler skin and blue eyes. This is why the immigrant references seemed very apt and reminiscent of today's political climate.
As Wiltshire B4 Christ encompasses an immersive exhibition, book and merchandise, how important was it for you that this collaboration took us deeper than ever into planet Aries?
As a teenager I fell in love with fashion and subcultures, mainly from reading magazines like i-D, which my English mother would bring back for us from her trips to London. It was then a direct way to communicate with others; but whether it is today's fashion ubiquity and accessibility or growing older, I feel that now clothing design alone has lost that power and it is not sufficient anymore as a way of communicating new ideas.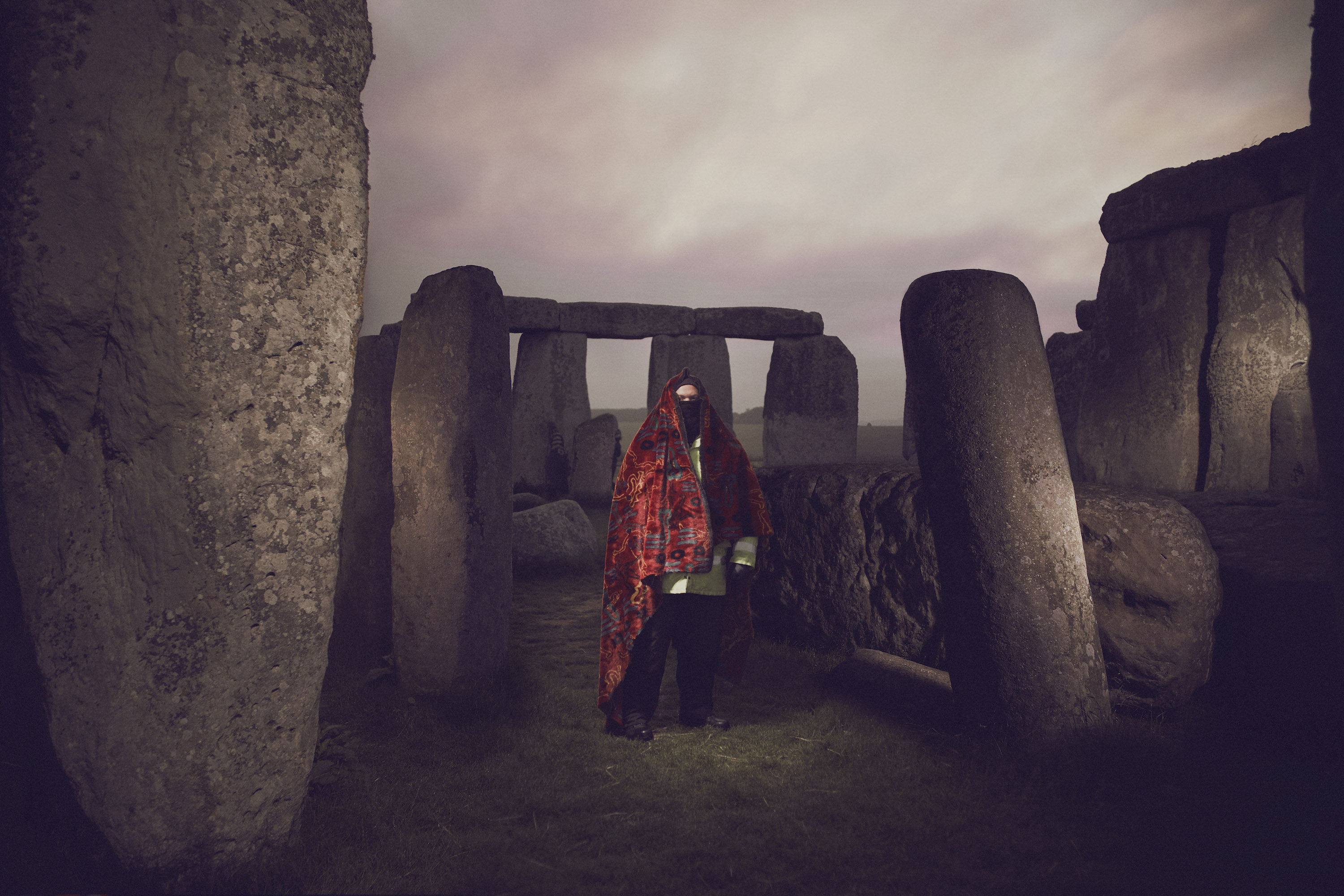 Beyond product, what do you hope people take away from Wiltshire B4 Christ?
I hope it will leave people puzzled and inspired
Why in 2019 should we make archaeology sexy again?
Why not!?
Finally, what can we learn from this period of paganism and spirituality?
Beware of being brainwashed.
Wiltshire B4 Christ will be showing at The Store X, 180 The Strand, London from Wednesday 16 January to Sunday 27 January.
Read more
---
This article originally appeared on i-D UK.